Reader Tracking
Smart Travel Asia works with several independent web tracking companies to acquire a detailed profile of visitors enabling us to map search patterns. Our editorial constantly adapts to changing trends to match information needs. Some screen shots.
QUALITY READERSHIP / The reader below is from Goldman Sachs, London. He spent 8 minutes on our Child Friendly Resorts story and exited to Angsana Phuket (red link).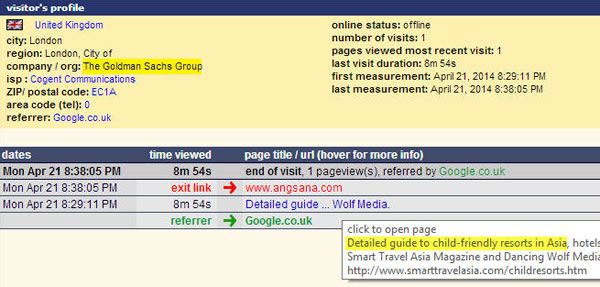 GOA BROWSE / This by a reader from Soros Fund Management, New York. The time stamp was purged after the session as is common these days with browsers tools.

SHOP TILL YOU DROP / A reader from The Royal Bank of Scotland, UK, lands on our Singapore shopping page after a search for "Singapore shopping review". This visitors reads our story for a almost 5 with three clicks.

MEET AND WED / A reader from USA searches for the "best corporate meetings in Asia" and later for the "best Asian hotels for weddings" landing on the relevant articles at Smart Travel Asia. The red type marks exit clicks.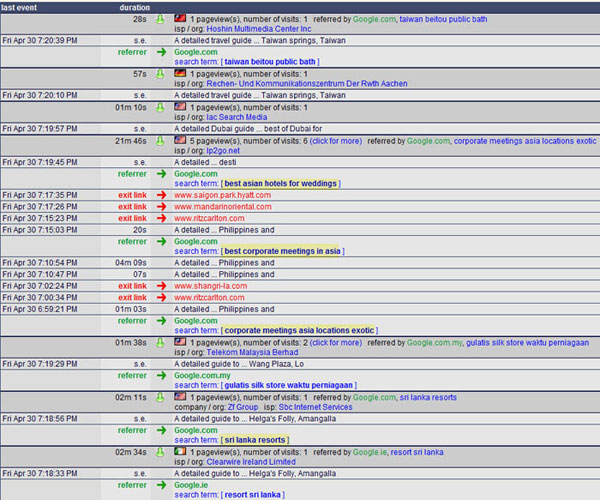 JUST BUSINESS / A search for a review of the SIA business class seats leads a reader from the UK to our business class survey page. This from Google.co.uk.