| | | |
| --- | --- | --- |
| The Peninsula Hong Kong | | 75th Anniversary Year |
Elegantly dominating the Kowloon harbourfront, now with the addition of a spectacular "high" block, the Peninsula Hong Kong celebrates its 75th anniversary on the 11th of December, 2003. The "party" kicked off last December and activities and events run all year. Transporting guests back in time will be tea dances that are to be held every Sunday afternoon in the Lobby from 7 September until 28 December 2003. These shall feature The Peninsula's own brand of big band music complemented by waiters in period costume, "cigarette girls", music, and cars of a bygone era. A selection of limited edition gifts and souvenirs are available in the Peninsula Boutiques, together with the new "Peninsula Chocolatier" range of chocolates and the Peninsula Tea Collection. A new 75th Anniversary blend is available as well, just for this year. Not to be left behind, the celebrated French restaurant Gaddi's celebrates its 50th birthday in October. Join the party and win three nights at The Pen!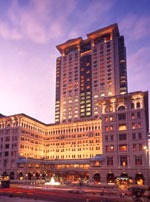 All you have to do is click here. Next, simply send out our pre-formatted e-mail for the SmartTravel Asia Peninsula Hong Kong Lucky Draw to at least 10 friends. If you encounter any problem sending out our form, just e-mail a note to 10 friends using your own e-mail format. Write in: SmartTravel Asia Peninsula Hong Kong in the subject line of your mail and do remember to copy us at promo@dancingwolfmedia.com. Senders' names (from e-mails copied to us with a 10-address mailout) will be entered in a lucky draw on 15 March 2003.The Award: Three nights (double) at the historic Peninsula Hong Kong. The prize must be utilised before 28 December 2003. Stay is in a Deluxe Room subject to availability. The draw winner shall be notified by e-mail and shall be expected to liaise directly on all prize matters with The Peninsula Hong Kong for his/her certificate and terms.
Note: Senders' names will be drawn from each valid "unique" mailout copied to us. We shall accept just one sender name per valid "from" e-mail address. Please ensure your full name is on your message to your friends or clearly indicated on your e-mail address. The winner will be notified by e-mail and shall liaise directly with The Peninsula Hong Kong on issuance of the certificate/prize and terms. SmartTravel Asia accepts no responsibility for the terms and/or the honouring of any competition/draw prizes or disputes arising therefrom.