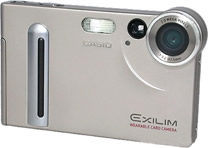 Casio Exilim EX-S2
A wearable camera? What the heck is that? In an attempt to answer this question (and throw up several more), Casio's new line of super-small Exilim digital cameras have arrived with the not exaggerated claim of being the world's slimmest cameras. Weighing just 85gm and measuring 88mmx55mmx11.3mm the EX-S2 (right) and EX-M2 offer 2.0 megapixel resolution and one-touch-to-PC transfer through a small docking station. The EX-M2 also offers 30-second video with audio and MP3. That's a lot of bang for about US$339 worth of bucks. Mac users will need to run these on OS9. While the Casio models "wear" their Exilims slipped into their blouse this is perhaps not the best way to carry them. Use a pocket. casio.com
Send us your Feedback / Letter to the Editor

Share This Page
Most small digital cameras we looked at come equipped with video shooting facilities though the output format varies. The video footage is limited but it is certainly a handy, cool feature. While the megapixel lure can be appealing, remember you don't need a great many pixels for normal print operations. A four-by-six-inch photograph does not need more than around two megapixels (two million pixels) for excellent reproduction. "Effective pixels" is a useful way of measuring actual resolution. Cameras may shoot a huge number of pixels that are redundant and do not further enhance quality. In a sense, "effective" pixels are the net quality. Several camera manufacturers use this measurement. At the end of the day what really counts is the output resolution. Let's say a camera outputs a 1,600x1,200 pixel resolution. If you multiply the two numbers, the output is just under two million pixels which is more than enough unless you're shooting close-ups of nose-hair.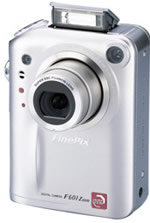 Fuji's FinePix 601
Fuji have come up with a number of recent all-in-one winners, among them the FinePix series. Two top contenders in this line are the FinePix 402 and the FinePix 601 (right) . The FinePix 601 is a 3.1 megapixel camera that can output resolutions of six mega pixels. It features a 3x optical zoom and super CCD 3 image sensing that pretty much guarantees high quality results. The vertical format is a departure from the norm, its value entirely in the eye of the user but the compact metallic finish is elegant. Price? Around US$600.
Its older sibling the FinePix 402 is a square, slim device also featuring the super CCD 3 sensor system. It shoots 2.1 "effective" megapixels that it outputs at 4.0 megapixels for prints up to about A4 in size (whatever happened to handy postcard-size 3R and 4R?). Large A4 prints may be handy for displaying to your neighbour in the next block of flats but perhaps not the size your mum would carry in her handbag. www.fujifilm.com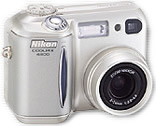 Nikon Coolpix 4300
Moving up from the small and well-stocked Coolpix885, Nikon's new Coolpix 4300 (right) offers 4.0 megapixels, CCD image sensing and up to 40 seconds of movie footage. For all this and the usual handy Nikon features and shooting presets the camera weighs in at just 230gm.
Another slightly larger SLR-looking option is the Coolpix 5000 with a 28mm-55mm lens equivalent. This is sufficiently wide for indoors (though perhaps not enough for your tent). The Coolpix 5000 produces pictures of five megapixel quality and also does 60-second movies with audio. It has seven capture modes and weighs 360gm. This is a digital camera for serious users just short of professional. www.nikon.com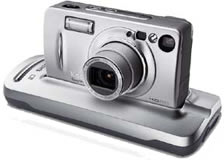 Kodak EasyShareLS443
Not to be left behind, Kodak's EasyShare series do just as they say. They offer idiot-proof point-and-click with a camera dock that in one touch of the finger transfers your images to your PC. The Kodak EasyShare LS443 (right) is their 4.0 megapixel contender which can generate pictures of up to 20"x30". It uses a Schneider-Kreuznach Variogon lens with a 3x optical zoom and a further 3.3 digital zoom. Remember, optical zoom is preferable to digital zoom which may produce distortion at maximum ranges. The LS 443 has a 1.8" viewing display.
Kodak's EasyShare DX4330 is a 3.1 megapixel version with a lens equivalent range of 38mm-114mm. This too can shoot brief video footage. It weighs 210gm and comes with the handy docking station. A plus point for Mac users is that this camera is OSX native. Go Jaguar. www.kodak.com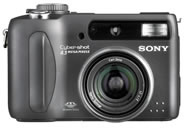 Sony DSC-S85 Cybershot
Sony has a long and successful line of Cybershot cameras. The DSC-P9 Cybershot with its typical slim, elongated silver body is a quality 4.0 megapixel offering at a pricetag of US$499. It has a three-mode intelligent flash and a movie mode. The camera is compatible with pretty much all Windows PCs from 98 and ME to 2000 Professional and XP but can only be used on Mac OS9. The DSC-S85 Cybershot (right) has a nice feel and moulding to it and the midnight grey colour is pleasing. It utilises a CCD image sensor for its Carl Zeiss lens producing 4.1 megapixel resolutions along with video and audio. It costs around US$499 and uses Memory Stick storage. It can't be "worn" like the Casio Exilim, but then, black is black... www.sony.com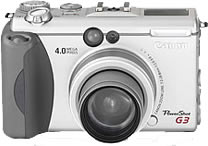 Canon PowerShot G3
Another professional looking camera from a professional camera maker is the Canon PowerShot G3 (right). This camera produces a 4.0 megapixel print resolution. Its 4x optical zoom lens offers the equivalent of 35mm-140mm which is rather versatile and it also shoots a handy three minutes of movie footage with audio. www.canon.com
For the average traveller or family on the road there is not a whole lot of difference between these cameras except price and a few top-end features in the more semi-professional series. Whether you wear it or use it as credit card, we like the Exilim for its slim size and good reproductions, the FinePix 601 for its features and quality and the Kodak EasyShare LS443 for, you guessed, its utter ease of use.