SPECIAL SECTION | in partnership with Hainan Tourism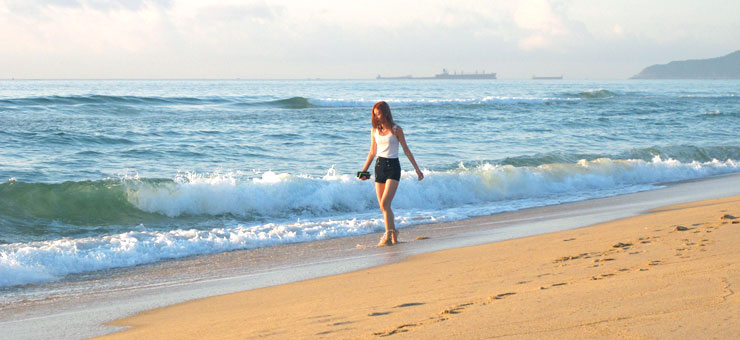 Hainan sunny adventures for families, foodies, shoppers and romantics
THE TROPICAL island of Hainan is the southernmost spot in China, a year round escape from harsh winters and snow, its pleasures first chronicled by a procession of mandarins banished by the emperors and exiled quite literally at the "end of the earth". So the Qing dynasty inscriptions proclaim, carved into two large boulders on the beach. Once the last outpost of empire, Tianya Haijiao is one of the key attractions for fast-snapping visitors today with its entwined 'sun' and 'moon' rocks. The island has rapidly gained a following as the 'Hawaii of the East' with its miles of golden beaches and a laid back vibe that attracts a varied mix of foodies, partygoers, families with kids, spa and wellness seekers, conventioneers, shoppers, golfers, hikers, brides and grooms to-be and honeymooners.
Swank luxury hotels are arrayed along a string of crescent bays heading eastwards and then north along a fast developing coastline from Sanya City (with its street nibbles and seafood) past the nightlife zone of Dadonghai (where you'll be forgiven for thinking you've arrived in Russia looking at all the Cyrillic beach restaurant menus), Yalong Bay with its international family-friendly and wedding speciality hotels from where Miss World beauty pageants have been beamed around the world, the newer Haitang Bay with acres of beach and villa retreats for hedonists, Clearwater Bay with its golf greens and condominiums, Bo'ao (another MICE have), and up to Haikou the main city in the north where a visit to the historic Qilou Old Street is a must with its ancient shophouses, cobbled streets and old world flavour. Sip some salty lemonade and explore Wugong Temple and Xiuying Fort.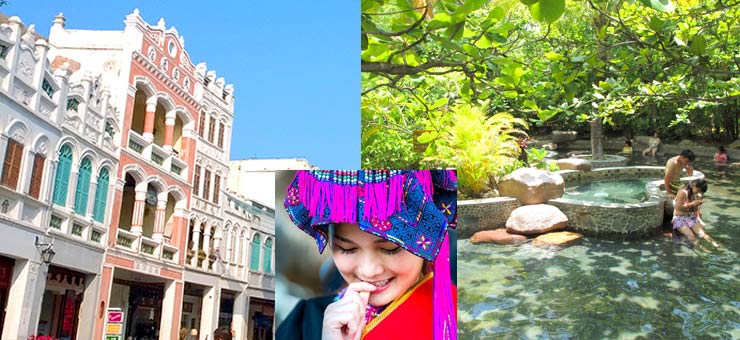 With its sheer size and natural variety, Hainan at 33,920sq km instantly muscles out Bali (5,780sq km) and Phuket (576sq km). While its scale is both an advantage as well as an impediment, high speed trains and strings of new highways linking up much of the east are a boon for visitors, slashing journey times and opening up more and more of the island. Business travellers tend to land in Haikou while pleasure seekers fly in to Sanya Phoenix International Airport in the south. The good news for travellers is that as many as 59 countries have been placed on a visa-free list (this requires advance pre-registration with a designated travel agency).
The weather is bone-roasting tropical most of the time with a mild nip during winter. The best time to visit is during the cooler months November to April though the hot summers offer the best rates. Duty-free shopping buffs will immediately head to the futuristic silver Haitang Bay International Shopping Complex that has designer brand fashions and food courts by the acre. There is a smaller duty-free store in Sanya City too.
at 33,920sq km Hainan eclipses Bali at 5,780sq km and Phuket at 576sq km
For the culturally inclined, there are festivals galore pulling in the young and restless as well as big spenders. If distractions like the New Silk Road Model Contest are not for you, the International Wedding Festival runs every year in November/December for serious romancers. Couples renew their vows, get married, and celebrate their anniversaries on the beach and before the aforementioned rocks of Tianya Haijiao. The Huanhua Festival in Qiongshan is for floral exchanges while the Junpo Festival celebrates a bit of the Li people's history - with some celebrants venturing barefoot onto hot coals. The Dragon Boat Festival is less alarming if just as thrilling and centred in the Danzhou area in the northwest.
Divers will head to Wuzhizhou Island for underwater adventures. For water babies and luxury yacht aficionados there's the Sanya Serenity Marina where 325 berths are lined up serving 10m to 40m vessels accompanied by restaurants, swimming pools and club along the west coast of the Dadonghai peninsula.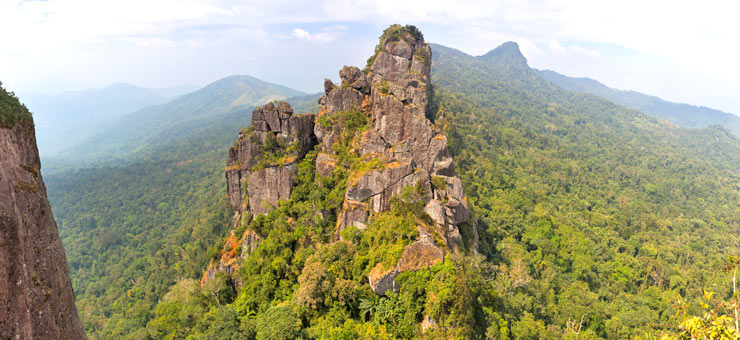 Those looking for off the beaten path adventures like hiking and cycling will find much to entertain them in Hainan. An entire bike circuit of the island is a challenging 900km but smaller sections are possible in short bursts along the developed east coast, the more pristine west or, only for the intrepid, through the rolling central hills that offer the island's greatest natural beauty with hiking trails, green vistas, and gushing waterfalls. Check out Diaolou Mountain Park and waterfall, the Qixianling Hot Spring Forest Park and Wuzhi Mountain, at 1,840m the highest elevation in south central Hainan. Wuzhishan (known as the Five Finger Mountain) serves up waterfalls, panoramic views, and river runs. It is a one-and-a-half-hour drive to Wuzhishan city from Sanya and four hours from Haikou.
The hilly interior is where visitors can enjoy local culture and mingle with tribal communities like the Miao and the Li (skilled weavers). Later, stroll through Longevity Valley near the historic Nanshan Temple in the south where the folk just live on and on and on, watched over by the towering 108m Guanyin Statue. There is even a Longevity Festival. The temple with its beautiful golden deities and swirling incense is high above a series of stepped pavilions. At the vast Nanshan Cultural Tourism Zone tourists on trolleybuses trundle around sights like the "Dharma Door of Nonduality" and "Auspicious Garden".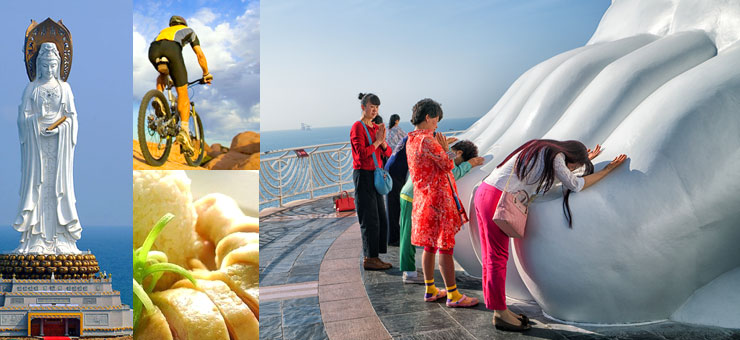 To sample the fabled hot springs and spas of Nantian stop by the Sanya Pearl River Nantian Hotspring Resort that boasts over 60 steaming pools – all at different temperatures. Other interesting places include the historic Luoyi Village Chengmai (a drive from Haikou in the north) dating back to AD1256 and the Song Dynasty with buildings constructed from volcanic rock. The Chengmai Mangrove Ecological Park is a place to bring your children for nature walks while Changjiang in the west is the spot for mangoes. In the central highlands Zahan village is a classical Miao showpiece of rural life while in cities like Lingao in the North (well known for its delicious suckling pig) and in Dongfang City on the far west of Hainan Island, the pace is a tad quicker. In the south, Luhuitou Park a short hop from Sanya serves up a breezy vantage point to observe the bay and a clear view of Phoenix Island with its five distinctive dancing-light curved towers.
Hainan seafood is one compelling reason you may find yourself on the island and the nightlife zone of Dadonghai is peppered with seafronting restaurants, some a bit touristy and expensive, so pick carefully. A good spot for marine menus is the First Market off Hexi Road where you can pick up the freshest wrigglers and have it all cooked at a nearby restaurant. Huo Che Tou Seafood Square is right by Sanya Railway Station while on Sanyahe West Road is the well regarded Chunyuan Seafood Square. Another popular local pick is the enormous Pi Pi Xia Seafood Square on Yingbin Road. Don't leave Hainan without tasting delicately broiled Wenchang chicken, Hele crab, Jiaji duck, and Dongshan lamb (actually mutton).
Last but not least, grab your golf kit for a big swing in the greens of Yalong Bay or Haitang Bay. Farther north in Haikou, Mission Hills has three state-of-the-art golf courses including the 350 acre Blackstone Course (7,808 yards par 73), the Sandbelt Trails Course (7,297 yards par 72), and the classic Vintage Course. Before you leave immortalise yourself on the silver screen with a visit to Movie Town where in-period sets like 1942 Street await to transport to you - with costumes - to a different world. Selfie? Of course. As they like to say in Hainan, it's "all the sun, all the fun." Why wait?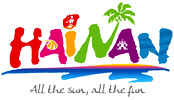 Hainan Tourism | Smart Travel Asia | Special supplement created by Dancing Wolf Media