SPECIAL SUPPLEMENT | in partnership with The Shanhaitian Resort Sanya from Autograph Collection Hotels
Laid back Sanya chic with a touch of Dadonghai magic, views, and a lifestyle escape
Change your mood and attitude and enjoy Sanya from a very different perspective.
SITED at one end of breezy Dadonghai Bay with sweeping views of the blue waters, lazy rolling hills in the distance, and the crisp white wakes of ferry and pleasure boats plying the waters, all-new The Shanhaitian Resort Sanya from Autograph Collection Hotels by Marriott, is a lifestyle address that promises to be remarkably different. It all starts with a friendly Skype hello in your limousine from the airport as you detail any particular stay preferences from room style to pillows for kids. Step in to be greeted by a projection wall, and sip a molecular cocktail while the kids savour homemade gelato.
This is a lifestyle hotel that reaches out to a broad range of interests, from high end leisure trippers and families with children, to business travellers and the MICE crowd in search of a decent convention jam in luxe surrounds with an informal vibe. There's a kids' club to keep the young and restless entertained, alert, amused, and challenged, while at the other end of the spectrum, pin-stripers can enjoy the benefits of 800sq m of conferencing space for small corporate meetings or state-of-the-art events for anywhere between 500 guests theatre style (in the ballroom) to an intimate 60 for a banquet (in a meeting room).
What it does is bring families and corporates together in a brilliant meet-and-play environment. The recreation action is focused on the 3rd floor podium that manages a fun convergence of an infinity pool (with views of course), a pool bar, a gym with heated sauna, fitness centre, and wellness therapies for tired muscles or beauty treatments at The Spa Collection.
it's time to throw off your city clothes, sip a molecular cocktail, and start living
After hours, sip a bespoke 'molecular' sundowner at The Pod, enjoy DJ evenings of a weekend, fashion shows, swimwear extravaganzas and synchronised dancing. At other times, water yoga is on offer if you're not indulging in a poolside leg massage or off on a crab catching expedition.
The Residence whips up Chinese favourites with an emphasis on Cantonese fare while The Reef focus on seafood with a catch-of-the-day theme. It's an eclectic mix of carefully crafted experiences to make your 'Hawaii of the East' Sanya getaway a memorable not-to-be-forgotten occasion.

The 199 rooms and 17 suites serve up four main themes – French Chic, Italian Elegance, British Fabulous and American Classic. Rooms start at an elbow-swinging 62sq m and go up to a resoundingly spacious 348sq m. Expect window side bathtubs for contemplative soapy views, toiletries from APPELLES, Apple TV, X-Box and Play Station 4.
Bigger still, Catwalk Suites and Celebrity Suites come with Milanese or Parisian touches, playful circular beds, kitchenettes and private balconies.
Sanya means a great holiday for all with sun, and sea, and perhaps more than a dash of romance. With its accent on classy, hip, upscale fun, The Shanhantian Resort Sanya is also a splendid choice for a resort destination wedding with a range of venues to choose from. The ballroom comes with LED screens. Or opt for a breezy alfresco setting on a poolside stage with the backdrop of the bay.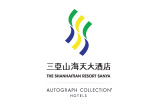 Come visit and discover why this is such a hip and happening spot in which to see and be seen, conveniently located, just five minutes from Luhuitou Park and downtown Sanya, a half hour drive from China Duty Free Mall and 45 minutes from Nanshan Temple. At the end of the day, do something different with a fragrant shisha puff or settle down with a soothingly sober – and healthy – glass of bedtime milk.
The Shanhaitian Resort Sanya from Autograph Collection Hotels | Smart Travel Asia | Special supplement created by Dancing Wolf Media