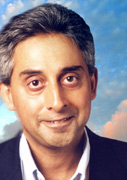 IF YOU'RE ONE OF THOSE FINICKY TRAVELLERS who insist on ironclad-safe kosher holidays, it's time to head to Malaysia, "Truly Asia", where multi-cultural choirs sing, dance, and spin tops all day, seemingly oblivious to the soaring price of masala dosa. Here, you will truly have a riot. Forget sleazy bars and grimy doss houses. Check into a state prison where – chased by armed guards, criminals, and incarcerated senior ministers with a fondness for those softer parts – your stay will be transformed into an unforgettable experience.

The government believes it's time to liven up the tourism circuit with new innovations – like visits to cemeteries and stays at the local prison. According to one senior tourism official, travel agents can arrange "a stay in jail just like any normal package tour." And why not? It would certainly appeal to Australians, Iraqis, and Japanese honeymooners looking for the ultimate minimalist escape.

Send us your Feedback / Letter to the Editor

Share This Page
It will particularly appeal to security-conscious Americans who know that taking off shoes at the airport x-ray machine is simply not enough. Prison strip searches, beatings, and surprise inspections ensure that anyone putting together even a simple lemon soufflé is going to be in for life, especially if the concoction fails to rise. Forget about rucksacks, fuses and batteries. Prison is the ultimate security zone. Nothing gets in. Nothing goes out. This is an extraordinary refuge, complete with open plan layout, breezy grill door, in-room washbasin, and personal commode.
Prison tours will appeal to American tourists who know that strip searches and airport scans are simply not enough
Prisons have come a long way since the River Kwai death camps. New Delhi's fetid Tihar Jail, notorious for its headline-grabbing convicts and even a "tandoori murderer" or two (one stuffed and cooked his wife in the oven), is now better known as a tranquil spa haven. Thanks to enlightened warden Ms Kiran Bedi who introduced yogic meditation as a means of getting inmates ready for the real world – where, as we outsiders know, everyone meditates, loves their neighbour (especially if she's buxom and Nordic), and Bambi deer frolic – the prison now reverberates to the sibilance of deep fulsome breathing.
The Vipassana breathing techniques tried out at Tihar have even been exported to the US where several prisons are experimenting with the technique. Studies have shown that if you get a large bunch of hardened criminals to breathe deeply in unison, the state can produce, well… a whole lot of bad breath. Bottled and packaged correctly this could be on the market as a certifiable WMD and a great source of extra revenue for jails everywhere. Add to this, potential tourist business, and boutique jails everywhere will soon be de rigueur.
According to another study, this time at an Alabama penitentiary, "the rate of rehabilitation among Vipassana students was dramatically higher, as measured by how many inmates returned to prison within two years of their release." Several returned to normal jobs. Most, I suspect, passed out, practising deep breathing amidst the smog and car exhaust.
These Vipassana yoga rehab convicts presumably passed out doing deep breathing exercises in the heart of smoggy L.A.
Yet, this is good news for prison aficionados. To make space for genuine tourists who have PAID for the privilege to be state guests, hospitable governments everywhere first need to clear out the premises. This can be achieved through lowering the crime rate or, more quickly, by shooting all the inmates. Better yet, the tourists could themselves be armed and turned loose on the prison population to help clean up society while enjoying a holiday. This is an extraordinary opportunity for families to learn social responsibility and to bond – quite literally – with their commodes.
Prison tours have been experimented with in Thailand, and are on tourist itineraries in Australia, the US and elsewhere. Prison visits for students are common, to drive home the point that there is NO INTERNET AND MSN CHAT at these facilities. Scary stuff.
One of the best-known prison-tour examples is Alcatraz. The island fortification off San Francisco served as a maximum security establishment hosting the likes of Al Capone and Robert "Birdman" Stroud. For just US$54 visitors can stare at concrete, peer through bars and huddle against the nippy Bay winds. This is excellent value indeed. Take a look. For the same price, in Bangkok, all you could do is dine at the sinfully decadent Conrad, drink barrels of Singha Beer, or spend a week at a Khao San budget hotel. You could also buy most of Bangladesh.
More of the same is on offer at Fremantle Prison, Australia, where, as the write-up reveals, "you can view the tiny cells in which people lived day after day." Riveting stuff. Of course, you could watch your own cells – growing, cloning, subdividing, and mutating – for free. But where's the fun in that? But, if you want to actually stay in a prison cell, as opposed to merely gawping at one, you'll need to wait for the Malaysian travel industry's verdict. Right now, the jury's out.