THE missionary fervour of successive Jesuits, Dominicans, and Franciscans as they engaged with the Ming Dynasty to secure the first Western toehold 400 years ago, stamped Macau with an enthralling blend of devotion best savoured in the many churches in the Historic Centre of Macau. The Macau Government Tourist Office has crafted eight Macau walks, each a unique cross section of the enclave.
Footsteps into the Historic Centre walking trail is a vintage blend, its centrepiece the lively Senado Square with its rippled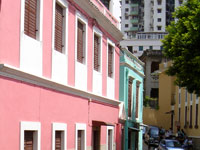 cobblestones redolent of the Mediterranean, and St Dominic's Church. This is a spot for street buskers, egg tarts, gew-gaws and peeling pawn shops that now deal as much in offloaded luxury items like Rolex watches, as in traditional jewellery and gold. Signs of the times. The laundered virginal white Holy House of Mercy, once a refuge for the ill, and for widows, is now a selfie haven in front of the central fountains. The walk ends at the former Opium House, an inner harbour witness to history where Western commercial strategy was played out in dark smoke-filled dens, the resulting tensions errupting in the Opium Wars.