SPECIAL SUPPLEMENT | in partnership with the Macao Government Tourism Office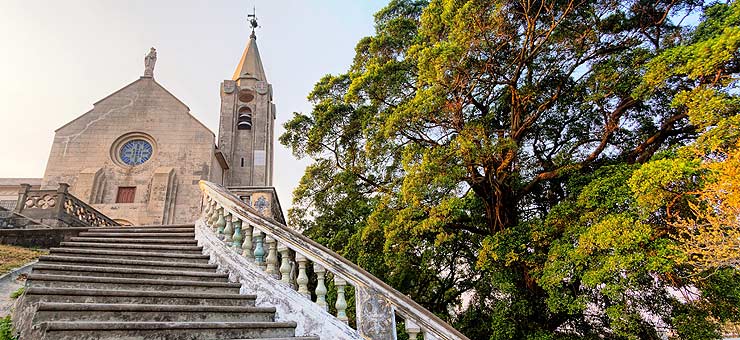 Art in Macau blends old and new, street grunge and the classical, for a visual treat
Not many are familiar with Macau's rich creative art heritage. Yet, this is the best time to visit an emerging art destination with its mesmerising blend of paintings, wall murals, and all manner of cultural expression. Later, enjoy the churches and the food.

AS bright-eyed tourists race to Macau in search of peeling churches redolent of the ages and glittering casinos promising financial redemption of a different sort, few may have considered an art detour. In Macau? Indeed. The city is colourful enough with yellow plaster buildings of substantial vintage, old trees, egg tart recipes that are fought over, winding cobblestone streets, and a new genre of street art whimsically covering village walls. Less well known but equally vibrant are the small art galleries around town just waiting to be discovered by mainstream travellers. The Art Macao: International Art Exhibition under the aegis of the Cultural Affairs Bureau, the Macao Government Tourism Office, and the Education and Youth Affairs Bureau (June-October 2019) drenched visitors in a bright splash of colour and experience to shine a bright spotlight on Macau as an emerging art destination in its own right. One of the focal points for art hunters is the Macao Museum of Art (also known as MAM, 10am to 7pm, closed Mondays) with over 4,000sq m of exhibition space. Expect a substantial collectional of classical Chinese art (including a regular display of 17th-century Chinese calligraphy), photography events, art tours, and educational workshops.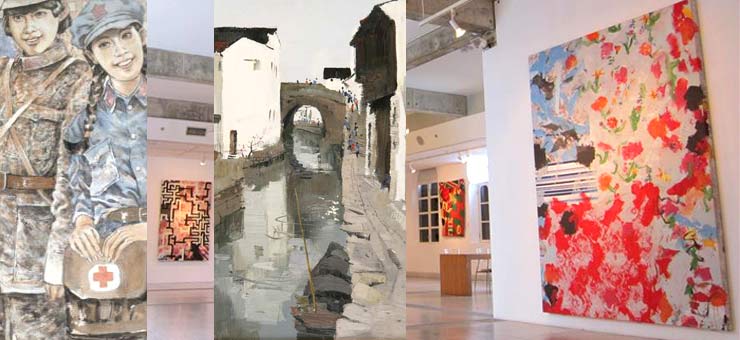 The efflorescence of creative expression at venues, indoors and outdoors, all over town, is part of developing and raising awareness of cultural tourism to the city, something often overlooked in the race for casino chips. Art is by no means a newcomer to this laid back enclave. Its early expressions run back to the advent of the Jesuits who set about recording (writing and painting) the scenes around them. Foremost among the early arrivals was Giuseppe Castiglione (AD1688-1766) who arrived at the Qing court, aged just 26, to audaciously effect a complete transformation of Chinese imperial portraits while in turn adopting several Chinese techniques in his own works.
In a walking city littered with heritage, art in Macau is at once exciting and accessible...
At a time when the missionary Jesuits were under immense pressure and frequently expelled from the country, Castiglione found favour with not just one, but three, emperors. Artists like George Chinnery (featured at MAM) in the 1800s lovingly built up a following for a brand of the adventurous East with striking romantic oil portraits and Turner-inspired landscapes. Later in the 1950s, foreign artists resident in the city and talented Macanese disgorged a torrent of watercolours to create some masterly works, many of which found homes in wealthy manors. Macau had arrived. And its art was prized and much sought by the cognoscenti.
Among the museums and art spaces to enjoy is the Tap Seac Gallery elegantly perched at 95 Avenida do Conselheiro Almeida Ferreira. The two-storey house with louvred windows and a Portuguese facade in yellow and brick wash dates back to the 1920s and has likely witnessed a fair slice of history. The venue launched in 2003 and anchors the Tap Seac Historic District.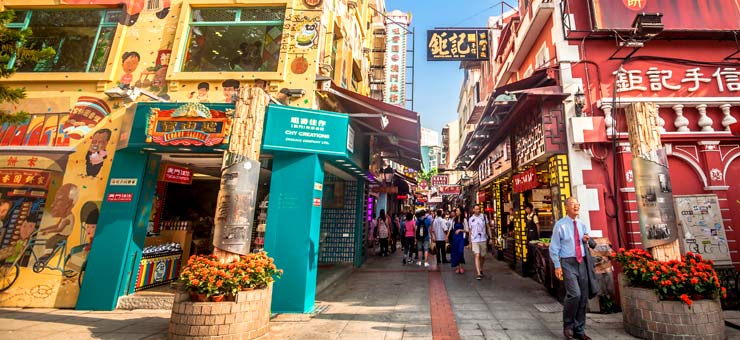 The curiously named Ox Warehouse (No.15 Rua do Volong) runs music and art workshops for adults as well as the young with poster drawing, art instruction and more. A small cafe and CD shop are charming accessories that come in handly for travellers of all disposition. The Macau Art Garden (11am - 7pm, closed Mondays, Avenida Dr. Rodrigo Rodrigues) is an entire building devoted just to creative expression, and what a building it was. The ancient rundown Chinese tenement structure has been overhauled but retains rustic touches and echoes with artistic footfalls. This was the first building dedicated entirely to artistic expression and collaboration in Macau.
A lively and popular part of 'old Macau' is Taipa Village just before the reclaimed casino 'neck' joining Taipa and Coloane Islands. Amidst the street food, aromatic Macanese restaurants and flavourful Portuguese hideaways you cannot fail to spot the boisterous art covering buildings and streets. Artistic expression and random graffiti is everywhere. This is where you'll find the Taipa Village Art Space, a quiet cultural and entertainment powerhouse that was included in the list of 56 Macao Cultural Creation Spaces. This official recognition came in 2017. At Taipa Village Art Space (No. 10, Muxi Street, Taipa, 12noon to 8pm, closed Tuesdays) expect exhibitions by overseas guests and cultural performances. It is a splendid immersive stop in between dining and wining in the village.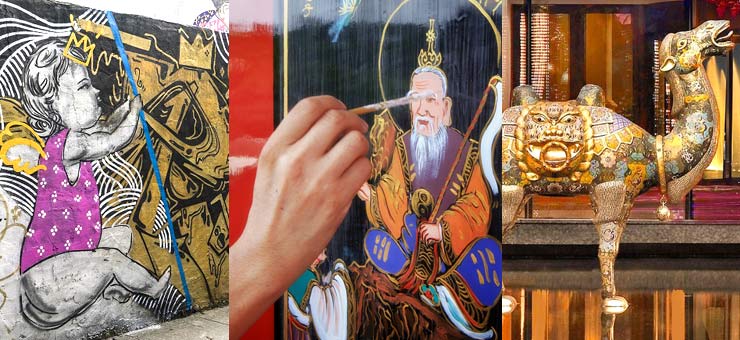 Long a spot for frenzied feasting by Hongkongers in search of crab and prawn - Taipa Village has modernized but managed to retain a fair bit of flavor with some authentic Portuguese restaurants too, like the matchbox Antonio not far from Pak Tai Temple. Try the barbecued chouriço that arrives flaming to your table, or paella. In the neighbourhood is photo and porcelain festooned O Santos Comida Portuguesa, a delightful spot for more tender grilled meats, flavourful curries and Macanese aromas, a perfect complement to any art tour or walk. Stop briefly too at the Museum of Taipa and Coloane History to savour the pickled atmosphere of the powder mint green Taipa Houses – a row of five carefully preserved Macanese homes with white louvred windows, set along a lovely cobblestone path, and dating back to the soft-focus 1920s.
In many ways Macau offers the perfect setting for an experiential art event that pops up in all manner of locations, from spacious art galleries and stately old buildings to venues accessed through narrow lanes in the old quarter. As a walking city with several heritage sites within easy reach, the city serves up a unique context for art making it at once exciting and accessible. Be surprised by this endearing laid back city where smiles and creativity are ladled out generously. Art is very much a part of the various strands of religious devotion and multi-layered history that have come together.

Macao Government Tourism Office | Smart Travel Asia | Special supplement created by Dancing Wolf Media