SPECIAL SUPPLEMENT | in partnership with El Nido The Funny Lion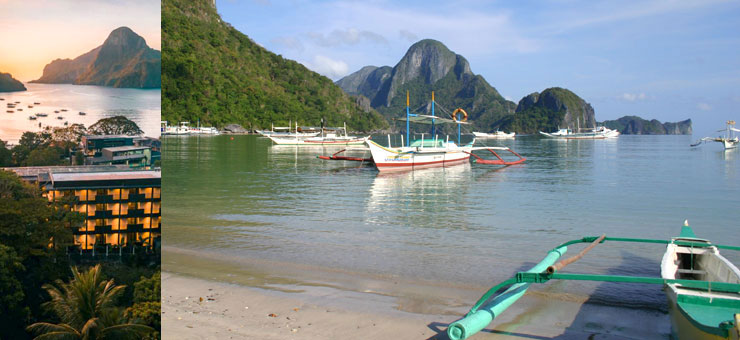 El Nido town starts to party as The Funny Lion charms romantics, adventurers
This new resort in a once-sleepy fishing village is all heart and smiles. Find out why guests rate this contemporary boutique hotel one of the best in Palawan.
AFTER a giddy, eye-popping flight on small propellor Dornier aircraft, travellers once fell, hearts racing, into the rustic embrace of Lio Airport, 12km from El Nido town. Arrival is a tad tamer now on AirSWIFT ATR 42-600s that fly over shockingly blue seas and dramatic limestone karst outcrops peppered with brightly coloured catamarans cutting lazy wakes across the water. That's a small taste of what's to come at The Funny Lion El Nido, a 50-key contemporary resort set smack in the middle of this frontier fishing village. The town has gentrified over the years with the addition of lively bars and cafes that heave with music and laughter well into the night. You won't spot them on a dawn arrival though after that hour-and-a-half flight from Manila. With modern amenities and friendly service this boutique resort offers an excellent staging point for the region's fabled adventure, dives, snorkelling, rock climbs, hidden beaches and azure seas. Staff will happily whisk you off to Papaya Beach where white sands and romantic picnics await. At the end of the day, nurse your sunburn and aching limbs at this boutique resort in a safe, compact, screened-off world.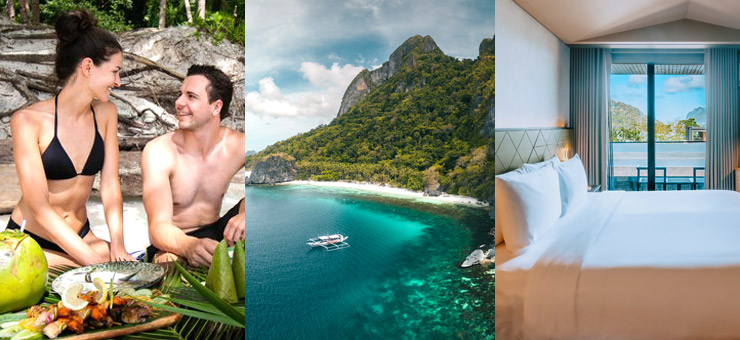 Designed by Eric Paras, the hotel is a cubist courtyard construct with inward-facing walk-up rooms surrounding an alfresco lap pool. A few rooms on the fourth floor get a peek at the bay. In a sense, this provides a welcome recharge after the full-on El Nido assault. Cool your sunburn, sip a refreshing drink, plug into WiFi or a good book, and dig into the food. The 26sq m rooms with aircon, feisty showers, beach sandals, beach bag, hairdryers, mini-bar with juices and cable TV, are cosy for honeymooners but may be a squeeze for families. Unsurprisingly, the hotel has attracted a younger Millennial clientele (that can bound up stairs) and engage with the sun-drenched outdoors. For those in the mood, Party Town is just a few steps away. The town itself is not known for its beach though the scenic bay and chattering boats are an Instagrammer's dream.
The scenic bay with its karsts and chattering boats is an Instagrammer's delight...
They key to the resort's charm is its exceptionally warm hospitality and beaming staff (who receive regular accolades from guests). The smiles and music are integral to the Filipino welcome - and music will follow you everywhere you go. The Sea Tree Spa is open and deals with weary backs in a separate building. Diners and sippers can try the Poolside Bar (international beers and gourmet coffee) or head to the all-day-dining Hunt Restaurant for fresh seafood, Saturday grill buffets, and poolside seating perhaps. El Nido town food choices abound. The El Nido Boutique Artcafe is a long-time all-day stalwart serving as a souvenir spot with a popular cafe. Potter off to vegan cafe Taste El Nido, the aromatic Midtown Bakery, Botanica Cafe, or Gusto Gelato for a midday brain freeze. New places are regularly opening.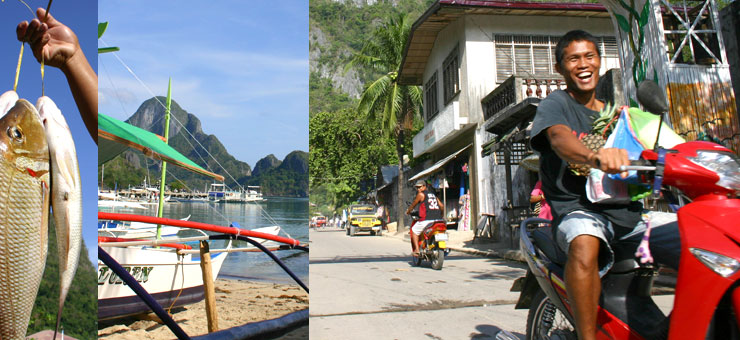 Some of the best fun will be had out and around the area, exploring the stunning vistas and actually getting into them for a one-of-a-kind selfie. Sunsets set the limestone karst outcrops ablaze and if you are fortunate enough to catch thissight - as you certainly will - get your cameras unholstered for an orange burst. The moods of the sea are varied and monsoon clouds always add a special touch of drama evenings. Hire a boat and explore nearby beaches or hop on a motorbike and explore the coast. This latter option is for the intrepid only as driving in the Philippines has its own unique thrills.
More enjoyable perhaps to get a complimentary shuttle to Papaya Beach for a quick canoodle and snaps to turn friends green with envy. With more picture-postcard beaches than you could shake your flip-flops at, the 1,780 islands that make up Palawan, have put the wow back into travel, certainly in these parts. The Palawan archipelago comprises 25 percent of all the national islands yet it hosts just a fraction of the population. Consequently, nature enjoys an ample run. Peace and privacy are the currency in this region of gin-blue seas and magnificent ocean vistas punctuated, of an evening, with cold San Miguel or, if you're in the mood, a party at one of the town's swinging bars.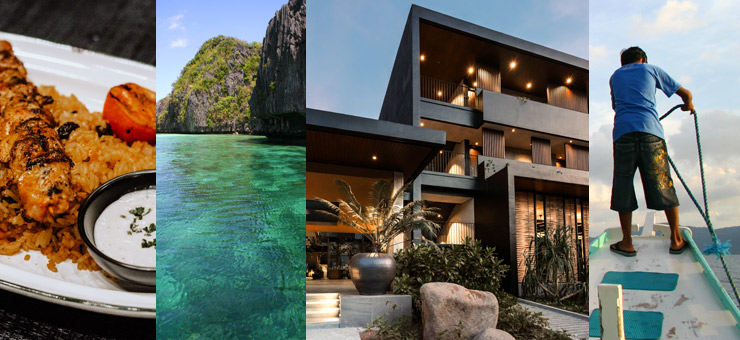 The Funny Lion El Nido | Smart Travel Asia | Special supplement created by Dancing Wolf Media