SPECIAL SUPPLEMENT | in partnership with the Macau Government Tourist Office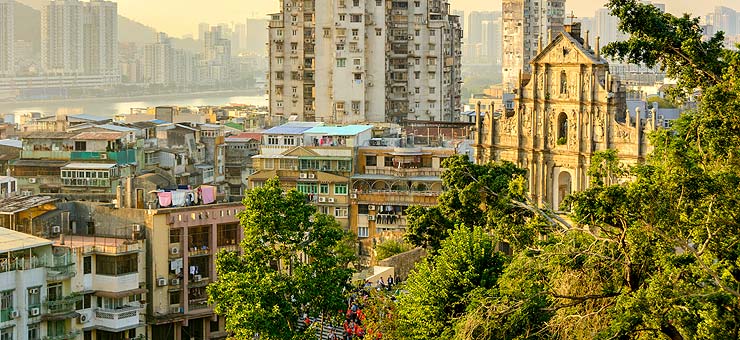 Macau walks a visual time machine with a new secret ingredient - street food
From Macau's historic cobblestone centre and storied churches to a pastime that is as old as the city but a tad less known - street food, chic bites, and a hint of Portugal.
THE missionary fervour of successive Jesuits, Dominicans, and Franciscans as they engaged with the Ming Dynasty to secure the first Western toehold 400 years ago, stamped Macau with an enthralling blend of devotion best savoured in the many churches in the Historic Centre of Macau. Couple this with the wafting aroma of freshly baked Portuguese egg tarts and you get a sense of how Macau might set the pulse racing in more ways than one. The Macau Government Tourist Office has crafted eight Macau walks, each a unique cross section of the enclave. Footsteps into the Historic Centre walking trail is a vintage blend, its centrepiece the lively Senado Square with its rippled cobblestones redolent of the Mediterranean, and the pale yellow Baroque St Dominic's Church. This is a spot for street buskers, egg tarts, gew-gaws and peeling pawn shops that now deal as much in offloaded luxury items like Rolex watches, as in traditional jewellery and gold. Signs of the times. The laundered virginal white Holy House of Mercy, once a refuge for the ill, and for widows, is now a selfie haven in front of the central fountains. The walk ends at the former Opium House, an inner harbour witness to history where Western commercial strategy was played out in dark smoke-filled dens, the resulting tensions errupting in the Opium Wars. Another war, this one a family dispute, resulted in a divorce with a savoury result - the launch of the splendid Margaret's Café e Nata that does some of the best egg tarts in town. Her secret? A recipe supposedly 'borrowed' from Lord Stowe's Bakery (on Coloane), a must-try favourite for hardcore foodies. Margaret's is a small detour at Rua Cidade de Sintra.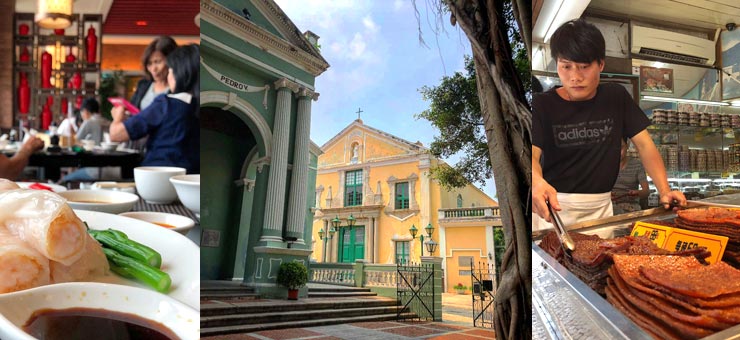 Crossroads of China and Portugal is a must-do trail for anyone with limited time, providing a linear 24-minute stroll from Senado Square to the Taoist A-Ma Temple (1488, 7am-6pm), an incense-wreathed complex dedicated to the Goddess of the Sea. The walk is gentler from the temple and early morning affords the best light and lightest crowds. Then it's on through narrow characterful alleys lined with flowers. Explore Barra Square and then stroll up Calçada de Barra past the mustard walls, arches and crenellated roof of the Moorish Barracks (where Indian troops from Goa were once billeted). This is a neoclassical confection by an Italian architect, and the resultant pot-pourri is emblematic of the cultural crossroads that Macau was. Stop at charming and impossibly tiny, but leafy Lilau Square with its small spring-fed fountain before heading to the Mandarin's House (1869, 10am-6pm, shut Wed), the home of Zheng Guanying, the Qing dignitary who penned his Shengshi Weiyan here. Explore its quite alcoves. Here too is St Augustine's Church and its antique cobblestone plaza.
That divorce resulted in a savoury result - some of the best egg tarts in town...
How about An Experiment of Creativity? This is for sun-lovers, running from Kun Lam Tong and its Buddhas, past the Communications Museum and Flora Garden, before heading on to the Dr Sun Yat Sen memorial and St Lazarus Church. As many do, you may opt to head up to the Guia Fortress and Lighthouse to savour some splendid views over canon muzzles. It is a modestly taxing stroll up (a cable car runs too), along stone lanes that wrap around the knoll leading up to the whitewashed lookout terrace with its instantly recognizable stubby lighthouse and unadorned chapel. Just white doves and a few shutterbugs for company.
The Legacy of Arts and Culture trail leads from Fisherman's Wharf, a jolly themed area with its own coliseum, past the futuristic Macau Museum of Art and the Macau Cultural Centre. It's a breezy half-hour harbourside stroll ending at the Kun Lam Ecumenical Centre by the glinting 20m-tall gold figure of the goddess of mercy. It can get hot in summer so you might pick early morning. From here you'll spot the humpback bridge links arcing across the bay to the neon thrum of Cotai. In many ways this delineates the separation of 'old' Macau and the 'new'.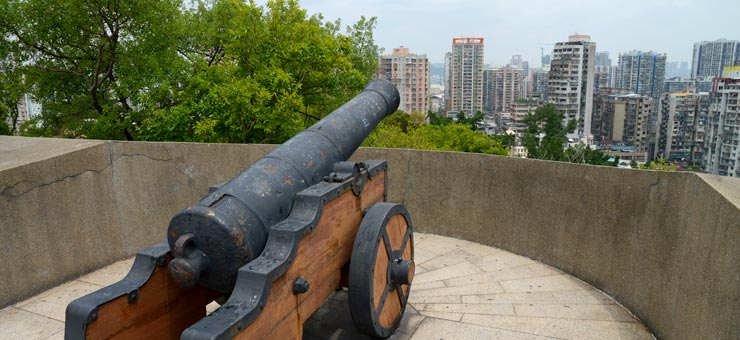 Enchanting Stories of Our Lady of Fatima Parish starts at the arched Border Gate. This is one of the more densely packed parishes and the oldest. The walk leads down crowded tree-lined streets, past the Ox Warehouse up a gentle hill to Mong-Ha Fort. Stop to explore shops and tea houses. The unassuming Mong-Ha offers fine views from its battlements with an array of canons and a nice eco walk with some well-planned play areas for tiny tots. Built in 1849 after the First Opium War, it was intended as a bulwark against invasion from the north. Now it sits marooned, astride a hugely busy artery of commerce linking China to the city. On Rua de Venceslau de Morais in a grungy industrial neighbourhood you'll find the stylish hideaway BarCelona Tapas & Rice 'Spanish Gastro Bar' where in dimly-lit environs you'll wolf down small portions of Iberico pork ribs, baby cuttlefish with chick peas, and savoury paella, among other treats.
The Marriage of East and West in St Anthony's Parish starts at the legendary façade of St Paul's Cathedral where you might stop a while on the approach road and side streets to savour the crispy sweet pork jerky sold by the yard, bubble tea and ice-cream (a life-saver on a hot day below the See Cathedral fountain), and grilled meats on sticks. Not far from here are Macau Soul (a wine, music and fine art lounge) and the tucked away Mico Cafe (after 5pm, and closed Tuesdays, for wine, Portuguese cheeses and light tapas). Then wander past the old city walls and plunge into a delightful warren of shops and boutiques, to pass St Anthony's Church, before veering west towards the Protestant Cemetery, the Statue of Dr Sun Yat Sen in Kiang Wu Hospital, and the Fire Services Museum. St Paul's dates to 1640 and was one of the proudest specimens of Catholic architecture at the time, housing both a church and a college. It was razed by a fire in 1835 but the façade remains a handsome testament to its former glory.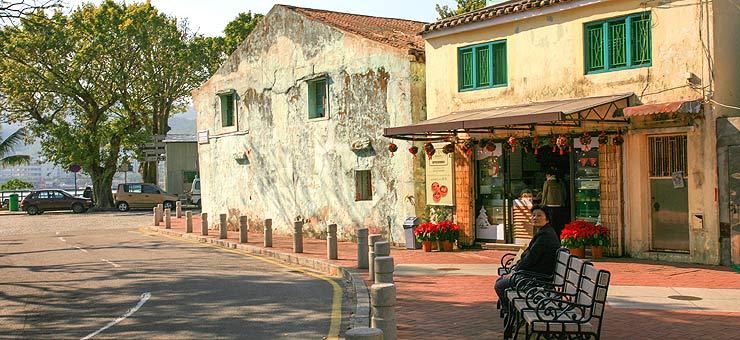 The trail for the Bygone Days of Taipa Village passes through some quaint old districts. The village - in its heyday, a spot for frenzied feasting by Hongkongers in search of crab and prawn - has modernized but managed to retain a fair bit of flavor with some authentic Portuguese restaurants too, like the matchbox Antonio not far from Pak Tai Temple. Try the barbecued chouriço that arrives flaming to your table, or paella. In the neighbourhood is photo and porcelain festooned O Santos Comida Portuguesa, a delightful spot for more tender grilled meats, flavourful curries and Macanese aromas. After a pause at the Museum of Taipa and Coloane History, savour the pickled atmosphere of the powder mint green Taipa Houses – Museum – a row of five carefully preserved Macanese homes with white louvred windows, set along a lovely cobblestone path, and dating back to the soft-focus 1920s.
The Nostalgia in Coloane walking circuit is a must and you will likely dawdle on the seafront promenade and at the striking yellow Chapel of St Francis Xavier. Spend some time viewing relics in the chapel, St Francis (1506-1552) led the first Jesuit evangelical missions to Asia. This overlooks a characterful square lined by noodle stalls that have gentrified over the years but provide sufficiently comforting country clatter. Finally, the floral Largo do Presidente Antonio Ramhalo Eanes suggests several lazy strolls around this centre point, and your nose may lead you to Lord Stowe's Bakery. The English Lord Stowe is credited with the delicious egg tarts that are now a staple on Macau menus. From here find transport to get to the excellent Miramar facing the pepper-sand Hac Sa Beach (close to the Grand Coloane Resort, the former Westin). Savour everything from fried octopus and suckling pig to sangria in a breezy verandah with open views. Walk on...

Macau Government Tourist Office | Smart Travel Asia | Special supplement created by Dancing Wolf Media