SPECIAL SUPPLEMENT | in partnership with the Macau Government Tourist Office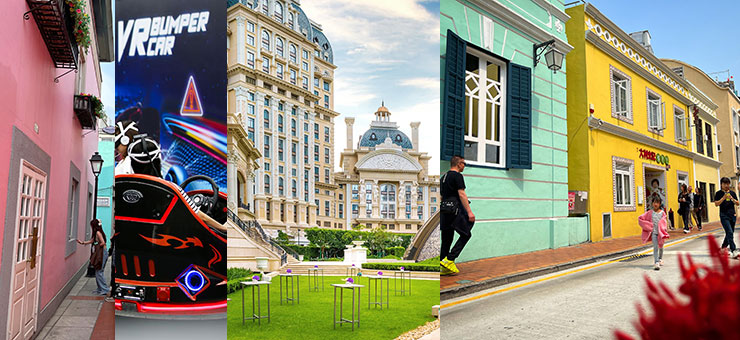 Macau gets in the fast lane: welcome to the New World of ziplines, virtual reality, immersive art and zombies
From Macau's historic cobblestone centre and storied egg tarts, to glittering hotels with adrenalin-laced activities that leave Las Vegas in the shade. All this just a 55-minute ferry ride from Hong Kong. Go Baroque to bungy in 60 seconds.
MACAU is a tale of two cities. The small coastal strip that first attracted the interest of Portuguese traders, European adventurers, and the Church in the 1500s — all scenting the intoxicating promise of China — has been eclipsed by the Cotai reclamations where the beating heart of its casino country is to be found. Surprising as it may seem, these two realities work in perfect sync, each complementing the other as travellers seamlessly transition worlds without missing a beat.
Many still long for the city's romance, its stately churches, imposing cobbled squares, and impossibly narrow streets lined with homes in vivid hues of pink, green and blue. These are the standard checklist items, repositories of history as well as photo-album memories, redolent of egg tarts, glistening sweet pork, stolen kisses, and bended-knee proposals. Travellers of a certain vintage will recall wild drives in open-top Mokes that strained to reach uphill pousadas, especially in rainstorms.
Yet, it is worth paying attention to the reimagined Macau 2.0, the significant 'other' that is evolving at a rapid pace. Think art, uber-chic shopping, zipline thrills, fine dining and themed accommodation, all making longer stays ever more inviting and eminently sensible.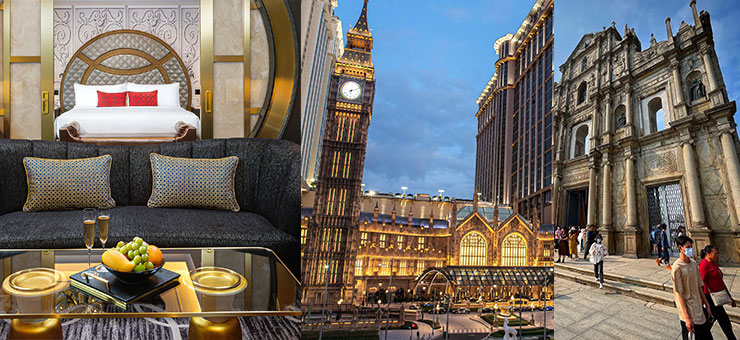 The two personas are intertwined far deeper than the eye might suggest. For all its glitter and glitz, Macau is above all a family destination, safe, fun, and energetic. Indeed, the goodies have not stopped rolling in since 2006 when the world's highest bungy jump upped the scream level at the 338m Macau Tower. Here, even the elevators rocket up to the 233m observation deck jump-off point in a gravity-defying 60 seconds.
The city's ultramodern hotels combine conferences with excellent child-friendly facilities and dominate the reclaimed Cotai strip that has fused Taipa and Coloane into a single island. At the Coloane end, facing a breezy seaside promenade, are the unassuming Lord Stow's Bakery (where the territory's renowned egg tarts first emerged from the oven in 1989), and the simple but striking Chapel of St Francis Xavier. More delectable Portuguese egg tarts are available courtesy Pedro Almeida Executive Chef at the atmospheric Albergue 1601 tucked away in historic Lazarus Quarter in the heart of the old town, and at Margaret's Cafe e Nata in a tiny alley behind Grand Lisboa.
a reimagined Macau has rapidly evolved: think art, uber-chic shopping, ziplines, fine dining and VR escapes...

The Chapel of St Francis Xavier overlooks a trim square lined by gentrified noodle stalls that provide sufficiently comforting country clatter. St Xavier would have been pleased at the evangelising zeal of Andrew Stow ('Lord' is an affectionate and informal moniker) who started out as a pharmacist with Boots before perfecting his recipe that set a continent mad with desire.
At the business end of Cotai-Taipa (closer to Macau's historic centre) are the latest architectural replicas that have grafted the most memorable of British and European landmarks onto the Macau skyline, offering hedonistic escape for all ages and interests. At the Grand Lisboa Palace lose yourself in faux Paris as you stroll a 1,000sq m secret garden, admire the best of local art, gawp at the upscale shopping, or take in some incredible shows. Sleep on the finest linen here or check out designer chic at adjoining The Karl Lagerfeld.
At the Lisboeta Macau, the interior design morphs from the 1960s to the present, showcasing the city's evolution. Kids will particularly enjoy the 82 themed rooms from 'LINE Friends presents Casa De Amigo'. And for the young and restless there's the H853 Fun Factory with retail, cinemas, and food. Yes, you'll spot dogs and pets ambling about. They have a nose for the good life too.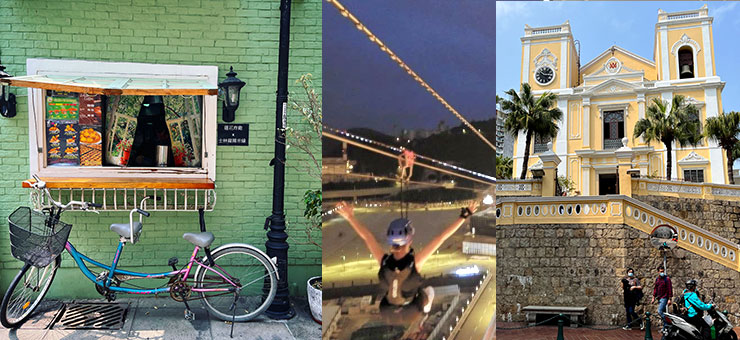 Another If this is not enough there's 20,000sq m of outdoor event space for music concerts and carnivals. Have your party shoes handy and keep an eye out for the Goddess of Fortuna fresco (referencing the old Hotel Estoril) and Macau Palace, a take on the old Chinese-style floating casino. The younger set (and intrepid old timers) will enjoy ZipCity Macau and its 388m zipline run offering big views with wind in the hair. This self-styled urban zipline gets punters up to speeds of 55kmh.
Within hailing distance, in the Sands casino strip, is The Londoner Macao complete with its Big Ben, London cabs and double decker buses. This has replaced the old Holiday Inn Cotai that closed in 2019. It includes an upscale hotel within a hotel, the all-suite Londoner Court, and faces the unmistakable spires and lagoon of The Venetian Macao where roulette wheels go clickety clack 24 hours a day.
The list of activities keeps growing and changes by the month. You might explore the immersive video-art of teamlab's SuperNature (The Venetian), ride virtual reality bumper cars at Legend Heroes Park (Studio City), skydive indoors in a wind tunnel at Go Airborne Macau (H853 Fun Factory), explore the 17,000sq ft Kids' City (City of Dreams), or enjoy a virtual reality game — battle zombies for instance — at Sandbox VR Macau (Macau University of Science and Technology). There's no time to be bored.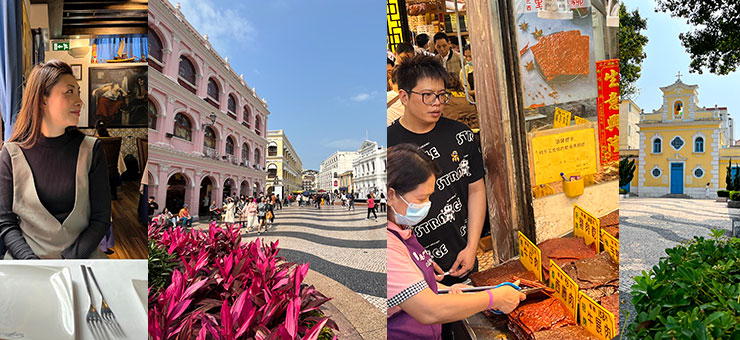 The Macau is now rated the world's top five-star destination for high-rollers, leaving Las Vegas in the shade. Its appeal as an East-meets-West destination has never been stronger. Its magic lies is in the artful blend of churches and casinos, financiers and families, heritage and hotels, profit and play. It is a heady brew. And despite the massive reclamations and sartorial swagger, deep down Macau remains a small friendly village with a big heart.
The city is at its most welcoming in old Taipa, which boasts some authentic Portuguese restaurants like the matchbox Antonio, not far from Pak Tai Temple. Try the barbecued chouriço that arrives flaming to your table, or a paella. Close by is the popular porcelain festooned O Santos Comida Portuguesa that does more tender grilled meats and flavourful curries. Later, visit the Museum of Taipa and Coloane History to enjoy the powder mint green Taipa Houses Museum (a six-minute stroll from Antonio) — a row of five carefully preserved Macanese homes with white louvred windows, set along a lovely cobblestone path. It's a great Instagrammer spot.
The missionary fervour of successive waves of Jesuits, Dominicans, and Franciscans, is visible in the many churches that remain a haunting testament to that gilded age. The Historic Centre of Macau (on the UNESCO World Heritage List) has so many places of worship crammed in that foot power is the best way to savour it all. The central Senado Square offers a logical starting (or ending) point for several walking routes that spoke out from its rippling cobblestones.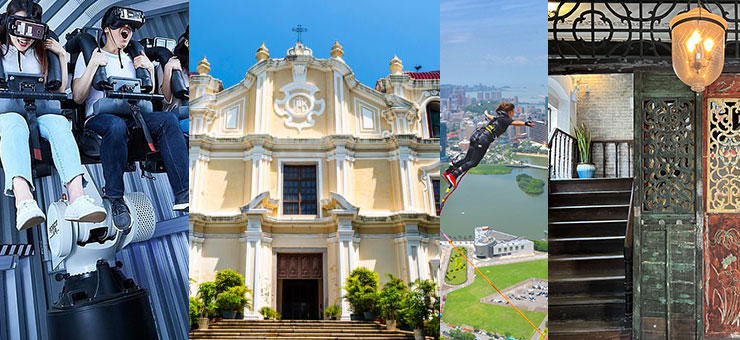 Sights include the yellow St Dominic's Church, the laundered white Holy House of Mercy, once a refuge for the ill and forgotten widows, and the iconic façade of St Paul's Cathedral. St Paul's dates to 1640 and was one of the proudest specimens of Catholic architecture of its time, housing both a church and a college. It was razed by a fire in 1835.
One charming 30-minute stroll is from the Taoist A-Ma Temple, an incense-wreathed complex dedicated to the Goddess of the Sea, to Senado Square. Spot the mustard walls, arches and crenellated roof of the Moorish Barracks (where Indian troops from Goa were once billeted). This neoclassical confection by an Italian architect, is visually emblematic of the cultural crossroads that is Macau.
Check out Mandarin's House, the home of a noted Qing dignitary, the Baroque St Lawrence's Church with its vaulted ceiling, meditative pews and stained glass, the imposting St Augustine's Church and its antique cobblestone plaza, and the stately Dom Pedro V Theatre.
It was in Macau where the first chapter of China's engagement with the West unfolded. The "barren rock" of Hong Kong would rise much later in the mid-19th Century, its initial fate and success linked to this tiny port enclave. So if you're headed to Hong Kong why not do an easy 55-minute ferry hop from the Macau Ferry Terminal (Shun Tak Centre) to check out the place where the history-to-hi-tech Greater Bay story really began? Welcome to Magical Macau.

Macau Government Tourist Office | Smart Travel Asia | Special supplement created by Dancing Wolf Media