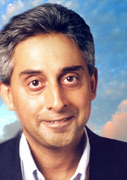 Shoehorned between two Singaporeans of Sumo proportions and directly behind four seamless hulking shoulders I realised I may never get that hot towel, or one of those fuzz-shedding airline blankets that can transform a banker into a woolly mammoth in minutes. In front of me the Great Wall of Hillbillies-Who-Do-Unspeakable-Things-To-Cousins-And-Canoeists (not to mention movie viewers) was impregnable. I couldn't see the movie screen at all. In fact I couldn't see a thing. Not even the stewardess who was animatedly pointing out the exits. This is a necessary practice in case passengers think of exiting through the overhead bins.
Send us your Feedback / Letter to the Editor

Share This Page
Movie-watchers all know an obstructive hairdo is easily dealt with. Just snip it off. As scissors are not considered aircraft-friendly nowadays, you might try attacking the offending hairdo with a comb (to effect a middle parting) or, in extreme cases, an overgrown toenail. Nail-clippers could provide a slower alternative but their two-centimetre files are now considered dangerous in case a passenger pops out a giant wad of earwax during takeoff or descent thus distracting stewardesses who are entirely focused at these critical junctures on not creasing their smart Nina Ricci uniforms.
Dagnabbit! I knew I shouldn't have popped that Viagra this morning
Over the past few decades the Japanese have shot upwards, Singaporeans sideways, ghee-soaked Indians every-which-ways and Americans have simply gone from enormous to humongous (as any Asian buying a prophylactic in New York will have gauged). To cope with this, airlines have developed wide-body jets - with narrow-butt seats. It's a smart move. Dallas-based Southwest Airlines recently joined Northwest, Continental and American Airlines in demanding "overweight" passengers purchase a second seat so as not to inconvenience slimmer travellers, especially those not possessing corrective tools like combs and overgrown toenails. Empty seats? Charge double. Check-in staff are advised to exercise discretion while passengers just, well, exercise discreetly. "I'm sorry sir, you'll need an extra seat." "Dagnabbit! I knew I shouldn't have popped that Viagra this morning."
Southwest's seats are 18 inches wide. This is pretty generous compared to even business class on some airlines - Dragonair A330 (18 inches), Emirates B777-300 (17.9 inches), Cathay Pacific B747-400 (20 inches), Thai Airways International B747-400 (19.6 inches) and Singapore Airlines B777-200 (19.8 inches). My ultra-slim dining chairs at home have entertained non-liposucked bottoms without recourse to a two-seat policy. How big are these BIG people?
My ultra-slim dining chairs have entertained non-liposucked bottoms without recourse to a two-seat policy
Med schools will tell you an average adult weighs 70kg. The ever-meticulous US Federal Aviation Administration estimates an average person weighs about 77kg. It also maintains that a child between two and 12 weighs 36kg. I'm not sure I'd like to meet this child. Cathay Pacific puts an average adult male at 78kg (Singapore Airlines, 77kg) and an adult female at a blushing 68kg. These figures are based on Hong Kong Civil Aviation Department surveys. Apparently no one at the CAD has a decent girlfriend. We know people are getting bigger and heavier - the US even has a National Association to Advance Fat Acceptance (NAAFA) that is at the forefront of the fat spat. So what?
Simply put, an "overweight" aircraft poses problems. For one, people like me need a periscope to check out the safety drill. What are those orange things with tubes that fall from the ceiling anyway? Headphones? There is another issue. For an aircraft to actually take off, lift needs to exceed gravity (or weight). Payload weight and distribution is therefore carefully calculated prior to each flight and the largest persons are usually placed, you guessed it, directly in front of movie screens. With 300 passengers on board, a miscalculation of just 20kg per passenger (including baggage) would amount to a 6,000kg error - the difference between flying to London and taxiing there. Heavies need to be herded to the back to allow the aircraft's nose to come up which makes it considerably easier for the pilot to see where's he's going.
Pacific Air, which flies to Boracay from Manila, weighs baggage along with the passengers. Good idea. Airlines would love to woo waif-like models from the covers of Vogue who could easily sit three to a seat. No need for movies. Passengers would sit riveted watching these svelte sirens sashay to the toilet, get married (and divorced, but only on flights of three hours or more).
I was determined to watch Matrix. I finally found a gap between the beef and managed to view half the screen (the left side). Have you ever watched just half a movie, wondering where that bullet is going and who got kissed? I watched the right side of the screen on the way back and thus figured out the "whole" movie.
NAAFA offers large travellers these guidelines: book off-peak flights, use the airport toilet and ask for an empty seat next to you. But heck, that would ruin all the fun. Imagine watching a whole movie? Anyway, those orange headphones don't work.