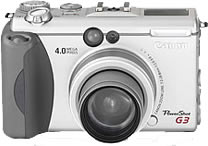 Cannon Powershot G3
WHILE the five megapixel barrier has been broken and technology will soon deliver "higher quality" pixels as well as quantity, for most consumer purposes, even for prosumers (consumers dabbling in semi-professional shooting), the 4.0 megapixel zone still features the highest level of comfort, value and stability.
To begin with, as we mentioned in our last article, you don't need a fantastic number of pixels for run-of-the-mill point-and-shoot photography. Those family holidays will turn out fine on a glossy four-by-six-inch print with just two megapixels (two million pixels). Another useful measurement is "effective pixels" which determines the actual resolution. This eliminates redundant pixels.
In the final analysis, the key issue is your camera's "output resolution". A camera that outputs a1,600x1,200 pixel resolution gives you two million pixels of output (if you multiply the two numbers). And two million megapixels is normally enough for most photography.
Send us your Feedback / Letter to the Editor

Share This Page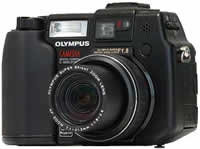 Olympus Camedia C-5050
A wonderful camera we featured in our last review turns up again, entirely on merit. It looks good, handles well and produces great results. The Canon PowerShot G3 delivers 4.0 megapixel resolution with a 4x optical zoom lens offering the equivalent of 35mm-140mm. The camera also shoots three minutes of movie with audio though it must be remembered video on a digital camera is really a side trick. We don't advise buying a camera purely for video. For one, most camera video is low resolution (which is fine for the Web if that is your prime intention) and you cannot zoom while shooting. Decide your requirement and then go for a specialist piece of equipment. The G3 features flexi-zone auto-focus as well as manual focus and images can be saved as high-quality RAW files or as JPEGS. Picture quality is very good with colour on the warmer side. The macro mode delivers sharp results while a "vivid" mode offers rich colour enhancements. There is also an "intervalometer" function that can set the camera to shoot at intervals of between one minute and one hour. The design is rather boxy but the G3 is excellent value for money. www.canon.com
Olympus Camedia has churned out a series of successful models and its latest is no slouch. The Olympus Camedia C-5050 shoots in five megapixels. The lens is a 3x zoom, 35mm-105mm equivalent with a maximum aperture of f1.8 (ahead of most current cameras). The C-5050 features a range of settings, automatic as well as manual with five scene modes and a customised personal setting as well. The body is sturdy, easy to grip and handle. The functions take a moment to acclimatise to but once this is done, the camera is remarkably simple to use.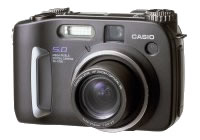 Casio QV-5700
Another interesting feature of this Olympus is that it utilises not just one, but four types of memory cards. The camera can be set to display a live histogram but we imagine most punters will find little use for this. A histogram is a bit like a graphic equalizer on a hi-fi system. Of course, if your concept of music is settings and frequencies as opposed to the actual sound, then, well… All in, the C-5050 is a good camera with a fast "burst" rate and video but focusing can sometimes wobble. It is perhaps the best-priced 5.0 megapixel model on the market right now. www.olympus.com
Casio always seem to have a few tricks up its sleeve and comes out with innovative products in the blink of an eye. The latest is the Casio QV-5700 with a Canon 3x zoom lens with a 35mm-102mm equivalent range. This is a snappy looking camera with a neat black body. It does everything except samba and features video as well with both NTSC and PAL output. It offers a poster-busting 5.0 megapixel output and is packed with features like filters including one that casts a purple hue over your picture. Purple? Picture quality is good and the camera is easy to use with controls easily accessed on the body. The only quibble might be that it could have featured a 4x zoom lens. This model probably carries the Canon G2 lens. Well, you can't have everything. www.casio.com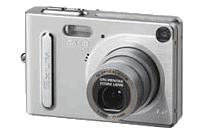 Casio EX-Z3
Jumping back to miniatures, Casio's "wearable" Exilim line now has the ultra-trendy ultra-slim EX-Z3 with 10mb built-in memory and a Pentax 3x optical zoom lens, a 35mm-105mm equivalent. This picks up where the EX S2 and M2 left off. There is an additional 4x digital zoom and a reasonable two-inch LCD monitor. Video buffs can shoot 30 seconds of continuous movie with audio in one burst at 320x240. The Exilim mini features three recording modes - normal, best shot and movie. It weighs 2.5 ounces and generates three million pixels which is quite a wallop for its near credit-card size. The camera can register up to 21 settings if you're one of those that can't make up their minds. There is also a two-in-one function that permits you to place two subjects together on a single image. The camera is ready to shoot in a little over a second. If you want heads to turn every time you produce your little silver accessory, this is perhaps the camera for you. www.casio.com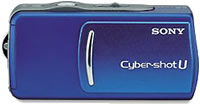 Sony Cybershot U20
Not to be outdone, Sony have trundled out, or rather, flicked out, their new Sony Cybershot U20. This is a 70gm wonder that produces two million pixels and does movies (without sound). Your images go onto Sony's proprietary Memory Stick (the U20 comes with an 8mb card). The colour reproduction is reasonably faithful though tones tend to warm up a bit.
This means more red in the cheeks, if not in the eyes (as the camera has red-eye reduction). The Cybershot U20 features a sliding case that covers the lens and the entire gizmo could fit easily in the tiniest of pockets. Just don't swallow it one morning along with your vitamins. It is dead easy to use as controls are minimal. The fixed lens is the equivalent of a 33mm. www.sony.com

Minolta Dimage Xi
Another little wonder is the Minolta Dimage Xi which features a rather revolutionary 3x "folded" zoom lens (with additional 4x digital zoom). The lens works within the small case and does not protrude as in conventional cameras. Why? The Xi can also record video with audio (at 320x240 resolution) up to 35 seconds in one burst. Or a 90-second audio clip.
And all this with a 3.0 megapixel output with images stored in JPEG or TIFF format. Buttons are uncomplicated and few. A super point-and-shoot package, but make sure you don't get your fingers in your pictures. Hold the camera carefully and keep those fingers away from the lens. The ISO range runs to just 400 and there is little manual control - like shutter or aperture priority settings. The Dimage Xi weighs in at an ultra-light 130g in an ultra-slim package that will certainly cause heads to turn. One advantage is the fast start-up. You can switch the gizmo on and start shooting within just over a second. Of course, as we said before, watch out for those fingers.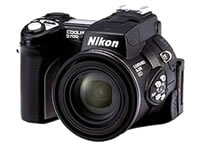 Nikon Coolpix 5700
We looked at the Nikon Coolpix 4300 in our last article. It did well. The new Nikon Coolpix 5700 (which moves beyond the 5000 model mainly on zoom features) is a five megapixel star save for one little hitch - the controls. These are labyrinthine and our bet is you will not find the video activation control within fifteen minutes of scrolling through menus and sub-menus. Not a camera for novices though the end results are superb.
With that out of the way it must be said the Coolpix 5700 is a remarkable, semi-professional camera with 8x zoom (35mm to 280mm equivalent), a maximum shutter speed of 1/4000, and an ultra high speed continuous shooting mode which enables three frames per second. The camera has great colour response (including for neutrals) and relatively low "noise". At higher ISO settings like 800 you might see a fair bit of "noise" (grain and disturbance) but at normal everyday settings the Coolpix 5700 produces rich tones and saturated colours. Its macro setting is outstanding and weighing in at a very reasonable 480gm it is not too heavy to lug about. A useful camera for hobbyists bordering on professional though a small quibble is the relatively average battery life.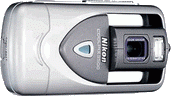 Nikon Coolpix 3500
The Coolpix 3500 is a smaller, elegant, "designer" contender. It features a lens that swivels within the camera frame, a 3.2 megapixel output and a 3x zoom lens. Exposure control and focusing are good though you will need to remember not to get your fingers pinched between frame and body. Even the manual offers this warning: "Care should be taken to avoid catching fingers, hair, or clothing between the lens section and the camera body." Amen. The camera can shoot 35-second movies. There is no sound though. A decent option for novices with a snap-happy finger - and short hair. www.nikon.com