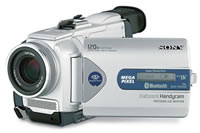 Sony DCR-TRV50E
TAKING LOADS OF PHOTOGRAPHS when you travel is great, but there are times when nothing will do except capturing the moment on video. While most of the digital cameras on the shelves these days have video built in, there is no real substitute for a true digital video camera. When you tie that in with the abundance of video editing software on the market and a good CD burner you have the perfect set of solutions to set up your own little studio and create some movie magic from your holiday to share with your friends and family.
There are a few things you should ask yourself before you rush out to the shops with your credit card. Size: how much bulk are you prepared to put up with? Price: how much are you prepared to pay? Features: what extras do you want (good still pictures, special effects etc)? And what do you want it to use it for? As a general rule these areas affect each other – the smaller the size, the higher the price and so on. Equally, if you are looking to produce the next Blair Witch Project then you will need to go up the price scale a bit. Decide what you are looking for in a camera, then go out and look at the models that give you what you want in your price range.
Send us your Feedback / Letter to the Editor

Share This Page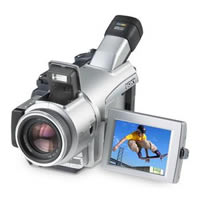 Sony DCR-TRV70
The following digital video camera models are arranged in descending order by price.

The Sony DCR-TRV50E is one of the more consumer friendly cameras around. While this one tops our price list it does it for a reason. It comes complete with a whole host of features that will make the gadget freak drool. First out of the box is the availability of a Bluetooth adapter. With this you can connect to your PC without all the trouble of plugging everything in. While, sadly, this doesn't come with the camera itself – it is a separate accessory – the fact that it is there will make things lots easier. Toss out those wires. Aside from that you have great things like a Carl Zeiss lens and a 3.5-inch touch-screen LCD. A real plus point for this one is the image quality. You also get excellent video quality, even in low light and still pictures come out well too. This is definitely one to look at if it is within your budget. Approximate price, US$1,554. www.sony.com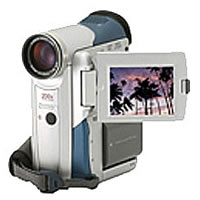 Canon MV5i
The Sony DCR-TRV70 camcorder is small enough to be easy to carry without being so tiny that you find the buttons difficult to use – it measures 73 x 91 x 174mm. The smallish size and unusual body design make it easy to handle and it has a good sized colour screen for watching what you are shooting and reviewing afterwards. The camcorder's actual performance is pretty good. You should expect sharp pictures with good colour from your daytime filming, but the performance when light levels drop is reduced a little. The camera comes with a 2 megapixel CCD, which manages to produce good still pictures too. Estimated price, US$1,299.99.
If size is important to you then the Canon MV5i should be one to look at. It measures just 55 x 111 x 89mm, which makes it a cinch to slip into a pocket or shoulder bag. The good news about this one is that despite its size you will generally get excellent video results. There are also a whole range of special effects options built in so you can play around with them for something aside from the usual straight video. However, the camera does not perform as well at night, despite having a night mode. Low light video is not as good as it could be. If you are planning to do your own video editing on your PC at home then you will need to get the MV5iMC version, which comes with a multimedia card so that you can transfer your video and stills to your computer. Estimated prices, MV5i US$1087, MV5iMC US$1204. www.canon.com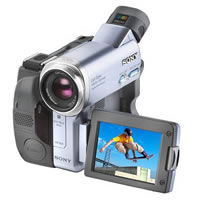 Sony DCR-TRV22
If the DCR-TRV70 doesn't fit your budget as easily as it might then you might want to take a look at the Sony DCR-TRV22. This one has most of what you want from a video camera while losing some of the frills that the more expensive models have. The good news is that the size has been kept down, the TRV22 measures just 71 x 90 x 112mm, and the video quality is going to be good enough for you to produce something worth watching when you get home. The camera also manages to produce good results in low light conditions, so you shouldn't have any serious problems filming at parties or evening festivals. The downside comes when you try to take still pictures. These are not up to the quality seen elsewhere, so if this is important to you then look at some other models. Approximate price, US$699.99.
A cheaper model comes from Canon in the shape of the MV600i. This one, as you might expect from the price, is a little larger than its smaller relation – measuring in at 58 x 103 x 147mm.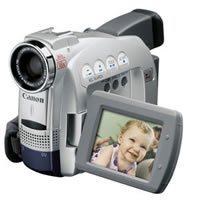 Canon MV600i
This camera is probably going to suit anyone venturing into the world of digital video for the first time – it is easy to use and reasonably priced. However, it does come with its own faults: Low light shooting is unimpressive and the microphone is sensitive enough to pick up the slightest noise, which may sound good, but you don't really want to hear the noise your hands make as they change position or, worse, the noise from the tape spooling through the machine. Buy it if you are looking for something quick and easy, but not if you have high standards for your audio and low light shooting. Estimated price, US$686.
Compact size is top of the list for the features that make the Samsung SC-D590 worth looking at. With vital statistics of just 46 x 95 x 93.3mm, the SC-D590 is not going to make much of a bulge in your pocket or a bag. Samsung has obviously spent a little time making sure that the layout of the buttons and the menus are pretty user-friendly too.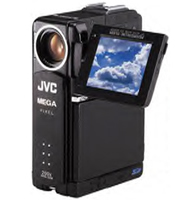 JVC GR-DVP7A
Daytime video comes out crisp and clear, and the camera manages to deal reasonably well with nighttime shooting as well (it includes an infrared mode too). Still images are pretty good too and are captured on a Sony Memory Stick, making it a bit easier to get hold of them. This is one that you should look at if you are looking for quality video in a small package. Estimated price, US$680. www.samsung.com
JVC says that its GR-DVP7A model is the "smallest and lightest mega-pixel video camera" in the world, so if size really does matter to you then this is going to be one to look at first. For what it packs into its slim frame this camera really is small – 43 x 115 x 80 mm. Video quality is pretty good, but once again this one suffers at night with quality being lost as the light gets reduced. The other downside for this model is that the digital stills are not very good at all. If you want something that is going to be really easy to carry around then take a long careful look at this one, but if you need something that is going to be a good quality hybrid with good stills and good video you might want to look elsewhere. Estimated price, US$650. www.jvc.com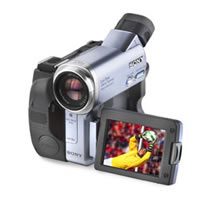 Sony DCR-TRV19
The Sony DCR-TRV19 is very similar to its more expensive relative, the DCR-TRV22. It provides pretty much exactly the same performance levels (it shares the lens and CCD) and has the same shape and design, manual controls and internal menu system. Of course there are differences between the two. The DCR-TRV19 only has a black and white viewfinder and you can't save still pictures onto a memory stick (the stills are not that good anyway, but it would have been nice) and you can't use it to transform your old analogue Hi8 and VHS tapes into digital masterpieces. However, if budget is more important than anything else then this should be one to consider. The main difference is in the pocket. Estimated price, US$599. www.sony.com
Our prices reflect aggregate current rates at the time of writing, but you should shop around for better deals. One more thing to check is what is included in the package – some camera kits appear more expensive, but they throw in some extras, so always ask before you put you money down.