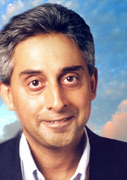 THERE WAS a civilised time once when televisions were black and white and no matter what you were viewing – Kovalam in Kerala or a beach in Pattaya (Phuket had not been invented yet) – it was always snowing on screen. If you perused an average atlas you had an immediate appreciation of how big the world really was, especially when compared to your wallet. A welter of red lines criss-crossed the globe like varicose veins. These were travel routes, shipping lines. And they offered a unique commodity. Choice.
Today the world has shrunk though Anna Nicole Smith billows unbowed. Our wallets are smaller still. But we have more choice, right? In the information age now where six-year-olds can finally watch character-building TV shows like World's Scariest Police Chases, the consumer is king. In the old days you might have foolishly assumed the shortest distance between two points was a straight line. Well that's gobbledegook. Who would want to fly direct from, say, Johannesburg to Dubai, when they could go via Frankfurt (with a bonus eight-hour airport transit)? That's right, a bonus eight hours eating sausages and doubling the distance flown. To get this incredible value you'd have to choose Star Alliance and Lufthansa which would then route you through its Frankfurt "hub".
Send us your Feedback / Letter to the Editor

Share This Page
Take Delhi-Nairobi. Of course you could do it the old-fashioned way and fly Air-India direct from Mumbai. How dull. Savvy travellers would pick the seamless Oneworld route and do it on British Airways, Delhi-London-Nairobi, with a convenient 15-hour layover at Heathrow that offers ample time for changing babies' nappies, arguing with your wife and having a nervous breakdown.
That's right. A bonus eight hours eating sausages at Frankfurt airport and doubling the distance flown. Why would you fly direct?
Bigger airlines and combines like Oneworld, Star Alliance and Skyteam have expanded our skies by turning simple three-hour trips into memorable all-day affairs. This is why travellers in the US find themselves constantly changing planes in cattle ranches in the largely abandoned Mid West. These are hubs. The flights you take in and out are spokes. The airline people who tell you all this makes sense, are spokespersons.
Oneworld, which includes American Airlines, Aer Lingus, British Airways, Cathay Pacific, Finnair, Iberia, Lan Chile and Qantas, says it employs "over 260,000 people in over 130 countries." Oneworld flies to 550 destinations. Star Alliance, which includes Lufthansa, Lauda-Air, Scandinavian Airlines, Singapore Airlines, Thai, United and Varig, covers 729 airports in 124 countries making it the biggest biggie. There is a third grouping – Skyteam. This includes Korean Air, Air France, Delta, AeroMexico and Czech Airlines.
What does this mean in real terms? Let's say, you want a European holiday taking in Paris, Milan, Athens and London. Flying out of Asia in the old days you might have simply connected the dots and done something like London-Paris-Milan-Athens-Home. Of course if you were distracted by something weighty like the aforementioned Anna Nicole Smith, you might inadvertently book London-Paris-(Playboy-Mansion)-Confessional, which goes beyond the purview of this column.
Hubs and spokes are always there for us and American cattle in the Mid West count airplanes to fall asleep
On Star Alliance you would likely fly Lufthansa to Frankfurt. Then you'd connect to London. All your points would be through Frankfurt (or Munich) so you'd get London-Frankfurt-Paris, Paris-Frankfurt/Munich-Milan, Milan-Frankfurt-Athens. From here you could fly home in soft focus with Singapore Airlines (which can make it hard to find the loo), or smooth as silk on Thai. On Oneworld you'd fly British Airways and hub through London getting to wave to the Queen quite a few times in the process. Well it's just after the golden jubilee year. Why be small in this age of big?
There are few special fares for intra-Europe routings so the more sensible will go ahead and join the dots anyway and save a lot of time and bother. It will cost about the same as going the alliance route. Remember, airline groupings work pretty much like jealous restaurateurs. They want customers to dine at their chain exclusively. They won't abide pepperoni mixing with the tandoori.
Switch carriers, say Alitalia, to fly Paris-Milan (on a Star Alliance round-the-world), and you'll be penalised for this pesky add-on. I used the Alitalia option to Milan and paid handsomely for this privilege. I was later pick-pocketed by a group of urchins outside the Duomo who were obviously unaware of the decline of the Asian economy. One of them came back a few minutes later, contrite – to return my ticket. Even they respect cross-alliance derring-do.
Airlines plying trunk routes are muscling out middlemen, the smaller destinations. They wish to connect large, high-traffic markets with other large producer markets. Fiji, which once had about ten major airlines serving it is now overflown and dropped entirely by all but two: Air New Zealand and Qantas (which codeshares with Air Pacific). Manila has fallen off the map. But we fly secure in the knowledge that Frankfurt is always there for us. And American cattle in the Mid West count airplanes to fall asleep.