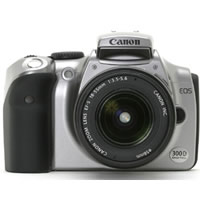 Canon's EOS 300D is a top performer
Pixel envy makes up for much of the driving force behind new digital camera models hitting the market. For most people bigger is better and the camera makers aren't about to disappoint. The current top range for most consumer models is around the six megapixel mark, with a few venturing even higher. Of course, two megapixels will give you a decent postcard print, but five megapixels adds detail, more light-and-shade subtlety and, more importantly, gives you something to brag about.
Up in this stratosphere camera models are divided into those for semi-pro camera buffs (often called prosumers) and those for the ordinary user. The former tend to value picture quality over size while the latter chooses convenience first. Whichever group you fit into will decide whether you opt for a bulky everything-but-the-sink camera or something snug and snazzy for your pocket.
Before you launch headlong into the digital fray, examine one seemingly minor – but important – point regarding zoom. Normal SLR (Single Lens Reflex) cameras use mm as a measure of lens range – like 22-35mm on my desk and so on.
Send us your Feedback / Letter to the Editor

Share This Page
The trouble comes when these numbers get applied to digital cameras. This is because digital cameras have a sensor that is smaller than the 35mm film for which the numbers were originally developed, so the effect of the zoom is magnified. To figure out the actual numbers you have to look at what is called the "conversion rate".
Canon's prosumer cameras (the D30, D60, 10D and 300D) have a conversion rate of 1.6. This means that you must multiply the original mm number by 1.6 to get the digital result. So my 22-55mm lens on a digital camera will actually function as a 35.6-56mm lens. This is great for getting longer zooms, but means that you will struggle to find a really wide-angle lens suitable for digital SLRs.
Wide-angle lenses are what you would need to shoot interiors and get more in the frame than just mum's turkey or junior's drool. (Most consumer digital cameras with built-in lenses get round the conversion problem by just indicating how many times the zoom will magnify the original image – 2x, 3x and so on.)
Here is a collection of some five and six megapixel models on the shelves (and a little extra) with approximate prices.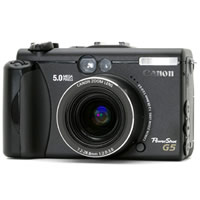 Canon PowerShot G5 offers value
Canon EOS 300D (aka Rebel)
Details: Price US$950, 6.3 Megapixels, includes 18-55mm zoom lens.
We say: One of the best features of the 300D kit is its price. For less than US$1,000 you get a digital SLR (where the viewfinder looks through the lens) complete with 6.3 megapixel CCD, built-in flash and an 18-55mm lens. Just take it out of the box and you are ready to go. The 300D provides great quality low-noise pictures (that display minimum interference) from a camera that, while providing the usual full suite of automatic and manual settings to play with (so you can get the effects you want), also manages to be very user-friendly. On the negative side you can only shoot four continuous shots before the camera has to write to the CF storage card, but you probably won't need more than this unless you are at a sporting event.
Best for: This is one for the amateur photographer using film at the moment who wants to switch to digital or anyone looking to move up from the easy-snapper digital camera. www.canon.com
Canon PowerShot G5
Details: Price: US$600, 5 megapixels, 4x zoom lens
We say: This is smaller and nimbler than the SLRs, but it is still a powerful camera. It has the ease of use that Canon has managed to bring to most of its models and provides excellent pictures with a good collection of automatic and manual functions. There is a good set of add-on lenses for the G5 so you can get some of the advantages of an SLR in a smaller package. On the downside Canon has still not solved the lens cap problem that has plagued the G series – it won't stay on and you might notice some purple edges on high contrast shots.
Best for: This is one that will appeal to anyone who wants the ease of a point-and-shoot camera that provides good pictures without the bulk of an SLR. www.canon.com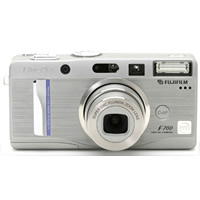 Fujifilm FinePix F700
Fujifilm FinePix F700
Details: Price: US$360, 3.14 effective megapixels but a far greater output/quality due to a dual sensor system, 3x zoom lens
We say: The FinePix F700 has plenty to keep the more advanced snapper happy. The camera manages to pack in a good range of features and technology into a light compact body. Fuji has also included its new CCD designed to increase the dynamic range of its pictures (essentially give more range between the highlights and the shadows). The camera can also capture detailed large-format RAW files and has a pretty good video too.
Unfortunately there are a few problems: While the camera reduces the amount of noise in the pictures this has the result of smudging some detail and the Jpegs have more artifacts than normal. The flash has a pretty low range – around 5.5m.
Best for: Advanced snappers who want something easy to carry around, with plenty of features at a reasonable price. www.fujifilm.com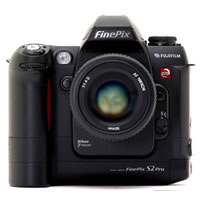 Fujifilm FinePix S2 Pro: great pictures
Fujifilm FinePix S2 Pro Digital SLR (Body Only)
Details: Price: US$1,850, 6.1 megapixels
We say: The S2 uses most of the body of a Nikon N80, so Nikon users will have no problem getting to grips with it. There have been a couple of changes, such as the addition of extra space for batteries (it needs two sets – one for the camera and one for the digital side of things) and these give it a bit of extra bulk. The viewfinder is a bit too small and this combined with the slightly bulky body makes it is not the best handling camera around. On the plus side the camera really delivers excellent pictures and a FireWire interface means that downloading should take no time at all.
Best for: The semi-pro or the more serious amateur photographer. www.fujifilm.com
Kodak Easyshare DX4530
Details: Price: US$400, 5 megapixels, 3x zoom lens
We say: Kodak has long been the champion of the easy-to-use-camera with its docking station and very uncomplicated camera controls and image transfers. The Easyshare DX4530 is no exception. The camera has user-friendly written all over it with simple controls and, of course, the one button image transfer. Pictures are good with lots of clear, sharp details. The only areas that it falls down on are night shots, which don't come out as well as they should and the unreliable lens cap, which has a tendency to fall off.
Best for: Anyone just getting into digital photography, who wants to avoid anything too complicated. www.kodak.com
Konica Digital Revio KD-500Z
Details: Price: US$460, 5 megapixels, 3x zoom lens
We say: The Digital Revio KD-500Z is very much for people who like the smaller things in life. The camera is remarkably compact and is easy to slip into the pocket or handbag. While the KD-500Z is designed to appeal to the beginner, with fewer features and less complications the pictures are of high quality. Unfortunately the design has some flaws with a smaller than necessary navigation button and a viewfinder that is too small for comfort.
Best for: Beginners in the world of digital photography or those who just want something that provides good pictures without too much in the way of features to get in the way. www.konicaminolta.net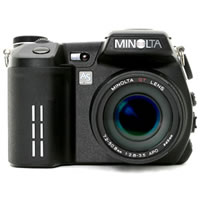 Minolta Dimage A1: feature-packed
Minolta Dimage A1
Details: Price: US$750, 5 megapixels, 7x zoom
We say: The Dimage A1 is very nearly an SLR, in fact apart from the fact you can't change lenses it might as well be. It has a great optical zoom range (the equivalent of 28mm-to-200mm in a 35mm SLR) and an image stabilizer to keep things nice and sharp when you are shooting with maximum zoom. It also has enough features (including a studio flash connection point) and good enough picture quality to keep most pros happy while being easy enough for a novice to give it a try. The only downsides are that continuous shooting is limited to five shots and there is an electronic viewfinder instead of an optical one.
Best for: The prosumer should look carefully at this one. If price is putting you off an SLR this may be a good alternative. www.konicaminolta.net
Nikon D1X Digital SLR (body only)
Details: Price: US$3,890, 5.3 megapixels
We say: Nikon has managed to come up with a winner with the D1X. It built on the solid strengths that were evident in the D1 – good design, excellent build quality and a strong, rugged body and it added some excellent new features and user-friendly functions. Some of the best bits include: Support for IBM's microdrives (meaning lots of megabyte space for storage); high-resolution pictures with very little noise even at a high ISO range, lovely colours, and nice fast operation. The only downside is that the D1X tends to be power hungry and you will need a couple of back-up batteries for extended days out. Oh and you will need to get a lens or two if you don't have them already – this is a body only deal.
Best for: The pro/semi-pro photographer who already has or uses a Nikon. www.nikon.com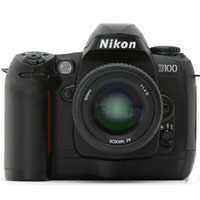 Nikon's D100 offers top-notch results
Nikon D100 Digital SLR (body only)
Details: Price: US$1,450, 6.1 megapixels
We say: The D100 may be in the higher price range for digital cameras aimed at consumers, but it does give good value for your dollar. You get high quality pictures (which you really should expect at this level) combined with speedy response times and good power consumption. The body is intelligently designed and should present no difficulties to Nikon fans. The downside is relatively small with the viewfinder not really being big enough for comfort and the fact that you will need to buy lenses for this model too so the price is a little more than it might appear.
Best for: The semi-pro or the more serious amateur photographer who already has a Nikon. www.nikon.com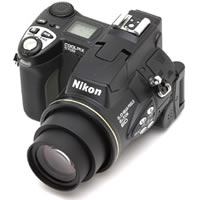 Nikon Coolpix 5700: 8 x optical zoom
Nikon Coolpix 5700
Details: Price: US$650, 5 megapixels, 8x zoom
We say: This one is sleek and sexy; it has lovely lines and comes with a great set of features. Not least amongst these is an 8x optical zoom (one of the highest around). The 5700 also produces sharp pictures with very little noise. While the features will make most prosumers very happy they might be a little too much for the novice or the casual snapper. The 5700 also suffers from a slightly slow autofocus – something that has plagued other Nikons too.
Best for: Anyone who knows what they are doing and is looking for an SLR equivalent in a smaller package at a lower price. www.nikon.com
Olympus Camedia C-50 Zoom
Details: Price: US$400, 5 megapixels, 3x zoom
We say: The C-50 Zoom manages to keep itself slim and light despite its 5 megapixel CCD and advanced features. Olympus has managed to make the C-50 very user-friendly while also providing a good range of manual options for the more advanced photographer. On the downside the C-50 is pretty slow when it comes to shooting on the TIFF mode and the LCD screen is not up to par in darker conditions.
Best for: Amateurs looking for a camera that is great at point and shoot without a very heavy price tag for the 5.0 megapixel range. www.olympus.com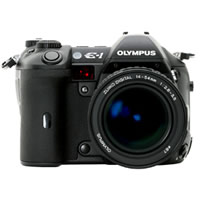 Olympus E1: good picture quality
Olympus E1 (body only)
Details: Price: US$1,799, 5.5 megapixels
We say: This is a brand new addition to the Olympus range and has already shown that it can compete alongside professional models from other manufacturers. Picture quality is high with clear sharp images and good colours. Operation times are quick with fast shooting times and a good auto focus system. The E1 is somewhat unusual in that it is an SLR that has its own range of lenses, rather than fitting a range of existing lenses. This is both a plus and minus point. On the plus side you get a good range (the equivalent of 28mm – 400mm in a 35mm camera) with just two lenses, on the minus side your options are limited (although the range may well grow).
Best for: The pro/semi-pro photographer who has not bought into an existing system. ww.olympus.com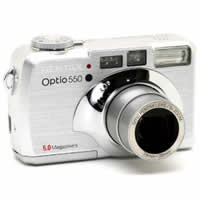 Optio 550: world in your pocket
Pentax Optio 550
Details: Price: US$450, 5.0 megapixels, 5x zoom
We say: If you are looking for a camera that combines portability with picture quality then the Optio 550 should be on your list. It has a comprehensive set of options and modes giving you plenty to work with and produces high-quality pictures. It puts all that into a body that is well-designed and small enough to fit into your pocket without too much of a bulge. The minus points come in the shape of a slow autofocus and slow continuous shooting – around one frame per second.
Best for: Anyone who is serious about getting good pictures, but doesn't want the bulk of other cameras in this range. www.pentax.com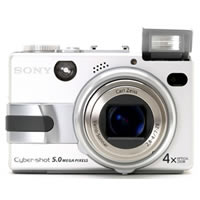 Sony DSC V-1: style and substance
Sony DSC V-1
Details: Price: US$650, 5.0 megapixels
We say: The DSC V-1 has some excellent points to recommend it to the prosumer. Firstly it delivers good results with better than average resolution and nice colours without much in the way of noise, even at higher ISO settings. It has been well designed with a good level of build quality and Sony has managed to keep the weight down too. Support for USB 2.0 should speed up downloads. On the downside the camera's auto white balance has problems in direct sunlight and the battery life is nothing special.
Best for: The prosumer looking for a good camera, which will be able to fit in the pocket, alongside an extra battery. www.sony.com
Sony Cyber Shot DSC-P10
Details: Price: US$400, 5.1 megapixels, 3x zoom
We say: The Cyber Shot DSC-P10 is one of the smaller models on the shelves at the moment. If size is all you are looking for then this one could be a winner. However, while the camera does have plenty of options most of them have to be accessed through menus in the LCD screen, which is not very easy and the screen itself is not too good in bright sunlight. The images it produces are average to good, with nothing making them really stand out except the 5.1 megapixel sensor.
Best for: Anyone who places size and style above picture quality, or anyone who already owns a Sony and is looking to trade up without having to ditch all their Sony memory sticks. www.sony.com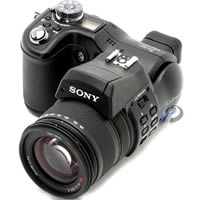 Sony Cyber Shot DSC-F828
Sony Cyber Shot DSC-F828
Details: Price: US$1000, 8.0 megapixels, 7x zoom
We say: Sony are intelligent enough to use great lenses in their digital cameras and this model is no exception. It uses the Carl Zeiss Vario-Sonnar T zoom lens, which is great because it makes for excellent picture quality. When that is combined with a massive 8 megapixel CCD you should have a winner. Sony has also included support for Compact Flash memory cards (not tying you down to its proprietary memory sticks).
While there is no FireWire connection at least Sony uses USB 2.0, which should make for faster downloads of the large images. On the negative side, DSC-F828 doesn't yet have any add-on lenses for it and Sony says that any damage caused by third-party equipment won't be covered by the warranty. That may limit its appeal to the semi-pro market.
Best for: The prosumer who wants an all-in one model with a huge CCD. www.sony.com