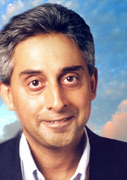 ARE TRAVEL AGENTS dinosaurs? I'm not alluding to T-Rex's in shades with cheesy grins and a stackload of holiday brochures. T-Rex's of that ilk, if discovered, embalmed in resin or dancing the hula in Hawaii, are to be lustily applauded and sent to the nearest cryogenic lab or Steven Spielberg. I'm referring to a bunch of people embalmed in musty offices, with no brochures, or at least none that have been updated since 1960. These people are called travel agents. They are experts. And their expertise is all honed into one remarkable line: "What's your budget?"
Conversations like this are commonplace. "I'd like to book the Four Seasons." What's your budget? "What's the best rate available?" What's your budget? "What's the best you can offer?" Well, we have a Holiday Inn… "I said Four Seasons." What budget? "Best possible of course." Holiday Inn has 50 percent off. "Could you come over to my home this weekend so I can set my nasty Rottweilers on you? Yes, but what budget…?
Send us your Feedback / Letter to the Editor

Share This Page
In Asia, the travel agency business has lost much of its cachet with the advent of the Internet and direct approaches to travellers by airlines and hotels with cash-registers ringing in their eyes. Business, unlike George Bush's Star Wars missiles, has a habit of going direct. This is the way it should be, fewer middlemen, fewer costs and better prices. But it overlooks one simple fact.
Travel agents handle airline seat and hotel bed inventory in bulk. They "consolidate" business and thus offer you a better price
Price is based on volume. The more you purchase, the cheaper the unit price. And this is where travel agents enter the picture. They handle airline seat and hotel bed inventory in bulk and thus "consolidate" business. Since the agent is selling in volume, he or she is in a position to pass on price advantages to the traveller.
Airlines are also often bound by rules and regulations to follow a certain pricing regime. They may offer last-minute inventory at seemingly rock-bottom rates (especially on the Net) but it is unlikely travellers will get such a good deal on an advance purchase. Most holiday travel is planned, if not purchased, well in advance. You have about the same chance of finding a seat at short notice out of Hongkong during Chinese New Year as you do of spotting the Pope in Patpong. It's unlikely to happen, unless you head north to enjoy the blizzards that time of year in Mongolia.
Travel agents also "package" airline and hotel combinations at prices far cheaper than if these two components were to be purchased separately – a common mistake. If you happen to be an FIT (frequent independent traveller) then price is clearly not a worry. Splash out. But if you fall into the steadily growing ranks of US-AT-THE-BACK, think again.
Then again, agents, even the unsmiling ones, perform another valuable role. They offer a human face – and voice. It is all very well dealing with bland corporations and glib FAQs on the Net but how many times have you wished you could actually speak to someone? I mean speak with a human, not a pop-up window that keeps telling you to fill in your zip code (which doesn't exist in several parts of Asia). The personal element is vital. People have questions to ask and FAQs prepared by bozos with a zip-code fixation are the problem, not the solution.
People have questions to ask, and FAQs prepared by bozos with a zip-code fixation are the problem, not the solution
Travel agents actually pick up a phone. They may ask you about your budget, but someone will answer the phone. Call an airline and you will be passed from one recorded voice prompt to another till you are hopelessly lost in a labyrinth of gobbledegook, or spat out at the end of the exchange with the useful instruction, "When you are finished, don't forget to hang up." After phone conversations like this I usually get into a lively mood and want to set fire to my hair or leap from the balcony. So it is a timely prompt. My friends tell me that after phone conversations they drink beer, watch TV, argue, slap their kids around and generally engage in all manner of normal domestic stuff. None of them actually hangs up the phone. FOLKS, WHEN YOU ARE DONE WITH THAT CALL, PLEASE HANG UP.
What agents do need to do in Asia, apart from working on their smiles, is learn to provide "service". Travel agents are not just order-takers. They are an interface between the product and the traveller. This means they need to brush up on their general and specific knowledge in order to answer your questions. They need to know whether that beachside hotel is actually on the beach or across a four-lane highway where your kids will go SPLAT, if your connecting flight leaves from Gatwick or Heathrow. And they need to know where Ouagadougou is. Service is the key. The alternative is too grim to contemplate – T-Rex's with 1960 brochures.