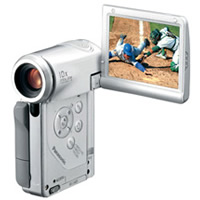 Panasonic's AV100 is stylish and compact
CHOOSING A DIGITAL VIDEO CAMERA is like walking into a bordello packed with hundreds of gorgeous women – none of them speaking English. You might like their looks and curves but basically you don't have a clue and things are going to get very, very complicated. A word of advice. Do a little research, decide what you really need and ruthlessly narrow your choices down to one or two models. At the end of the day, no matter how sexy it looks, or feels, a digital video camera is a functional piece of equipment. You have to tell it what to do. So figure this out first. Alternatively, get out of the candy shop and quit moaning.
Do you need a video for professional shooting or for trigger-happy family holidays to track your baby's drool and every heart-wrenching grimace? If it's the latter, you don't need a high-end toy. Do you want your friends to ooh and aah every time you unsheathe your gleaming titanium friend? Or do you simply want to produce the best results for posterity? While you agonise over these issues, here's a range of digicams from idiot-proof to prosumer (consumers bordering on professional) and pro.
Send us your Feedback / Letter to the Editor

Share This Page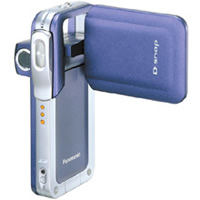 Panasonic AV50A: Now that's small...
Starting small, but high on the ooh-and-aah scale, the Panasonic SV AV100 is as pocket-size as they come. And it is loaded with features. This digital video camera is an incredibly small credit-card-size 3.54" x 1.31" x 2.56" and it weighs just 146gm. It will fit in your shirt pocket, but don't drop it. There's a generous two-and-a-half-inch LCD monitor with this pint-size shooter, and shoot it can – in DVD quality MPEG 2 and even TV quality MPEG 4. Still pictures are saved as JPEGs. Video is stored on an SD Memory Card so video and image transfer to a PC is a snap. There's even a 10x (ten times magnification) optical zoom. Of course, size costs, and this little number will set you back around US$1,000. For something even slimmer, and cheaper (around US$400), there's the Panasonic SV-AV50A, a digital camera in cool blue with a two-inch swivel LCD monitor, almost 2 megapixel resolution, built-in flash and MP3 player. It can handle voice recording too. But wait a minute. You wanted a digital video camera, right? The downside of this ultra-slim package is the meagre 2.5x digital zoom and lack of image stabiliser. But what did you expect? www.panasonic.com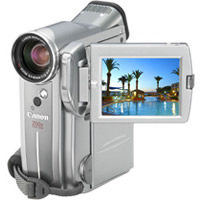 Canon MVX10i is user-friendly
The Canon MVX10i is reasonably slim and compact, weighing in at 450gm. It packs a decent punch. Menus are well laid out, the camera supports PictBridge (meaning it can print directly to a printer), it can shoot 2 megapixel stills (which is sufficient for quality large postcard prints) and it is generally pretty user-friendly. There is a single CCD sensor that is versatile in a range of lighting situations. The camera additionally utilises an SD Memory Card. For that close-in baby-drool action there's an optical 10x zoom and a 200x digital zoom. For most purposes consider just the optical zoom as digital zoom, based on mathematical computations, tends to cause pixilation and blurring as you zoom further in. It is also unlikely you would be able to use a zoom greater than 10x without a tripod to steady the shot. The MVX10i has a built-in flash which is more than adequate but it lacks the convenience of a hotshoe should you require a stronger clip-on flash. The sound recording quality matches the good visuals. Price roughly around US$1,500. All in, a good buy. www.canon.com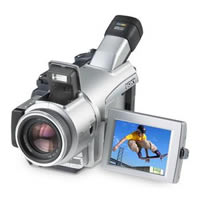 The versatile Sony TRV70
The stylish and versatile Sony DCR-TRV70 camcorder is not a compact by any means but still reasonably small, and a comfortable, weighty fit in the hand. The LCD colour screen for viewing shots is large and features one-touch buttons as well, for ease of use on the road. It also swivels around for you to take portraits of yourself. A handy feature, this, especially if your husband always messes up your profile. The DCR-TRV70 produces sharp and vibrant images and its low-light shooting is relatively okay. The optical zoom is 10x and digital 120x with a Carl Zeiss Vario-Sonnar lens. Still pictures are more than adequate with just under 2 megapixel resolution which is fine for postcards or Web purposes.
This digital video camera uses miniDV tapes and includes a Sony Memory Stick card slot. Should you have a laptop with a Memory Stick slot, this feature can come in handy. The camera is intuitive and easy to use and the zoom stick is large enough to manipulate gracefully without jagging from wide to telly in an instant. Take care not to hit your thumb on the small Back Light button though or your video footage may turn mysteriously white. A great buy and lots of add-on lenses for wide or macro. www.sony.com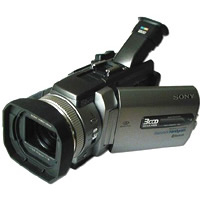 Sony TRV950E: excellent quality
The Sony TRV950E is a squat and fat affair weighing in at 550gm, with a 10x optical zoom and digital 120x.

Still, like a well-bred pug, the camera exudes a professional feel that will thrill prosumers and it also offers a wealth of analogue as well as digital inputs and outputs.

For further connectivity there's Bluetooth and a Memory Stick. The menu, as with the TRV70, is largely one-touch on the large two-and-a-half-inch LCD screen.

The still shooting at 1 megapixels is adequate for Web posting and stills can be pulled from the video footage as well.

Overall video quality is excellent. Price around US$3,000. www.sony.com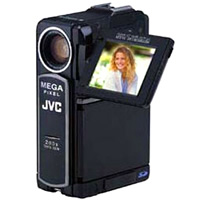 Compact JVCGR-DVP9e
For a compact upright that's reasonably well packed and not too heavy (420gm) look at the JVC GR-DVP9e. Yes, that's quite a mouthful but imagine shooting with a gadget called Porsche. Well, actually, that might not be a bad idea. Never mind. Digital video manufacturers seem to believe in these dull serial-codes and you know what? People are still buying. Go figure. This cool black metal JVC offers a two-inch LCD screen and a 10x optical zoom. Power enthusiasts can take it all the way with a 200x digital zoom. The video can be shot on auto or manually configured. There are analogue as well as digital input and output options.

The DVP9e shoots stills at 1.33 megapixels which, again, is sufficient for Web purposes and a handy built-in feature is the e-mail clip function to capture short bursts on the SD Memory Card in MPEG-4 format. The downside to downsizing is that big-fingered clods may have some trouble tapping menus on the LCD screen. That apart, image quality is crisp. www.jvc.com/main.jsp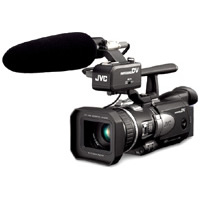 The JVC JY-HD10 is for pros
Purely for professionals is the JVC JY-HD10 (though there is a consumer version GR-HD1). The HD versions are essentially for home-movie-theatre playback with very high resolution and none of the jagging or artefacts (noise and disturbance) that video playback often reveals. Of course all this comes at a hefty pricetag as well. The camera has a sharp 3.5-inch LCD monitor that can be swivelled to provide insight into otherwise awkward angles. A rotating grip aids in this as well, enabling you to move smoothly from a high angle shot to low. The colour viewfinder can be adjusted to suit your eyesight.

There is an audio level indicator and a colour bar generator to optimize recording. The ensemble weighs a reasonably hefty 1,270gm. The CCD however has a low sensitivity and care needs to be taken on shots that move from bright to low light situations as the camera will take a moment to adjust. The best results will be in dispersed light conditions like bright, slightly overcast days. Price around US$2,700. www.jvc.com/main.jsp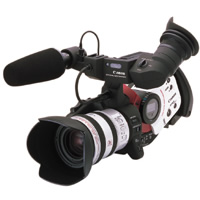 Canon XL1-s is top of the line
At the top end, budding movie directors should consider the incredibly packed, and heavy (2,800gm), Canon XL1-s. This retains the shape and feel of its predecessor, the XL1. No reinvention of the wheel here, just more sheer quality. As befits a movie camera, the Canon XL1-s offers a 16x optical zoom with three CCDs for sharper imaging. The camera works well in a range of lighting conditions and low light is no obstacle. Sound is crisp and audio levels can be adjusted to strike the right balance for your shot. There is image stabilisation though manipulation of the lens will take practise. Zoom in and out slowly to get the desired focus.

As with any professional model, manual adjustment of most settings is possible. The camera requires a shoulder rest or tripod. This is seriously finicky equipment so invest in the little extras to get things perfect. The XL1-s can take 1 megapixel still shots but this is hardly why you'll buy such a monster. Moreover, if you fall, you'll crush Baby Ben and there'll be no more dribble left to shoot. Expensive but top-of-the-line choice for pros. Price around US$4,000. www.canon.com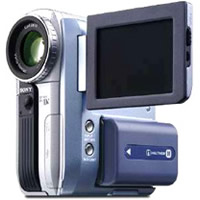 Sony DCRPC 105e is a snug fit
The stylish and compact Sony DCRPC 105e is an upright that fits snugly in the hand. Weighing in at none-too-light 970gm, the camera has a large touch-screen menu system, and an impressive 12x optical zoom. The digital zoom is just 150x but you won't be using that will you? Remember the blurring? This Sony shoots stills at 1 megapixel and its video rendition is clear with sharp colours. There's built-in flash for stills.

The camera also has the ability to serve as a bridge for an analogue throughput, output as digital video so your old footage can be captured by any current DV editing software.

This is a lot easier to work with than earlier generations of this version where it was a major hassle transferring footage to hard drive for editing on computer. One minor niggle is the bottom loading cassette which may interfere if you have a tripod attached. But then, this is rather unlikely, right? Price around US$2,200. www.sony.com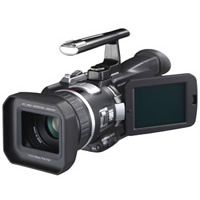 JVC PD-1 handles changing light well
Again at the more professional end of the scale is the JVC PD-1 which produces excellent video quality and comes packed with features. The video camera shoots stills at 1.1 megapixels and has a three-and-a-half-inch LCD screen to frame, shoot, and view them. There's a single CCD but it operates at an extremely high resolution.

The optical zoom is 10x and digital 200x. One of the camera's main strengths is its ability to shoot well in changing light conditions. Dusk and early morning present no problems for the PD-1. The one let-down for Macintosh fans is that high-resolution MPEG 2 capture is a PC-only affair.

But the digital video is excellent and should not present any issues for avid home users – on PC or Mac. There are several in and out options on this digicam. Price around US$2,700. www.jvc.com/main.jsp
Panasonic NVMX500: bells and whistles
The Panasonic NVMX 500 has enough bells and whistles to slug it out with mid-range prosumer models. This digital video camera features a 10x optical zoom and a whopping 500x digital zoom that will have you zeroing in on granny's nose hairs. The Leica lens is responsible for some sharp, zesty images and rich video colour. Still photos are shot at 3 megapixels, more than enough to print a large magazine-size portrait. The Panasonic can also capture video in a Windows Media format. All this said and done, the NVMX 500 falls behind the competition in some areas. Several buttons are either too close together or too small for convenient manipulation and the sensitive microphone will tend to pick up the noise of the tiny motor as you zoom in and out. The LCD menu system could be more user-friendly too. Still, the digital video quality is well above average but a little behind the Sony TRV950e and the JVC PD-1. Price around US$1,800. www.panasonic.com