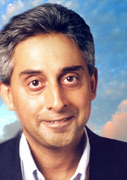 HEALTH IS BACK IN FASHION. It's stylish, New Age, progressive, and CHEAP. Yes cheap. This is what has me, and others of my ilk, clambering on the "healthy holiday" bandwagon. All you have to do is book an inexpensive airline ticket, Standing-And-Barfing-In-Toilet Class if possible. You fly to an exotic beach destination, squeeze into your spandex day-glo bikini or palm-tree-print boxer trunks and proceed, languorously, to starve yourself. If there's not too much complaint, you can starve your family as well.
It has been scientifically proven that there is a direct correlation between near-death food-deprivation and high self esteem, healthy marital relationships, sexual prowess, speedy immigration queues, Vogue covers and nirvana, though I'm not sure exactly what.
Send us your Feedback / Letter to the Editor

Share This Page
As I dragged my half-starved carcass about Koh Samui, it came as no surprise then when a visiting lovely sashayed up to me with a smile that could melt a safe. I won't begin to tell you what it did to my PDA, watch and mobile phone – but, thankfully, I had insurance. I suggested we get to know each other over coffee but she had a better idea. "Why don't you join me for a colonic irrigation?" she cooed, beaming, melting my Cross pen and key-chain.
I offered her a coffee. She suggested a colonic irrigation, which is a rather different way of imbibing caffeine
This is a rather different way of imbibing coffee, and one favoured by healthy New Age types. It involves common household appliances, like the garden hose and a fire hydrant which, imaginatively combined with something like the Iraq Oil Pipeline, can be put to a profound, new purpose. This is something the ancient Mayans practised in Mexico, except they used alcohol. It was a neat way to get sozzled without a hangover or an aching tummy. The Mayans realised, as have modern colonic experts, that it is not a good idea to consume hot Brandy Alexander with a large pineapple garnish, this way.
"Colonic irrigation, eh?" I gasped. "WOW!" I was sorely tempted but, fearing the soreness this temptation might cause, I politely declined. Anyhow I couldn't afford to have any more of my expensive personal items – like teeth fillings – reduced to molten crud. I retreated out of range of that laser smile.
I said at the start of this column that starvation is free. Right? Wrong. Times have changed. These days you fly to an exotic beach destination, squeeze into your spandex day-glo bikini or palm-tree-print boxer trunks and proceed, languorously, to starve yourself at a Spa Resort or Wellness Centre where you get charged astronomical prices in return for no food and no alcohol. If you make a fuss, they turn on the Iraq Oil Pipeline, which is one way to apply pressure. I have never seen anyone who actually looks well at a Wellness Centre.
Spa menus are about as incomrehensible as French restaurant menus with one difference. French menus come with food
Today, people pay through their noses to splash out on holidays where they are starved, deprived of alcohol, whipped with seaweed, and have their skin stripped off – though the menu may intriguingly describe it as a soothing skin-glow Balinese "lulur" etc. Spa menus are about as incomprehensible as French restaurant menus but with one difference. French menus come with food, even if it's just one nouvelle pea tobogganing around a large, empty plate. In medieval times, people who believed the earth was flat, still had the commonsense to correctly describe the process of "exfoliation" as being "flayed alive".
As I backed away from the fatal attractions of the Samui Spa Resort, one resident who looked like he'd been tossing bottles with SOS messages into the sea for years, dragged his bony frame across. With eyes sunk so far back in his head he had to tie a bandana to keep them in, he gasped, "I have never felt better in my life." I was about to call his mother but decided to call Vogue instead. "I'VE FOUND A COVER MODEL WITH SHARP CHEEK BONES BUT YOU'D BETTER GET HERE QUICK."
When my brother and I were kids my mother would strip us down to, well… not much, save for startled expressions, and proceed to vigorously massage us with mustard oil. Then we had to sit in the garden, under a blazing Indian sun, attracting solar Vitamin D and sneaky glances from the girl next door who watched through the hedge. She would later report these events to the entire school population along with a review of the Verghese family attributes or lack of them.
Yes, growing up was healthy. I believe my mother invented the first Indian Spa & Wellness Centre, right on our front lawn. AND IT WAS FREE. Oil was cheap, and so were several of my young neighbour's comments. My brother and I learned a valuable lesson right there and then. If you've got it, flaunt it. If not, holler like hell to get the hedge converted into a solid seven-feet-high brick wall – if Ariel Sharon is free. What's for dinner?