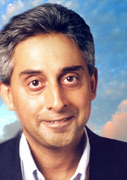 MY DAD CALLED ME ON THE PHONE. He'd just been watching CNN. Two heavily armed men strapped with explosives had taken over the control tower at Manila Airport. An even more heavily armed SWAT team had in turn stormed the tower, firing assorted automatic weaponry, as it proceeded up the building. They would have liked to have taken a tank up as well but it couldn't squeeze into the lift.
Reassured, passengers went about their normal business at check-in, screaming, stampeding, and gesticulating – because airline staff simply do not appreciate the average Filipino's ability to pack the entire contents of Davao in a carry-on bag. Well, the control tower at Ninoy Aquino International Airport might be flattened by the mother of all battles, but the airport was going to be safe.
Send us your Feedback / Letter to the Editor

Share This Page
I was flying to Manila the next day and a functioning control tower would certainly make a useful airport accessory. After a brief confabulation my father asked what I was going to do. "I'm going to fly Philippine Airlines," I told him, "their fares are half that of Cathay Pacific's." We both agreed this made sense. Meanwhile, live on radio, the SWAT team had "eliminated" the threat and pretty much everything else in sight. Situation normal.
They were taking no chances. "Come here," barked a man in uniform. I did as I was bid and had my temperature taken
I landed in Manila to find staff were taking no chances. "Come here," barked a man in uniform. I did as I was bid and had my temperature taken. "Welcome to Manila," the man beamed. I wondered whether I should tell him about the WMD (weapon of mass destruction) in my pocket – my nail-clipper. It does have a lethal one-inch file, sawed off. Imagine what I could do in a control tower with that. "OPEN THIS SEALED STEEL DOOR RIGHT NOW GODDAMMIT OR I'M GOING TO…CUT MY NAILS."
And then I saw the women, all screaming, right next to the bullet-riddled tower. I tensed and prepared for the inevitable. The screams grew more intense and sweat coursed down my brow. "I'll, um, uh… choose Avis," I said, and the cries from the other car rental booths died down. It is a P375 ride to Makati, and with the Philippine peso trading at around 55 to the US dollar this is not much at all in real terms, just about six dollars, or the entire GNP of Burundi.
Manila's business hub of Makati is all abuzz. Its proud centrepiece is the new Greenbelt Three and Four, an oasis of trees, fountains, shaded walkways, designer brands and – my favourite – lactose-free ice-cream. The place is thrumming with activity. There are more bars and restaurants than you can shake a stick at, but refrain from grabbing twigs or "sticks" off the trees. This is a green area. In fact, wherever you look you'll spot men in green uniforms.
Check out the intimate Store Super, Middle-Eastern Pasha, trendy Café Havana, MYLK or crepes-station Café Breton. Explore www.ayalamalls.com.ph/makati and, for the inside track on just about everything in the Philippines, click into feisty Secretary of Tourism Richard Gordon's brainchild, Wow Philippines (www.wowphilippines.com.ph).
Sniffer dogs are hard at work in the Philippines ensuring hotel guests change their underwear daily - which makes for more romance...
I checked in at the Shangri-La Makati. It was the usual friendly Filipino greeting. A russet Labrador with a wet nose sniffed my crotch, and my bag. Sniffer dogs are hard at work in the Philippines ensuring that hotel guests change their underwear daily and lobbies are free of B.O. It's a pretty thorough going-over. The airport checks your temperature, hotels check your bags, dogs sniff your crotch and metal detectors check your teeth fillings. If you think about it, hotels here have gone to great pains to ensure you have that perfect honeymoon getaway free of bad breath and smelly underwear. What better way to enjoy an evening out in the wonderfully revived Intramuros area of Old Manila, or to find that elusive G spot?
The Shangri-La remains a welcome port-of-call for businesspersons on the go or leisure trippers with shopping and gourmet adventure on their mind. The bright and roomy Horizon Club executive floor rooms feature intriguing moulded curves (the kind you might caress last thing at night before turning out the lights) and broadband at US$18 per day. There's an in-room DVD player, a sensible clock with classic Roman numerals and a steam iron.
The Peninsula across the road remains stately and service-oriented with music wafting through the grand lobby, and completing the Makati line-up are the Manila Mandarin, the Renaissance and the Dusit Nikko (which has no connection to the Dusit Thani restaurant in the Glorietta mall).
Departing passengers please note the sign at security: "Passengers in possession of a bullet, whether charm, amulet, or souvenir, are subject to arrest." If you're flying out at incredible rates on Philippine Airlines, the maximum legroom on the Airbus 330-300 is found at exit row 62. Carry your American Express card BUT PLEASE LEAVE THOSE BULLETS AT HOME.