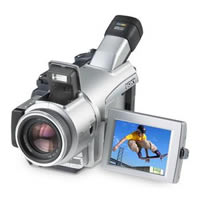 Sony DCR TRV-80
THERE COMES A TIME in every budding family cinematographer's career when that pack-mule load of lights, cameras, digital video cameras, digicams and assorted paraphernalia gets the hernia popping and the head buzzing. That's when you wonder when technological convergence will finally produce that much awaited cocktail of top-notch video married with quality stills. It's all just around the corner. Of course, any serious videographer will tell you that combining quality motion with stills of Baby Ben's drool is blasphemy. A video is a video and a camera is a camera and never the twain shall (or should) meet. But try telling that to any traveller. Small is beautiful and light is truly godly. Enter the digital camcorder camera.
Here are some models, newish and older, that succeed in some measure, in bridging the motion-and-pixels gap. Do decide before you take the plunge though, whether you really want good stills, with an option on video, or excellent digital video with a still photography fallback. This will ensure less crankiness all around when you finally realise that – despite the bold and messianic features list – gadgets are not capable of all things at all times, and neither are you.
Send us your Feedback / Letter to the Editor

Share This Page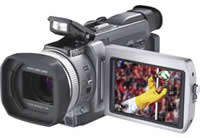 Sony DCR TRV-950
A tried and tested workhorse is the SONY DCR-TRV80 that we use at this web magazine to produce all our video footage. This digicam produces sharp, well saturated video of very high quality. The 10x optical zoom is sufficient for most situations and the intelligent accessory shoe opens options for all manner of add-ons from lights, and flash to external microphones. The 3.5-inch LCD touch-menu screen is comfortably large and idiot-proof. The TRV80 offers a great deal of connectivity including USB, Firewire and Bluetooth. And yes, it also shoots two megapixel stills – good enough to print in a large postcard format and more than adequate for web purposes.
Picking up where this camera and a long line of worthy successors left off, the SONY TRV-950, is a prosumer (semi professional consumer) model with a raft of features including 12x optical zoom, touch screen focusing (simply placing your finger on the subject or area you wish to focus on), one megapixel stills and a generous battery life at an estimated 150 minutes. The camera boasts not one but three CCDs (photosensitive Charge Coupled Devices) that faithfully render light and colour detail. Pictures taken in broad daylight are well balanced and clear (in postcard size) but lower light will cause problems on the stills side. www.sony.com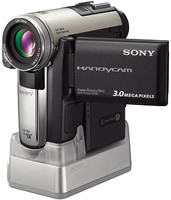 Sony DCR PC-350
Extremely compact and light yet punching well above its class is the SONY DCR-PC350. This is a super little MiniDV camcorder with perhaps its greatest asset being its extraordinarily light weight. Yet it is easy to hold and use though big-fingered brutes may struggle a bit and, in a pinch, it can squeeze into a broad shirt or jacket pocket. The obligatory Carl Zeiss Vario-Sonnar lens provides 10x optical zoom and shoots excellent three megapixel stills. The ability to shoot clear and bright three megapixel stills places this camcorder firmly in the competitive digital camera bracket. The 2.5-inch swivel LCD screen is also a touch panel display that is easily viewed even in fairly brightly lit situations. At the other end of the scale this SONY boasts Super NightShot so would-be psychos can crawl about in the dark and have a ball. Unfortunately, infrared shooting in this mode, as on most video cameras, turns everything Desert Storm green, and can be safely dispensed with.
The alternative is the "colour slow shutter" mode that allows fuller natural colour detail by slowing shutter speed and maximizing light intake. Technically, you can shoot in total darkness (0 lux as it is termed) and capture subjects up to 10 feet away. Green or not, that's quite an accomplishment. Video can be transferred to your PC or Mac via Firewire (iLink) and there is USB as well. Stills can be stored on a Memory Stick Duo Pro. An intelligent accessory shoe completes the package with, alas, a clunky, base that is required for several operations. The menu system is fairly complex so read up before you plunge in. All in, you'll get solid value and a competent two-in-one performer. www.sony.com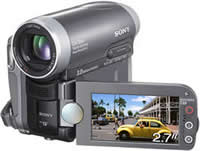 Sony DCR HC-90
The SONY DCR-HC90 is another compact and stylish MiniDV handycam that offers 3.3 megapixel capabilities. This is more than enough pixels for an average family or travelling enthusiast. The 2.7-inch LCD touch screen swivel display is roomy and bright and its "widescreen" format makes it easier to compose frames in the 16:9 ratio mode should you be so inclined. The usual USB and Firewire will get your material onto your computer in a flash. Or simply opt for USB "streaming" over the Internet and wow friends and family in far places who can be woken up at unspeakable hours to view extreme close-ups of Baby Ben's emerging first tooth and the ensuing mayhem. The optical zoom is 10 times, again adequate for most normal travel situations.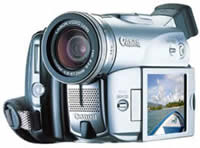 Canon Optura 40
The Canon Optura 40 is another good multipurpose option with 2.2 megapixel resolution capability, a swivelling 2.5-inch LCD screen and 14x zoom that provides a tad more room for those zoom-into-the-buxom-babe-on-the-beach situations that dads everywhere have to contend with. After all, a bikini holds considerably more allure than a soiled nappy. The video light is a nifty addition and will help brighten the gloomiest shot. Video footage is of high quality. This handycam provides the usual connectivity options including USB (for stills only, not streaming) and Firewire. The extra zoom, video light, good sound quality and fairly compact structure set this sturdy video apart from the rabble but it is let down by a battery that sputters out pretty quickly. Get a larger battery or carry a spare. www.canon.com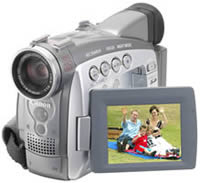 Canon MV-750i
The Canon MV750i is sleek and modestly svelte (compared with previous generations of this line) with a few surprises tucked under its silver hood. Perhaps the biggest of these is the 22x optical zoom – more than double that of most video cameras in this review. This sort of zoom, with a very, very, smooth operation, is enough to get right into someone's tonsils at a hundred paces. You might find better uses for it though. There are eight program modes to take on a variety of situations – and exposures – and the super sensitive microphone serves up excellent, crisp sound. In natural light the Canon simply excels with vivid colours, immense detail. Unfortunately this does not carry over into low light situations indoors where the detail and clarity drop considerably. The MV750i shoots stills off the video track using its "Progressive Photo System" technology that eliminates blur and these can be sent directly to a PictBridge compatible printer. www.canon.com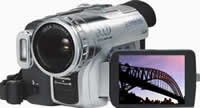 Panasonic NV-GS200
The Panasonic NV-GS200 is an affordable 3CCD video that places a lot of power and quality in the hands of high-end consumers who want something more from their box. The machine captures MPEG-4, has built-in flash and a remote microphone. There is a manual focus ring for greater control should you have itchy fingers and the whole ensemble weighs in at a far-from-groaning 470g. The triple CCD array makes for excellent video footage. Natural light settings bring out the best in colour detail though low light situations cause a sharp drop in performance. There is a low-light setting (MagicPix) which can permit shooting in the dark. Not very practicable though. The NV-GS200 has a 2.3 megapixel still shot capability but this resolution is achieved through "pixel distribution" rather than actual pixels with varying results. A normal two megapixel digital camera will offer far better quality.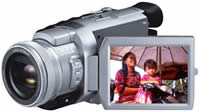 Panasonic NV-GS400
Far better to loosen the purse strings a smidgen for the staid but superlative Panasonic NV-GS400. As the name indicates, this larger 700g sibling, shoots a whopping four megapixel stills. That's right, 4 megapixels! This about as good as it gets for a video-camera combo. This is also a 3CCD machine which means great clarity in video detail, vivid colours and a brightness in even the dullest of settings. The 12x optical zoom is adequate and the large, super sharp 3.5-inch LCD screen, an excellent companion for composing and framing scenes. This is just as well as some may find the viewfinder a bit too small for their liking. The GS400 is not a sleek supermodel, but an old style chugger with decent finish. Its raft of manual controls will delight the prosumer. Audio is something that often lets the finest video cameras down but this is not the case with the NV-GS400. Sound quality is excellent and additional features include a "windcut" and a bass frequency boost should you fancy doing a Barry White on the voiceover. Ambient motor hum is negligible. All in, a great choice for a terrific all round performance.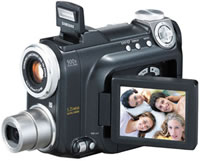 Samsung VP-D6050
Satisfied with 4 mega pixels? No? Okay, take a look at the weird and wonderful Samsung DuoCam VP-D6050i. This odd looking machine is literally a two-in-one with a separate lens for video and a separate zoom lens (like a baby elephant's snout) just below for the camera. Queer as it may look, the Samsung delivers 5.25 megapixel stills that offer sharp detail and brilliant colours. One push of the button enables a switch from video to camera and back. Video is captured on MiniDV and menus may be enabled and navigated in English, French, German, Spanish and Italian. There is a 2.5-inch LCD screen, a pop-up flash, Night Capture for low light filming, and MPEG4 recording capability onto Flash Memory Cards. Optical zoom is the standard 10x and output to PC is via USB and Firewire (also known as IEEE 1394). A useful feature of this digital video combo is its ability to support various storage devices like the Memory Stick, Memory Stick Pro, Secure Digital (SD), and Multi Media Cards. This offers the owner a fair bit of latitude on card selection, and price of storage – a big headache when you switch between manufacturers. www.samsung.com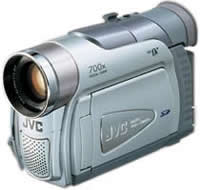 JVC GR-D70
The JVC GR-D70 is simple, lightweight and functional. There is a 2.5-inch LCD screen. The lens produces clear, sharp images and comfortable zoom (though the 700x digital zoom is definitely overkill). Still image capture is at less than one mega pixel. The camera stutters in low light and the built-in condenser microphone has difficulties creating audio depth. For simple family shoots, however, it is up to the task. www.jvc.com
The SHARP VL-Z3H is a compact little MiniDV that offers 10x optical zoom with image stabilisation and a 2.5-inch LCD display to see what you're up to. To help novices along, there are a number of shooting modes like Slow Shutter, Party Indoor, Dusk, Fireworks and Sports. Stills are shot in a JPEG format but with a resolution of just 640x480 you won't use this otherwise handy machine to shoot poster material. There are USB as well as a Firewire ports. The camera weighs in at 478 grams. www.sharpusa.com