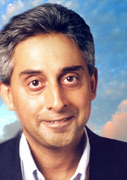 NOT TOO MANY YEARS BACK, a lady in the Philippines gave birth — to a mudfish. This was an exceptional event. Everyone knows mudfish are not Catholic. Her proud father raced to the grocery store to buy milk when he should have made a beeline for the hospital to have his DNA tested. He might have enquired at the aquarium as well as to whether Willy was finally free, and who it belonged to. The religious proclivities of this pelagic wonder were never fully determined, and Angeline Dysabel (as she was named) died shortly after of an overdose of lactose. Had she been a true Catholic she would have insisted on a Diet of Worms.
The Philippines has its church-going fish (which are always a great tourist draw) and Hongkong for a moment has, well, a croc. Yes there's Crocodile fashions which does a just-this-side-of-legal take on Lacoste, but I'm talking about the real McCoy. A saltwater crocodile. This fellow's not in the zoo. He lives in Yuen Long. A former resident of a public housing apartment, he slipped away one day. Unlike Elsa the lioness, the Yuen Long croc was not born free. As a Hongkong resident he enjoyed full rights to luxuriate in a 100sq ft three-bedroom flat, subjected daily to weepy Korean sitcoms and ear-piercing karaoke gabble.
Send us your Feedback / Letter to the Editor

Share This Page
I fully side with the greens. It is cruel to keep tarantulas, crocodiles, pythons, giant iguanas and mothers-in-law indoors. They should be set free and wrapped up in great big Christmas gift boxes to be left in Stephen Spielberg's backyard for aliens to pick up.
I fully side with the greens. It is cruel to keep tarantulas, crocodiles, pythons, iguanas and mothers-in-law indoors...
The Hongkong crocodile has become a major star and will, no doubt, graduate into a top crowd-puller and income-earner for the Hong Kong Tourism Board. Crowds gathered to cheer him as week after week he evaded capture. Marine department SWAT teams trawled the creek, while others arrived with forks and knives and charcoal cinderblocks looking for a meaty barbeque. Disappointment awaited them all.
The Hongkong authorities finally called in Australian crocodile hunting legend John Lever. So did Lever wrestle the croc onto the mat with his bare hands before teaching him the samba? Nope. Lever flew back to Oz throwing up his hands in despair. What was he thinking? HK crocs are as stupid as their thick-skinned cousins Down Under who immediately flock to cameras and pose for anyone in a kubra hat for five bucks?
HK crocs are a savvy bunch. So what did Lever do? He waded into the creek in an attempt to catch the croc with his bare hands. Legend or not, I can't think of anything more dangerous. Yuen Long Creek is packed with enough industrial pollutants to melt a tank, not to mention the fish that, by now, have surely mutated into unknown life forms. Yuen Long Creek is what Baywatch Nights is made of — without the women and the cleavage but with all the scary music and large hairy men splashing about in dark, misty settings.
Lever waded in to catch the croc with his bare hands. Very dangerous. There are enough pollutants here to melt a tank
Needless to point out, the croc was not buying any of it, especially the large hairy men. Lever put chicken in traps and the croc sniffed. They tossed in assorted meats and he looked the other way. Had someone offered him a tuxedo, a phone and a Dial-A-Dinner menu the croc may have been encouraged to shed his reticence, but no. The barrage of traps and baits continued. And more tourists arrived.
Animals and tourists make great bedfellows. Watching lions in the wild is one thing. Watching a crocodile cross the road in Hongkong is another. Visit Edwin Lutyens' stately New Delhi with its broad boulevards and shade trees and you'll come across hordes of macaque monkeys swarming over parliament and the adjoining government offices.
The primates got so invasive — stealing defence files and state secrets and even disrupting a press conference for visiting US Secretary of Defence Donald Rumsfeld — the government finally stepped in. They didn't call John Lever who was having a hard enough time getting the Yuen Long goo off his clothes. They went to the Supreme Court, which finally ruled that the capital should be monkey-free. Easier said than done.
Europeans are a lot less uptight about animals. Soon they will be travelling everywhere with them. The European Commission has proposed issuing EU passports for pets. A photo is optional. Perhaps this means you might attach a picture of Marilyn Monroe on your dog's passport if she happens to be a pug or another cosmetically challenged breed.
Apparently though, "More unusual pets such as mice and reptiles will not need a passport to travel within the EU." So there you have it — a solution to Hongkong's woes. If Cathay can spring a ticket, the Yuen Long croc could be off on a sightseeing junket shortly. But does he speak French?