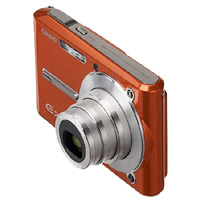 Casio Exilim Ex-S500
FOR shooting in most situations, apart from when an alien spaceship lands on your mother-in-law, a digital camera with around five mega pixels under the bonnet is a pretty safe bet. At this resolution, in fine mode, you will be in possession of images that can reprint in magazine quality on about an A4 page. Five megapixels is more than ample for beginners and holidaying prosumers. And it maintains that fine balance between camera size, storage card size - which can have a major impact on price - speed of shooting, and quality. In this 5 megapixel digital camera review we look at some astounding minis, and others that sit comfortably, and with reassuring bulk, in a larger palm. All of these are hybrid performers capable of shooting good stills as well as capturing pretty decent video, now in larger format with 30 frames per second shooting that offers silky smooth playback, on your PC, Mac, or TV. We've used motion video from a five megapixel hybrid camera and combined it with normal digital video footage from a SONY TRV-80 in iMovie and managed to output reasonably seamless clips. After all, if you must go compact, why not acquire a two-in-one gadget that serves all purposes? You won't get the sharpness of quality digital video or the ability to capture through Firewire directly into your editing software, but you will get a compact non-hernia-inducing option that may even wow the crowd at the beach. There's nothing to lose.but your hard-earned cash.
Send us your Feedback / Letter to the Editor

Share This Page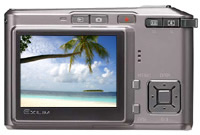 Casio Exilim's large LCD

Heading the Smart Travel Asia tech-buy charts is sleek micro marvel, the Casio Exilim EX-S500. This extraordinary gadget is slim enough to slip into your shirt pocket with nary a ripple. If you're smart, though, you'll show it off in your hand, or on your dining table, coming as it does in a shocking eye-catching chrome red and silver. This 5-megapixel compact punches well above its class. At just four ounces, the body is extremely light. Yet, behind its slim good looks Casio has managed to house as many as 30 scene modes, accessible through its Best Shot (BS) button. There is no manual mode however. The viewing LCD is a generous 2.2 inches, which makes framing shots a cinch. The Exilim EXS500 comes with an ultra compact pedigree going back several years. Evolutionary video enhancements include MPEG4 shooting that manages to produce good quality footage with comparatively small file sizes. The zoom range of the tiny lens is the 35mm equivalent of 38mm-114mm. Picture quality is good and the colours rich. When using the flash keep your subject at a distance, as there is a tendency to overexpose a wee bit. Overall, the EX S500 is a winner on most counts, especially its amazing "Wow" factor. All you need to do now, is keep your eager hands steady as you point and shoot, not as easy as it sounds when handling a camera of such svelte and delicate proportions. Can your fingers handle this? www.casio.com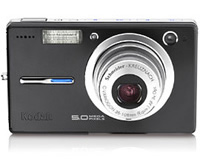 Kodak EAsyShare V-550

A surprise contender is the immaculately scrunched down Kodak EasyShare V550 which generates 5 megapixels producing rich, saturated colours. These are some of the warmest colours anywhere and if you like strong tones the Kodak will not disappoint. The camera has a raft of controls on its slim upper body. Like the Casio, the Kodak V-550 shoots video at a generous 640x480 pixels in MPEG 4, at 30 frames per second, with audio. You can save over an hour of motion video if your card is big enough.
A very handy feature is the extra-large LCD screen which, at 2.5 inches, is well at the head of the competitor charts. The camera comes in a single grey-black and silver and is just modestly larger than the Casio wafer. It feels good in the hands. It does a handy 3x optical zoom with anti-shake features for extra stabilisation and, feature for feature, matches most of the Casio specs. Usefully though, many of its funtions can be accessed through one touch on the camera body without having to resort to lengthy and complex LCD menus. In brief, Kodak finally appears to have a winner on its hands with this sharp performer. www.kodak.com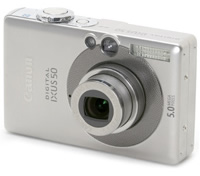 Canon SD 400
Canon's IXUS range is not far behind when it comes to style and performance in an ultra compact digital camera body. The Canon SD400 is no slouch when it comes to competing with the best. This little cigarette-case-size bit of gleaming silver (known as IXUS in Europe) churns out quality 5 megapixel images that can be viewed and framed in a two-inch monitor. The 3x zoom is par for the course and there are six special scene modes to pick from. For video capture the Canon SD-400 produces medium resolution 640x480 movie clips at 30 fps (frames per second). This enables finer detail and smoother action all round. The 30fps is worth having if you want to put an end to those jerky images of grandma falling into the well. Or did you push her in, to get that sense of natural drama? Images are sharp and colour reproduction well detailed. The camera handles well, is very responsive, and the interface is reasonably easy to understand and navigate. It should be. Canon has had years of experience leading the field in various camera ranges. The flash balance is excellent, even at close range. All the specs are agreeable but it would have been nice to have had just a bit of manual control for those itching to move up to the next level of ambidextrous family vacation action. All in, this is a camera worthy of your wallet and it won't hurt unduly. Canon is a safe bet if you don't wish to experiment. www.canon.com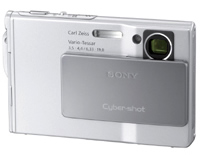 Sony DSC T7
Sony is synonymous with cool, fashionable statements that cost an arm and a leg - and rightly. The company may be losing money but you won't lose any sleep over cash forked out for the brilliant little SONY DSC-T7. This anorexic dream offers a modestly bigger 2.5-inch LCD screen that handles well in most lighting conditions, and 5.1 "effective" mega pixels. The obligatory - and reliable - Carl Zeiss lens stretches to a handy 3x optical zoom with capture in ISO equivalents of 100, 200, and 400. In layman's terms, this means you can shoot equally well in bright daylight (100 ISO), as in dim late evening light (ISO 400). The T7 shoots video at 320x116 up to 640x480 at 30fps (frames per second). The higher frame rate offers video enthusiasts better footage and smoother capture. This is quite an achievement for a camera of this diminutive size. Still, to achieve that smooth action, you'll need to ensure your hands are still, or your elbows propped up on the best available support. Hand shake is the biggest problem with cameras of this ilk, especially when shooting video. For video storage you'll also need to acquire a Memory Stick PRO Duo card. PictBridge compatibility means you can print directly onto certain printers. A handy feature is the camera's super macro ability - shoot anything up to just one centimetre away. That's close. No need to turn away those nose-hair close-ups any more. www.sony.com
Sony Cybershot DSC M1

Also from Sony is another marvel of engineering. Not quite as compact as the competition, but with a reassuringly heavy - and solid - grey, brushed metal body that screams quality, the Cyber-shot DSC-M1 packs a 5.1 mega pixel punch. This digital camera also captures exceptional quality motion video (in MPEG4 at 30 frames per second) for a camera in this class, at up to 640x480 resolution. It also records stereo sound and, best of all, permits continuous video shooting while zooming in or out. The lens offers a 3x optical zoom. The novel design involves a swivelling LCD back that reveals two hot buttons for one-click photo taking or video shooting.
The arrangement is idiot-proof and even those with large clunky fingers will get the hang of this gadget pretty quickly. One press starts the video recording and the second push turns it off. With the LCD fully extended the Cybershot DSC M1 looks like a compact L-shaped bracket. For the best results with minimal shake, we found it useful to grasp the top and bottom of the protruding LCD side with the thumb and forefinger of the left hand, with the right hand cradling the main body of the camera with the thumb free to access the well-placed controls. Storage is packed into a Memory Stick PRO Duo card. One gigabyte will give you enough space for an hour's shoot. The camera comes with nine scene modes and a docking cradle provides a USB port to connect with your computer. Barring some minor auto-focus issues, the camera will not disappoint. www.sony.com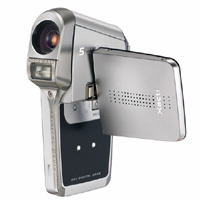 Sanyo Xacti VPC-C5
For enthusiasts who prefer to "grip" a camera like a Real Man - especially when shooting video - rather than nervously clasping it between shaking fingers, the slim lines of the space age Sanyo Xacti VPC-C5 will definitely appeal. This tiny "handgun" packs a five megapixel punch and it shoots 640x480 30fps video (with audio) in ultra-compressed MPEG4. Point click and rasp: "Do you feel lucky, punk?" A very handy feature is the Sanyo C5's ability to shoot video while capturing stills. Whoops, there goes granny on Baby Ben's bobsled.SMACK into the farmhouse wall. Now you've got it on MPEG4 and in 5 glorious mega pixels, or more. The Xacti C5 has another trick up its tiny sleeve. You can use state-of-the-art "interpolation" to produce a gratifyingly bigger 10 mega pixel image. Don't boost things up too much as there is modest distortion along the way. That's not all. The Sanyo offers a comfortable 5x optical zoom, far outclassing the competition. Your video and still images are easily transferred to your PC using the USB port, or watched on the telly. You can shoot up to one hour of video at highest resolution onto a one gigabyte memory card. And if you must relay granny's latest antics, live, have the camera double up as a webcam. The C5 offers six scene modes encompassing everything from portrait to sports and fireworks and its handgun-style set-up means control buttons are easy to use for right or left-handed photographers. Video buffs will be pleased to note that you can zoom while shooting footage. www.sanyo.com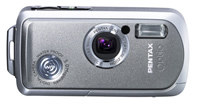 Pentax OptioWP

For hardy adventurers, the OptioWP from Pentax is a compact digital solution for underwater antics - up to a depth of 1.5m. This is a tiny, tiny camera with a 22mm slim-line body, a two-inch LCD and 3x zoom. The Pentax OptioWP will slip into the tiniest of pockets with ease (just make sure it doesn't slip out as well). The grip is well designed to enable steady shooting.
The waterproofing means this camera will work in most grimy situations - sweat, dirt, water. Just wash it all off. You get 5 megapixels of crystal-clear resolution with all the Pentax bells and whistles including the mode selection icon palette. These tiny presets, with icons to match, make rapid decisions easy in changing situations. There is also a "green mode" that switches settings back to standard. Video is shot at 320 x 240 resolution at 30fps with mono sound. Shoot as long as your memory card holds out. There is also the ability to record 20 seconds of sound to accompany a still clip. The Optio WP uses an SD storage card. www.pentax.com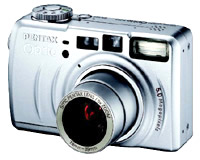 Pentax Optio 555
A light-weight digital camera option with a more solid feel, is the reliable PENTAX Optio 555. Optical zoom goes up to 5x and lens clarity is superior to its more compact brethren. This is a fast-reaction gadget that springs to life almost instantly as soon as you hit the power. As befits a camera of this size and class, there is a range of settings offering everything from manual to shutter priority, aperture priority and Program. There are several modes in between including Movie and a voice recording function for managers who take notes on the road instead of heading to the local bar for a pint of Singha Beer. Image quality is superior, and PictBridge means your output can go directly to a printer, saving time and hassle. Video is only for undiscerning enthusiasts. At 320x240 pixels resolution with 15fps it's fun but not memorable. You can capture up to 10 minutes of video with sound. The 1.5-inch LCD screen is just about big enough to frame your pics (and is tough to view in bright sunlight) but you might want to frame shots using the conventional viewfinder. The Optio 555's aluminium alloy body is durable and has a good feel to it. Controls are intuitively positioned and easy to manage. A nice feature is the "interval shooting" feature which permits you to set a duration between shots to capture, say, moving clouds, or a yacht's flower coming into bloom. If you just want to watch the pain dry, well. www.pentax.com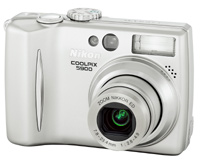 Nikon Coolpix 5900
Another top quality camera biggie is Nikon, and its mini Coolpix 5900 is a worthy contender - compact, sturdy with durable metal finish, and packed with useful features. The Nikon Coolpix 5900 shoots at 5.1 megapixel resolution and offers a sensibly large two-inch LCD viewing screen, one of the largest in the Nikon Coolpix family. This is an "intelligent" five megapixel camera. You might goof up but the Nikon will be humming away performing complex micro-calculations to ensure the best possible result in low light or blazingly bright ski slope. Take the Face Priority AF mode for instance. While using this facility in Portrait mode the camera will intelligently detect the subject and bring it into focus. You even get an underwater scene mode. No, don't dive into the bathtub yet. You'll need to get a Nikon WP-CP4 waterproof case first. But it is thoughtful of the manufacturers to have included this item. Now all you need to do is get granny, a large shark, and find some deep, blue water. Colour is true to life and a full battery charge will give you roughly 270 snaps. The LCD screen is exceptionally bright and handles well in most lighting situations including direct sunlight. The good news is that video is shot in up to 640x480 resolution in 30 frames per second, with audio. Shoot as much as you want but ensure you have sufficient storage. This is a Coolpix camera that manages to blend style and size with functionality. www.nikon.com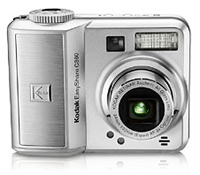 Kodak Easyshare C360
The Kodak EASYSHARE C360 comes from a long line of point-and-shoot cameras designed with the trigger-happy family in mind. The C360 abandons the clunky boxy format of previous versions, adopting a pretty sleek Nikon-like body with 3x optical zoom, digital red-eye reduction and five megapixels. For video buffs, there's TV-quality 640x480 MPEG-4 at 24fps with sound that will go onto an SD memory card. The Kodak Easyshare software makes moving your pictures around a doddle and to speed things up further you might want to us the dock. There are a surprising 16 scene modes to choose from. The camera fits snugly into the palm with just enough "size" to enable a good grasp. The Kodak C360 is not for aspiring professionals but it will provide amateur enthusiasts a lot to play with. The two-inch LCD viewing screen is sufficiently bright for most purposes. Bear in mind that this camera needs a wee bit of time to process shots. It won't hold you up but is noticeable when compared with other offerings in this class. The video compression also makes for some grain that is not a worry unless you are looking for a more professional finish. This EasyShare is a lot "easier" to shoot with and offers a touch more class than immediate Kodak predecessors that have never been known for their looks. Plug into the Kodak network and you'll be shuffling stuff around the globe and terrorising relatives in no time at all. www.kodak.com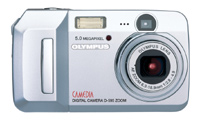 Olympus Camedia D-595
The Olympus Camedia D-595 Zoom comes with a 3x optical zoom lens and a range of features that will appeal to beginners as well as more advanced users. Automatic shooting is a breeze with 19 modes to choose from, including indoor, and fireworks. And PictBridge capability gets your handiwork into the printer works faster than you can say "semi-transmissive". The semi-transmissive TFT in question is the 1.8-inch viewing screen, smaller than some but more than adequate. Shutter lag is minimal so you can keep that finger pressed and shoot away. The 15 pre-set scene modes are handy for beginners and the camera is responsive in most lighting situations. Flash range is not enormous (about 12 feet) but it is sufficient for most interiors and the average living room. A major letdown is the absence of 640x480 resolution video capability. The Olympus D-595 can muster up a 320x240 high quality 30fps but this is still Lilliputian in size compared with others. This is a pity as the camera is a brave performer and better video would have rounding things off nicely. Battery life is good and the two AA cells are easily changeable. Olympus has seemingly faded from the SLR non-digital professional arena but it has invested heavily in the digital camera market and this offering bears the hallmarks of that experience. The camera, while simple, has more flair than earlier versions and it has the mental make-up of a plough horse. It will work, work, work. www.olympus.com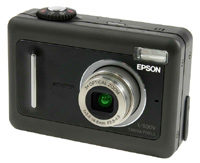 Epson L-500V: Shoot and print
And that brings us to Epson. What? A printer? Have you gone mad? Well, not entirely. With an excellent range of printers at hand it was perhaps inevitable that Epson would muddle into the camera arena and it has done so with considerable élan. The Epson L-500V is a five megapixel compact that can shoot in bursts of up to three frames per second, producing clear, high quality images. The camera is responsive and fast - and for picture nuts you have the PRINT Image Framer that adds all manner of frames to your images. This is a fun point-and-shoot for beginners yet it offers a degree of manual control not found in many others in this class. You can adjust ISO settings from 100 to 400 or stay fully automatic. The LCD is a bright and generous 2.5 inches. Exposure compensation is possible as well. A built-in microphone enables 30 seconds of audio memos and USB connectivity will plug this Typhoon Tyke into your PC or Mac with ease. The L-500V metal body is sturdy enough for holiday shooting - with the kids in tow - and video is captured at 640x480 resolution. In bright, sunny situations there is a tendency to overexpose a shade but the overall results are impressive for a pocket point-and-shoot. This is a handy device that will fit in comfortably in any bedroom - or boardroom - scenario appealing to both men and women. Well done, Epson. Now if only I could get my Epson printer to work a bit more quietly. www.epson.com