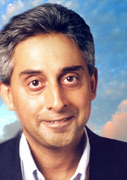 SOMETIMES when travel shows on the telly get a tad dull I switch channels to watch extreme stuff to get the adrenaline pumping. Like Love or Money 2, where a woman is offered a million dollars if she can convince a man – handpicked by her after several weeks of laborious weepy eliminations – to marry her. The man in question, chosen from a throng of hopeful, slick-haired Californian men in white suits, is also offered a million dollars if he simply says "no" and walks away.
If he marries her, he gets absolutely nothing. For these highly intelligent men (they can all do one-arm press-ups and some can even knot a tie), it's a tough, tough choice. "Man oh man. Should I marry her or admire how good I look on the telly once more?"
Send us your Feedback / Letter to the Editor

Share This Page
To be truthful, the winning man does get one sharp and calculating wife, a possible cameo in the sequel Divorce or Money, and an armload of video reruns that the children can watch when they pester mummy to explain how she met daddy. "Okay kids, it's all here. Watch it on TV." WAIL. "Aw honey, why are you crying?" "I like the other daddies better…"
For these highly intelligent men (they can all do one-arm press-ups and some can even knot a tie) it's a tough choice
And those Californian mansions with their gables, gargoyles, arches, pillars, faux-Euro gravelled drives, stucco Spanish walls and red-tile Mediterranean roofs, beat anything in Europe hands down. Instead of spending a fortune visiting Europe and trying to say "For God's sake, can you tell me where the toilet is?" in French, just walk through one of these places and you've done the Continent in fifteen minutes – that is if you don't have a stroke viewing the paintings which, again, have a certain eclectic je ne sais quoi.
If you're lucky and a camera crew is nearby, slap your wife around a bit and say "No" in a loud voice. Who knows? You may win a few bucks.
Extreme as this may sound, there is one travel activity that is really pushing the envelope. From Britain, the country that gave the world supercharged adrenalin events like high tea, croquet, and cricket (a five-day sport involving eleven men standing around a large green field, occasionally pausing for a well-deserved tea break), an all-new travel sport. It's called Extreme Ironing. That's right, IRONING. Forget all that Iron Man gobbledegook you watched as a child. This is a show for Real Men.

Extreme Ironing aficionados spend their vacation hours spraying on the starch and removing creases from shirts and trousers – not in the bedroom – but atop vertiginous mountains, hanging from sheer cliffs and even in the middle of crowded intersections. According to its inventor, Phil Shaw, "It combines the thrill of an extreme sport with the satisfaction of a well-pressed shirt." You can't get more British than that. Not unless you extend this to a five-day event and throw in a few tea-breaks to pick up the tempo a bit.
Next. Extreme Darning. Hang your granny by her toes from a 1,000m cliff, and watch her go, go, go...
There is an entire website devoted to this new sport. Readers of this column wishing to learn a few tips on getting their clothes neatly pressed and donned en route to the office should visit www.ExtremeIroning.Com. Here you can read all manner of screaming steam comment. "Congratulations to Crease Lightnin' and IronManM who have set a new world record for running 26 miles with full extreme ironing kit."
I shall be launching an Extreme Laundry service. "Whaddya mean laundry and ironing costs US$100? And, look, there's blood on my hanky!" "Sir, this handkerchief was pressed and folded at 270mph in a Formula One car on the new Shanghai circuit. Our operative didn't make it to the finish line." "Oh, okay." What next from Britain? Perhaps Extreme Darning and Macramé, where you can send your granny up a 1,000m cliff, hang her upside down by her toes and watch her go.
Of course, there will always be some for whom high tea and the derring-do of hot steel on cool wrinkled twill, is not enough. For them, there's PILLARS – the Tourism Magazine of Palestine. This will set your ticker ticking. The details are at www.Pillars.ps and the June 2004 edition has some exciting headline events – "Palestinian furniture at Dubai hotel show", "Promising Young Gaza Designers", and "Unforgettable Jerusalem". Any trip to Palestine will be unforgettable if you return home in a casket. It's a pretty nifty arrangement that allows you to fly completely flat, like in first class.
According to PILLARS, "The Israeli military controls most points of access. There are more than 390 military checkpoints in the West Bank and Gaza." That's not too bad. Just three hundred and ninety checkpoints to contend with. "Hi, hava nagila, I really need a toilet right now."

"GET ON THE FLOOR YOU PIECE OF SCUM. STRIP-SEARCH HIM." That should leave more than enough time for a spot of ironing.