SONY DSC-T9: Large bright screen
AS COMPACT digital camera resolutions soar with the arrival of better and smaller sensors, as well as some amount of technical chicanery that digitally extrapolates pixel density, consumers are being spoiled for choice. No longer are they content with small boxes, howsoever chic, that simply point and click. Now travellers with itchy fingers and proud parents recording Baby Ben's first drool in agonising slow mo are looking for sharp images, bright colours, faster response times, higher resolutions, stylish designs, and quality digital video. A run-of-the-mill 6 to 8 megapixel compact digital camera today does everything but samba. Here's a digital camera review looking at some of these compact pocket-size offerings that offer a blizzard of options in the six to eight mega pixel range. Whether you're looking for a gift, an idiot-proof point-and-shoot for the road, or a sophisticated all-in-one small camera that ensures you are the cynosure of any smart cocktail, this selection won't disappoint.
Send us your Feedback / Letter to the Editor

Share This Page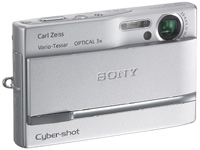 SONY Cyber-shot DSC-T9

The SONY Cybershot DSC-T9 is an ultra-slim six megapixel digital camera with an astonishingly bright and clear 2.5-inch LCD screen. End results with this anorexic dream are exceptional in bright light as well as in diminished light conditions in large part due to increased light sensitivity settings (up to ISO 640), a quality 3x optical zoom Carl Zeiss lens (a SONY trademark) and the inclusion of the Super Steady Shot image stabilisation. Video can be captured at a generous 640x480 resolution at a smooth 30 frames per second and images can be output directly to any PictBridge compatible printer. There is a USB 2.0 fast connection for your PC and storage is on a Memory Stick Duo. Other features of this classy little performer include nine scene modes, a five area multi-point auto focus and noise reduction to clean up images snapped with a longer exposure. The T9 is a notch up from the five megapixel DSC T7 that rated highly in our previous compact digital camera review. Incredibly, the T9 packs in all its features in a stylish silver metal casing that is just 0.8 inches thick. The 6 mega pixel CCD captures images in a 4:3 format, 3:2 or 16:9 aspect ratios. The buttons are intuitively positioned and easy to access and operate. All in the SONY Cyber-shot DSC T9 is a sophisticated and elegant device that packs a wallop with its useful features and high quality images. www.sony.com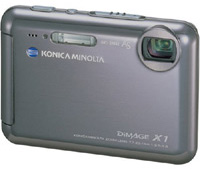 Konica Minolta Dimage X1
The eight-megapixel Konica Minolta Dimage X1 comes from a company that has specialised in pocket cameras for eons. Unsurprisingly, this compact digital camera possesses, stylish, sleek looks, and a reasonable array of modes and features under its ultra-slim hood. While its dimensions are palm size, features include a recessed 3x optical zoom, a bright and large LCD screen for composing shots (which, incidentally, is all you'll have, as there is no viewfinder), and new Anti Shake technology. A multi-function cradle, to recharge batteries and hook up to your TV or computer, ensures the camera itself carries just the bare minimum. Video is shot in 640x480 resolution at 20 frames per second (FPS) and is Quicktime compatible. Video is recorded with audio and, handily, you can zoom while shooting. As with many compact digital cameras today, the Konica Minolta Dimage X1 is PictBridge enabled, for direct printing bypassing the computer. Outdoors, this small camera takes decent pictures with nice saturation. Indoors you may have some trouble composing shots on the LCD screen which fails to compensate for low-light situations. The top ISO on this camera is also just 200. Overall, while the picture quality is fairly good, it is not anywhere near outstanding in this class. The camera has been well constructed and is easy to use. www.konicaminolta.com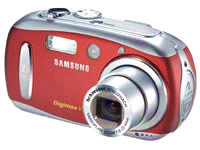 Samsung Digimax V700
The Samsung Digimax V700 is cool-looking pocket-size digital camera with just enough curves and rounded edges to make it easy on the palm, and eye. This is a 7 mega pixal compact with an excellent 3x optical zoom Schneider-Kreuznach lens. The camera is extremely responsive, shoots fast, and is always ready for action. The Samsung Digimax V700 offers 11 scene modes, customisable settings as well as manual control on aperture and shutter priority shooting. An interesting feature is the ability to attach 10-second audio clips to images. Annotate as you shoot. If you wish to simply record audio – because you forgot this was actually a camera – you can do so. The camera will shoot quality 640x480 resolution 30fps MPEG 4 movies that can be transferred with ease to your PC through the USB 2.0 connection. You can print directly to any PictBridge compatible printer as well. Video includes sound though zooming is not possible while recording. Outdoors, image quality is generally fine though overall, in assorted lighting conditions, the end result is perhaps not quite on par with other 7-megapixels in this class. The ergonomics are pleasing and the built-in flash is adequate for indoors. Portrait photography is where this digicam really comes into its own with good results. www.samsungcamera.com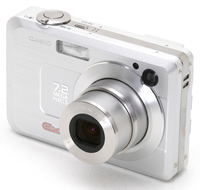 Casio Exilim Ex-Z750

From Casio, the company that boasts its sleek, deliciously-styled cameras are "wearable" designer items, comes the Casio Exilim EX-Z750 with a 7.2 megapixel CCD and an array of shooting modes including aperture or shutter-priority and Casio's "best shot" alternative. Optical zoom is a standard 3x and a large 2.5-inch LCD screen enables clear composition in most lighting situations. This compact digicam feels good in the palm, is easy to manage, and the controls are well positioned. Video can be shot at a high quality 30 frames per second in MPEG 4 at up to 640x480 resolution with sound. Best of all the images captured by the Casio Exilim EX-Z750 are excellent in most situations and you will have no problem in turning these into impressive photo-quality prints. Pictures are sharp and retain rich detail with saturated but balanced colour. Indoors, the LCD screen may be hard to manage in poorly-lit situations as it does not brighten in the dark, and the flash range is somewhat limited if adequate for close group shots within eight feet or so. This is an excellent digital picnic hamper for fast-clicking travellers or people with style and limited pocket space. Casio has done it again. exilim.casio.com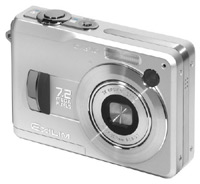 Casio Exilim Z120
A newer offering is the Casio Exilim Z120 which offers a crisp seven mega pixels of resolution and the obligatory 3x optical zoom. Like its older sibling, this compact digital camera comes loaded with features including image stabilisation, a slightly smaller 2-inch screen, and 32 screen modes including some special effects for those trying to recreate Close Encounters of the Third Kind. The ISO can go up to 1600 enabling low-light shooting and there is an option for setting aperture or shutter priority. The camera is a handy size and sits well in the hand. Unfortunately for those brought up on Casio's ultra-slim range, this compact will appear clunky by contrast. It has rounded edges, smooth lines, and a sturdy-looking lens but is easily outclassed on the design front by other Casios like the head-turning EX-S500 (featuring in our 5 megapixel compact digital camera review). A departure is the use of AA batteries. This can be a mixed blessing but roadies may appreciate the ability to stop by any shop and power up quickly. The camera responds well, shoots reasonably fast and produces good images. There is also a video mode with audio. At the end of the days this is a good performer with sturdy finish but it will not rate tops on the style charts. exilim.casio.com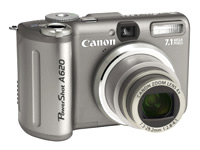 Canon PowerShot A620
Canon has caused a stir with its sleek high-performance compacts like the Canon Digital IXUS 55 and the excellent five megapixel Canon SD-400. The Canon PowerShot A620 takes the game up to 7 mega pixels and the inclusion of a small but handy 2-inch varying angle screen enables compositions from otherwise awkward positions like shooting down from a height or up from ground level. Of course this compact, with a small rounded grip is not in the same design league as the IXUS series but its ergonomics are pleasing and the 4x optical zoom lens produces superb results aided in great part by Canon's DIGIC II image processor. There are 12 pre-programmed scene modes for novices to point and shoot with élan while professionals will enjoy the ability to play with aperture and shutter-priority settings or go totally manual. Controls are well placed and organised making the A620 ideal for dabblers while presenting opportunities on the fly for serious photography enthusiasts. With a lens adapter you can extend your options on wide-angle or telephoto. Image reproduction is excellent with sharp detail, contrast and rich colours. The 7 CCD capture will enable you, in fine mode, to output very high quality prints at around 12 inches by 18 inches. The Canon PowerShot A620 shoots video at up to 640x480 resolution at 30fps and the use of AA batteries makes it easy to carry spares. All in, an excellent choice for beginners as well as prosumers who want to push the envelope a wee bit without hassle. www.canon.com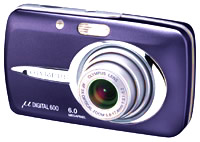 Olympus MJU 600
Olympus has been churning out classy cameras since most of us were a twinkle in our father's eye. The company has had mixed fortunes in the digital arena but launched some groundbreakers in the early days. Designs were stodgy of neat but their cameras worked, and well. The six megapixel CCD Olympus MJU 600 is a Great leap Forward. This snazzy camera with its bright weather-proof casing offers 3x optical zoom (avoid the distracting and ultimately pointless lure of digital zoom), an easy-on-the-eye bright 2.5 inch monitor, and a useful Bright Capture technology that boosts the CCD sensitivity in low light conditions. The CCD is the component that captures the light coming through the lens and interprets it. Through its Bright Capture feature the Olympus MJU 600 is capable of boosting sensitivity to ISO 2500 making it great for dusk, indoors and dodgy light conditions. This boost does of course come at a price as noise (the dots and grain) increases with the ISO sensitivity making the resulting image less suitable for printing though it is okay for e-mail and web viewing. There are several pre-set shooting modes that include video at 640x480 resolution, alas, without sound. You can zoom while shooting though. All in, the MJU 600 is an easy all-weather camera with useful features, an excellent LCD viewing screen, but average image quality. www.olympus.com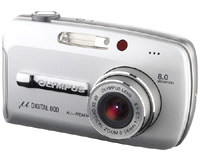 Olympus Stylus 800

The Olympus Stylus 800 digital raises the game somewhat with its 8-megapixel resolution, quick processing, handy menu "Guide" function that walks you through shooting if required, and a slew of pre-set auto modes married with a manual aperture or shutter-priority mode. This is a genuine all-weather performer and a decent battery life, make it a useful companion for hikes, skiing, rain or desert drives. This is a genuine pocket-size traveller that feels comfortable in your hands and will take great pictures. The Bright Capture technology enables users to compose shots with ease in dimly-lit interiors as the LCD brightens up to compensate as the capture sensitivity climbs to a maximum of ISO 2500. With conventional slides this would be called "high-speed" film. The higher ISO setting enables more light to register with greater detail without increasing exposure time and the risk of handshake. Video can be recorded at up to 640x480 resolution, with sound. You cannot, however, zoom in or out while recording. Image quality of this compact digital camera is excellent and its fast processing speeds and "burst" modes make it a good choice for a variety of shooting situation. The Olympus Stylus 800 is among the top choices in this compact digital camera review. www.olympus.com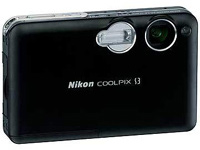 Nikon Coolpix S3
The Nikon Coolpix S3 is a compact, palm-friendly wonder with a 3x optical zoom a usefully-large 2.5-inch LCD screen and a punchy six mega pixels of resolution. There is a wealth of shooting modes to cover all eventualities including one to track faces that returns mixed results. This compact digital camera is well constructed, light, rounded, sturdy, and diminutive. It is smaller than the slimline Konica Minolta Dimage X1 and that's saying a lot. Light sensitivity can be boosted up to ISO400 but there's not too much to play with on the manual adjustment side. As an automatic point-and-shoot the Nikon will get the job done with aplomb. You just won't be able to manually polish things to the extent some of the others in this compact digital camera review allow. The video mode permits 15 frames per second shooting at 640x480 pixels with sound. That's not a bad option for such a small camera but not quite as smooth as a 30fps rival. This is a competent pocket camera and it looks nice. The image quality is reasonably good and the Face-Priority mode is a clever addition to track people in a room. For something a bit more stylish and with great performance albeit with 5 megapixels, look at the Nikon Coolpix 5900 reviewed earlier. www.nikon.com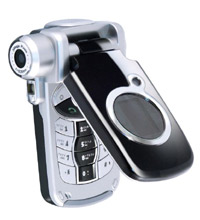 Xcute DV2: All-in-one fun gadget
From Taiwanese company Xcute, an extraordinary mobile camera with an incredibly dull name – DV2. The multi-faceted Xcute DV2 picks up where the DV1 left off, with a whopping six megapixel camera and 22 shooting modes. There's manual focus and, what's more, a 30fps VGA DVD-quality video. Add to this white balance, exposure tweaks, and a fully customized MP3 player with a six-mode graphic equalizer and you start to scratch the surface of this interestingly crafted Man Friday. Once the pictures are taken they can be hooked up through the TV output to a big screen or transferred via USB to your computer. Just in case you are still not satisfied, the phone provides language learning facilities too. This 99g marvel ensures you always save your photos and you can fiddle with it to your heart's content. Load on stuff until your mini SD slot is full. Use it as a voice recorder, a snappy video with swivel 16.7m colour LCD, or simply as a portable media player that works effortlessly with AVI and MOV Quicktime files. The scene modes will help negotiate the usual home-picture bummers with settings like Indoor Fluorescent, ID Photo, Close-Up Text and Indoor Lamp Mode. These modes get rid of colour casts associated with different lighting situations and adjust the focal length to suit the shot. What's the downside? Not much. Well, the 6 megapixel camera is actually a 3 megapixel operation cleverly extrapolated to mimic a six mega pixel resolution. It is a phone after all.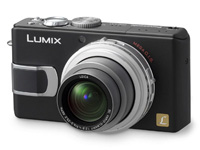 Panasonic Lumix DMC-LX1

The Panasonic Lumix DMC-LX1, is a slick 8.2 megapixel creation that slips with ease into the tiniest pocket, is hugely easy on the eye, and produces excellent pictures. Images can be saved in the standard JPEG format or, for those of professional bent, in a lossless TIFF or RAW format. This is good news for pros and people who care about the quality of their saved images. JPEGS are compressed files that lose data each time you save the images, not that this is easily visible to the naked eye. However, professionals prefer working with TIFF and RAW formats which lend themselves to sophisticated manipulation through programmes like Adobe Photoshop and Apple's new Aperture. Usefully, the DMC LX1 incorporates a 4x optical zoom (with a reasonable wide angle), image stabilisation and a CCD with a 16:9 widescreen ratio that means your work will be utterly at home on a new high definition TV set. Where the LX1 really beats the competition hands down is its ability to shoot video at 848x480 resolution (16:9 ratio) in genuine widescreen mode at a smooth 30 frames per second. The camera offers several shooting modes including aperture and shutter priority and manual and the large 2.5-inch LCD screen is up to the task of composing shots even in bright sunlight. PictBridge enables direct to printer output and a USB connection is available to link up your computer. www.panasonic.com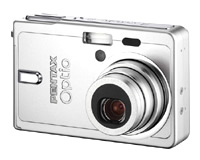 Pentax Optio S6
Trusty Pentax has produced some mini marvels in a long line of high-performance Optios and the Pentax Optio S6 does not disappoint. This is a neat looking though not excessively stylish camera with a pleasing metal finish. It is sturdy, small, and offers a large 2.5-inch LCD screen but not a viewfinder which would have been handy for those not adept at holding the camera in front with both hands while composing shots. The Pentax has a quality 6 megapixel CCD and its lens rustles up the standard 3x optical zoom. The video goes up to a pleasing 30 frames per second VGA 640x480 pixels with sound and anti-shake technology. The controls are sensibly positioned, the menu is uncomplicated and the camera is a breeze to get started with. The ISO range goes up to 400 for evening shots making low-light shooting a doddle. Despite the limit on the ISO, indoor and low-light shooting is excellent. On the whole, images are impressive with good white balance. Indoors the colours tend to warm up excessively causing yellow casts but tinkering with the white balance can resolve this. There are 14 scene modes to choose from. www.pentax.com