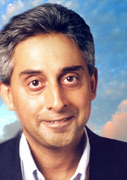 DO YOU RECALL THE LAST TIME YOU LOST something on a flight — say a book, an overcoat, a laptop, your wife? This is, of course, a trick question. It is practically impossible to lose a wife inflight even with the oft-attempted ruse of pointing out the exit door when she asks for the toilet. Fact is, if your wife is missing, it's pretty certain you're the one who's lost. Women ask for directions, remember?
Send us your Feedback / Letter to the Editor

Share This Page
So is there a lot of missing baggage? Tons. Conventional wisdom has it that luggage not claimed within a period of 90 days (three months, or about the time it takes Madonna to fall in love, marry, produce twins and divorce), it is considered "abandoned". This is the official term. Abandoned baggage is a distressing modern phenomenon. Consider the plight of an orphaned Samsonite wheeler, 2,000km from home with nary an owner in sight, alone, defenceless, locked up, unable to communicate because you never bothered to fill in the luggage tag.
Fact is, if your wife is missing, it's pretty certain you're the one who's lost. Women ask for directions, remember?
Owners of missing property don't get a whole lot in recompense unless they sensibly parted with their stuff on a domestic US flight — not counting the shoes left behind at the security X-ray. In this event, they are eligible for up to US$1,250. On international flights your loss is valued at just US$20 per kilo, capped at a maximum of US$640. To ensure that international compensation rates conform to modern standards and conventions, they have been left unchanged since 1929.
Getting reimbursed for any items of genuine value is well nigh impossible. Commonly exempt are things like cameras, antiques, art works and anything fragile. The answer is to take anything valuable as carry-on, but with a caveat: no meat cleavers, hand grenades, cattle prods, tear gas (though passengers may weep freely of their own volition during movies or even before, when they realize there is no video on the flight), knitting needles, "penetration objects" (DON'T SWALLOW THAT VIAGRA) and signal flare pistols (a bummer if you want to alert your pals that the toilet is free).
And what of all that lost luggage? In the USA alone in 2000, carriers reportedly lost, damaged or mishandled one bag for every 189 passengers. Do the math and you realise how many wayward bags are floating around. If you wish to reconnect with your knitting needles, try heading to www.lostandfound.com/index.tpl where there's a US$2,000 reward for a lost Red Golden Retriever. You can report lost items and search for found items. The site caters mainly for the USA but there are some worldwide listings. Another choice is www.inspice.com/aprod-code/home.asp which has a similar format with the additional ability to search through individual airlines' lost and found databases. You can report an item, search for one and spot your books, laptop or mobile phone here.
Abandoned bags will soon overtake "Eye-Raak" and Sudan on the UN's agenda. It is simply heartbreaking. However, bag-breaking is a far more fruitful exercise. There's nothing quite as satisfying for an overweight, chubby, forty-something abandoned bag than to be opened and unburdened. Consider it a sort of humanitarian liposuction.
Inflow is pretty much guaranteed as people are far too preoccupied reading self help books like 203 Ways to Drive a Man Wild in Bed and the gripping sequel, 302 Advanced Techniques for Driving a Man Wild in Bed (available at Singapore's Changi Airport), to bother with their bags. Singaporean men have emigrated en masse and others have simply changed their sex to avoid being driven wild in bed.
Apparently you are less likely to be "profiled" for a security frisk if you are wearing beach flip-flops or sandals
The Alabama store's compelling interactive site www.Unclaimedbaggage.com offers online shopping with cameras starting at just US$10. Among recent items at the store were a Nicole Miller leather jacket for US$125 (don't worry, I don't know who Nicole Miller is either) and a pearl necklace appraised at US$13,650 for $6,825. If you're headed to Alabama, check out The Unclaimed Baggage Center in Scottsboro (tel: [1-256] 259-1525).
As for shoes, the US Transportation Security Administration (www.tsa.gov) says it is worth spending a little time thinking about what to wear. Apparently you are less likely to be profiled and asked to have your footwear scanned if you are in "beach flip-flops or sandals". This is useful too know as most business class passengers would prefer to check-in wearing trendy beach flip-flops, perhaps in a virulent shade of pink. So tell me, is your wife missing?