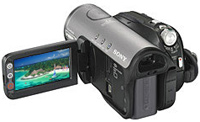 SONY Handycam HDR-HC3
AS digital video cameras get smaller, lighter, smarter and pretty much compacted into cigarette-case proportions consumers may be left scratching their heads trying to tell the difference between one svelte performer and the next anorexic wonder. Take heart. The key purchasing decisions remain the same. What is the image quality? How simple or complex is the video menu? How well does that digital video camera shoot in low light conditions? What is the optical zoom availability? And how much hand shake is there with the smallest digicam versions? Remember, when buying a digital video camera, video is your primary purpose. NOT single images no matter how many megapixels have been squeezed into your CCD. Low light shooting is measured in "lux". The lower the figure the better enabled your camcorder is for indoor and dusk conditions. Digital is zoom is best forgotten. This is not true zoom, merely a blurry digitally extrapolated version of what the camera assumes the zoom picture should look like. Stick with optical zoom, and 10x is enough for most needs. Also beware of the small form factor. While some compact models are excellent, larger videocams are not obsolete as yet and may pack in a lot more goodies. This digital camera reviews covers a broad range from HD videocams and MiniDV marvels to pocket-friendly compacts that shoot VGA quality (to e-mail on to friends in a jiffy) and even a raffish mobile phone with 3 megapixel camera stills and DVD-quality video.
Send us your Feedback / Letter to the Editor

Share This Page
Panasonic GS280

The Panasonic GS280 is a sharp newcomer, armed with 3CCDs (charge coupled devices). A CCD is the chip that captures incoming light and analyses the colour spectrum and detail. The bigger the chip size the greater its ability to absorb light and present clear detail. The more the chips (albeit smaller), the greater the image and colour precision. Or so the pundits opine. The Panasonic GS280 weighs in with a not-too-expensive price tag, and a nice bunch of features that include white balance adjustment, an optical image stabiliser to limit handshake and the "quickstart" feature which ensures you always ready to capture that action – almost instantly. Several manual exposure adjustments are possible as well. The camcorder offers a 2.7 inch LCD screen with a 16:9 wide-screen aspect. Optical zoom is a comfortable 10x. There is a DV iLink connection as well as S-Video out, USB 2.0, a microphone socket and a hot-shoe for one-the-road accessories. Video quality is good though grey skies (in bright conditions) can tend to overexpose on auto-focus (though focus speeds are sharp). Audio capture is good enabling a fair bit of range without a problem. The sensitivity of the microphone alas also picks up an almost inaudible motor hum. Watch for this if you're in a particularly quiet setting. Overall, the Panasonic GS280 scores high in our digital video camera review. www.panasonic.com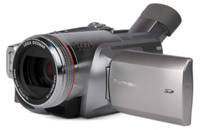 Panasonic PV-GS500
An enduring and popular Panasonic line has been its GS series like the hugely popular Panasonic PV-GS400. This model has now been replaced – though without some of the nifty semi-professional features of its forerunner. The familiar looking Panasonic PV-GS500 offers 3CCDs (each just over a quarter inch) with rich, saturated colours. Images are sharp, well defined, with minimum "noise" at low light levels. This digicam handles widescreen 16:9 ratio shooting with ease, producing clear and sharp images. This is the format to shoot in if you wish to view your work on a widescreen TV. Auto shooting offers fast response, very good automatic white balance, and a range of scene modes for various shooting conditions. The menus are accessed through the LCD and are not the most efficiently organised. Take some time to work out the navigation before heading out on a live shoot. Of course if you merely wish to record Baby Ben's first drool, there'll be no problem in pointing and shooting with excellent auto results. A useful feature of the Panasonic PV-GS500 is the 12x optical zoom provided by a quality Leica lens. There is a manual focus ring for those looking to control pull and zoom shots. Should you be inclined to squeeze off a few still shots, these can be had in pretty high resolutions in both standard and wide formats. Images are saved as Jpegs in the SD memory card. www.panasonic.com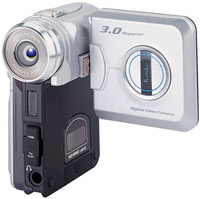 Kenko DVC-306
For something slightly different, look at an incredible compact creation from Kenko, the Kenko DVC-306. This is a well featured MPEG4 video recorder that can shoot as much as your SD memory card can hold. The Kenko is an elegant model that will appeal – if only on looks alone – to a wide range of consumers, with a choice of vibrant colours from silver and metallic blue to red. But it's not just a pretty face. The camcorder has a few tricks up its sleeve including still photography at 3 megapixels and even MP3. Plug in the headphones and sing, dance, click.

The downside is the video frame rate is a mere 20fps (frames per second) which may not be as fluent in reproduction as a 30fps capture. Video resolution is a handy 640x480 but there is no optical zoom though there is a 4x digital zoom provision. The less said about digital zoom the better. The 1.5 TFT display is just about enough to figure out what's going on, and the lens has a fixed focal length. The gizmo weighs just 137g, about as much as a small pack of butter, and with a 2GB SD card will be able to shoot around 12 hours of video. The Kenko DVC-306 is best classed as a snazzy "toy" camera that is sure to be a hit with young persons and amateur enthusiasts, less so with prosumers or professionals. Still, it looks great in any pocket and has a sturdy, solid feel to it.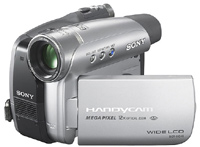 SONY Handycam DCR-HC96
From ever-dependable – and expensive – SONY comes yet another compact MiniDV with class and clout. The SONY Handycam DCR-HC96 is a high-end single CCD device with several interesting features under its diminutive pocket-size bonnet. The video camera knocks out reasonably 3 mega pixel still shots while video quality is well above average in all light conditions. Autofocus is responsive and quick to target selections intuitively and auto white balance is decent. There is a NightShot mode that produces green-hued infra-red video straight out of Desert Storm and is not a realistic option for low light. The Super SteadyShot however is handy to eliminate those niggling handshakes that bedevil shooting on a small camera. The touch screen LCD could have been a tad bigger and large-fingered blokes may find themselves pressing everything at once. Of course 2.7 inches is not particularly small. It's just not big enough. The SONY Handycam DCR HC96 offers standard 4:3 mode as well as widescreen in 16:9. Picture quality is good, still shots are pretty decent for this class, but the navigation menus may leave you floundering if LCD control is not your forte. Perhaps best to stay with automatic shooting that produces very reasonable results, even in challenging conditions. One niggle is the less-than-average battery life. There is adequate connectivity but the iLink, Firewire and USB ports are in a separate cradle that also serves as a power-in adaptor. This will certainly inconvenience those who are trying to cut down on on-the-road gadgetry and wires. www.sony.com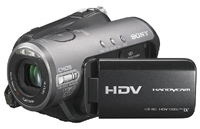 SONY Handycam HDR-HC3

By contrast – though in a different class – is the SONY Handycam HDR-HC3, which offers great video quality, also in the now-fashionable HD (high definition) format. As a compact High Def video camera, the HDR HC3 is not particularly taxing on the wallet but it is big on surprises and quality. If you are brave enough to venture into the HD field or wish to move up from standard definition, this may be the video camera for you as the form factor is fairly compact without all the protuberances and weighty gadgets that can leave you feeling like a pack mule with conventional HD models. Video quality is certainly excellent and 2 megapixel-up still shots will not disappoint. The camera is best used in auto mode though basic menu functions on the LCD are quite simple to follow and navigate through. Detailed functions are in complex sub-menus that are worth exploring slowly, beforehand, if you really want to get under the hood. While pretty compact in size, the HDR-HC3 is weighty enough to feel solid in the hand and sit well in the palm. Stills are stored in a Memory Stick Duo card at up to 4 (interpolated) megapixels, which is really cheating, and around 3MP if you opt for the widescreen ratio. Optical zoom is an underwhelming 10x though this is sufficient for most needs. Other bundled features include six program modes, Smooth Slow Record, Super NightShot, iLink Firewire, S-Video, infrared remote control, and the ability to convert your HD footage to standard SD while downloading the material to your PC or Mac. All in this is a terrific performer with excellent HD video quality, great colour reproduction and better-than-average, stills despite the interpolation. With good reason, the SONY HDR-HC3 is a top runner in our digital video camera review. www.sony.com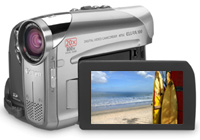 Canon Elura 100

The Canon Elura 100 is a compact dream. And not just in the looks department. This stylish compact offer 20x optical zoom, one megapixel stills (if you insist) and a native 16:9 widescreen format. This is not a high definition video camera but it will define your metrosexual lifestyle. Video capture is detailed, and sharp with bright colours. Don't expect add-ons and extras. There is no accessory hot-shoe. Brightly-lit shooting conditions are ideal for this digicam, dusk and dim indoors less so. The snappy, slim LCD screen offers 2.7 inches of visual space, ideal for 16:9 composing. The screen is not large but decent when compared to the videocam's overall size. The tripod attaches to a somewhat flimsy seeming mount below the camera while the tape is top loading for uninterrupted shooting and tape changes. Footage can easily be output through Firewire or the USB. There is no S-video but there is a mini-jack for an external microphone. The small onboard microphone is adequate for most situations and is sensitive enough to pick up occasional motor hum in a quiet location, especially while zooming. Located behind the camera is a four-way joystick which you'll use to navigate and take manual control of the device. It's not as complex as it seems and works very well in practice. www.canon.com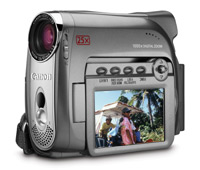 Canon ZR700
Canon's entry-level widescreen model, the Canon ZR700 scores high on video quality though it lags a bit in less well lit situations. Where this digital video camera outscores almost all rivals is in its optical zoom that stretches through high-rises and bedrooms with a whopping 25x that is both sharp and clear at maximum telescopic range. While daylight shooting is impressive, late evening and home interiors will pose problems – both for shooting video as well as stills. The night shot is poor and best left alone. Again, in low light situations the auto-focus strains to catch up and the electronic image stabilization, while welcome, does little to firm up the image. There is a raft of manual controls should you be inclined to take charge and there is much that can be satisfyingly tinkered with. The LCD is 2.7 inches and is useful for composing widescreen shots. Prod the joystick to get into manual content or use one of the eight preset auto modes for good results in most conditions. This camera is easy on the pocket, easy on the eye, and its super zoom is a wonderful toy to pry into everyone's lives and homes. The downside is the lack of a microphone input and the bottom-loading tape compartment which interferes with your tripod set-up should you have to change tapes mid-shoot. Output is through standard Firewire or USB sockets. www.canon.com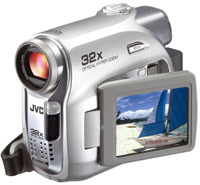 JVC GR-D390

If you though that 25x optical zoom was fab, try this. A 32x optical zoom marvel from the handily compact JVC GR-D390. Apart from the breathtaking zoom, this digital video camera offers four program modes, a 2.5 inch LCD screen and ample connectivity with S-video and AV out, USB and Firewire bidirectional DV port. This is a great camera for enthusiasts who will be up and running in no time. The JVC is dead easy to use and its controls are easy to fathom. Digital still shots won't pass muster but video quality is of high quality in both outdoor and indoor low-light situations. This is boon for those shooting birthday parties and the like as low light is the Achilles Heel of most compact camcorders. The JVC GR D390 can shoot in widescreen 16:9 mode. It also shoots in the standard 4:3 ratio. There are several useful manual controls and you can fiddle about with the white balance setting and exposure, among other things. Punch away at the LCD screen or use the hideaway four-way joystick that is revealed as you snap open the LCD. Audio is one area where this otherwise decent digicam struggles. In quiet locations there is evident camera hiss and whir. Streetside this should not pose a problem. www.jvc.com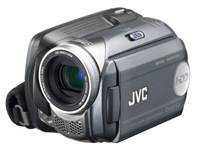 JVC Everio GZ-MG37
If you're looking for a tape-free hard drive compact, try out the JVC Everio GZ-MG37 which claims to store just under 40 hours of video. That's all the Star Wars sequels and prequels, The Godfather, and the kitchen sink. Hard drive storage is catching on and some find it a handy format to cart around. Especially pleasing is the fast DV transfer to your PC. The camera is easy to manage, and reasonably light. Where it falls short is in its video quality. Video quality is poor in almost all conditions. Not that it is bad. It is simply not up to scratch, especially when compared with even entry-level MiniDV models. Unfortunately there is no way out of this hole though the small form and design may be marvels in their own right. There is unmistakable "noise" in shadows and even in well lit interiors. This is inexcusable and one wonders what the manufacturer could have been thinking. After all this is a video camera. The onboard 30 gigabyte hard disk stores up to seven hours of video at high quality. This stretches to 37 hours at lowest quality. Navigation is via a four-way joystick that is revealed when the LCD panel is clicked open. The joystick is on the left side of the video camera. It is difficult to operate and navigation can be a tedious business. The JVC Everio GZ-MG37 is a great concept from afar but a lousy choice close up, in practice. No doubt JVC will eventually get it right. Watch for later Everio series that may have overcome the poor video glitch. www.jvc.com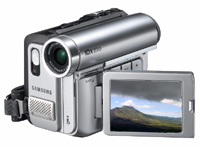 Samsung SC-D453
The Samsung SC-D453 is another relatively inexpensive piece of good looking eye-candy that fails to deliver. The battery goes on forever and brightly lit daytime shots produce exceptional quality images. However it is a different story as the sun goes down and you retire indoors. Quality immediately plummets. There is a slow shutter night mode but this has minimal impact on quality. Of course, if it's just the Great Outdoors you wish to immortalize, the Samsung SC D453 will get the job done with aplomb. Think carefully. Menus are accessed through a one-press menu button at the back of the body. Optical zoom is a standard 10x. This will handle most situations. Shooting is easy, especially if you work with the six auto modes or the numerous manual choices. Stills won't fare too well though. These are stored in a SONY Memory Stick. The built-in microphone is exceptionally sensitive and picks up all manner of ambient noise. Audio is good nevertheless. Should you require better quality audio you can plug in an external microphone through a jack. This is a thoughtful and useful addition. There is however, no shoe for mounting the microphone or any other accessory. Shooting in bright outdoors poses no problems, with the sharp and bright LCD. This is a handy bonus. The camera shoots in standard 4:3 mode though there is a simulated 16:9 widescreen mode. www.samsung.com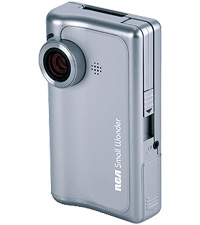 RCA Small Wonder EZ101
So you're looking for small. I mean, really small. Well, look no further. Here's the nifty RCA Small Wonder EZ101. This is not a serious video contender by any means. It is an on-the-go device that can capture low resolution video which you can then dispatch by e-mail to bore friends, family and others. The killer application is its USB plug-view-and-send capability. Pop open the USB connector and plug the device into any PC (Windows XP) or Mac (OS X). On your PC you'll immediately see a viewer. View clips, shuffle things around, edit, delete and arrange clips in new sequences. At the end of the day, actually within minutes, you have a clip that can be e-mailed with ease from anywhere. It's worth knowing that a simple 30-second movie clip can weigh in at a noticeable 1MB. The RCA Small Wonder EZ101 stores up to 30 minutes of video on to onboard Flash memory. This is unfortunately just 512MB. There is no expansion possible either. Still, 30 minutes is adequate. To help you delete unwanted sequences, there's a small viewer at the back of the device. So you can save space and get rid of non-Oscar material. There's a 2x optical zoom. This is not a whole lot but it's useful. Zooming does have a downside in that you'll hear an audible noise each time you go in or out. Best to set a focal length and leave it at that for each separate shot. It is worth repeating that this is a fun, not serious gadget. But it will give you something to do on those long desert drives. The build quality is fine but the casing scratches easily. www.rca.com
Finally, if you really only need good looks, well, look in the mirror. If that doesn't satisfy you, perhaps you might think of a nifty mobile phone that does video. Why not? It's a phone, an MP3 player, a camera, and it shoots half-decent video. Of course, this too is not a serious video alternative – yet – but it is catching on.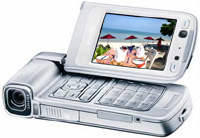 Nokia N93
We've included it in this digital video review just for fun. And to check if anyone's reading this. A top contender on good looks and a great bag of tricks is the Nokia N80. This sparkling new 3G phone has a crystal clear screen which makes it a lot easier to review your photographic handiwork, shot in 3 mega pixels. There is a bit of shutter lag however and you will need to keep your hands rock steady to avoid blurred, streaky images.

But wait. It's a plane, it's a train, no it's Superphone. Say hello to the just-launching Nokia N93. This swivel-screen smartphone is not just a pretty face or even just a simple mobile phone, it is a 3x optical zoom Carl Zeiss lens affair with DVD-quality video that you can play back on the widest screen of your choice. This is video as you talk, a convergence of 3G, WiFi, music through MP3, with an FM radio option, games and an office support (pick from e-mail and more). CLick 3.2 mega pixel stills or grab stuff on the fly. An indication of where this phone is positioned is the bundled software that includes Adobe Premiere Elements 2, for easy video capture, and editing on a PC. Pop in a two gigabyte MiniSD storgae card and you can shoot video practically indefinitely. www.nokia.com

The Nokia N80 quad-band (use it in the USA too) smartphone is fully Wireless and high on connectivity in general so you can be sending off pictures and video in no time at all. Choose from Bluetooth, infra red, USB 2.0, or PictBridge (straight to the printer). Battery life is impressive. You might be able to squeeze off up to 500 shots (up to 3 mega pixels) in one charge, even if you're using the flash. Video capture is high quality MPEG4 in 352x288 size. There's a 3GP video format, and a 5x digital zoom that is best avoided. Music files supported are MP3, WMA and AAC. Start clicking – or talking. It's up to you.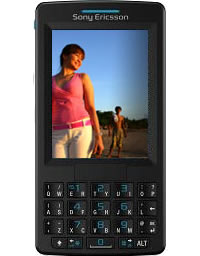 SONY Ericsson M600i
The downside is the build quality is a bit crummy for a device of this class and quality. The gadget feels okay in the hand, it just gets scuffed too fast. The black version handles rough in-the-pocket usage a tad better than the white/silver one that attracts smudges like a two-year-old tyke. Watch for your house keys. Put them in a separate pocket. However, handled with care, there's anough fun under the bonnet to keep you happy for a while. www.nokia.com
The SONY Ericsson M600i is an all-white sleek device with Mac-like grace and all the slick moves. It comes in black too. Just 15mm slim, the M600i is a sharp 3G mobile phone that reintroduces an earlier Sony feature – the amazing and time-saving jog-wheel – which makes navigation a doddle. The clear and bright 2.6 inch display is touch sensitive and affords pleasing playback of footage. Video is shot at a professional 30fps ensuring fairly smooth action. USB and Bluetooth take care of connectivity. Onboard is Opera 8 for fast web browsing and a bundle of software to talk to a range of other devices. Or, digressing further, opt for the W850i Walkman phone that has a bag of tricks up its sleeve. It's 3G enabled, can handle e-mail with ease, offers a 2 megapixel camera and video conferencing on the go. Choose from black or white. A USB connection offers easy hook-up with your PC. www.sonyericsson.com