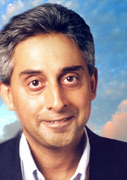 AS WE CROSSED SEOUL'S ICY HAN RIVER I feverishly scanned the map. A few years ago the Songsu crossing collapsed and I developed a spontaneous interest in Korean bridges, especially ones I was being driven across. This was a Hannam Bridge, my hosts assured me. Fearful American tourists dodging kidnappers from Beirut, Scuds from Iraq, nuclear cooling rods from North Korea and chickens from Vietnam leapt from tourist buses to check the cantilevers. "This one looks OK Martha, let's cross here."
The bridges were doing fine, as was the Korean won. The "Land of Morning Calm", was anything but. In these days of financial lassitude and despair, Korea has something that you might be tempted to call an "economy". Clearly money is being made everywhere and not just at expatriate condominiums where landlords demand a year's rent upfront which they then invest and turn into profit – returning the original principal to you at the end of that period. In the old days when the won wobbled, landlords who lost their money in scams did the honourable thing. They jumped off high buildings to prove to their tenants that there is a direct link between gravity and dud investments. What their tenants did thereafter has not been adequately chronicled.
Send us your Feedback / Letter to the Editor

Share This Page
Even the kidnappers, who once boldly and publicly spirited away comely young lasses for sweatshop labour, or worse, were given pause. They were perhaps making money elsewhere in more honest ways. Leaping off buildings probably wouldn't appeal to them. Perhaps, like me, they didn't like purple lipstick. I would have kidnapped a lovely myself but I couldn't figure out how to broach the subject in Korean. "Excuse me. I'm a tourist. I'm lost. Come with me to Hongkong or I'll jump on your fake Gucci bag."
Fortunately the world did not end as predicted, which is a real hassle if you've been accumulating holiday leave
The Moonies, who organised a mass "synchronised" wedding (a bit like a mad music video) during my last visit, were absent. And the doomsday cult that predicted the end of the world on 28 October (my birthday) was strangely silent. Fortunately, the world did not end as predicted (which is a real hassle if you've accumulated all that holiday leave), and I was able to continue with my midlife crisis, undistracted.
The skiing is still good up at resorts like Muju and Yong Pyong. The intrepid might venture to Bear's Town (an hour from Seoul) where discount skiing and artificial powder provide engaging diversions. I tried it with my family in tow and ended up on a chair lift headed for the highest peak. I had never skied before. My family meanwhile skied off in separate directions, backwards, sobbing and calling my name in less-than-loving tones. I found my way down the near-vertical slope narrowly missing ladies in designer duds who stopped only if they met a tree. Eventually, I found an instructor. There is a God, you see. I showed him my raw shins and he laughed. "India woman number one," he said, pointing at my wife, before skiing off.

The eating and shopping remain good. The traffic remains gridlocked. In Myong-Dong I was introduced to putae-chigae, a spicy noodle and frankfurter soup which my host informed me dated back to the days when American GIs handed over leftover rations to the locals who then cooked up a storm with lethal amounts of kimchi and whatnot. Myong-Dong is also a terrific area for trendy shopping. Itaewon remains the main draw for jeans-and-labels knock-offs with a few Korean chests thrown in. At night, Itaewon draws drunks and bosomy ladies in miniskirts who are keenly interested in economics. They will want to see your wallet. Japanese and American economies are of particular interest to these business students.
The lady informed me she was about 1.2 kilometres tall and I left for the airport measuring tape in hand...
If you are not in the mood, head off with the young and wannabe-young set across the Han River (on a safe bridge of course) to the lights, karaokes and hip eateries of Apku-Jong Dong. And at the end of the day, you can, well…shop. That's right. About 2am the Namdaemun (South Gate) street market starts stirring. You could also check out the Lotte Hotel which boasts more restaurants and bars – and business students – than you can shake a Korean chest at.
Several pounds heavier but considerably shorter than a lady who informed me she was "about 1.2 kilometres tall," I departed Seoul stopping only at the airport to ponder a conundrum. The most popular cigarette in Korea is a brand called THIS. "What's that?" I asked the girl at duty-free. "This?" "No, that." "That's THIS," she responded ungrammatically. "So that is THIS but is this, that?" She rolled her eyes and walked off.