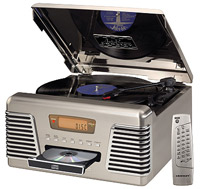 Crosley Autorama Turntable
HERE'S SOMETHING ABOUT GADGETS that gets people really excited. It's in the genes. Bring home those large glossy floor-to-ceiling B&W speakers for your wife's birthday and she'll swoon. Later she'll holler, weep, call her mum and set your hair alight. If there's a frying pan handy she might even give your skull a few hard whacks. This is how women let you know they care. Yes, gadgets do funny things to perfectly sane humans. And gadgets for the road – or festive occasions – are literally falling off the shelves, smaller, shinier, smarter, and slicker. It's time to stop searching for that infernal G-Spot and head to Gadget Land. Buy more speakers, miniature WiFi accessories, high definition video cameras and computer cables for your girlfriend till she moans and BEGS YOU TO STOP. Here's a selection of drool-worthy goodies for road warriors who know their pixels from their axles.
Send us your Feedback / Letter to the Editor

Share This Page
If the words RPM and vinyl do anything for you, head straight for the retro automobile-style Crosley Autorama Turntable (also with CD) that comes, appropriately, in Ferrari red, black, or brushed chrome. The Crosley turntable is the next best thing to actually owning a cool 1950s car. It's also cheaper, and a lot smaller. Pick one up as a portable in tan or black in a snap-shut briefcase and wow your boss at that next board meeting. If your boss isn't buying any of it, wear a crash helmet, take it home and make your wife moan. The stereo turntables offer a three-speed belt drive running at 33 and a third, 45 and 78 so dust off the vinyl (you can actually wash your collection of old records in soapy water too) and get in the groove. Who fired that shot? Oh that's just them scratches. There are auxiliary outputs for external speakers, AM/FM radio and an optional CD player. Pretty cool. The ensemble will set you back just around US$140 but the company normally ships only within the USA. You can call them (1-866-CROSLEY) and make other arrangements. Powel Crosley, after whom the firm is named, was an American inventor known for creating some snazzy sports cars – hence the gleaming side-grill speakers. www.crosleyradio.com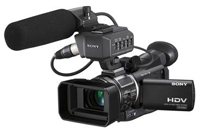 Sony HVR A1U: Tiny, stylish shooter
So you're out in the country – or maybe just at the local McDonald's – shooting video of Baby Ben throwing a tantrum. Cut to fifteen years later and Ben is still kicking and screaming as you cart him into a museum. Either way, best to catch the whole scene on HiDef, or HDV, or high definition video depending on how many syllables you can string together. For the uninitiated this means capturing (and outputting) footage in a smooth and extraordinarily crisp 1080 horizontal lines. More lines mean more clarity and detail and, of course, a lot more storage space. So get that 500GB LaCie Big Disk ready for your next video download.
The SONY HVR A1U is a small, almost pocket-sized, contender that could be sneaked into the cinema, a music concert, or even a museum (yes it's legal at most places as long as you don't shine bright lights at the Mona Lisa). This nifty high definition video camera is even sometimes described as a notebook camera, spawning a new genre of micro wizardry. Inconspicuousness apart, the small form factor makes this an excellent POV (point of view) cam for strap-on sporting events, runs, cycling and so on. Incoming light is captured on a single CMOS chip, albeit grudgingly, in low light conditions. But then there's the bright side – the camera weighs in at under three pounds, the battery runs on and on and on, there's great connectivity with USB, the FireWire iLink/1394, and an auxiliary output for video. The LCD touch screen is bright and easy to use and the menu reasonably configured. A large manual focus ring is an interesting plus – but only if you're well away from your subject.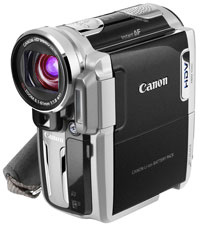 Canon HV10: great images
At mid distances any amount of spinning makes not a jot of difference. Audiophiles will marvel at the large microphone unit that sits astride this diminutive digital camcorder. It can be removed and the microphone can be upgraded. Shoot stills which recording (directly to a Memory Stick). The SONY HRV A1-U offers sharp pictures and video, amazing clarity of detail and all this saved on an easy-to-purchase MiniDV tape. The downside? Bottom-loading tape. Check your time left on tape before setting the ensemble up on a tripod. www.sony.com
Now that you've caught the hi-def bug, check out another nifty, even smaller contender, the Canon HV10. You'll get superb video, relentlessly sharp playback at 1080 lines with non-jitter and blur-free freeze-frames should you be inclined to catch every frame of your mother-in-law's slip on that devilishly placed banana peel. Film is shot with the help of a single CMOS chip again and with a weight of less than half that of the SONY (1.2 pounds), it is easy to hoick around. Video is shot on easy-to-find MiniDV tape so shooting is a cinch. Colours are warm and saturated and easy to see on the 2.7 inch LCD screen. Shooting is equally good in daylight as well as in dimly-lit settings though the auto focus may wobble with the latter. Handy add-ons are a flash for still pictures and a video light. Shoot in widescreen 16:9 ratio or the standard 4:3. Bring along an extra battery as the one supplied dies pretty fast. Shutterbugs will be pleased to note that there's a fair amount of flexibility on stills shooting options. Pick aperture priority or shutter priority. Yes, you'll even get the customary zebra-striping to tell you if your exposure's off the mark. www.canon.com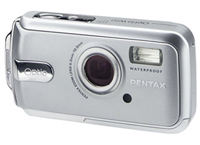 Waterproof Pentax Optio W20
But why stop there? Once your girlfriend has stopped moaning, make amends and head underwater (Maldives perhaps?), for a soothing snorkel and some more clicking, this time on an awfully compact and waterproof Pentax Optio W20. This is the Mark 2 version of the Optio W10 and while slim-line and easy to stow in any pocket, this compact digital camera packs a fair punch. It's waterproof at depths of up to 1.5m. There's a largish 2.5 inch LCD screen, a reasonable 3x zoom and even "face recognition" just in case you're pointed at a rock, again, asking HER to smile. Blur-reduction will manage hand shake when that shark swims by and everything's captured at up to 7 effective megapixels. While shooting at night or in romantic grottos the camera will bump up the speed to ISO 1600 to maximise light intake. Get close up and shoot in macro mode up to just one centimetre from your squirming subject. Use this to discover hidden moles and so on when your wife's girlfriends arrive for dinner. The Pentax Optio W20 even captures video at a smooth 30 frames per second at 640x480 pixels, a decent size by any reckoning. Best of all is the "Mermaid Mode' for underwater filming as you wiggle about trying to capture slippery critters with fins. www.pentax.com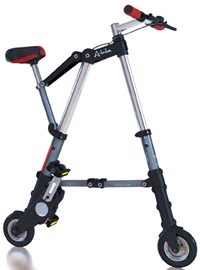 The incredibly compact, folding A-Bike
If you're looking for an ultra portable bike that folds into a tiny knapsack that you can lug onto trains, into office, and up hill and down dale, check out the incredible A-Bike (www.a-bike.co.uk) from inventor Sir Clive Sinclair. But wait a minute; shouldn't you be riding that bike instead of just lugging it around? Right. The A-Bike is described as an ultra compact collapsible bicycle and, at just 12.5 pounds, it's easy enough on the back. You cannot ride it if you're over 85 kilos or over six feet four inches tall. That limits the options a bit but, still, it's small. The A-Bike is perhaps best on level roads with smooth surfaces – like your living room floor. With a ramrod straight handlebar, steering can get dodgy in traffic or on steep slopes and the tiny seat may be a tad uncomfortable for some. If you've already knocked out a few kids of your own it won't really matter. Perhaps best on a short two to three-kilometre commute but not too much more, the A-bike is groovy, a snap to fold and store, people will look and whistle, but… It retails in Hong Kong for around HK$3,800 through the Hong Kong Trade Development Council (HKTDC) showroom at the Convention Centre. For other collapsible bike choices explore the slick and classic M Series from Brompton (www.bromptonbicycle.co.uk) or the simple but stylish Strida (www.strida.com). The Strida retails for around HK$3,200 in Hong Kong. It employs a gleaming aluminium frame, a Kevlar greaseless belt-chain, "injection-moulded" 16-inch wheels and state-of-the-art hub brakes. The Strida is a bit heavier than the A-Bike at 22 pounds or 10kg but is has the look and feel of a real bike. The folded size is 45x20x20 so you can't carry it onboard an aircraft but you can certainly catch the underground or a bus with this gizmo in tow. Riders up to six feet four inches and 110kg can hop on.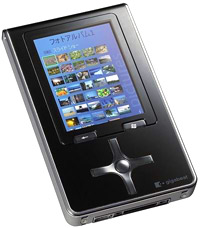 Toshiba Gigabeat MES30VW
What use is a bike without your MP3 collection? The Toshiba Gigabeat is a stylish accessory anywhere, at any time. With a sharp 2.2-inch screen, easy navigation via a four-way pointer, up to 60GB of storage capacity and with the ability to download and play WAV and MP3 music files, the Gigabeat is taking the iPOD head-on. It almost succeeds and in some instances exceeds the iPOD's already prodigious capabilities. Pick one in black, blue or silver, and get cycling or jogging.

The one catch is files need to be recognised by the Windows Media format and you will have to say goodbye to iTunes. The Toshiba Gigabeat MES30VW is a handy 30GB on-the-road companion with USB connectivity and a Windows Mobile OS that is a cinch to use. Battery life could be better (around three hours playing video) but with looks like these who's complaining? One small glitch could be downloading from CDs which involves some time sorting out track naming and folders. All in, this is a stylish accessory for the party crowd. www.gigabeat.com
Serious camera buffs and budding prosumers trading up will swoon at their first sight of the gunmetal black, sturdily-built Nikon D200. As soon as you heft it in your hands you will be certain of two things, this is a durable and heavy piece of hardware, and your arms are going to ache. The camera weighs three-and-a-half pounds with battery and the prescribed Nikkor 18-200mm lens (f/2.5-5.6).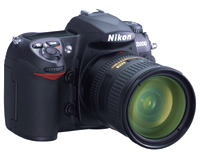 The Nikon D200 is a photographer's dream
There are no automatic scene modes as in amateur cameras so you'll have to get fiddling right away choosing aperture or shutter priority and so on. This is the hallmark of a professional end camera but the Nikon D200 is easy to manage. With a 10.2 megapixel capture images are deliciously sharp and well detailed with excellent colour. The camera powers up in less than a third of a second and is ready to go as soon as you are. Select any of the 11 auto focus points and squeeze off a burst at five frames per second.

In continuous shooting mode you can do 35 JPEGS or around 20 RAW images without batting an eyelid. Auto focus is fast and accurate and tracks a target once detected. The camera comes with a bright 2.5-inch LCD screen. The camera can shoot at up to settings of ISO 1600 though the optimum ceiling at high speeds will be around ISO 800 to avoid grain. The WiFi enabled Nikon D200 can trigger speedlights at a distance and also transmit images across a network with the necessary hardware. You can keep track of battery life easily though you may not worry too much in this regard as one charge can handle a whopping 1,800 shots. The downside? Start saving. This one will break the bank. www.nikon.com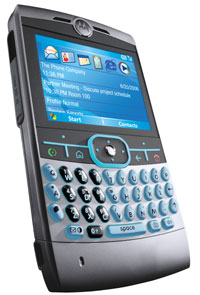 Motorola Q does almost everything
More svelte is the sleek Blackberry-meets-RAZR Motorola Q that will have heads not just turning, but spinning. This ultra-thin smartphone squeezes in a tactile QWERTY keypad, Bluetooth, a decent 1.3 megapixel camera, a speaker phone, and assorted multimedia options, into an anorexic 4.5x2.5x0.5 inch frame. Call quality is good and the raised QWERTY keypad will ensure less fumbling on e-mail messages to the boss from the beach. Integrated WiFi is missing – almost inexcusable for a smart phone of this calibre – but we can live with that. The LCD screen is a bright 2.5 inches diagonally with a resolution of 320-240 pixels. Display is pretty clear and sharp in most light situations, even in bright daylight.

While exceedingly thin, the face is wide, perhaps disconcertingly so, for those unused to PDA-style devices. It may take some getting used to, holding it up to the ear for a call, but there are tricks to make things easier. Like the side mounted jog-dial scroll wheel for easy access to menus. The 1.3 mega pixel camera with flash is mounted on the rear of the phone along with amply loud stereo speakers for a phone conference. Shoot video, or watch, using the Windows Media Player 10 Mobile. The Motorola Q is a handy entertainment centre and supports MP3, WAV, AAC, WMA, WMV and MPEG-4 files. Meanwhile for workaholics, there's the Windows Mobile version 5 which helps synchronise data with Outlook among others. www.hellomoto.com
There are phones and there are phones. The SONY Ericsson K790A (similar to the 3G enabled K800i that retails in Hong Kong) is a PHONE with capital letters all the way. As a gadget it is a babe, and under its tiny black hood are enough functions and possibilities to keep an Alpha Male grounded for weeks. Well, it's better than letting him watch football all night. You're looking at excellent 3.2 megapixel photographs (in fact this is the first phone to carry SONY's distinctive Cyber Shot branding), sleek rectangular design with a comfortingly solid build quality.
SONY Ericsson K790A
Okay so it's just tri-band and not truly a world mobile phone but unless you're planning to jet around the globe and spend a heck of a lot of dollars this is a niggling detail. The colour display is rich and crisply detailed in 320x240 pixels resolution. The five-way joystick seems to be becoming obligatory and once you've mastered the art, navigation presents few problems. The keypad is modestly raised and a small improvement on earlier models. Unless you're a gorilla, keying in numbers and data should be fairly easy.

But it is as a camera that this phone really comes into its own. Use the "BestPic" mode for shooting rapid-fire stuff, pick scene modes, play around with white balance, and zoom in with macro. And there's a flash too. Video is shot in MPEG-4 in a standard – and somewhat puny – 176x144 pixel resolution. Executive travellers note the phone can manage up to 1,000 contacts with several fields for each. There is Bluetooth, infrared, USB support, voice dialling, e-mail, a speaker phone, wireless printing, and even an RSS reader for news feeds on the fly. Shoot and capture all you want. Just ensure a large capacity Memory Stick Micro is plugged in. www.sony.com
The 30GB hallucinogenic, fun, and green Creative Zen Vision:M is another must-have plaything for any traveller 30,000ft aloft stuck watching a small white plane laboriously negotiate a map of Asia. Yes you can get the gizmo in other colours too if green is too bilious for you. The interface is simple and easy to use and the machine comes with a voice recorder, an FM tuner and a sharp, clear screen. Video playback can manage an amazing range of file formats from MPEG-2 and MPEG-4 to DivX, XviD and WMV.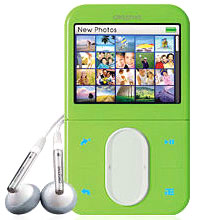 Creative Zen Vision:M
The Creative Zen Vision:M mimics the iPOD up to a point though Apple will of course maintain its iTunes lead when it comes to video content for any player. At approximately 4x2.4 inches, the Zen is about the same size as a 5GB iPOD. Buttons are flush with the surface so you'll have to dig around at first to get things whirring. Once mastered it's a doddle though this exercise will doubtless leave fingerprints all over that fine top-end real estate.

Zen slips happily into a pocket of any size. Its strongest suite apart from its grab-me looks is its sheer simplicity. There are just a few idiot-proof music play buttons. Power connection and USB connectivity comes in the form of a separate gizmo which is unfortunate as you'll end up carrying extra wires around. Still, it's a nifty addition to your carry-on bag. www.creative.com
What would boys be without toys? And BoysStuff is just the place to head to, to order a spanking new friend. Not a Cyber Pal. A Real Pal. Robosapien RS Media is the new and versatile multimedia version of the huge kid hit, Robosapien 2. He comes loaded with an arsenal of new functions and responses, all designed to interact with you. Be careful what you say now in front of this fast learning butler. So what does your new robo-friend do? For starters he can play your favourite MP3 through speakers embedded in his body and hands. Operate him through a remote or by tapping buttons on his bionic arms. Control and edit his body movements too. He can't jive but he can do a fair bit of everyday stuff and can be set on four different preset personalities. The LCD colour screen across Robosapien's chest can display images downloaded through his SD card slot.
Robosapien 2
This screen can also show what your pal is "seeing' through a head-mounted camera as he rolls around the house. Spooky. He can record his master's voice and play it back to remind you who's who. Despite the cool voice and accent he's Robosapien, you're not. Don't forget. Buy a 1GB SD card and upgrade his memory. Then sing to him as much as you like. DON'T PLAY BACK. Watch football on the telly till the wee hours. He won't complain. www.boysstuff.co.uk
Apart from its trademark air ionisers and extra loud alarm clocks that ensure you fall off the bed as easily as falling off a log, cutting-edge hi-tech purveyor Sharper Image has come out with two handy accessories that will change your travel habits forever. The View-Video Eyewear is a chic Starship Enterprise wrap-around shade that lets you watch video from an iPOD or handheld on a "virtual" 43-inch flat screen. The projection will feel like you're around six feet from the screen. The shades can fit over your spectacles and can also double up as projection-immersion accessories for playing video games, or watching DVDs and camcorder footage. This for just around US$350. This amazing "pocket home theatre" can run with Pal and NTSC equipment. Ear pieces are embedded in the frame. (Also try MicroOptical's sleek Myvu iPOD accessory that throws projection back a virtual six feet on a 27 inch screen.)

Or try the nifty Water Checker that retails for only US$12.95. This small book-size gadget can give you a read-out of water purity anywhere. It runs on two AAA batteries and is, of course, waterproof. Check for waterborne impurities while travelling or camping. It's good to know what sort of sludge you're imbibing. www.sharperimage.com

Water Checker
If you need something really, really stupid no better place to browse than at the Stupid Gift Shop which stocks everything from Talking Dolphin radios and Flying Pigs to the World's Ugliest Puppet, wind-up Walking Sushi from Japan and an insane Tennis Racquet Bug Zapper. Smack them and fry them in one clean swing. Zap (www.stupid.com/giftshop/maingift.htm). Or head to That's Bizarre for the latest in candy underwear and designer rubber ducks should you need a bathtub companion that won't talk or ask for money (www.thatsbizarre.co.uk).