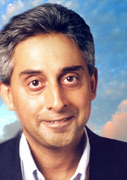 SOMETHING I ALWAYS ENJOY on the road is a good pillow fight. Not the kind where you smack your kid brother on the head with a hot iron and then grab a soft pillow just as your mother races in to see what the hollering is about. I mean a real pillow fight. The kind you see in soft focus, in movies, where sarong-clad lovelies sashay across the room in slow motion as, pyjamas donned, you grab a large pillow and, breathless, proceed to wrestle. Not with the languorous lovely or your niggling conscience, but with the humongous hotel pillow which, if not beaten into submission right away, will ensure you spend the night sitting up in pole position like Michael Schumacher waiting to blast off.
I assume that, like me, you relish the prospect of sleeping flat, not propped firmly upright by a surfeit of goose down. The most frightening prospect is the headrest stuffed with sturdy Japanese igusa grass. This behemoth retains its shape, no matter what. In other words, there are only two ways to resolve the situation with honour – pump yourself with steroids till your head balloons to about five times its normal size and weight, or attempt hara-kiri with a nail-clipper (if you managed to smuggle one past airport security).
Send us your Feedback / Letter to the Editor

Share This Page
Business travellers may be surprised to learn that while the room costs just US$50 after all that bargaining and meticulous Internet research – including forays to sites featuring large breasted women – their hotel pillow alone may be worth over US$75.
Business travellers may be surprised to learn that while their room costs just US$50, the pillow alone may be worth a lot more
Pillows are just the tip of the iceberg. The bed you sleep on, especially if it happens to be a king-size Westin Heavenly Bed Ensemble, is worth US$2,990 (the current retail price). On the Internet, the Westin pillow alone is priced at a wallet-humbling US$75. And you're still trying to haggle for a room WITH breakfast? In case you're interested, Westin also does a Heavenly Dog Bed which is just the ticket for your pet pooch if you have spare change left over. www.starwoodhotels.com/westin/service
The funky Park Hotel Tokyo offers a range of extraordinary pillows to suit all needs. There are pillows for petite Asian sizes and even some with a two-in-one soft and hard side. If you can't find the right one from the stack on the bed, call in the "pillow fitter". He will measure the curve of your spine/neck and conjure up a pillow just for you. If your mother-in-law is with you, score more brownie points. Splash out on a special Hindu fakir nail pillow with simple accessories like a large pitcher plant and ravenous crocodile.

At the swish Conrad Bangkok you'll find a small yellow rubber elephant to share the bath and a little gold leaflet by the bed. This is your pillow menu. Choose a non-allergenic (polyester) pillow, a contour pillow (polyester foam), a Shogun pillow (stuffed with Japanese igusa that absorbs humidity and heat), or a fluffy duck down feather pillow. Decisions, decisions, decisions. The trend has caught on pretty much everywhere.
Westin also does a 'Heavenly Dog Bed' which is just the ticket for your pooch if there's change left over
The Four Seasons Singapore has long prided itself on its blissfully spoiling beds and non-allergenic pillows that are so popular you can even buy them at the gift shop. That's right. Why buy a tie when you could buy a whole bed? Just don't try to cart it along as cabin baggage. Fortunately, Four Seasons will ship the bed and mattress to your home. Go on, surprise your wife. "Hi honey, look what I brought." "What the… ARE YOU COMPLETELY OUT OF YOUR MIND YOU MORON? We live in a 400sq ft Hongkong flat. Where the hell will I put this monster?" "But darling…" "Fine, I'll keep the bed, you sleep in the park."
The Ritz-Carlton Dubai serves up eccentric pillows including some stuffed with horsehair. And a couple of years ago, Sheraton trundled out their guest-pleaser Sweet Sleeper Bed. If you simply must grab some feathered finery, head to Pacific Pillows (www.pacificpillows.com/index.html). Here you'll find the sort of pillows found at The Ritz, Hyatt and Marriott. Go from the bog-standard Marriott Pacific Coast Down Surround Standard Pillow for US$44.99 to the top-of-the-line Ritz-Carlton Pacific Coast Grandia Winter Warm Weight Duvet Comforter King for US$349.99. I kid you not. These are the real names. Or opt for a Hyatt Feathers and Down Complete Pillow Set for US$259.99 (with four standard pillows). You'll be chuffed to learn that Pacific Pillows offers a "30-night comfortable sleep guarantee".
Bored? Why not try a Japanese "lap pillow"? This is an imitation skin-coloured soft-thigh ensemble in a red or black skirt. It resembles the legs of a kneeling woman. Rest your weary head on her lap. Yes, pillow wars have begun in earnest. And travellers everywhere will be the beneficiaries. Unless, like me, you prefer to sleep flat. Beat that pillow good.