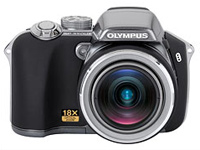 Olympus SP-550 UZ
AS THE OLD ADAGE GOES, sometimes less is more. Conversely, more pixels are not necessarily better. The difference in image quality between a three megapixel entry-level point-and-click and a 10 megapixel prosumer behemoth is not just the pixels – though, arguably, a bit more resolution always helps – but the lens, the light sensors, and all the gadgetry that goes into securing that perfect balance of exposure, focus and speed to catch all of baby Ben's drool as it pours into dad's morning coffee.
Beyond a certain point, or around four megapixels, the image quality of anything less than poster size (or for printing in large format) is practically indistinguishable to the untrained eye from a seven or eight megapixel capture. The greater pixels do allow more resolution (or size), hence greater flexibility in printing out on, say, A3 paper. But for simple viewing and family album pictures you don't really need much more than four megapixels to get shooting in style.
Send us your Feedback / Letter to the Editor

Share This Page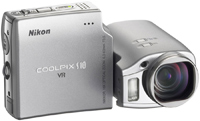 Nikon Coolpix S10
Okay, bump it up a notch to just over six megapixels and you start getting into a satisfying comfort zone. And that is where this compact digital camera review is focused, on the new generation 7 megapixel digital cameras. We look at ultracompacts, pocket-size cameras and mini marvels that shoot pictures, and video, and zoom right up to granddad's nose hairs at 100 paces. When picking a camera, always check out the lens. The glass makes all the difference between a blurry, dull shot and a sparkling picture with saturated colours.
The Olympus SP-550 UZ (or Ultra Zoom) more than lives up to its name with an astounding 18x optical zoom that does not lose clarity or detail as you close in on the subject. The camera also incorporates Dual Image Stabilization to lessen the impact of handshake or sudden gusts of wind. With a tactile and pleasing rubberised front casing in charcoal, the SP550 UZ, is easy to come to grips with, literally, is hand sized, yet wheels out a staggering snout when the zoom lens is fully extended. The camera's lens range is 28mm-504mm (the equivalent on a standard 35mm camera) and it captures stills at 7.1 mega pixels. There are 23 scene modes, BrightCapture technology for low light shooting (also available in movie mode), a super macro mode to go in as close as 1cm from the subject, and a burst rate of 15 frames per second. Finger controls are intuitive and simple. Shoot at daylight speeds of ISO 100 or boost up to an incredible, but grainy, ISO 5000 for shots in near dark conditions or at the local bar. Image quality is good and detailed. The best news for amateur photographers is the camera powers up on four AA batteries that can be purchased anywhere so you'll never run out of juice. The Olympus SP-550 UZ saves to an xD card. www.olympus.com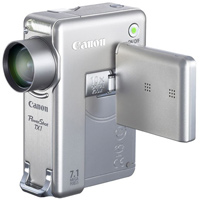 Canon PowerShot TX1
The Canon PowerShot TX1 offers a very healthy 10x optical zoom achieved by standing the camera on its end and placing the lens not on the flat front surface, but along the side where there's more room for retraction. The camera features a 1.8 inch flip open LCD that swivels to enable shooting at awkward angles, Optical Image Stabilisation, and movie capture at 30fps (frames per second – or pretty smooth) in high definition. Watch stills and video capture on a high def TV. Just plug in and play. It's a thoughtful touch from Canon and ensures this elfin model is one step ahead of the pack. Shoot, shut, and slip it into your shirt pocket.
Image quality is good, focus and start-up time are reasonably fast, and better onboard processing allows for extended battery time. Shoot at ISO ranges up to 1600 as you zoom in and out from 39mm-390mm (in 35mm equivalent). Canon's new Face Detection program ensures the camera easily spots and locks onto human faces to ensure steadier focus and optimised results. There are 14 shooting modes to choose from on the Canon PowerShot TX1 and you can even capture a high definition still picture while filming in movie mode. In movie mode choose from HD 720p at 30fps, high quality VGA 640x480 pixels resolution at 30fps, or smaller formats. The camera saves on an SD card. www.canon.com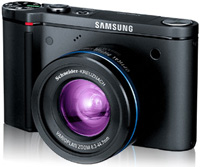 Samsung NV7 OPS
The Samsung NV7 OPS has a distinctly retro feel about it with slim but boxy '60s styling in gun-metal grey, with an enormous 7x optical zoom (38mm-270mm equivalent) Schneider-KREUZNACH lens that produces highly saturated colour images. This 7.2 megapixel digital camera offers a range of options from fully manual to aperture or shutter priority and even a movie mode in MPEG-4 VGA at a smooth 30fps.

There's also Advanced Shake Reduction, a macro mode to enable shooting up to 1cm from the subject and a choice of speeds from ISO 100 to ISO 1000. The camera build is good, images are well detailed and bright, the zoom is quick off the mark and the 2.5 inch LCD screen is bright.
Where the Samsung NV7 falls short of the competition is in its tendency to over- saturates images, slow focusing in low light and in telephoto mode, and unusually high noise at ISO 400 and over. Battery life is nothing to write home about either. However it is packed with features that should impress the hobbyist and it looks good slung around the neck of any self-respecting Forty Something. www.samsung.com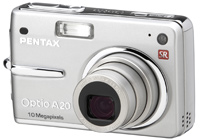 Pentax Optio A20
The Pentax Optio A20 is perhaps in a different league but it is must-see if you're looking for a small ultra compact 10 megapixel digital camera that not only looks good but shoots great quality pictures. The Optio A20 uses an improved processor that certainly raises it several rungs above its somewhat disappointing predecessor, the A10. This sleek and smooth pocket size digital camera offers a 3x zoom lens, a Shake Reduction preview enabling you to see before-and-after versions with Shake Reduction or without, Face Recognition to spot and zero in on humans in the frame, an ISO range from 80 to 800, manual control, and shutter priority shooting. The build quality is good, the camera feels comfortable in the hands, there are several features for enthusiasts to enjoy, and image quality is above average for a camera in this class. However, do watch for increased noise levels in low light and overly soft images that may not suit all tastes. The LCD screen may be hard to view in bright sunlight. Watch for the A30 which will hopefully eliminate these problems. All in, this is a fun, pocket-friendly companion that scores well on this digital camera review. And it's easy on the eyes. www.pentax.com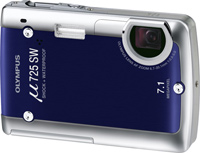 Olympus MJU Digital 725 SW
The Olympus MJU Digital 725 SW is perfect for those who enjoy taunting their wives while poking a camera in their face. "Smile honey, c'mon brighten up… of course I LOVED your cake and so did the dog." The camera is shockproof up to 1.5m. Later when you deal with the tears, the anguish, and a night on the rain-lashed porch with furry Fido, you'll appreciate that this mini marvel is waterproof up to five metres and offers a staggering 24 scene modes to choose from when you do eventually make up, from portrait and landscape to candle and underwater options.
The Olympus mju 725 SW employs BrightCapture technology to squeeze every last drop of light from dusk as well as underwater situations. The Night Scene mode enables decent shooting after hours and Image Stabilisation means the camera works well in a sports environment. This is a nifty little shooter from one of the original SLR leaders and it comes in effervescent hues. Take your pick of colour, boot up, head outdoors and start throwing it around – but only from a height of 1.5m mind you. The camera's main strength is its simplicity and ease of use. www.olympus.com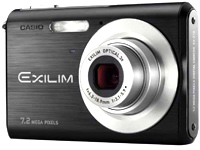 Casio Exilim EX-Z70 Zoom
From CASIO, the undisputed masters of ultra compact digital camera design, the CASIO Exilim EX-Z70 Zoom. The camera shoots in 7.2 mega pixels with a 3x zoom and a Best Shot mode. Models in the US also come with an eBay Best Shot mode that optimises the image size for posting on the Net. Talk about detail. The large 2.5 inch LCD screen is bright enough for most outdoor situations but it tends to attract fingerprints so watch your hands you oaf. The Anti Shake function is useful, enabling slow shutter speeds in low light situations but it does tend to increase noise and grain. If you don't know what to do, one press of a button will reveal as many as 33 scene modes to choose from. Still don't know what to do? Just click. Record a 30 second audio memo along with stills so you know what all you got up to after the tenth beer. The Exilim EX Z70 is handy with movies too and shoots VGA quality video at up to 640x480 resolution at 30 frames per second. Novices will find the controls easy to understand and access, and the 3x optical zoom (38mm-114mm equivalent) is fine for most situations though it is not particularly wide angle. Image quality is good but perhaps a shade below other CASIO siblings. www.casio.com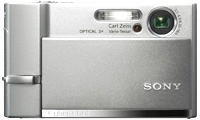 Sony Cyber-Shot DSC-T50
The sleek SONY Cyber-Shot DSC-T50 is no slouch in the looks department. It slips into a shirt pocket with ease, though it may slip out just as easily. This ultra-compact digital camera comes in shades of bright red, black or silver, and shoots in 7 megapixels. The 3x zoom is okay for normal situations but you won't be able to zoom into your neighbour's home to pry on desperate housewives. The touch panel 3 inch LCD screen is bright and clear even in direct sunlight, ISO sensitivity runs from 80 to 1000, there's Super Steady Shot support to cut down on shake, and noise reduction works to clear unnecessary grain from longer exposures. Camera start-up is fast and you'll get around 400 shots on one battery charge. Video buffs will be pleased to note they can shoot MPEG movies at 640x480 resolution with audio at 30fps. Shoot as long as you need. Just get a bigger storage card. The good news is that for a camera of this size, the Cyber Shot DSC T50 churns out excellent images with sharp detail and good colour balance. Portraits are clear with skin tones faithfully captured and the tiny flash is adequate for ranges of up to around 10 feet which covers most indoor situations. Download music from a PC and play it back while you view your pictures or, better, hook up to a TV and give your mates a real sound-and-light show. The SONY T 50 is a responsive camera that will please enthusiasts and serious hobbyists alike though it will set you back a smidgen more than others in this class. www.sony.com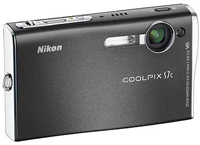 Nikon Coolpix S7c
The Nikon Coolpix S7c also rates high on our ultra compact digital camera review and not just for the fine quality of its pictures and good tonal range. There are 15 scene modes to choose from with a Face Priority mode that enables quick and accurate portraits in a flash. The navigation wheel not unlike the iPOD controls, springs to life when your fingers rotate it, bringing up a navigation menu on the LCD. It makes accessing the controls a lot easier than squinting at tiny emblems and symbols on the road. Vibration Reduction does its best to eliminate blur albeit not always successfully. In a camera of this svelte proportion, hand shake is an inevitable hazard. However, the incorporation of Vibration Reduction does mean greatly enhanced images despite any klutzy doings. Again, as with cameras of this size, the lens is incredibly tiny and located to the far left of the case making it all too easy to get your fingers over it by accident. A neat feature of the Nikon Coolpix S7c is its WiFi capability. Now sending a quick e-mail to friends and family with your latest pictures of baby Ben staring at the wall watching the paint dry, is a doddle. The lens has a par-for-the-course 3x zoom and an ISO range of 50 to 1600. If you want something a touch more funky, look at the 6 mega pixel Nikon Coolpix S10 featuring a swivel design that enables you to shoot from several angles. Image quality is excellent but shooting options are limited and the design may be awkward for some. www.nikon.com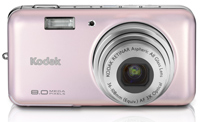 Kodak EasyShare V1003
The 10 megapixel Kodak EasyShare V1003 comes in silver and an eye-catching "pink bliss". It is a rather brave effort from the normally staid Kodak but the design works. It's cool, sexy and stylish. The 3x optical zoom of the Kodak RETINAR lens produces bright images that can be viewed in detail on a large 2.5 inch LCD screen. A Favourites feature enables you to hold on to your best pictures on the camera at all times to show off to friends while a nifty new feature called "Maintain Settings" helps you create and store your preferred flash, exposure, white balance and ISO marks for instant use at any time. It is certainly a useful feature once you've found the right balance for your particular light and weather conditions. There are 22 scene modes enabling a great deal of flexibility and options, Digital Image Stabilization, and a panorama mode. Need to shoot video? Sure. The Kodak Easy Share V1003 can also shoot in low light conditions with an ISO range going up to 1600. Of course you'll have to say hello to some grain at this extreme. This is a handy, easy-to-hold, pleasing camera that will fit into any trouser pocket to offer added, if understated, bulge in all the right places. The Kodak EasyShare V803 does the same in an 8 megapixel resolution. www.kodak.com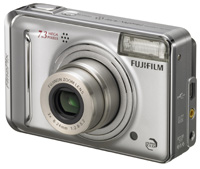 Fuji FinePix A700
The Fuji FinePix A700 weighs in with a Super CCD sensor that delivers very decent images in 7.3 megapixels. It has a sturdy no-nonsense feel that will appeal to families if not to photo geeks. The camera is fully automated and will handle most tasks for you with aplomb. You can however get under the bonnet to tweak ISO settings or white balance. The best thing about the Fuji FinePix A700 is its utter simplicity. It is idiot-proof to a fault. The camera offers a modest 3x zoom optical zoom, macro focus, and four scene modes with everything stored on an xD card. The LCD screen is adequate but does not always do justice to images which always look far better on the computer screen. This camera is a good choice for beginners and for those planning to shoot on vacation without worrying about adjusting white balance and bracketing and picture bursts and ISO settings as that once in a lifetime moment flashes by, unrecorded. www.fujifilm.com
Your mother-in-law about fall into the Grand Canyon? Stop fumbling and start shooting.