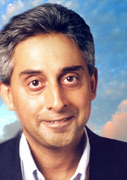 AS The Beatles lyrics go, "The best things in life are free…but give me money." And why not? Money makes the world go round. No one understands this better than the owner of the rights to these lyrics, Mr Michael Jackson, who is a gentleman – or gentlewoman. He has practically lost his estate, as well as large chunks of his nose, to ensure free Americans everywhere may drink champagne in bed – but only if they're under ten and supervised by an adult. Snarky accountants from Tokyo to Timbuktu, hugging cash registers, not girls, will agree. Money talks.
Yet, some hoteliers think otherwise. They want to give away holidays of a lifetime, FREE. I have been reading up on some special hotel packages. Here's a sample. "Allow us to pamper you with a range of special comforts and extras. Guests may enjoy a free welcome drink, and free use of the swimming pool, gym, and toiletries." Fancy that. Use the hotel swimming pool absolutely free, secure in the knowledge that you won't be tossed out despite the fact that hotel pools are clearly intended for the exclusive use of non-guests, Marxists, and card-carrying members of the Ku Klux Clan. After a swim retire to your bathroom and caress your very own free bar of soap, something utterly unimaginable in my youth, as we never used soap back then.
Send us your Feedback / Letter to the Editor

Share This Page
I do not consider myself a freeloader. Thus, when use of the bath slippers, towels, wardrobes, in-room safe and TV are free, my conscience is unduly burdened. "Hello reception. I am planning to walk through the hotel corridor and turn right to catch the lift. Is all this free and part of my exclusive package?" "Yes sir." "And may I draw my curtains and gaze freely at the huge muck-raking cement plant right outside my window?" "Certainly." How about that? If you don't want a Cement Factory Facing Deluxe, try the Four Lane Highway Facing Twin. These are all great family options.
These curvaceous Women of Mass Distraction are only spotted late at night accompanied by dishevelled, mumbling gents
Hotel freebies are an extraordinary privilege that arguably would not have been available to the Free World had George Bush not dropped a few bombs on eye-rack, startling the hospitality industry into providing real benefits lest someone discover their cache of WMD. These curvaceous Women of Mass Distraction are only spotted late at night or early in the morning when they pop out of lifts accompanied by dishevelled older men who mumble about the "perils of world poverty" and what the UN should do about it, while their companions – equally determined to end world poverty – demand "foh-hundled dollah…"
If your conscience remains troubled, visit a church. "Father I have sinned egregiously." "What have you done my child? Did you kill a fellow man?" "No padre, much worse." "Did you ravish a woman of slender means, tossing her impetuously on the couch in your lustful search for the g-spot?" "No padre, I used the hotel's toilet paper and pulled the flush repeatedly without paying for the privilege."
Then there are hotels who simply toss out the freebies for a starker guest experience. Green travellers love cosy cabins where the towels and sheets remain unchanged during their stay (to cut down on laundry suds), showers are cold (to save energy), and soap is handmade (as expensive, nice-smelling brands like Givenchy use chemicals). Guests are willing to shell out fat sums for this sort of shack-in-the-jungle tour and hotels save a bomb as they provide absolutely nothing in return. In The Philippines, travel agents extraordinaire Abu Sayyaf, organise free midnight transfers. No visas are required.
Frisbees handed out by the now bankrupt Sabena are a great way to exercise in the cabin and avoid deep vein thrombosis
Is less, more? In Beijing, thirteen hotels have agreed not to provide wasteful disposables like toothbrushes, toothpaste and razors. This "Green Pronouncement", as it is known, will save an estimated 5,000 articles of waste daily, says Zhang Rungang, deputy director of the Beijing Tourism Group. Weak willed comrades may be reduced to tears, shaving with their fingernails, but hotel rates will not be reduced.
Airlines are giving away stuff free as well. According to one lively chat I stumbled across, giveaways included Christmas Cards from Iran Air (perhaps to dissuade those who believe beards and mushroom clouds must always be seen together), a frisbee from the bankrupt Sabena (a great way to exercise in the cabin to avoid deep vein thrombosis, and almost as good as running from creditors), and a set of postcards from MIAT Mongolian Airline featuring scenes of the Gobi Desert and traditional dances, with a charming caption referring to the climax of the performance: "Old, white-haired man reaches orgasm."
This prompted me to type in "what the hell" in Microsoft Word's online help search box which gave me the following results: Introducing Microsoft Office 2003; Expectant Mother's Hospital Checklist; and Family Holiday Newsletter. Can anyone tell me what the heck is going on out there?