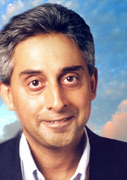 WITH THE CALENDAR counting down to 26 December, 2006, the first anniversary of the catastrophic Indian Ocean ripple that overwhelmed Asia 's holiday coast, tension has palpably risen. The worry this time is not about the possibility of another impending wave - an early warning system is in place and maritime populations have maintained hair-trigger vigilance along their shores - but about the nature and form of the anniversary commemoration.
Celebrating life is an easy matter. The world loves a party. Celebrating death is another. Regardless of one's point of view, birth, death, and renewal, the inexorable trinity of life, trundle on. Nature's lessons are harsh, often capricious. And the advent of Boxing Day marks a painful and necessary milestone. The burdensome and necessary baggage of grieving must be set down to enable tsunami survivors, local populations, and relatives of those who perished, to move on, reflective, enlightened, and unburdened. But how might this be accomplished?
Send us your Feedback / Letter to the Editor

Share This Page
The tragedy of the tsunami was inescapable, its scale immense. Cruelly though, it is crisis - not plodding status quo - that has brought with it opportunity, hope, and the whiff of new beginnings. Crisis has offered a break with the past. In an instant, it has cut across political and ideological divide to bring together diverse minds and traditions, to fashion fresh resolve and energizing directions. This is the opportunity of Boxing Day, its hope, and burden.
Cruelly though, it is crisis, not status quo, that has brought with it hope. This is the opportunity of Boxing Day, and its burden
Countries like Thailand can now reassess and enforce master plans and place strict limits on development. Phi Phi, once the preserve of gawping day-trippers, had long been overrun by precisely the sort of unplanned, and destructive "development" that Thailand and others shall wish to avoid in future. In Patong it is time to revitalise the promenade, create zones that are enforced, and to marginalise the mafia. The opportunity is within grasp to transform crass to class, turning Phuket into a St Tropez of the East with grand piazzas, green lungs, and sewage disposal. Reviving the waterfront will enable the eventual gentrification of Patong and the planned retreat, not necessarily rout, of its bawdy night scene. Like them or not, those unfailing barometers of health - gewgaw stalls, pirated DVDs and designer knock-offs - are back.
But how does one commemorate a tragedy of this scale and at the same time welcome the stirrings of new life?
Thailand's tourism officials would like to usher in the anniversary with music and celebration and invited celebrities. The local populations in the south prefer the calm and privacy of candlelight vigils and prayer. Both are right to hold fast to their beliefs. But there is no contradiction here. Celebration and prayer are twin sides of the same coin. Societies everywhere mourn their dead and celebrate the after-life, freeing the departed - and those they left behind - from misery and inertia. There must be time for mourning, as well as the morning after.
Charity concerts don't celebrate - or perpetuate - misery. They provoke passive populations into positive action
As TV cameras focused on the carnage in Khao Lak, Aceh, Sri Lanka and India, they left an indelible stamp on people's minds. The uncertainty, fear, and compassion engendered by that horrific footage is still evident, both in the lack of travellers to the regions hardest hit, as well as the tireless and selfless work by medical staff, volunteers, students and governments.
Callous as it may sound, it is time to alert those very same TV audiences that the time has come to move on. Celebration, celebrities, vigils, commemorations, and mourners, are all part of that healing process. Rock music has been used to spotlight AIDS and raise money. It has been used to highlight the misery of children in the developing world. Charity concerts don't celebrate - or perpetuate - misery. They alert passive populations around the world to provoke positive action. Boxing Day is an opportunity to direct the spotlight at Khao Lak - and other wastelands - once again, this time with a powerful message of hope and renewal.
In tradition too, the dead are intertwined with the living, often with colourful expression. Halloween, All Souls Day, celebrates the return of the dead and children collect candies, innocently profiting from the dear departed. Mexico 's "Day of the Dead" is a spirited cocktail of Aztec, Mayan and Spanish beliefs, all converging in a tumult of dance, music, flowers, parades, and macabre effigies. Cemeteries are gaudily decorated and families feast at the graves of their ancestors, to celebrate life, thus honouring the dead. This is not a morbid occasion but a joyous festival. In the Toraja highlands of Sulawesi, the prime focus of life is to prepare for the afterlife. The central purpose of accumulating wealth is for the inevitable funeral celebrations.
Death is part of life. Without it, life can never be accurately measured. The intensity of loss can only be matched by the intensity and joy of rebirth. The tsunami anniversary is an important emotional milestone. Let us not make it a millstone.