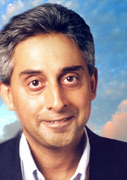 THERE IS AN AURA OF GREAT MYSTERY ABOUT INDIA. This is what excites discerning travellers, bringing them back again and again, to coax wondrous secrets out of this ancient land. To begin with, why do airlines only fly into fog-bound New Delhi at 2am? Where is the landing form? Why are departing passengers given the arrival form? How do you pronounce Thiruvananthapuram? And if you haven't a clue how to spell this, is it wiser to pick a two-syllable city like Kochi to fly into?
Questions, questions, questions. They come thick and fast. Who is that burly, sullen shawl-wrapped gent, riding shotgun when you hop into a Delhi taxi? And, finally in the taxi, as you succumb to the rich aromas of the Great Unwashed, should you bring along a canary to minutely observe its every move just in case the oxygen runs out?
Send us your Feedback / Letter to the Editor

Share This Page
India is a lesson in ontological whimsy. Taxi meters are considerately covered by a towel so as not to alarm passengers inadvertently observing their Olympian speeds. Often, the meters are turned off, so as to make visitors feel like honoured guests rather than petty fare-paying passengers. And a visit to an Indian loo - if you can actually find one - is a life-changing experience.
Taxi meters are often turned off to make visitors feel like honoured guests rather than petty fare-paying passengers
Tom Hanks wandered heroically across France in a gallant operation to save Private Ryan. Yet, for all his cinematic derring-do, he wouldn't have lasted two minutes in an average Indian toilet. Forget Eye-Rack George. Indian toilets are weapons-grade biological weapons that put Saddam and his ilk in the shade. Scramble some F-16s and put those smart bombs to good use.
India is different. The system starts breaking down as soon as you board any flight to the subcontinent (a quaint term, though "incontinent" would better describe things here). Burly Sikhs wander the aisles with impunity as the plane takes off and stewardesses wring their hands, possibly just applying lotion to keep those hands moist and glowing.
Stop bugging them for drinks and blankets. Stewardesses are simply there to remind the less fortunate that, 30,000ft aloft, it is their job to stay in shape, trained for that one critical moment when the captain, confronted by a serious loss of air pressure - in the inflatable doll - finally decides he needs a decent snog. It's only human. That's when a calm, well-coiffed stewardess can really demonstrate her worth and show once and for all that the difference between her and a mail-order mannequin is, well, not very much at all.
For an average Indian who's seen some pretty toe-curling stuff, a backed-up SIA potty is a soft-focus dream
The first thing my Cathay Pacific pilot announced as we departed Hongkong for New Delhi was that there were no landing forms on board. We would simply have to prise open our eyes with matchsticks at 2am, and stagger forth on a treasure hunt. It's a bit like the Amazing Race but better. Here there's no script. The puzzles appear in no particular order. And, as you solve them, one by one, you are overwhelmed by a deep sense of accomplishment.
Finding a route through immigration and customs, commandeering a taxi and making it to your hotel with your luggage and sanity intact, is an awesome task. This is what separates the men from the boys. As my flight braved the murk of wintry Indian skies, the intercom crackled with the landing announcement: "Ladies and gentlemen, we shall dim the cabin lights now so you can enjoy the view of Delhi ." THE VIEW OF DELHI? Delhi, with all its lights on, at the peak of Diwali and students burning buses, is invisible from 100ft up after 6pm. Fact is cabin lights are dimmed at landing and take-off to allow eyes to adjust to the dark in case of emergency. But why spoil the fun?
On another flight the loos overflowed. A young stewardess burst into tears. The traumatised crew retreated behind a curtain bleating for passengers to return to their seats and NOT USE THE TOILETS. Heck, for an average Indian who's seen some pretty hair-curling stuff, a backed-up Singapore Airlines potty is a soft-focus dream. On an Air-India flight a bottle of Johnnie Walker fell from the overhead bin hitting a sleeping passenger on the head. He moaned and slumped in his seat. The stewardess, trained for years to deal with this sort of eventuality, raced down the aisle, picked up the bottle carefully, and asked its owner if their was any damage to the packing. Now that's service.
Then there's the delightful issue of names. My South Indian friend Chidambaram was booking his flight to Thiruvananthapuram and decided to do the smart thing. He barked into the phone at the Chinese ticketing agent, "This is C for Charlie, H for Harry, I for India ." "Wait a minute sir, how you spell Charlie?" Questions, questions, questions.