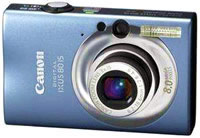 Canon Digital IXUS 80 IS
THE WORST THING that can happen when those amazing family moments present themselves, spontaneously and mischievously as is their wont, is to realise you are sans-camera. Like when that alien spaceship finally lands on your mother-in-law. Imagine capturing this in 20 megapixels, in RAW, and then developing the tones and mid-ranges on Photoshop CS4, to tease out the drama, the pathos, and liberating finality of that splat on the pavement. And who asked her to stand on the spot marked "X" anyway?
Well, before your imagination runs away with you and the camera's smile recognition device locks on to your fiendish grin, bear in mind that while 20 megapixels sounds great in recounting, it also requires terabytes of space to store your images. Transferring these images anywhere, takes time, patience, and bandwidth. You could crash Mongolia Telecom with a single image or movie clip. So think twice. Genghis Khan's fiery descendants still ride swift horses, at least up to the border, where they need visas and passports to continue their ride of pillage and plunder. In reality, anything from eight to 12 megapixels will get the job done with sufficient resolution for a terrific A4-size print. And that's all most people need. Instead of megapixels, concentrate on lens quality, optical zoom (stay away from that dreadful digital zoom), image stabilisation, battery length, and scene mode features.
Send us your Feedback / Letter to the Editor

Share This Page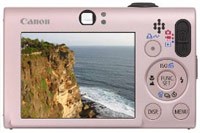 Canon Digital IXUS 80IS LCD monitor

The Canon Digital IXUS 80 IS ("IS" stands for image stabilisation) is a svelte, sleek and attractive ultra compact camera that can slip into any pocket with ease. Despite a lack of manual controls that would have provided the icing on the cake, the Canon 80 IS fares high on this compact cameras review. It offers a good, if not rich, feature set, and is a stylish, rounded-edge candidate with small form factor that has not stripped away functionality and performance. Pick from powder blue, gold, pink, or silver.
This stylish digital camera offers 8 megapixels with a simple set of buttons and a slider to switch from camera mode, to video, or playback. The camera is responsive, has pretty decent battery life (with display), good image reproduction and clear, sharp video. The 38-114mm lens is not quite wide enough for cramped interiors but you'll get 3x optical zoom, Face Recognition and Motion Detection to catch moving subjects on a higher ISO setting (though anything over ISO 800 will attract noise and artefacts). The results are best in daylight with natural light sources. The Canon IXUS 80 IS weighs a miniscule 125 grams, stores on SD cards, and the video goes up to a 640 x 480 pixels resolution with a clever time lapse option for enthusiasts. It is certainly one of the best pocket cameras around. www.canon.com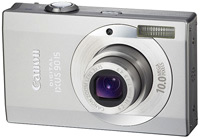 Canon Digital IXUS 90 IS
Just a smidgen larger, the silver Canon Digital IXUS 90 IS has sharper edges, and is squarer, yet sleek, with angled sections and a seemingly more masculine appeal. Perhaps to put this to the test, the IXUS 90IS employs not raised or tactile buttons but springy Motorola-RAZR-style markings that flex downwards when pressed to initiate commands. While imaginative and stylish, in practical terms this may not appeal to everyone especially those with stubby fingers. The LCD screen though is large and clear, three inches across, but this gain is offset by the lack of a proper wide-angle lens with which to enjoy this viewing real estate. The IXUS 90IS offers a standard 35-105mm lens, a touch wider than the lens on the IXUS 80 IS. There is no optical viewfinder. With a large LCD screen available this is no odd coincidence. Again, expect face detection, good video capture (with time lapse and 30fps at 640x480) and a handy self-timer should you wish to offer your face for detection. Images are sharp and crisp with resonant colours. The Digic III processor ensures operation is quick and responsive. This is a good all-around camera but its main appeal is its style. www.canon.com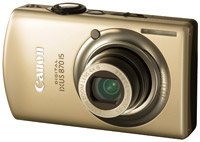 Canon IXUS 870 IS
Slightly more expensive, the silver or gold Canon IXUS 870 IS retains some curves and ups the ante to 10 mega pixels with a newer video compression codec (H.264) that takes about 30-40 percent less space for quality 30fps (frames per second) VGA video. This is not an MPEG file. The 28-115mm wide angle lens is a useful companion in a small room and the 4x optical zoom extends focal reach usefully if not enormously.
This compact camera has the usual bundle of optical image stabilisation, face detection and motion detection. But where it really reveals its strength is in its staggering 16 scene modes, some easily accessed using a convenient thumb wheel. The buttons are thoughtfully placed and bulge up a tad making it a cinch to hit the right one unlike as with so many "designer" cameras that offer buttons flush with the surface making them well nigh impossible to operate. We like the tactile feel of this Canon that weighs in at 156g. The autofocus is responsive and the camera works hard to eliminate most blur, producing high quality images that look natural without oversaturation or excessive compensation. The white balance is a reliable ally in ensuring consistent results. Another good compact camera from Canon. www.canon.com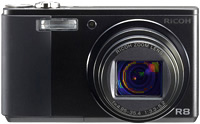 Ricoh R8: gunmetal black

Ricoh is a company that often hovers unsurely on the fringe of breaking news but it has nevertheless come up with some remarkable cameras. The Ricoh R8 is one of these. The design in gun-metal charcoal-black is unremarkable and minimalistic Zen but it is precisely this understatement that makes this compact camera stand out from the crowd. The edges of the camera are modestly rounded to fit snugly into the hand and a beautiful telescoping 7x optical zoom lens that also offers handy wide angle at 28-200mm is the piece de resistance. With a 10 megapixel resolution, face detection, an image smoothing engine, 2.7-inch LCD screen, intuitive control menus, and a good macro mode, this 126g pocket camera has everything you might need for a good day's outing. Video though is fairly average and not a strong point. From the press of the button this camera takes two seconds to start-up as the lens extends. And auto focus, especially in low light, is not the fastest. However if you're not shooting stampeding herds of wildebeest, it should more than suffice. Otherwise, the Ricoh R8 is a responsive little camera, better suited to those with a little knowledge of photography. Play around with white balance, scene modes, time exposure and a moveable AF region. The best results are in daylight with the built-in flash proving rather weak. Still, all in, the Ricoh R8 is one of the best in this small digital camera review. www.ricoh.com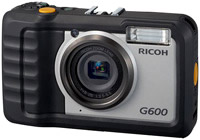 Sturdy Ricoh G600
For something a bit more rugged, yet stylish, for Real Men, look at the Ricoh G600, a 10 megapixel waterproof compact camera that is also dust proof and "drop" proof. Just don't toss the camera off a high building – or under a lumbering tusker – but it will manage a drop from the hand without too much complaint, the shock absorbed by the rubberised frame.
The camera is also fine for snorkelling though diving is not advised. This is a good option for the Great Outdoors, managing whatever you throw at it with aplomb. The camera is bigger and heavier than its more svelte siblings in the designer category, weighing in at just over 300 grams, but the photo quality is more than decent, there's a hot shoe for accessories, time lapse options and video. The Ricoh G 600 has something for everyone. It just doesn't rate high on the looks department but then neither did the ugly duckling and we all know what happened next. A useful camera for quick grabs and not worrying about scratches, dust and the odd knock. www.ricoh.com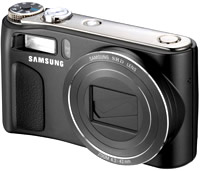 Super zoom Samsung HZ1
With a super 10x optical zoom and wide-angle 24-240mm lens, the Samsung HZ1 is a snazzy and stylish 10.2 megapixel compact camera in black with rounded lines and a very useful rubberised hand grip. One of the problems with ultra compact cameras and their ilk is their tendency to slip out of your fingers. Not the best way to exercise US$250 equipment. The amazing zoom is not the only reason to take this camera seriously though some photography enthusiasts might plump for this model on this merit alone.
The Samsung HZ1 also shoots high definition video at 1280x720 pixels (30 frames per second) with audio. Best of all, you can shoot in HD mode while zooming in and out. The LCD screen is 2.7 inches – big enough but not the biggest around and the resolution could have been better. It is more than adequate however and this is a camera to keep an eye out for if you want something with a feature set that breaks the mould. Pick out faces in a crowd, zoom in on zits, and head out with the paparazzi to snap Angelina Jolie. You'll also find the usual bag of goodies – face detection, smile detection, and blink detection plus a slew of options for photo retouching. Smile detection is the mantra for new generation family-market cameras and some will not click unless the "smile" parameters are met. No more grim faces. www.samsung.com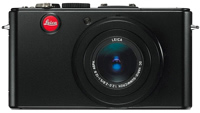 Leica D-Lux 4

Leica has been a class act for professional and amateur photographers since 1925 when the company broke new ground with its 35mm format that revolutionised the business. From microscope lenses to 35mm cameras, to digital cameras, it's been a long and distinguished run for LEICA (abbreviated from Leitz Camera). The 10.1 megapixel Leica D-Lux 4 offers a lens equivalent of 24-60mm with a large light-welcoming f/2.8 aperture even at full zoom. This is a camera with a range of features and options (it even has a High Definition HD port to plug into your TV) to rival larger, and bulkier, DSLRs. Video recording is in a 16:9 ratio HD format (1280x720 at 24fps or 848x480 at 30fps) or 4:3 ratio at 640x480 at 30 frames per second, or smaller. The hot shoe enables slip-in accessories – like a gin-clear viewfinder, a hand grip and external power supply – and a leather case offers stylish, snug housing for this little black camera.
Photographers can shoot images in varying sizes including RAW (or RAW and fine/standard combined) and take full manual control of shutter, focus, speed and exposure that presents a satisfying mix of adventure, artistic freedom, and reliability. The Leica DLux4 displays images on a large high-resolution three-inch LCD and the controls are sensibly laid out for easy access to numerous features. The stylish old-world Leica D-Lux 4 weighs in at a modestly heavier 228g and its battery is said to roll out 380 shots on a single charge. This is a terrific compact camera for those less enraptured by smile recognition and more serious about their photography. www.leica.com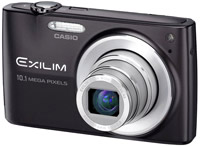 Casio Exilim Z300
The Casio Exilim Z300 in black, silver and blush-rose continues a fine tradition of smart compact and ultra compact cameras, its main selling point the one-button high definition video in 1280x720 pixels. The HD video is shot in the new high-compression H.264 format that saves a great deal of space on your storage card. Run it back on the clear and large three-inch LCD screen that is easy to view from most angles and even in bright light.
Another trick up its sleeve is its ability to shoot off a series of frames of a moving subject and roll them all up in a single image. For this however you'll need to accept a three mega pixel resolution. Expect Anti Shake, reasonably good white balance to ensure correct skin tones and colour, special effects, and general touch-up for images if required.
The wide-angle lens stretches 28-112mm, adequate for most situations. This is the equivalent of 35mm in a normal SLR. The camera keeps an eye out for night shots and backlit subjects to compensate exposures while minimising hand shake. Images are sharp and well etched in natural colours. www.casio.com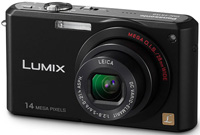 Panasonic Lumix DNC-FX150
The Panasonic Lumix DNC-FX150 is a mouthful to pronounce but it is a beautiful piece of equipment notwithstanding its modest bulkiness, in some part on account of the chunky lens housing.
The FX150 packs quite a punch with a 14.7 megapixel image capture using a crystal-sharp wide-angle 28mm Leica f/2.8 lens with 3.6x optical zoom. Expect image stabilisation, program and manual shooting modes, exposure compensation, face detection, red-eye reduction, and ISO control.
That's a fair bit at your disposal. Images are clear and bright even at maximum zoom, clearly demonstrating the quality of the lens, and in "burst" mode the Panasonic Lumix DNC FX 150 knocks off about four shots within a second. The black gunmetal casing lends the camera a serious feel for prosumers tired of clicking on their girlfriends' Barbie-pink machines. No embarrassment here. This is a good looking compact camera that delivers good images despite a somewhat gawky – and mixed – button arrangement. www.panasonic.com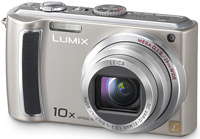 Panasonic Lumix DMC-TZ4
Weighing in more modestly with 8 megapixels, the Panasonic Lumix DMC-TZ4 is a silver delight with a slim finger-grip and, more to the point, an incredible 10x optical zoom starting at a wide 28mm. It is all svelte curves but, like its sibling, carries a wild waist to accommodate the telescopic zoom. This renders it less of a compact than some on review here but it is still easily pocketable. The top of the camera houses a one-touch zoom button but you'll have to wait a full two seconds for the lens to fully extend.
That being said, this sort of zoom-in function is a huge luxury on this size of camera – or indeed on any camera. The 2.5-inch LCD screen is disappointingly small for a camera in this class but it is easy to view at varying angles and in brightly-lit conditions. There is image stabilisation, a choice of shooting options (though manual control is limited), face detection and various recording ratios – 16:9, 4:3, or 3:2. The Panasonic Lumix DMC TZ 4, one of the newest cameras from this group, also shoots video in up to 30fps in a 16:9 ratio or 4:3 at a fairly large 848x480 pixels. Its almost identical looking feature-rich sibling the Panasonic Lumix DMC-TZ5 shoots HD in 1024x720 and also comes equipped with a mighty 10x 28-280mm zoom lens. www.panasonic.com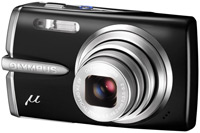 Olympus mju 1010
The Olympus mju 1010 in keeping with family tradition is slim, almost anorexic, but with a hint of alluring colour and curves. Apart from eye-catching colours, this compact camera boldly announces its presence with 10 megapixels of image real estate and a 7x zoom lens aided by a raft of features from face detection to the de rigueur image stabilisation.
The one fly in the ointment if at all, is the lack of a wide angle. The lens runs from 37mm (tight for interiors or sweeping panoramic landscapes) up to a useful 260mm. Image results are sharp in daylight with excellent detail and remain good indoors though there's a hint of grain and noise as the light levels drop.
The colours could be a touch warmer but there's no issue with focus and clarity. Video is decent but you cannot engage the zoom whilst filming. Pick your focal distance and then shoot. Where this camera scores high is its ability to retain a small form factor despite the huge telephoto lens. Buttons are minimal, if fiddly, and operation is relatively easy. The mix of metal and plastic delivers a curious feel that might leave some underwhelmed but the Olympus mju1010 still strikes a jaunty pose in the light. It comes out well on this compact camera review. www.olympus.com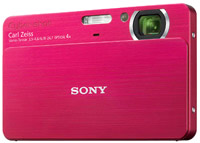 Sony Cyber-shot DSC-T700
If you're someone who enjoys poring over shots and having a giggle right after the shoot, think about the bright and sassy Sony Cyber-shot DSC-T700 that comes in various colours including shocking pink. This alone might save you from being run over on a dark and stormy night. The Sony Cybershot DSC T 700 serves up a humungous 3.5-inch LCD screen. Add to this a 10 mega pixel image capture and a 35-140mm Carl Zeiss lens paired with Super SteadyShot image stabilisation and you have a winning combination. The obligatory smile detection and face detection programs are bundled in so there's no problem zeroing in on the best grins. Going a step further the face detection can be programmed to prioritise children's faces or adults. Hmm. A bit of a grab bag that's perhaps more likely to confuse the punter than enable him/her but a useful bragging point nevertheless.
There are eight scene modes including "Gourmet" in case you happen to be a foodie. This svelte operator saves to a Memory Stick Duo Pro card that can sock away up to 16GB of family fun. The camera comes with PMB image capture software (PCs only) which, when hooked up by USB, imports pictures with ease, shrinks them and re-exports them back to the camera for fast viewing later without burning up valuable storage space. The image quality is best in natural light. www.sony.com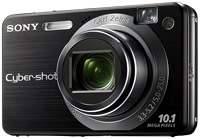 Sony Cyber-shot DSC-W170

The Sony Cyber-shot DSC-W170 comes in brushed metal silver or red with 10 megapixels under its ultra compact bonnet. While its button array is fiddly and hard to use, the 5x optical zoom is more than a handy offset and the lens starts at a useful 28mm wide angle to burrow into room interiors.
Expect face detection, subject tracking, and the obligatory smile detection. Not only can you prioritise your shots to pick adults or kids, you can also adjust the smile sensitivity to capture just the cheesiest grins. An odd option this – almost deeming smiling shots to be the only lawful variety – but there's no accounting for taste. It's great for granny who can simply point in the general direction and capture Ben's drool.
Those with better vision will enjoy the optical viewfinder. Pictures are warm and well exposed indoors and outside and an ISO cap of 400 keeps grain out much of the time. Motion video with audio is recorded at a smooth 30fps in a 640x480 resolution. The camera's strength is the ability to tweak settings to get your desired result. Be patient and dive into the menu for some useful fine tuning. The results are worth it. This is a worthy contender in our compact camera review. www.sony.com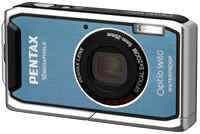 Pentax Optio W60
The Pentax Optio W60 is a lightweight fully waterproof camera with 10 megapixel image capture and a nifty 5x zoom starting at a wide 28mm. The camera is dust-proof as well (though you'd be hard placed to find dust under water) and it can work in the cold at up to minus 10 degrees Celsius.
The zoom lens (refraction) is a clever contrivance. It does not protrude or take up space. The Optio W 60 can also crank out video at resolutions of up to 1280 x 720 pixels. Additional handy features include an underwater movie mode to correct colours deep in the murk and a shake reduction for when that Great White opens its massive jaws a metre away.
Expect a 2.5-inch LCD screen, face recognition, a voice recorder, adjustable white balance, a range of digital filters, and ISO speeds from 62 up to 6400. This is a rugged seeming but attractive camera that produces rich and natural images and is easy to use. There's a macro mode for those coral close-ups, or nose-hair. This waterproof compact camera will appeal to outdoors enthusiasts and works confidently above as well as below water. www.pentax.com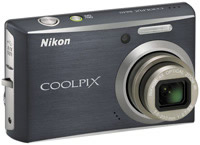 Nikon Coolpix S610
The Nikon Coolpix S610 hums when pressed into service, its 4x zoom wide angle 28mm lens immediately on the hunt for a suitable subject to focus on. The camera cuts down on hand shake and adds a nifty Active Child mode for those hair-trigger moments though its efficacy really depends on you and your subject. Far better to swot the kid, tie it to a bed, and then shoot.
Expect face detection and smile detection that ensures the camera will only shoot when it engages a suitable smiley face. You'll also know if your subject blinked at the crucial moment. That's a lot of feedback, perhaps too much for some but handy for families on the go looking for that perfect moment.
The Auto Scene Selector does just that. It determines if its night or day, indoors or landscape. Well, duh... No doubt this is a smart camera. The Nikon Coolpix S 610 leaps into action fast, is very responsive, and produces sharp well exposed pictures. There's no problem with the quality but spend a little while to get familiar under the hood if you really want to coax the best results from this great little compact camera. www.nikon.com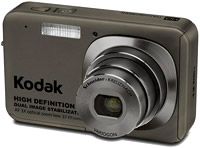 Kodak EasyShare V1073
The Kodak EasyShare V1073 serves up 3x optical zoom and 10 megapixels with optical image stabilisation. Best of all, this camera is easy on the eye in gunmetal black with the lens whirring out of its satisfyingly silver housing – it makes a stab at rugged prettiness.
This is no namby-pamby pretty baby though: under the hood is a hard working image sensor that cranks out HD quality 1280x720 video at 30fps and a plethora of scene modes for just about every possibility the world can throw at you. The 35mm lens takes rich pictures outdoors but is cramped for space indoors.
Image stabilisation also allows better footage indoors at slower shutter speeds. The real strength of this camera is its crisp and clear video especially in the HD mode though you can pick lower resolutions if you like. The Kodak EasyShare V 1073 also permits you to zoom while shooting, a rare ability in a camera of this size. The LCD fares poorly in bright sunlight – and it is not alone in this shortcoming – while battery life leaves much to be desired. Still, it's a good and easy to use choice. www.kodak.com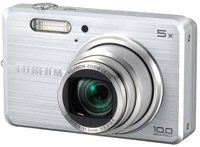 Fujifilm FinePix J100
The 10 megapixel Fujifilm FinePix J100 is a tad boxy with a brushed metal finish in matte black or silver. It is simple and straightforward. If you need an uncomplicated point-and-shoot, this could be one to keep an eye on. The LCD screen is large at 2.7-inches and the camera lens is wide at 35mm but not as wide as some of the other contenders on this page that go down to 28mm or less. Still, it does a satisfying 5x zoom that is more than adequate for most occasions and is indeed a lot better than the 3x zoom on most cameras in this class. One of the few onboard features is a Baby Mode that helps warm up skin tones to get Baby Ben sparkling in all light conditions. There's face detection too to ensure you get Baby Ben's face and not the potted plant when he keels over and falls off the bed. Colour reproduction is warm and rich, ideal for family portraits. Do watch out for the flash though as it tends to overexpose at close range with a touch of red-eye in the mix. www.fujifilm.com
Now go get your mother-in-law and park her at the spot marked "X".