MEGA SALES
KL mega sales for shopaholics
Kuala Lumpur shopping guide from designer-brand malls to back alleys and flea market bargains for deal-hungry women. Plus the 2018 mega sales.
with photography by Vijay Verghese
SEE ALSO Kuala Lumpur Hotels | Langkawi Guide | Penang Guide | Malaysia Spas | Sabah Guide | Shanghai Shopping guide | Hong Kong Shopping guide | Bangkok Shopping guide | Singapore Shopping guide | Digital Cameras and Video Reviews | Tioman Guide | Kuala Lumpur Nightlife
JUMP TO Central Market | Chinatown and a splash of India | Kuala Lumpur shopping malls, Suria | Bintang Walk, Starhill, Pavilion and Lot 10 | Computers, camera, Sungei Wang Plaza | Berjaya Times Square | Bargain shopping in Bangsar, Sri Hartamas | Petaling Jaya | Night markets and weekend flea markets | Golf club | Kuala Lumpur Airport duty-free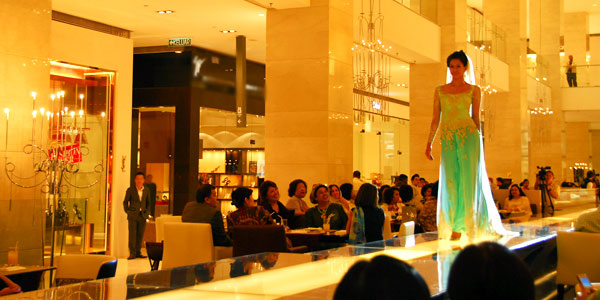 GET SET. Strap on your jet packs. Go! No, this is not a space jaunt at the speed of light but an exhilarating – and potentially exhausting – shopping marathon at whatever speed your wallet can muster. From haute couture and high-gloss brands to flea markets and homegrown fashion, Kuala Lumpur, the Malaysian capital, has it all.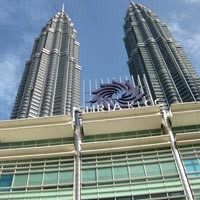 Suria KLCC Mall, food and window dressing on several floors
If you're truly serious, invest in a large suitcase, leave plenty of room, ensure your credit is humming and block out your calendar from about 15 June to 31 August. This is the official 1Malaysia Mega Sale carnival period when shoppers get high on lower than low prices – almost 70 percent off in some cases. More information at the Tourism Malaysia (www.tourism.gov.my) official site. Throughout the year, carnivals and sales are slotted in to keep shoppers busy. There are sales to coincide with government campaigns (the 1Malaysia super sale, 1 to 31 March), sales for summer, sales for winter and sales for, well, Malaysia. There's always the 1Malaysia Year-End Sale – the Mega Sale biggie, usually 1 November to 31 December but often stretched from October to January. Check the 2018 calendar.
Send us your Feedback / Letter to the Editor
Central Market collectables
One of the first things you might do is to pop into Central Market, on Jalan Hang Kasturi (tel: [60-3] 2274-6542, www.centralmarket.com.my/), to pick up a host of local handicraft and other quirky souvenirs. It's little wonder that this art deco market is top on every traveller's list. It offers a genuinely local feel and, most importantly, friendly prices. Once inside, you'll excuse the pink and blue exterior, and enjoy ambling past painters, sculptors, fortune-tellers and traders who have made their home in this former wet market – the interior now renovated into spanking new modernity. My pick is the Collectables Centre (G43, tel: 2273-3182), cluttered with every imaginable collectable from old Craven cigarette tin boxes, charcoal irons and oil lamps to century-old Nyonya tea sets and hairpins. If you're persuasive enough, the owner might just part with original prints of Sun Yat Sen and old family portraits, for the right price of course. Next stop, Songket & Sutera Asli (M53, tel: 013 307 7335), for beautiful songket (richly woven silk) fabric from the East Coast. Prices begin at RM75 (US$19) and then climb indefinitely depending on workmanship. The exchange rate is roughly US$1 = 4.15 Malaysian ringgit (RM).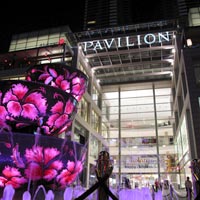 Pavilion lights up at night
Be sure to also visit the House of Silver (G15, tel: 2274-4457) to take home, a Kelantanese tea set, antique silverware, jewellery or the Malay keris. A stop at Rhino Art & Design (KB17) provides fashionistas with a wild range of hand-painted clogs – from the conventional to edgy wooden pumps. Check out My Butterflies & Insects (W01/ GF) where collection of preserved butterflies, flying lizards and insects will entice the serious collector. Over at Gadis Manis (G39) – a locally made and inspired brand (by a French expat) – carries a quirky range of journals, handbags, jewellery and t-shirts with that typical French flair. An interesting find here is the Gadis Manis Doll House – a hand painted 3D fashion shop complete with dolls to dress up in traditional costumes for just RM150.
For kites of every shape and size (the wau bulan being most popular) stop by Wau Tradisi (M51, tel: 2274-1906). Prices here range from RM29 to RM2,900. Batik is wall-to-wall throughout the market. Pop into Umyang Batik Gallery (M32, tel: 019 662 9112) for its hand-drawn batik apparel for men, women and kids. Before heading off, rummage through the pottery, pewter, wayang kulit (shadow puppets), traditional costumes and local snacks or have your portrait painted. Don't miss Success Portrait (1.12B) for on-the-spot portraits done in pencil, acrylic or oil; Architecture Designer (1.10A) for art works depicting the city's historical buildings; and WK Clock House (S07, tel: 2273-6313) for a variety of antique clocks. Be sure to stop by I Love KL (G35) for every imaginable souvenir to take home, from fridge magnets to keychains and bookmarks.
Send us your Feedback / Letter to the Editor
The joy of retail therapy at Central Market is, indeed, a well-rounded affair. Master Chin (G/F, KB28), the resident fortune teller might offer some tips on paying for all that stuff clattering about in your suitcase-on-wheels. Tanamera (G25) stocks locally made organic, eco-friendly spa products and accessories. Its specialty is post-natal care products, but the soaps (with ingredients such as rice grains, turmeric and ginger) are must-buys. Stop to refuel at Precious Old China (M2, tel: 2273-7372), an antique and art gallery doubling as a restaurant and bar serving authentic Nyonya cuisine. Kheng's Antique & Collectibles, on the ground floor, sells an impressive 180 pieces of clocks and timepieces and all sorts of other antique treasure.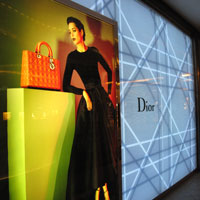 Starhill Dior shop
Much loved Annexe Gallery (tel: [60-3] 2070-1137), right behind the Central Market, is the hippest space for the arts with exciting exhibitions, performances and workshops featuring young, local and regional artists. The gallery plays host to several studios and galleries, including a 3D Art Museum. The real attraction here is observing the artists at work or having a customised portrait done.
Lorong Hang Kasturi, right next to the Central Market, has been transformed into a covered pedestrian walkway. Called Kasturi Walk, it is flanked by several kiosks and retail outlets, selling arts, handicraft and clothes. Tip: A heritage walk around the old part of the city is conducted every day, free of charge; the meeting point is at the Central Market Annexe. Call [603] 2032-1031 or 017-989-1031 for more details.
Almost hidden, upstairs at 145 Jalan Tun HS Lee, in over 8,000sq ft of casually strewn home furnishings, art, fabric, batik clothes and curios, is the Peter Hoe (tel: 2026-9788) craft shop. Expect linen outfits, silver jewellery, lampshades, silk cushions, pillows and a café. Peter has been operating for over 18 years, and this store in Lee Rubber Building was reputedly the headquarters of the Japanese secret police during the second world war. It's enough to make a shopper cry out and confess, "Yes! I want more..." Right next door is the 70-year old crockery shop Kwong Yik Seng (144, tel: 2078 3620). Walk in for a slice of old Chinese charm. Oriental ceramics, Buddha statues and decorative chinaware sit cheek by jowl, jostling for your attention.
Chinatown and a splash of India
A short walk from Central Market is Chinatown. Signature lantern-lined streets and pre-war shop houses are now oddly complemented by palm trees and modern roofing, aimed at sheltering shoppers from Kuala Lumpur's heavy rains. Nevertheless, Chinatown retains its old world charm when it transforms, come rain or shine, into a bustling night market. Thread your way through the maze of street-vendors on Petaling Street and haggle vigorously. Not for the faint hearted. This is a sounds-and-smells Kuala Lumpur shopping guide at its most visceral.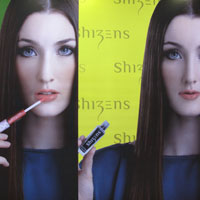 Cosmetics are a major KL draw
Petaling Street is a vibrant mix of Chinese, Nepalese and Burmese traders who all vie for attention, selling jewellery, herbal medicines, dried food, designer t-shirts, handbags and wallets. Knock-offs and fakes abound. Striking a bargain is not always easy. The trick is to throw in a few local terms like "Murah sikit?" (A little cheaper?) or "Mahal sangat!" (Too expensive!) and pretend to leave in a huff. Sure enough, a voice will call out behind you. "Okay lah, Okay lah! Ow-mach-you-wan?" By the way, Chinatown's Hokkien-style thick noodles are purported to be the best in KL. Kim Lian Kee (49-51, Jalan Petaling, tel: 2032-4984, www.facebook.com) has been dishing out delicious Hokkien fried noodles since the 1920s – a definite must.
Close by is Weaver House (76 Jalan Sultan, tel: 2078-0392) – a cabinet of curiosities, stuffed with all sorts of affordable home ware, furnishings and curios. Pick up a beautiful wooden chest.
To stock up on premium and specialty tea, visit Wisdom Arts Tea Shop (135 Jalan Tun HS Lee, tel: [60-3] 2078-2409), Evergreen Tea House (Ground Floor, Selangor Complex Jalan Sultan, tel: 2026-8608), and Le Xe Xuan Da Hong Pao (Corner of Jalan Sultan and Jalan Hang Jebat). Do pop into Moontree House (First Floor, 6 Jalan Panggung) for feminist-inspired books plus handmade zakka crafts like puppets and bags. Close by is Aku Café & Gallery (First Floor, 8 Jalan Panggung, tel: 2857-6887) and Findars (Fourth Floor, 8 Jalan Panggung) for some contemporary local art.
Over on Jalan Tun Tan Siew Sin, locate this gem of a store – Woh Fatt Music House (No. 37, tel: 2070-5968) first established in the Sixties. Go past its decaying façade and discover amps, violins, guitars and drums plus a niche selection of ukuleles.
Not far is the city's oldest temple, Sin Sze Ya Temple, founded by none other than the city's third Kapitan Cina, Yap Ah Loy. Visit for a glimpse of the temple's elaborately carved pillars, beams and altars. Masjid Jamek, KL's oldest mosque, impresses with its quietness, symmetry and beauty.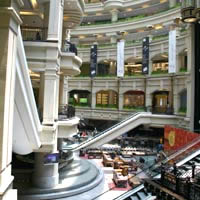 Starhill pulls in the posh crowd
Then on to the heart of Little India at Jalan Masjid India. A similar makeover has taken shape here as part of the country's beautification and upgrading project. Don't fret; all is not lost despite the covered walkways and paved paths. Little India's vibrant character is very much alive. Vendors lug bales of sarees through the traffic and past shops heaped with gold, traditional medicines and gaudy glass bangles. Brightly hued sarees and Bollywood-inspired Indian dresses (salwar kameez and lengas) are some of the greatest temptations here. Salwars are loose fitting tunics with a long knee-length shirt/blouse while lengas are long skirts.
Though in recent times, this area has changed its flavour with tightly packed stalls selling Muslim religious trinkets and shops that specialise in headscarves, the Indian vibe is not all lost. My favourite is the one-stop complex, The Madras Store (100, Jalan Masjid India, tel: [60-3] 2693-0072) for fabulous sarees, brassware, oil lamps and home accessories. Another highly recommended stop is Semua House – a one stop for all your wedding, cosmetics and textile needs. For fancy jewellery, Little India (50, Jalan Masjid India, tel: 2693-3443) is sought after, mainly by young brides-to-be. Be sure to whip out your reliable Casio calculator (don't leave home without it). Prices correspond to the weight of the jewellery. Remember, the price of gold is fixed. What you're negotiating down then is the premium on the workmanship.
At the other end of this street, there's a different sort of street theatre with huge crowds congregated around peddlers vociferously declaring the merits of their cure-alls – for impotency, feminine facial hair – through loudspeakers. If all this is too much, have your feet massaged the traditional Malay way, for just RM30 (US$9.17). On Lebuh Ampang street (a short walk from Masjid India), shuffle between spice and sundry shops, Indian restaurants and saree shops. Pop into Nalli's (49A, Lebuh Ampang, tel: 2070-5809), a hot favourite among locals for the latest saree trends, be it in chiffon, Mysore silk, Kanchipuram or cotton. Jayanthi Store (16 Lebuh Ampang, tel: 2070-8779) is crammed with lovely sarees, fashion accessories and religious artifacts. Stop to savour every type of Indian sweet imaginable along the way, phatisa, moti choor ladoo, kalakand or barfee.
Parallel to Jalan Masjid India is Jalan Tuanku Abdul Rahman lined with shops, noted for their wonderful fabric, antiques and jewellery. Old and new mingle on Jalan Tuanku Abdul Rahman; modern complexes rise above retro buildings. Gulati's Silk House (162/164, Jalan Tuanku Abdul Rahman, tel: 2698-3901, www.facebook.com) and Euro Moda (126/128, tel: 2694-0805) deserve mention for their exquisite fabric, studded with sequins and beads. This long stretch is also a good spot to hunt for oriental antiques and art. Udani Carpets (393A, tel: 2698-1962) and Shalini Carpets (40, tel: 2692-7008) offer quite an extensive range. Kamdar (113 Jalan Tuanku Abdul Rahman, tel: 2698-8488), highly popular among locals, has the lot under one roof, from Malay traditional wear to pretty fabrics.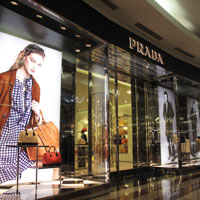 Suria KLCC retains its class
If you need to recharge again, check out the 1920s Coliseum Café for a cold beer and heavenly, but spicy, prawn sambal, accompanied by their home-baked Chinese toast with REAL butter. Despite the dismaying crush of tourist coaches, The Craft Cultural Complex (Jalan Conlay, tel: 2162-7459) is still a great venue for batik, rattan baskets and other traditional handicraft sourced from around the country. In fact, the complex's main attraction is its community of artists and their workshops. Get to know these artists while observing them at work and you may just go home with some unique finds.
For some pewter shopping, arrange for your hotel to send you right to the doorstep of the Royal Selangor Visitor Centre (4, Jalan Usahawan 6, tel: 4145-6000) in Setapak Jaya. Walking through this contemporary structure is an educational experience in itself: learn about the history of Royal Selangor, its origins and the science of pewter. Besides watching artisans displaying their skill, you can also mould your own pewter bowl at the workshop. The full and latest range of pewter is available here, which includes modern tableware, jewellery and accessories.
Glitzy shopping malls, Suria
Moving upscale, Kuala Lumpur's monster malls are crammed with designer brands and more. Just name it and KL has it, from Versace, Gucci and Prada to Louis Vuitton and Christian Dior. The Suria KLCC Shopping Complex (www.suriaklcc.com.my/), situated at the foot of the world's tallest twin towers, is a real gem with its swank shops, cafés and beautiful people. Here, flagship stores of international fashion labels rub shoulders with trendy boutiques and mod jewellers. Stealing the thunder is the upscale Aseana (G/F, tel: [60-3] 2382-9988), a treasure trove of handmade clothing from all around the region. Perk up your wardrobe with shawls and sarongs by designers Marilyn Tan and Bobby Ch'ng and your home with silk, teapots and sculptures. This is upscale designer brand shopping by the yard. Looking for Dior or Louis Vuitton in KL? Head here.
Bustling Sungei Wang plaza
If you love all things beautiful, check out Farah Khan (G13, tel: 2382-0314) and its stunning fashions. Expect everything – top-to-toe accessories, chiffon, silk tops and skirts adorned with delicate hand-sewn beading and show-stopping evening dresses. Khan melds East and West elements to create one-of –a-kind styles. Her dresses – to every girl's delight- travel wonderfully as they require no ironing. Iconic street brand New Balance (Level 3, tel: 2856-9638) has a new concept store stocked with shoes and apparel from the brand's athletic and lifestyle ranges. Look out for its varsity-inspired Stadium Jacket, the American heritage National Parks collection and the new Fresh Foam 980 running shoes. Melbourne-based Crumpler (316D, tel: 2161-2160) stocks colourful bags – carry home rocky, edgy designed laptop computer and camera bags. Go mad for the quirky range of shoes, bags and accessories at the multi-label Naquirkee (Level 2, tel: 2181-5147). They bring in brands like Zona Centro, Gabs and Braccialini from Italy, Alma En Pena and Kanna from Spain, Carrano from Brazil, San Miguel from Mexico and Inuovo from Turkey. On the same row, step into Italian brand Piquadro (tel: 2181-5468) for bags and accessories that have been impeccably crafted for the stylish gentleman. Aesop's (Concourse Level) new signature store deserves a visit for its range of products and super cool interior.
For exclusively designed pieces, ARCH World Miniature (307, Level 3, tel: 3820-489) has small-scale reproductions of just about anything. It's one way to take a small piece of KL home in your pocket. Pick up a miniature Petronas Twin Towers or a framed city skyline. Do pop into its gallery off Dataran Merdeka – here you can watch craftsmen at work, putting together these tiny wooden structures. Head up to KLCC's sprawling Kinokuniya bookstore (Level 4, tel: 2164-8133, malaysia.kinokuniya.com/), which offers a wide selection of coffee table books, novels and specialty material plus every imaginable title on history, theology and art. Browse its Japanese section, which carries not only the latest Japanese bestsellers, but also an interesting selection of manga, art and craft titles, idol photo books, magazines, catalogues and e-Mooks.
Ogle at chunky cocktail rings and bangles, necklaces in geometric shapes and funky drop earrings at the very affordable Chamelon (C61, tel: 2382-0199).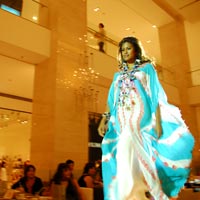 Fashion show at Pavilion
There's also Miu Miu (G06, tel: 2382-0979) with its oversized clutches, jewels and shoulder bags; Anya Hindmarch (LC-105B, tel: 2382-0877) with the designer's signature bags; Diana Von Furstenberg (G03C-G03D, tel: 2163-5028) for her ubiquitous wrap dresses; Harley Davidson Lifestyle Store (346A, tel: 2161-2277); Cerruti 1881 (K12, tel: 2163 3376); Jelly Bunny (Concourse Floor, tel: 2162-0466) and the newly refurbished Coach store (Ground Level, tel: 2300-1300) that pays tribute to the brand's heritage with some special edition pairs, apart from the complete range of their women's lifestyle collection. Visit the Canon Lifestyle Concept Store (Third Floor) for cameras, printers, ink cartridges and other Canon accessories.
Sore feet? Settle down to tea, cakes and scones with a reviving cuppa at the Harrods Signature Shop & Tea Room (137, Level 1, tel: 2166-6000). A stop here provides some last-minute shopping inspiration especially if your kitchen cupboards are a little bare – Harrods has an excellent selection of wines, cakes, cheese, sausages and teas. Delicious, but deadly to the wallet, Harrods remains a happy hunting ground for the hungry shopper. Visitors enjoy more discounts and free gifts with the Tourist Privilege card. Swing by the concierge (ground floor) to inquire.
At fast-expanding Suria KLCC, you can now look forward to more than 30 specialty stores including flagship Cartier and Chanel stores, French Sole shoe store, Marc Jacobs, a new Giorgio Armani and the region's first Armani Café at the luxury annexe.
Go across to the newly refurbished Avenue K (opposite Suria KLCC, www.avenuek.com.my/), through an underground connection, to marvel at the exquisitely designed structure by French designer Christian Liagre. Avenue K's once tepid experience has now been given a shot in the arm by anchor tenant H&M, boasting the largest retail space in the city. This highly anticipated temple of high fashion is finally set to kick off as one of Kuala Lumpur 's fashion hotspots with the likes of Cotton On, Muji, Midi Shoes and more, among bakeries, cafes and restaurants. Avid shutterbugs – if you are willing to pay top ringgit for the world's optimum camera brand, pop into the Leica store (Level G, tel: 2163-1818). It is one of the world's largest, featuring a full range of cameras including the limited edition Leica M9 Hermes.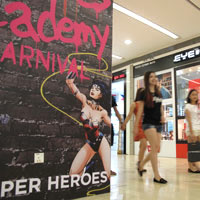 DC Comics at Fahrenheit
Flag a cab and head to discount warehouse Melium Outlet (MO), a 20-minute drive from Suria KLCC. A taxi ride from the city centre should cost between RM15 -18. Be sure to avoid the lunch-hour traffic because the taxi meter is bound to tick furiously while you ponder traffic jams and sweat it out in the midday heat. At MO (63, Jalan Tasik Utama 3, The Trillium, Lake Fields, Sungei Besi, tel: 9051-2926), fashion devotees get their designer fix for a song. You'll be surprised to find that you don't have to rummage through knee-deep piles of clothes unlike in most warehouses.
Everything's elegantly displayed and neatly stacked on racks and shelves. Expect luxurious surroundings and impeccable service minus the exorbitant price tags. Prices of unsold end-of-season stocks go for a fraction of the original. Imagine Furla shoes at just RM400 (US$102) compared with RM1,000 (US$257), Furla handbags from RM700, Stuart Weitzman shoes at RM250, Ermenegildo Zegna suits at RM2,000 and Zegna shirts from RM400.
Kenanga Street has been the place to shop for wholesale items. The newly opened Kenanga Wholesale City (2, Jalan Gelugor, off Jalan Kenanga, tel: [60-3] 9221-8081, www.kenangacity.com.my) hosts nine floors of fashion at knock-down prices. Start at the lowest floor and work your way up. Women's fashions dominate (t-shirts and other apparel start as low as RM5; you'll also find traditional wear, children's clothes, accessories and men's wear. Remember the more you buy, the bigger the discount. Check out Musso for fashion from Korea, Bug Styla Kids for jumpers and suits, Rastafari for locally designed Rasta and beach wear, funky accessories and bags and 28 Store for bags and accessories. There are many shops catering to Muslim fashion on levels 3 and 5. Check out Al Raf for menswear (Level 2), headscarves at Ayesha's (Level 5), H & M Fashion (Level 5) for kids and over at Pearl Harbour, a-one-stop for traditional baju kurung and kebaya plus couture hijabs and jubahs. Downside: shopkeepers are averse to shoppers trying out their picks, so be persistent.
Viva Home (85, Jalan Loke Yew, tel: 9281-1998) is the multi-storey mall for decadent interiors and home furnishings. Each floor is devoted to a different home need — there's flooring, kitchen, bedding, bathroom, lighting plus a whole section of Chinese and feng shui knick knacks. Close by, Ikea has recently opened its second store – all 42,000sq m of shopping space dedicated to expanded sections on cooking and baking equipment, gardening and kids craft. Ikea is connected to the upcoming My Town Mall, which is an integrated lifestyle complex that comes complete with five floors of shopping, entertainment and dining.
Bintang Walk, Starhill, Pavilion, Lot 10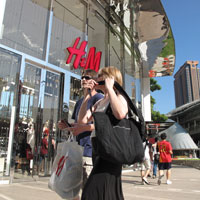 H&M now fronts popular Lot 10
The entire Bukit Bintang strip is stuffed with a wild array of specialist shops, clothes shops, restaurants, kopitiams, budget hotels and reflexology centres – catering to varied tastes and desires.
Continue to splurge if you must, this time at trendy Bintang Walk. There's Lot 10, StarHill, Fahrenheit 88, Pavilion KL and of course, Sungei Wang Plaza and Bukit Bintang Plaza, staples long before the strip became hip.
No shopper will be disappointed with Sungei Wang Plaza's (www.sungeiwang.com/) funky fashion styles, found nowhere else. This is fun shopping, lowbrow, elbow-jostling. Browse Giordano, Diesel, mobile phones, cameras, computers, costume jewellery, SASA for cosmetics, and Levi's (a 501 original jean for RM265. Explore the first floor for cheap and chic fashion by up-and-coming local designers. Watch out for stores by local designers Key Ng, Carven Ong, Michael Ong, William Liew and newbies like Samuel Yow, Samantha Kong and Tebby Tan. We absolutely love Sungei Wang's latest fashion playground- the sprawling LLL+ (6/F) for some of the most hip styles from all over Asia (such as Liv-Berty, Mandy, Zlism and Proud Race). Look hard and you may just find a limited edition reflective circular skirt, a cross and bones choker necklace, a handcrafted cloud badge or some neon lighting printed leggings.
Sungei Wang's lower levels are littered with boutiques that help you dress for less. Swing by G2 boutique (LG060) – pass up their bad prints, maxi dresses and overly sequined misfits. Instead, head straight for their range of leggings. Find metallic black faux-snakeskin ones for just RM22.90 or ripped leggings (RM17.90). Though garment construction generally appears good, only wear will tell their durability and quality. Highly recommended are Gallery 80s, MODO, WYOS, all on the 6th floor, for vintage inspired clothes. Chalk, on the same floor, is a must for it has some hidden gems – pre-loved dresses, vintage bags and accessories. Stop by ODD (S130) for a collection of local and international labels like Joe Chia and Hood by Air. Flutter those lashes from the Eyelash Shop (T082). Take your pick – lashes come in every colour and length and for extra drama, opt for specialty ones with crystal, feather and peacock. Chambers Music (T052) has some of the largest collection of music books in town. Rona Store (S159) carries posters on everything from MU to classic films. For some good, affordable tailoring, try Tux and Blazer (LG112). Custom make some stylish blazers and bespoke tuxedos to take home.
Fahrenheit Mall: funky and bold
The iconic Bukit Bintang Plaza or BB Plaza as it's fondly known will be demolished to enable redevelopment of the area into a luxury condo and retail space.
Lot 10 (www.lot10.com.my) reopened after a major refurbishment in 2012. This has always been a popular Kuala Lumpur shopping hangout with a central downtown location. In a 360-degree turnaround, its rooftop, a former car park, has morphed into the 'Forest in the City' with manicured lawns and trees. Rootz Dance Club is perched here. H&M provides vibrant street frontage and Isetan department store has a decent stretch of space here. But the star is undoubtedly Zang Toi (P6 and P7, 4/F, tel: 2144-1976) – a lively boutique by the Kelantan-born designer of the same name. Sift through racks of beautifully crafted men's shirts, flouncy skirts and embellished shoes.
The basement Lot 10 Food Court is a warren of dizzy delight with every imaginable form of Chinese food (and some Malay). This is a rowdy no-holds-barred streetside format with steaming stalls and narrow "alleyways". It is an excellent pit stop. Long time tenant Isetan, whose first and original home has been at the mall, has undergone renovation and introduced a new concept for its food market. The Isetan Foodmarket is now a cross between a gourmet delicatessen and a convenience store with its deli (halal and non-halal) counters and sweet deli section.
Lot 10 offers a young vibe with a broad selection from H&M, Zara, Birkenstock, Braun Buffel, Timberland, and the House of Suzie Wong to Cassini and specialty sports stores like the Marathon Shop and Hoops Station. Innerline Beauty provides lingerie for the young at heart.
Lot 10 is a perennial favourite and it is easy to see why. It is superbly located - a landmark icon - right next to a monorail station at one of the busiest and most travelled junctions in town. It appeals to both men and women and serves up a few skincare and beauty outlets along with a rock-safe Guardian Pharmacy for tourists in search of quick relief. Tech savvy shoppers head to Machines (F23, tel: 2142-5009) for the complete range of Mac and Apple software and accessories.
Kuala Lumpur Pavilion Sdn Bhd, the same company managing Pavilion KL, spent RM100 million on major renovations to KL Plaza, and renaming it Fahrenheit 88 (www.fahrenheit88.com). This is funky establishment, lots of fun, with a great many shops on over five floors with every major high-street name in fashion, maternity, home ware, children's goods and sports represented. Look out for the Japanese Parkamaya on the third floor. This is a riot of video gaming, coffee, and offbeat designer stores at amazing prices (ladies' tops from RM33). Kids will enjoy the DC Comics Superheroes outfits and props.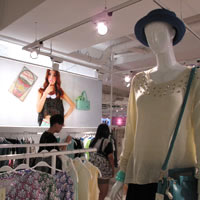 Parkamaya at Fahrenheit is a must
Also watch out for Aldo for shoes, Hush Puppies, Teddy Farm (stuffed toys), Ripcurl, Charles & Keith (more shoes), Revolution (various shoe brands like Dr Martens), New Balance, BookXcess where books go for as low as RM5, Minimalist Lab for geometrical jewellery pieces and Uni Qlo. The basement Brands Outlet is bursting with colour and huge options with polo tees from RM50 for two and men's casual shirts at RM69 for a pair. Not bad at all. Decent workmanship too.
The ultra-upmarket and revamped Starhill (www.starhillgallery.com) is a popular shopping stop and watering hole. Most major designer brands and fashion labels are represented and there's a whole floor devoted to exquisite timepieces, making Starhill the largest retail watch hub in Asia. There's Maurice Lacroix, Hermes, Audemars Piguet and Rolex. Debenhams has its largest Southeast Asian flagship store here. It carries young fashion labels by highly anticipated British designers Matthew Williamson, Ben de Lisi, Jasper Conran and Julien Macdonald.
Elsewhere in Starhill, pop into Dior, Kenzo, Valentino, Sergio Rossi, M Missoni, Leo, Alexander McQueen or Louis Vuitton, or drop by the funky basement cafes and the even funkier toilet. The male toilet is a dark Arab street recreation with shale tiles, claustrophobic corridors and water piped through bamboo shafts. The Dior and Louis Vuitton shops are adjoining the JW Marriott lobby for ease of spend. The designer brand floor is appropriately called the "Indulge" level at the elevator. Look for this when you press the button. Try local designer Khoon Hooi's (F19B, tel: [60-3] 2142-6032) contoured, feminine dresses at his flagship store. Or visit Rolex (tel: 2141- 3811) for a luxury timepiece. The Gallery (tel: [603] 2143-3323) on the Muse Floor features local artists and runs different shows from time to time. Dress your home up in pure lux with furnishings and accessories from Armani Casa and Tiffany Lamps. Also on the same floor, spot Davidoff cigars. Plenty of food rest stops are around at places like the Arabic Tarbush or the mod multi-cuisine Shook.
Beauty junkies have been fussing over Sephora Malaysia (located right in front of Starhill Gallery). The 10,000sq ft of space, spread over two levels, stocks beauty brands like Urban Decay, Bare Minerals, Too Faced and Soap & Glory. The second level has expanded to include services such as facial treatments and spas.
Just opposite the road from here on the other side of Jalan Bukit Bintang near the Grand Millennium hotel is longtime music store Bentley Music where you can strum guitars and plonk on assorted keyboards.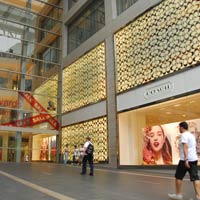 Pavilion mall, COACH
Fashion gurus continue to buzz over the city's seven-storey Pavilion Kuala Lumpur (Jalan Bukit Bintang, www.pavilion-kl.com/); the long awaited couture revolution. The results are striking. Think sophisticated interiors, soft carpets and huge mirrors mixing with plenty of hot fashion names. We've fallen in love with Gucci, COACH, Canali, Giuseppe Zanotti, TOD'S, Versace, BVLGARI, DKNY, Zegna and Hermes. Also find brands like Aigner, Longchamp, Montblanc, Rolex, Salvatore Ferragamo, IWC Schaffhausen watches, Xixili, Braun, Sony Ericsson, Swatch, AIX Armani Exchange, Dorothy Perkins, Kate Spade, G2000, Tommy Hilfiger, Zara, Guess, Celine, Geox shoes, Prada, Paris Hilton and Bread & Butter. Men in search of that simple cut yet with definite swagger will be delighted to spot the new BLACKBARRETT boutique. Add cult-fav Toms to the list (5.04.00, Level 5) for its range of comfortable and stylish shoes. Stylistas rejoice, for the Bohemian appeal of darling brand Tory Burch (Lot 2.69.01 Level 2) arrives at Pavilion with its signature geometric patterns and block colours.
Add local brand Variante (Lot 4.25.11) to your retail-therapy experience. Stock up on its colourful kaftans with diamantes and button-up chiffon dresses in bold prints and colours – great for the more mature and classy gal (the boutique also carries sizes that accommodate plus-sized women). Prices are equally seductive. Havaianas (Lot 4.52.00) makes its debut with flip-flops in every imaginable colour, pattern and design. Kids', men's, women's and unisex ranges are all available as well as the iconic Brasil collection. Malaysian Goh Ling Yi's exquisite, bold handcrafted jewellery displays an interesting mix of unusual gemstones at La Putri (Lot 3.32.00). Bling yourself to oblivion with bangles and earrings all gold embossed with animal print textures, black and silver cufflinks, jewel embellished watches and whimsical pendants and rings.
DC Comics Superheroes (Level 5, tel: 2143-3882) attracts comic fans with its flagship store, packed with a wide array of official DC Comics t-shirts, apparel and memorabilia. New to the block are Bauhaus (Level 4); Bell & Ross (Level 3) for elegant watches; Bottega Veneta (Level 2) for leather handbags and wallets; and Karen Millen (Level 2) for glam fashion. Or swoon over perfectly formed arches and exquisite heels at Jimmy Choo (Level 2). Discover sexy lace-up high heels in grand colours plus a selection of sunglasses and bags. At Club 21 (Level 3), find such cult labels as Jil Sander and Phillip Lim; or dress up in Simone Rocha, Hale Bob, Helmut Lang, Victoria Beckham jeans from multi-brand boutique M Pavilion (Level 3). Anchor tenant – Parkson – is riding on the Korean wave by including high street brands Spao, Mixxo and Who.A.U on their racks. For extra baggage, there's Tumi (2.54, Level 2).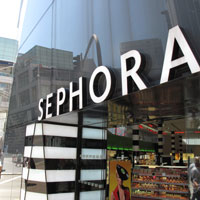 Sephora: cosmetics pit-stop
Check out Morgan, Celio, Diane Von Furstenberg (3.33.00, Level 3), and new entrants Moschino, MCM, Davidoff and Loewe. Fashion Avenue is Pavilion KL's newest precinct, attracting trend-conscious shoppers with such stores as Ben Sherman, Fred Perry, Jo Malone and Sacoor Bothers. Where to start? For serious home décor and furnishings, head to the sixth floor – there's Molecule (6.24.01-02) for retro accessories such as miniature kid sofas, funky ashtrays and clocks, Calligaris (6.19 & 6.20) for ultra-cool furniture designs and Typo (Level 4) for affordable notebooks, wall art and desk accessories. At the one-stop Muji, up on the fourth floor, find minimalist and functional household products, skincare, apparel, bags and stationary. On the sixth floor, Tokyo Street houses everything Japanese including food, Daiso, Zen Bonsai for miniature bonsais and jewellery stores.
Recover after long hours of shopping at the Food Republic (Level 1), a sprawling floor of restaurants and deliciously modernised hawker stalls. Be sure to savour the melt-in-your-mouth donuts from J.Co Donuts & Coffee (Level 1) or try some Japanese inspired bread and pastries at the Loaf (Level 3), a venture by a certain Dr M (clue: Malaysia's former prime minister).
Pavilion KL gets especially busy come F1 season. If you're in town, be sure to pop by to enjoy a host of activities and promotions that lead up to the final race day. The Tourist Rewards card extends special discounts and gift redemption to tourists. Head over to the concierge (Levels 2 and 3) to apply for yours. Participate in the mall's 'Experiential Walk for Tourists' and discover the area's rich heritage. Ask the concierge for more information. Turn up the heat and drool over sequins and ruffles conjured up by top local designers, Rizalman Ibrahim (Rizalman Ibrahim Couture, 110-G-M, Jalan Imbi, tel: 2141-6149) and Bernard Chandran (S-32-35, 2/F, Fahrenheit 88, tel: 2145-0534). If you are prepared to fork out a pretty penny you'll make heads turn, just like the American popstar elite when they don Bernard Chandran's creations.
Computers, camera shops, Sungei Wang Plaza
Harrods splashes out at KL airport
Jalan Bukit Bintang is known for its diversity. Further down the road, Low Yat Plaza showcases the latest in computer software and hardware, all at rock-bottom prices.
Digital camera and video shops are abundant in Sungei Wang Plaza and Low Yat Plaza in the Bukit Bintang area of Kuala Lumpur. Check out Foto Edar ( LG140 Sungai Wang Plaza, tel: 2141-6683), Boeing Photo (KLG 2, LG Floor, Sungai Wang Plaza, tel: 2145-3393), and Fuji Film (T020). The shops stock an extensive range of renowned brands such as Nikon, Panasonic, Olympus, Fuji, Canon, Hasselblad and Pentax. Pop into any camera store and find all the latest models at around the same price, with Foto Edar offering better deals. Expect to pay around RM1,199 (US$306) for a Canon Powershot SX700 HS (big zoom plus WIFI), RM1,800 for a Lumix DMC-GM1K and about RM1,599 for a Sony Alpha A5100. Most stores throw in extras like a camera bag and SD card. Boeing Photo adds a tripod to the package. You can count on the staff being courteous and knowledgeable.
There are also electronics and digital camera shops in just about every mall. Or pop into a shop like Billion Photo (tel: [60-3] 2142-8970) ground floor of Berjaya Times Square. They stock digital cameras, videos and assorted electronic items.
Prices will perhaps be most negotiable in Low Yat Plaza. Bear in mind that electronic goods prices in Kuala Lumpur are higher than in Singapore and Hong Kong and the models appear around three or four months after they have arrived in Singapore and Hong Kong.
Sungei Wang Plaza also houses one of Kuala Lumpur's best shopping bargains, the large and well-stocked Factory Outlet Store (F.O.S.) where you can pick up jeans for RM79 (US$20) or less, and t-shirts and sleeveless linen shirts for RM29-RM39. The store is at the concourse level. The same shirts at Lanvin (where the stitching is done in France) or Givenchy at Starhill will set you back over RM1,300 or more. Hunt here for Kuala Lumpur bargain shopping finds. You'll find FOS for Kids & Teens at the Mid Valley Megamall where body suits (for babies) and pyjamas (for toddlers) go for as low as RM10 (US$2.50). (Another Kuala Lumpur factory outlet option is the GME Factory Outlet at KL Sentral Station where an Obermain shoe starts at RM135 (US$34), and a Nautica t-shirt at around RM29.
Berjaya Times Square to Great Eastern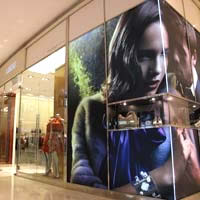 KL shopping mecca, Pavilion
Since you're into the serious business of shopping, check out Berjaya Times Square (Jalan Imbi, www.timessquarekl.com/), with over 1,000 shops, some of them still vacant. This is a huge modern sprawl that also hosts the indoor theme park Cosmo's World and an IMAX theatre. Britain's Debenhams and KL's favourite one-stop fashion store, Metrojaya have closed but the complex has begun to pull in the crowds with new stores and the convenience of a monorail station next door. Krookz (06-75, Level 6, tel: 2144-3903) started up by local music deejays, is a hit with skate-borders for its hip, urban street wear. Arabian Oud (G-18, tel: 2148-5143) is an Aladdin's cave of dreamy, exotic perfumes and colognes.
Can't get over how much you've spent? Mull over it while Berjaya Times Square takes you for a ride at its largest indoor theme park, the complex's top attraction. The nearby Imbi Plaza is also dedicated to computers, cameras, mobile phones and other electronic gadgets at bargain prices. Be sure to browse, compare and bargain before you make that quintessential purchase to take home.
Squeeze in the time to pop by Maju Junction Mall (Jalan Tuanku Abdul Rahman), Great Eastern Shopping Mall (Jalan Ampang) and Mid Valley Megamall (Lingkaran Syed Putra, tel: 9368-3333), and check out long time favourites Sogo Pernas Department Store (190, Jalan Tuanku Abdul Rahman, tel: 2698-2111), Ampang Park Shopping Complex (Jalan Ampang, tel: 2161-7006), The Intermark Mall (Jalan Tun Razak) and The Putra Mall (Jalan Putra, reopens 2015). When at the new Intermark Mall, swing by Space – a sprawling furniture store with the likes of Kartell, Vitra's modern sofas and B&B Italia's minimalist seating and shelving. Walking through Space is akin to that of a museum experience that pays homage to mid-century marvels. The city's newest mall, Quill City Mall, boasts a range of tenants from H&M and Hush Puppies to Royal Sporting House and Hamleys. Opposite, The Row on Jalan Doraisamy has gotten a facelift. Check out League of Captains – a café cum boutique- opened by the folks behind local brand Pestle and Mortar Clothing. The boutique is on the upper level and it carries a small selection of clothes and accessories by Pestle & Mortar Clothing, Bellroy, Hypergrand, ICNY, Dr Denim, Raised by Wolves and Publish. Wheel Love Skateshop, a few stores down, has a variety of inline skates, blades, bikes and skateboards.
If you find yourself straying to the Campbell Complex in the older part of town, pop into Bongkar (Lot 141) that's devoted to men's vintage clothing. If you're lucky, there just might be some women's bags and shoes too. On the first floor try Yellow Kombi for an eccentric range of recycled fashion.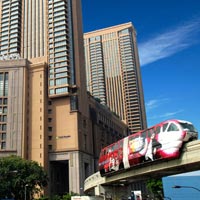 Berjaya Times Square monorail/ photo: hotel
In the spotlight is The Gardens, Mid Valley City, a five-storey swank shopping gallery. Fashionistas won't be deterred by the lack of green here as they have much to go mad about; Gap, Burberry, CK, Coach, Banana Republic and more. The much loved Robinsons, famously stylish in '70s KL, returns with aplomb as anchor tenant. A recent visit to Kate Spade (G-203B, tel: 2284-1468) re-established my love affair with this New York brand, well-known for its exuberant style and playful wit. The 1700sq m store offers the complete collection of Kate Spade handbags, shoes, jewellery, luggage, stationery, eyewear, as well as a variety of exclusive items such as cosmetics, clothes and the JACK SPADE collection. For limited edition sneakers, pop into Sole What (2/F, tel: 2287-5811), where you can find anything from Vans, and Dr. Martens to Feiyue. Check out Ecco (Second Floor, tel: 2282-4539) for a range of well-constructed leather shoes. Designer shoes in Kuala Lumpur? No problem.
In need of some eyewear? Pop into Japanese optical boutique Marq Optic Gallery (1/F, tel: 2283-6889) for hard to find eyewear from Japan, the US and Europe - from handcrafted acetate sunglasses to retro wooden spectacles. You can count on personalised service here.
There's also Borders, one-stop centre Isetan and Atlas Hi-fi where you can experience the crisp, clear sounds of Bose equipment at your leisure. Bread & Butter (G-231, tel: [60-3] 2287-4517) stocks a wide range of high-end American labels – 7 For All Mankind, 575 Denim, True Religion, Tag Jeans and Denim for Immortality. Delectables (S-213) has the most divine cakes, cupcakes and ready-to-eat cookies in the cutest shapes. Luxury label Louis Vuitton (occupying a space of 540sq m) finds its way to the Gardens, becoming the third store to open in the city. Pop into Wei-Ling Contemporary (G212 & 213, tel; 2260-1106) for a look at modern Asian art.
Cath Kidston (tel: 2201-5810) over at Mid Valley Megamall has the prettiest totes, purses and girly pouches, in fresh, mod prints. Think the Big Ben theme embossed on everything from cups to kids t-shirts and teapots. Pink Evil's Fashion Supermarket (F038, tel: 2282-1801), is gaining a reputation for fresh, slightly offbeat clothes and accessories that won't break the bank. Find five very distinct brands and styles. Expect flirty floral dresses at Sugar & Spice. Coffee & Magazines supplies separates and bright belts while Chocolate Martini serves up sophisticated maxis and cocktail dresses. Butter & Toast offers comfy basics with a twist. High-street fashion label Bershka (G/F, tel: 2282-3957) has racks and shelves of waterfall skirts, pumps in jewel tones, blazers and leggings.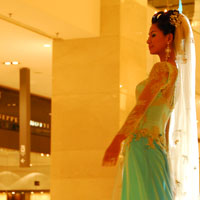 Model on catwalk at Pavilion
Enter specialty store XL-Shop (F105, tel: 2287-7257), and even if you're not an avid collector, you should pop by just to gawk at the range of figurines from brands such as Tomy, Hasbro, Bandai and Tokyo Marui. It is a trove of limited edition collectibles. The all-purpose Urban Adventure (3/F) will take care of all your outdoorsy needs. Find apparel, backpacks, eyewear, harnesses, camping gear and footwear from a range of top brands such as Columbia, Salomon and Lafuma. Try out its 20-feet bouldering wall on site for a taste of rock climbing before you scale up Batu Caves.
Fashionistas slip into ballerina flats and pumps embellished with jewels and strips of metallic snakeskin at Tiamo (First Floor). Tiamo takes its shoes seriously; the mandate is form plus function. Its footwear, creations of South Korean designer Jung Eun Ju, is hand sewn – each shoe sole is fitted with a special metallic rod to balance the body, while silicone cushions are inserted on the insides of shoes to prevent blisters. Children's shoes start at RM119; and for grown-ups the price tag is RM139 and up. Get fitted with all sorts of head gear from bandanas to knits at The Cap City (T049A, tel: 2280-0122). Have the cap experts even help you customise your very own. Continue to be hip and edgy with a visit to Fabspy (T008, tel: 2202-3080) and get decked out in indie fashion. Fabspy stocks some 35 local and international labels such as T.U.K and Supercrew. Step into funky sneakers from Diemme Footwear and Carhartt WIP at the Crossover Concept Store (T025, tel: 2282-2686); they've expanded to include clothes, bags and eyewear. For all your sporting needs, from fitness gear to golf equipment at cheaper prices, head to Stadium (T010, tel: 2284-6392). Make a beeline for the sales at Why Pay More where last season's running shoes and other fitness gear go for a fraction of the price.
Bargain shopping in Bangsar, Sri Hartamas
Bangsar (www.bangsarvillage.com/) deserves mention. This suburb is stealing the thunder with its rising tide of fashion hotspots and is a useful addition in our Kuala Lumpur shopping guide. To get to Bangsar, hop onto the light rail transit (LRT) system, then catch a taxi to the Jalan Telawi enclave. Once better known for its countless nightclubs and pubs, Bangsar has become a chic stop for fashionistas. The boutiques mushrooming in the area display a unique bent on what's hip. The popularity of boutiques like Gossips (8A, 1/F, Jalan Telawi 2) rely mainly on word of mouth (no pun intended). This boutique is a cross between someone's living room and a museum; very Bohemian in appeal. And it's quick to pick up on catwalk trends. So expect to slip into the latest designs like a crop top and bodycon dresses or pile on the trendiest accessories. Swing by Variante (21 Jalan Telawi 3) for some beaded blouses and custom-made dresses with a local twist, Peoples...Egg (32, Jalan Telawi 5, tel: 2283-1084) for oversized bags and Shoes Shoes Shoes (31A, Jalan Telawi 3) to stay in step with the well-heeled fashion pack. Shoes Shoes Shoes has also got an outpost at BSC (1/F, tel: 2287-0608). Check out multi-brand boutique Commonthread (Telawi 2) for a wide range of funky, beach-style flip flops.
Girl at Bangsar Weekend Market
Bangsar's fashion boutiques are causing quite a sensation; the quirky yet stylish Mooie Boutique (3-1, Jalan Telawi 2, tel: 2287-2230); Cloth & Sash (4-21A, Jalan Telawi 3, tel: 2287-9008) for sequined and laced toga dresses; Parisian dresses with lace and ruffles are stacked invitingly on shelves at Duchess and Co (17-1, Jalan Telawi 2); Nurita Harith (10-2, Telawi 3) for custom-made designs; Krookz (65-1, Jalan Telawi 3) for skateboard hipster fashion; On A Cloudy Day (15A, Jalan Telawi 3) for chic vintage dresses at discounted prices; Jorya Weekend (Jalan Telawi 3) for pleated skirts, lacy dresses; elegantly embellished dresses and tops for modern Muslim women at Mimpikita (15-1, Jalan Telawi 2) and House of Doll (10, Jalan Telawi 3) for exquisite fashion designed by a local actress plus kaftans and headscarves. I Love Snackfood (17A, Jalan Telawi 3), which specializes in fashion, home décor and curiosities, is the kind of store you can spend hours browsing in. You'll find some Kinfolk, Smith Journal and Uppercase magazines.
Drop into Telawi Square Gallery (Jalan Telawi 3) – a two level stop for shoes and dresses at My DressRoom, Tempo and Sole Lovely. Or head to Musse (16-1, Jalan Telawi 3) to dig up some BCBG Max Azria, Chloe, CK, Lanvin or Philip Lim 3.1. Juice Boutique (46 & 46-1, Jalan Telawi 5, tel: 2283-5811) appeals to those with a flair for street couture with cult brands such as CLOT apparel, limited edition Nike, Adidas, Head Porter and more. Some might find Tea and Sympathy (7, Second Floor, Jalan Telawi 2, tel: 2283-6671) just a tad too sparse but look closer – its scrupulously edited selection includes handmade dresses with scalloped hems, floral prints and bow embellishments.
Munch on cake and sip on coffee before rifling through a rack of smart shirts and tees, and denims for men at 15Sheets (9 Jalan Telawi 2). They stock a whole range of accessories from label pins, belts to money clips. Try the very cool Never Follow Suit (28-2 Jalan Telawi 2, tel: 2284-7316), an impeccably curated women's and men's clothing boutique started up by local designers, for vintage and modern styles. Uncover a mix of jersey basics, sleek black dresses, tailored menswear, vintage clutches and furniture. Pop into 17A Select Store (17A Jalan Telawi 3, tel: 2201-7513) for contemporary home décor, general curiosities and fashion. Watch out for cool labels, with a hint of punk, such as Schott Bros NYC, Supreme Jungmaven as well as homegrown brands like CheeseDenim and Suavecito Pomade.
Getting around is a snap by monorail
Be prepared to juggle your time between shopping and some pampering; get your nails buffed and your talons tended at trendy nail bars and salons popping up in the area. Eric Choong (61-1 & 63-1, Jalan Telawi 3) is perfectly positioned – try on his pret-a-porter pieces or evening gowns, followed by a facial or lunch at the many cafes along this strip. A perfect stop for stationary and art supply is CzipLee (1-3 Jalan Telawi 3, tel: 2287-0699). They do laser engraving and notebook embossing, which make perfect gifts. KL Venue (6, Jalan Telawi 4) is street-style haven, stylishly curated with a mix of uber-cool street wear and skateboard labels. Find clothing, backpacks and swimwear of such brands like Deus Ex Machina, Burton and Sprayground; take home one of the colourful skateboards by Globe, starting from RM499.
Bangsar also gets its shot of glamour with Bangsar Village II (Jalan Telawi 1, www.bangsarvillage.com/). Look forward to high-end names like Ted Baker, Warehouse, Furla, Massimo Dutti, Lacoste and Zara. Make an appointment with the in-house designer at Jemila (1F-3A, tel: 2282-0644) to custom-make your traditional baju kebaya and kurung, and beaded kaftans.
Find some very quirky and distinctive shirts by local designer Richard Tsen to wear home at Dude & Duchess (UGF-19, tel: 2284-3066). Find them also at Pavilion KL and Publika. Bric's (GF29B, tel: 2283-6421) offers its first flagship store with a comprehensive range of classic suitcases, overnight bags and handbags in leather, nylon and more. Marvel at Dr Denim jeans, Spitfire sunglasses, Jeffrey Campbell shoes and Lazy Oaf T-shirts at the unusually small, multi-brand boutique Actually KL (Upper Ground Floor, tel: 2202-2088). Or drop into Tribeca (1F-31, tel: 2287-6760) for sexy clothes, fun children's fashion, and a whole range of stationary and tableware recalling the movie Frozen. Be sure to swing by Silverfish Bookstore (20-2F, tel: 2284-4837), and look out for rare titles such as local author Farish Noor's The Other Malaysia and the latest Silverfish New Writings collection of short stories by regional authors.
H5 (GF27, tel: 2288-1932) boutique pays tribute to pop art and culture through its interior design and the watches it carries. Each brand, from Nooka and Noon Copenhagen to LIP, has garnered a cult following around the world. And don't miss Thirtyfour (Upper Ground Floor) for its range of handmade jewellery and leather bags. Countless sports brands congregate at World of Sports (Level 1, tel: [603] 2284-9914). Look out for Mizuno, Lafuma, Spalding and Montrail. If you're bored of frocks hit Lasting Impressions (2/F, tel: 2287-3201) for its lovely range of Chinese and Tibetan antique furniture. Acquire (2/F, tel: 2287-1261) specialises in quirky home furnishings and products plus watches from Danish Design and bags from Nava. Or you could just slip into the Hammam (3F-7 & 3F-8, tel: [603] 2282-2180) and have a bath, scrub followed by a soothing massage. Take home their range of Hammam Spa products – try the Sacred Massage Oil, with frankincense and myrrh to uplift your mood.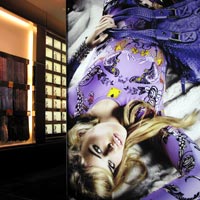 KLIA duty-free selection is reasonable
It's increasingly difficult to locate a good record store but you're bound to discover the grooviest vibes at Rock Corner (15-1, tel: 2284-1423), Bangsar Village 1. Discover an astounding range of music albums plus the guy behind the counter knows almost everything about hip hop, house, jazz and indie folk pop. Later, contemplate on your fashion finds over some sangria at the ever-popular La Bodega Tapas Bar (16, Jalan Telawi 2).
The dramatically modern Bangsar Shopping Center (www.bsc.com.my) has been unveiled – returning as the area's foodie and fashion nexus. Transformed into something approaching super chic, it has set out to attract small, high-quality boutiques dabbling in handmade chocolates, novelty stationary and children's toys. Some 90,000 square feet of retail space has been added. Tucked away on the first floor, is exclusive French designer children's wear Château de sable (tel: 2095-3203). Find engaging t-shirts, dresses and coats, all of which come with that signature French style. Peer into The Jekyll and Hyde Project (F2-S19) and discover an interesting mix of stationery, home accessories, t-shirts, bags, CDs and paper products- all practical items with a quirky feel to them.
Mita Tam (F127, tel: 2095 -1139) is your pick for elegant, feminine frocks; Shoeville (S105, 2nd floor, tel: 2096 -1927) for luxury women's shoes from Brazil; Bagsociety (F106, 1/F floor, tel: 2095 -2248) for new and pre-loved designer bags; and the Sennheiser Concept Store (F133, tel: 2283 6537) for a cool range of headphones and earphones and funky furniture store Gudang. For great food shopping, check out the specialist Jason's Food Hall, a floor filled with heaps of high-end munchies. Expect the best croissants and pastries from Hiestand, yummy cakes from Just Heavenly, artisan cheeses, fine harvest teas, Blanxart chocolates and wines.
On the same street is Luxury Vintage (152, Jalan Maarof, tel: 2095-6266) – every fashionista's answer to designer label handbags at a fraction of the price. These pre-loved handbags are genuine.
When in Bangsar, track down spunky local designer, Melinda Looi's Showroom (279, Jalan Maarof, tel: 2093-2279). Her haute couture designs are distinct; dresses in muted tones, embellished with intricate beading and crystals. Purportedly gracing the wardrobe of celebrities like Elizabeth Hurley and Cameron Diaz, Melinda Looi's designs are a must if you want to sashay home in style. The boutique also carries the Mel range - a fun mix of sexy tanks, tube tops, classic white shirts and other fun pieces. New to the strip is the 2,900sq ft bungalow housing The Dominique Chan Bridal Couture (Jalan Maarof). You'll be mesmerised by his stunning flowy gowns in French lace and silk. You'll find the combination of batik and songket on shoes, bags, tops and dresses simply irresistible at the Adila Long showroom (3, Jalan Terasek 8). Others on Jalan Maarof include Jovian Mandagie (No.124) for gorgeous baju kurung and kebaya pieces; Modvier and Shara Islamic Fashion World (No.96) for modest Muslimah couture; and Keith Kee (No.215) for elegant evening dresses.
Large Gucci store, Bukit Bintang
Lauren Boutique (4A, Jalan Telawi 4, tel: 2282-5882) opens up to reveal a closet full of glamorous clothes designed by Miss Lauren Kaur herself. Unexpected finds include multicoloured jersey t-shirts with sequins, Spanish leather bags and purses.
Pop into STUDIO BIKIN (No. 8, Jalan Kemuja, Bangsar, tel: 2201-8803) for locally crafted furniture. The proprietors work directly with local artisans who produce funky tables, chairs, light fittings and accessories from recycled material. Next door, Nala Designs has a lovely shop with a great range of contemporary Peranakan-themed gift ideas- cushion covers to stationary and accessories. Shopping here goes towards supporting the preservation of Malaysia's fading Nyonya heritage.
Not too far from Bangsar is Brickfields, buzzing with a genuinely local Indian feel. If you're coming in from the city on the monorail or LRT, get off at KL Sentral and a short walk will take you directly into the heart of Brickfields. Brickfields has been designated KL's "Little India" – a title that has earned the neighbourhood a giant fountain, arches, an expanded sidewalk and a fresh lick of paint.
Walk past old women threading garlands of jasmine flowers, smouldering joss sticks and camphor plus sacks of aromatic local spices, the scent of which hits you harder than a slug of sangria. Staff at boutiques such as Mumbai (184, Jalan Tun Sambanthan), Sri Kumaran's Silk, Mathura Collections, Bollywood Fashion (250, Jalan Tun Sambanthan, tel: [60-3] 2260-1080) and Preet's (206, Jalan Tun Sambanthan), will all declare they can transform you into the next party-circuit dazzler. Their intricately beaded and sequined numbers will undoubtedly do the trick. For row upon row of colourful plastic and jewel-encrusted bangles, pop into New Malliga (256, 258 and 258A, Jalan Tun Sambanthan, tel: [60-3] 2273-0204) or Kaviraaj Collections (90, Jalan Tun Sambanthan, tel: [60-3] 2273-8701). Tailors (most come directly from India) offer their expert services in sewing the latest styles of saree blouses. You can even get a readymade saree done – so all you have to do is slip it on and zip up the sides. Try Vaseegara D'Fashion Designs (278B, Tun Sambanthan), Sarojini Tailoring (264, Tun Sambanthan) or Sameena Tailoring (122, Jalan Tun Sambanthan) to make all your Bollywood dreams come true.
Citra's House of Spice (GF, 76 Jalan Padang Belia, tel: [60-3] 2273-5251) is bursting at the seams with imported Indian spices, grains and curry powder. Along with miles of new and used books, P Sivaguru Book Depot (14, Jalan Scott, tel: [60-3] 2274-2385) carries a wide collection of Indian books on religion, art, literature and fiction.
Revamped Kuala Lumpur airport
If the heat becomes oppressive, opt for a relaxing interlude at one of the many massage centres that employ blind therapists. Try the Blind Master Massage Centre (Jalan Tun Sambanthan 4, opposite YMCA). Combine shopping with some culture and explore the rest of the area. Brickfields is tagged the "Divine Location". Famous Buddhist, Chinese and Hindu temples and churches, some almost 100 years old, are located in the area on and around Jalan Berhala. Pop into Lavanya Arts (1734, Jalan Berhala, tel: 2274-2722) for Indian arts and crafts. Or for some contemporary, local art housed in a stylishly converted pre-war townhouse, visit Wei-Ling Gallery (8, Jalan Scott, tel: 2260-1106).
Nu Sentral right smack at the transport hub is turning out to be quite a cool mall. Find high-street brands from Burton Menswear London and H&M to Dorothy Perkins, Monki and Cotton On. Make a stop at Cosas United or TUMI for any last minute luggage needs.
It's official; nothing can escape the vintage trend. Every vintage fan needs to be on the lookout for Scoop (P-1-19, Plaza Damas, Block P, 6, Jalan Sri Hartamas 1, tel: 6201-1206). It promises once-loved designer fashion and accessories at a fraction of their original prices. Imagine Manolos, Prada, Hermes, Gucci, and Chanel minus the high-end price tags. If your closet is bursting with one too many bags and shoes, think turning your quality cast-offs into cash as part of Scoop's recycle concept. The whimsical Island & Republik (A-06, Plaza Damas, tel: 6203-9114) has been pleasing homeowners for more than a decade with its vast collection of bespoke furniture, carpets, rugs, tableware and lighting. They stock high-end brands such as Romo, Campbell, and Stroheim.
If you've strayed over to the Sri Hartamas area - where little Korean supermarkets and boutiques have sprung up - Mont Kiara is just a stone's throw away. The Curiousity Shop (Lot 12, Level 2) has moved into its new home at One Mont Kiara mall. It is a masterclass in thrift-store chic. It's pure fun unearthing heaps of buried retro. You'll stumble upon original packaged Star Wars toys, vintage and reproduction furniture, old typewriters, framed vintage advertisements and wallpaper, ancient lamps and chandeliers.
No dearth of designer fashion brands in KL
Publika (Jalan Dutamas 1), close to the Mont Kiara area, is turning out to be a cosy art enclave rather than a glamorous metropolitan shopping centre, balancing fashion, art, furniture and food with independent boutiques, pop-up stores and chains. For a well-rounded day out, stop by at vintage art and furniture store Outdated for everything from 100-year-old typewriters to eccentric retro luggage, refurbished Eames chairs and vintage cabinets. Numerous enticing boutiques have sprung up here such as The Odd Loft (Level G3) – imagine eccentric-shaped bags and disposable dresses — and Kaleidoscope (Level G3), an Aladdin's treasure trove of dreamy accessories and vintage clothes. Allien (Level G2) by local stylist and designer Allien Gan has racks and racks devoted to streetwear, leather bags and alphabet totes. Look out for Borneo brand Sereni & Shentel and their fancy range of headbands that come embellished with bows and sparkles.
Thirtyfour.bespoke (Level G2, tel: 6211-4434) is where you can personalise beautifully handcrafted tote bags, passport covers and sandals. Great as gifts. Don't let Allien (Level G2) intimidate you. Walk in to discover local designer Allien Gan's cool streetwear and accessories. Don't miss out on his range of leather bags, alphabet totes and slinky tops, plus his more glam collection from his debut at KL Fashion Week. Foldable flats, easy to-pack and incredibly light, are available at Threesixty (Lot13, Level G3, tel: 6205-9797). Visits to Carousel (G3-14, tel: 6206 3618) – a vintage London-style toy store- are never dull. Life-sized Nutcracker figurines welcome you in. The store is brimming with model airplanes, jacks-in-the-box, rocking horses, toy soldiers and other more contemporary play things. It'll bring out the child in you. Get acquainted with bold prints, A-line silhouettes and an overall '60s vibe with My Apparel Zoo's (B2-1-12) wardrobe.
Make a stop at the cult Bang Bang Geng (Lot15-20 G1, tel: 6206-2686) for an impressive collection of analogue cameras. Owner Chin Koon Yik will be happy to share his knowledge and expertise on photography. Browse the aisles at Ben's Independent Grocer (Level UG1) — everything's creatively laid out and categorised for convenient shopping. Stock up on oils, vinegars, spices, pastas, cheeses, gourmet chocolates and wines. Pack home traditional Asian ingredients, pre-packaged sauces and curries. There's even a florist, an oyster bar, a coffee stop and bakery.
KitaKita (G 1.10, 1 Jalan Medan Setia, tel: 2096-1323) may be hard to track but it's worth the visit. Kitakita has the prettiest tea sets with kebaya-inspired print, quirky vases, handbags, wall adornments, journals and jewellery by local designers you would not typically find anywhere else.
Enter into Alia Bastamam's fairytale boutique (14, Jalan Chempenai), within the same neighbourhood. Her clothes are to die for. Drool over her delicate evening wear and beaded bridal gowns. She's a hot favourite amongst local celebs and who's who of KL.
The Petaling Jaya shopping mall circuit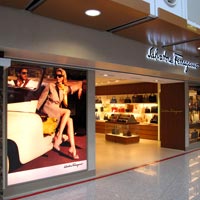 KL Airport Ferragamo store
Beyond the capital lies a wealth of shopping: Petaling Jaya has emerged as quite a shopping hotspot with monster malls such as One Utama (www.1utama.com.my/) and Sunway Pyramid. One Utama (1, Lebuh Bandar Utama, Bandar Utama, tel: 7710-8118), already an institution in this part of town, kicked off the shopping revolution more than a decade ago. Its six floors of fashion for men and women include collections by Armani Exchange, Bebe, DKNY, Guess and Zara. A recent update has brought in more edgy, street-smart labels like Forever 21, GAP and Miss Selfridge, attracting a younger set of shoppers. Tangs department store makes a stylish comeback, securing a spot in this premium complex.
Close by is Ikea (2, Jalan PJU 7/2, Mutiara Damansara, tel: 7726-7777) – discover all your affordable interior furnishing solutions here at Asia's largest store with a floor area of approximately 270,000sq ft. Avoid the maddening weekend crowds as people drive from as far as Penang and Malacca to sample this Scandinavian favourite. I'll let you in on a secret – adjacent in the Ikano Power Center (tel: 7720-7333) is Lurve it (G/F, tel: 7710-3598), an unassuming store that brings in tube tops, lycra maxis, batik print batwing and cotton dresses from around the region, selling them at a fraction of the price you'd pay in boutiques elsewhere in the city. Step carefully or you'll risk bypassing it, oblivious to the many treasures that hang on its racks.
You can easily get lost in the massive, revamped Sunway Pyramid Shopping Mall (3, Jalan PJS 11/15, Bandar Sunway, tel: 7492-9998). Its new wing, hidden inside the mall's distinguishable yet kitsch exterior, is packed with high-street favourites that keep smart, working girls' wardrobes stuffed with MNG, Zara, Topshop, Principles and NAFNAF. Payless Shoe (Lower Ground Floor) is stacked high with shoes of every size, colour and design.
The city's oldest department store, P Lal Store, has moved to a bigger premise in the suburbs (91, Jalan Gasing, tel: 2021-9091). Stock up on winter essentials like boots, cardigans, scarves and thermal undergarments.
Night shopping and weekend flea markets
Outrageous bags at KLIA duty-free
A few more diversions for the travelling shopper are the night markets or pasar malam and flea markets. If you're watching your cash, the pasar malam is a good place to shop without paying tourist prices. For a fix of local foods, fresh produce, craft and a real atmosphere, go to Bangsar's Jalan Telawi Sunday Market. Juicy vegetables, fresh fish, accessories and mobile phones add character to this already colourful scene. The night market in Bangsar is a big draw, bringing together both expatriates and locals.
Bargain hunters should not pass up the flea markets. They're the latest craze. It's the hip way to spend your weekend, over a cuppa, browsing through stacks of old magazines, stylish home décor from Burma, Thailand and India, trying on exotic jewellery or some silk blouses. Manned by locals as well as expatriates, The Labels Bazaar, which happens very Thursday and Friday, at KL City Walk along Jalan P Ramlee is a must. Keep an eye out for silk blouses, kebaya tops and kaftans. BSC Seek & Keep Bazaar brings together local and independent artisans and shop owners. Get your hands on candles, handmade ice cream, gourmet cookies and handmade shoes and bags. Over in PJ, avid collectors and bargain hunters flock Amcorp Mall's renowned flea market on the weekend for pre-loved clothes, retro figurines and movie posters, rare comics and old vinyl. Chic Pop street market is now part of Markets at Jaya One – held sporadically throughout the year.
Art For Grabs, is an event jam-packed with workshops and talks. The real attraction is the arts and craft bazaar, billed as the city's best venue to purchase original art at wholesale prices (pieces go for RM100 or less). Also taking place in Jaya One and Battery Acid Club (Damansara Utama) are artisanal markets that bring out independent labels and bespoke designers who use it as a platform to sell their wares.
Other more regular markets include the Curve weekend market. There's a whole lot going on at the monthly Fuyoh Art Bazaar at Publika – expect art to handcrafted home accessories, chunky jewellery and gourmet cakes to performances by local indie musicians. If you're a food lover, Publika Rasa Rasa –which happens every first Tuesday of the month- brings artisanal cooks out of their kitchens. You get to sample gourmet cakes, cookies, jams and chutneys; and take some home with you. At the Plaza Mont Kiara, the outdoor Arts, Bric-a-brac and Crafts (ABC) market has been running for more than a decade. Find an array of pre-loved jewellery, handbags, dresses, Asian handicrafts and household items.
KL Airport duty free heaven
Keeping to the bazaar theme is the Souq Putrajaya (Dataran Putra, Putrajaya). Styled after Istanbul's Grand Bazaar, the fledgling souk has a way to go yet. However, the factory outlets are a must-see. Renowned brands, typically costing hundreds of ringgit, sell at bargain prices. End-of-season clothes and accessories by brands like Guess, Fame, MUFC, U2, G2000, Hush Puppies & Renoma will fill up your shopping bags, without burning a hole in your pocket. Prices are slashed 50 to 70 percent, coming down as low as RM9 (US$3).
Next, pop into Alamanda Putrajaya Shopping Complex (Jalan Alamanda, Precinct 1, tel: 8888-8882) and head straight for Omar Ali Boutique (G74, tel: 8889-4506) for a tailormade traditional Malay baju kurung or baju Melayu (for men).
Have golf club will swing
Most shopping malls have a shop or two dedicated to golf equipment. For example the Isetan department store (www.isetankl.com.my/) at Lot 10 has a section packed with golf clubs, balls and more. Other popular specialist golf equipment shops include GS Gill (Wisma Harwant, 106 Jalan Tuanku Abdul Rahman, tel: [60-3] 2698-3950), Pan-West (5.24.06, Level 5, Pavilion KL, tel: 2144-3717), VK Enterprise (golf specialists at Lot 1-5,1st Floor, Menara City One, Jalan Munshi Abdullah, Off Jalan Masjid India, tel: 2694-5992), and Transview Golf (Lot L-1 16, Level 1, Avenue K, Jalan Ampang).
KLIA duty-free shopping prices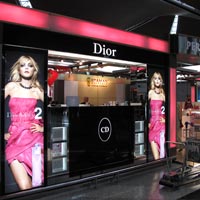 KL Airport duty free perfumes
If you've still got some ringgit spare, do some last minute duty-free shopping at the Kuala Lumpur International Airport (KLIA1 & 2 – the low cost terminal, www.klia.com.my/). Or take a shuttle to the Mitsui Outlet Park, Japan's favourite luxury goods outlet mall. Buy past season selections from luxury brands like Bally, Club 21, DVF, Versace, Moschino and other popular high street brands such as Mango, Nike, Converse and Adidas at 50 to 80 percent discount. Check out the bricks and mortar Zalora outlet store – brimming with an extensive selection of off-season brands and products at very good discounts. Buy tops, trousers and dresses; there's plenty of accessories too and row after row of strappy heels, platforms and boots. For men, there are T-shirts, shirts, jackets and shoes. Dig into the bargain bins for everything goes for RM15 (US$3.86).
At KLIA1 in May 2016 a duty-free Miss Dior 50ml EDP would set you back just RM295 (US$75), and a BVLGARI 50ml EDP Rose Essentielle RM216 (US$55). BVLGARI has a range of new frangrances on offer as well. Meanwhile, regular facourite Dior's J'adore 50ml EDP was priced at RM377 (US$96). For men browsing duty-free ties at KL Airport, a Versace silk tie can range from RM519 to RM661. (US$133-$169). Or pick up a one litre bottle of Johnnie walker Black Label for RM145 (US$37). The Chivas Regal (12-year-old Scotch Whisky silver box) in a one litre bottle has a duty-free price of RM168 (US$43). Other airport duty free outlets include Versace, COACH, Dunhill, Burberry, Guy Larouche, Aigner, The Body Shop, Salvatore Ferragamo, KIEHL's, Montblanc, Ralph Lauren, L'Occitane, Swarovski and Victoria's Secrets.
There's Harrods of Knightsbrige too with stuffed teddies. With Kuala Lumpur International Airport (KLIA) becoming a useful and convenient hub for passengers flying from Europe to Asia and Australia, there is increasing interest in digital video camera shopping here. However there are limited electronics shops for video and camera buffs. Try Fotopro. Pretty pricey. Downtown is cheaper. Kuala Lumpur Airport duty free shopping prices are reasonably competitive.
If you're travelling low-cost, the shopping is just as exciting. KLIA2 comes complete with the world's biggest shopping space in an airport (naturally) with 225 outlets; many are however still vacant. You will find everything from Giordano and Hush Puppies to Uniqlo. Most big brand names are absent but you'll spot Furla, Barbara Rihl, Desigual, Hugo Boss and Michael Kors. Pick up the ideal travel companion from the Barbara Rihl collection – the exclusive Twin Tower bag (available at KLIA 1 & 2 outlets). There are Goods & Services Tax (GST) Refund counters at both airports for tourists (the GST rate is 6 percent). Tourists must spend at least RM300 (US$77) inclusive of GST at any one outlet. Now you'll have something to constantly remind you of your shopping spree in KL. Happy shopping. And keep some spare change for that Malaysia mega-sale.
Send us your Feedback / Letter to the Editor