CRAZY SALES
Shanghai picks for fashionistas
For those with the money and the moxie, a no-holds-barred Shanghai shopping guide - from trendy stores and new local designers, to quickie tailors, and pearls.
SEE ALSO Shanghai hotel guide | Shanghai nightlife | Beijing business hotels | Guangzhou business hotels | Hong Kong shopping guide | Kuala Lumpur shopping guide | Bangkok shopping guide | Singapore shopping guide | Digital Cameras and Video Reviews | Songdo smart city guide | Xian fun guide
JUMP TO Nanjing West Road and Huaihai Road | Xintiandi lanes | Taikang Road | French Concession boutiques | The Bund | Shanghai tailors | Pearls and antiques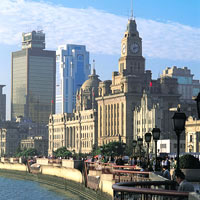 Start your shopping trawl at the stylish neo-classical Bund
SHANGHAI is fast becoming a bona fide shoppers' paradise. Once a centre for spurious factories and counterfeit goods, the city's fashion set is now rubbing shoulder-pads with Karl Lagerfeld and Diane von Furstenberg at Champagne-soaked Bund parties and first-peek collection launches. The city beckons with top shopping and quaint Shanghai tea houses for a restorative break and seasonal Shanghai e-coupon discounts.
As luxury brands court voracious mainland consumers with opulent flagship stores and China-centric product lines, independent designers and niche labels are also taking advantage of the driving consumer spirit, access to manufacturers and enduring inspirations of the Orient to realise exciting new brands and boutiques in China's most fashionable city.
Send us your Feedback / Letter to the Editor
Tucked away in charming retail enclaves around the former French Concession, Xintiandi and the Bund, local designers present their wares – everything from handmade silk slippers and modern ceramics to organic cotton baby kimonos – offering trendy updates on classic Chinese styles.
Other good buys in Shanghai include Oriental rosewood antiques, freshwater pearls and custom-made garments from the city's legendary tailors. On with our Shanghai shopping guide through back alleys and a designer brands romp.
China may be on track to become the world's largest consumer of luxury goods by 2015, but due to heavy import tariffs, those found fondling the inflated price tags here are usually wealthy domestic customers.
For your less highly taxed Dior, Chanel and Armani – best head to Hong Kong. If you don't mind Pardas and Calvin Keins [sic], there's always rip-off Qipu Road Clothing Wholesale Market (168 Qipu Road) or Taobao City (580 Nanjing West Road). And thus armed we plunge into Shanghai, bags in hand to trawl delightful back street souvenirs, local designer-wear, and brash big brands that run wall to wall along various streets, serving as local landmarks where the young and restless and rich and shopper mad congregate to meet and take stock before plunging in.
Nanjing West Road and Huaihai Road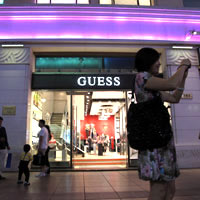 Guess, Nanjing Rd/ photo: Verghese
Like many fashion capitals, the city's two main boulevards – Nanjing West Road and Huaihai Road – are lined with some of the best Shanghai shopping malls brimming with luxury brand stores and high-street labels.
The Nanjing West Road action is centred between Jing'an Temple and Shimen No. 1 Road. Across the road from the gold-capped Buddhist temple (there's also direct access from Jing'an Temple metro station in the basement). Reel Mall (www.reelshanghai.com, 1601 Nanjing West Road) offers seven levels of international designer boutique shopping and dining.
One of the city's smartest new shopping destinations, its B1 level is stocked with cosmetics and footwear, while the first and second floors feature designer threads by the likes of Alexander McQueen, Stella McCartney, Marni and Alexander Wang. There's an extensive kids' section on the fourth floor. When refuelling is necessary, Seesaw on the fifth floor brews a seriously good coffee. Back on the first floor, Henkes and Sushi Raku, which share a large outdoor terrace, are stylish spots for lunch and dinner. Or for something more casual, there's a huge Asian food court on B2.
Reel Mall connects via marbled underground shopping corridors promenades with yet another gargantuan new shopping complex: Jing An Kerry Centre (en.jingankerrycentre.com). Opened in 2014, the centre spans a whopping 450,000sq m, comprising luxury shopping, dining, a Shangri-La hotel, residences, office space and, somewhat randomly, an old house where Chairman Mao supposedly once stayed that has been preserved amidst the modern tower blocks and is now a small museum.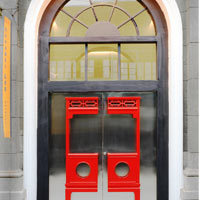 Annabel Lee on the Bund/ photo: shop
You'll find the usual international brand suspects, including a four-storey Abercrombie & Fitch flagship (follow the overpowering cologne or rippling six packs…E3- 01, 1515 Nanjing West Road), big Burberry and Diesel flagships, plus an excellent supermarket and Watson's wine store in the basement. There's plenty of dining with outdoor piazza seating, and also a movie cinema.
If you're interested in emerging local designers, it's worth seeking out InShop (B2, 1605 Nanjing West Road) in the bowels of Jing'an Temple metro station. Despite the rather awkward space and hushed surrounds, the small stalls present a surprisingly impressive showcase of under-the-radar local brands, concept stores and off-season outlets. Look out for brands like Where What Who, May J, Content, Liu2, Kraken, GöteGöta and Neither Nor.
Plaza 66 (www.plaza66.com/en, 1266 Nanjing Road) is crammed with more luxury brands – think: Louis Vuitton, Dior, Chopard, Cartier – on five marble-clad levels. The top floor also offers branches of popular local restaurants including Pin Chuan (modern Sichuan) and Simply Thai. For sophisticated European café offerings or a stiff drink between purchases, Alfred Dunhill's seductive subterranean lounge Alfie's by Kee is a real treat.
Next door, Citic Square (1168 Nanjing Road) includes Armani, Bally and Marc Jacobs, while neighbouring Westgate Mall (1038 Nanjing Road) features Burberry, Ermenegildo Zegna, Coach and an Isetan department store. Between these are more moderately priced fashion outlets, such as Zara, Zara Home, H&M, GAP, Uniqlo and Marks & Spencer.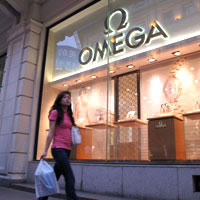 Nanjing Road/ photo: Verghese
Running parallel to Nanjing West Road through the former French Concession, Huaihai Middle Road is another major shopping street populated with European fast fashion flagships H&M and Zara along with clothing brands from China, Korea and Japan.Be sure to check out the revamped Hong Kong Plaza (www.hk-plaza.com.cn/en), which bridges both sides of Huaihai Road and is home to a huge Apple store, GAP, Coach, and the world's first Shang Xia boutique (SL1-01, 1/F, South Tower, Hong Kong Plaza, 283 Huaihai Middle Road).
Launched in 2010 by French design house Hermes and Shanghainese Creative Director Jiang Qiong'er, Shang Xia – which means 'up down' in Mandarin – presents a contemporary take on traditional Chinese design, handcrafted by local artisans following age-old techniques. French-trained Jiang hopes to preserve and renew endangered heritage crafts with her exquisite collection of rare zitan wood furniture, fine eggshell porcelain dishware, and pastel gowns and coats made from hand-pulled Mongolian cashmere. The Shanghai boutique, designed by Japanese architect Kengo Kuma in cloud-like layers of white tulle, was the world's first Shang Xia, and has since been followed by boutiques in Beijing and Paris.
Head east from here and you'll find the revamped Shanghai Times Square (www.shtimessquare.com/en, 99 Huaihai Middle Road) home to the China flagship of Lane Crawford across four fabulously chic levels, showcasing more than 500 fashion, jewellery, beauty and lifestyle brands. There's another branch of Marks & Spencer with a comfy cafe across the road, too.
Heading west along Huaihai Road, its easy to miss the pair of 1920s neoclassical mansions known as the Twin Villas that are hidden behind streetfront shophouses. The Richemont Group has transformed the mansions and their enchanting English garden into a luxury retail experience combining indulgent boutiques, cutting-edge art and sophisticated lounging.
Luxury brand siblings Vacheron Constantin and Alfred Dunhill – both established favourites of high-end Chinese consumers – occupy separate wings of the mansion. Their stunning two-storey flagships are designed to go beyond regular retail and share the history and spirit of the brands, complete with a White Shirt Bar and bespoke tailoring service at the Alfred Dunhill Home, and a collector's salon and customised safe at Vacheron Constantin. There's also the seductive KEE Club, a private members' lounge and restaurant, upstairs.
Night shopping crowd/ photo: Verghese
Leaving Twin Villas, your next mega shopping fix is just one block away. iAPM (999 Huaihai Middle Road) opened in 2014 on what was once the site of Shanghai biggest outdoor counterfeit market. How times have changed. This dazzling shopping destination developed by Hong Kong's Sun Hung Kai Properties is home to almost 250 high-end boutiques across five levels, anchored by yet another Apple store, an Imax cinema, plus H&M, City Supersupermarket and Australian gourmet import Jones the Grocer.
Aside from its roll-call of top fashion names, cool architecture and signature scent, iAPM stands out for its extended shopping hours. If you can't get all your purchasing done by 10pm, when Shanghai usually closes shop, you can dart over to iAPM and continuing the spree into the wee hours. All shops are required to remain open until 11pm, while the 30 restaurants and cinema operate until midnight (with plans to eventually stay open until 2am). Among the excellent dining options, there are branches of Grandma's Kitchen, Din Tai Fung, Shanghainese restaurant Laojishi and famous Beijing chain Da Dong Roast Duck (be prepared to queue). International restaurants worth checking out include Bang by Australian chef Mr Willis and The Cut, a French 'steak frites' joint by the company behind Mr & Mrs Bund.
Shopping in Xintiandi lanes
The refashioned traditional lanes and shikumen houses of Xintiandi, at the junction of Huangpi Road and Madang Road, are very popular with travellers on account of the wide array of high-end shopping, dining and entertainment options.
At the very top end, the striking glass pavilions outside The Langham Xintiandi hotel house jewel and watch brand flagships. The most glittering is the two-storey, faceted Harry Winston boutique (tel: 2310-6868, 188 Taicang Road), which opened in 2012 and is the largest salon in the world for the New York diamond dealer.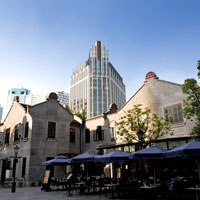 Shanghai shopping in Xintiandi
Global fashion brand Shanghai Tang (Unit 15, Xintiandi North Blk, Lane 181 Taicang Road) features apparel for men, women and children, home furnishings, accessories and novelty gift items with a colourful nod to Chinese culture. Exquisite cutting and inspired design are reflected in the high-end prices. There's also a colourful café upstairs.
The flagship store of home-grown label Simply Life (Unit 101, 159 Madang Road) stocks pan-Asia furniture and house ware, including an exclusive range of hand-painted, fine bone china from luxury local brand Asianera.
Fresh local labels hang out at the Xintiandi Style concept mall (tel: 5382-0666, 245 Madang Road), which is linked by an overhead bridge to the far southern end of the heritage block. A great spot to take in the cutting edge of local fashion, highlights include Goth-inspired couture by Central Saint Martins graduate Uma Wang; chic leather totes in bold colours by Shanghai-based Heirloom; blouses, bags and accessories with a China-French accent at Oshadai; and cool pumps with Middle Kingdom motifs at Ch'in.
Funky buys around Tianzifang
What started with a few artists and design agencies moving in to abandoned factory warehouses on quiet Taikang Road, has become one of Shanghai's most popular shopping and dining districts. The rabbit warren of cobbled Shanghai 'longtang' (lanes) are flanked by traditional stone-gated residences housing an eclectic collection of lifestyle boutiques and alfresco cafes. Amidst all this, elderly lane residents steadfastly go about their daily life presenting eye-popping contrasts. Unfortunately, low-quality stalls and camera-wielding hoards are fast overrunning the area, but you can still find a few boutique gems among the souvenir tat.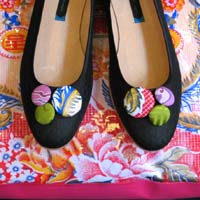 Suzhou Cobblers Shanghai/ photo: shop
At the entrance to Tianzifang, homegrown Shanghai brand Piling Palang (Shop 220, Lane 210 Taikang Road) creates contemporary ceramics, lacquerware and cloisonné in stylish patterns of mint, mocha, aqua and pink, with fun imagery – from 1930s Shanghai signage to Chinese acrobats and peony blossoms.
For cottage industry in action, visit Harvest Studio downstairs (Suite 18, Bldg 3, Lane 210 Taikang Road). Here, Miao minority women from southern China gossip as they hand embroider ethnic-styled cushions and clothing. La Vie (Number 7, Lane 210 Taikang Lu), stocks the heavily tailored and deconstructed fashions of Jenny Ji, who studied fashion in Milan before returning to her hometown. In a two-storey maison facing Taking Road, Platane (156 Taikang Road) presents a swoon-worthy collection of homeware and accessories from en vogue designers in Shanghai and beyond.
Several photography studios include one of the street's original tenants, photographic historian Deke Erh. The sprawling Deke Erh Art Centre (Number 2, Lane 210 Taikang Lu) presents his images snapped around Shanghai and rural China, as well as books he has published on the city's fading architectural heritage. Gang of One is a tribute to the rags-to-riches tale of Wang Gangfeng, a former factory worker whose wonderful portraits of characters and street life around China now hang in the Musee de l'Elysee in Switzerland.
French Concession boutiques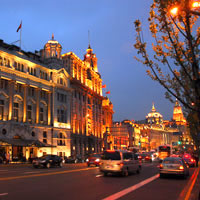 Get fancy on the Bund/ photo: Verghese
For more high end Shanghai brand shopping, cruise the leafy streets of the former French Concession lined with tiny boutiques by aspiring local talent. The busiest stretches lie along Changle Road (between Maoming Road and Chengdu Road) and Xinle Road (between Donghu Road and Maoming Road). Julu Road and Fumin Road contain a smattering of interesting boutiques, while Shaanxi Road is budget shoe heaven if you fit a size 37.
Dong Liang (184 Fumin Road) fills an 80-year-old lane house with smartly tailored capsule collections, plus funky purses, slippers and specs, by China-born indie design labels such as He Yan, Rico Stru and Chaireyes. A few doors down, Shanghai based designer Helen Lee (172-1 Fumin Road)shows off her eponymous label of easy-to-wear fashions with edge.
Across the road, Madame Mao's Dowry (207 Fumin Road) hosts pop-up fashion and homeware showcases amidst its Cultural Revolution inspired art and souvenirs. A giant wooden sculpture of Chairman Mao acts as a makeshift mannequin (of sorts).
Aegis Shanghai (777 Julu Road) offers a suavely edited collection of men's contemporary designer clothes, footwear and accessories, including several labels making their debut in mainland China. Another great hunting ground for guys is S2VS (172 Nanchang Road),which showcases preppy looks for guys by Sean William Salim, a young Indonesian designer who has chosen Shanghai as home. Salim zips between his bases in China and New York – happily, prices here are a fraction of those in his New York store.
Triple Major (No. 1, 25 Shaoxing Road), a creative studio/concept store from Beijing, has taken over a four-storey lanehouse and filled it with cool designs from independent, progressive labels from around the world, such as Anntian, Daniel Palillo, Henrik Vibskov, alongside its own-brand pieces. Funky footwear, standout-from-the-crowd outfits, covetable homeware and a collection of books and magazines are displayed like gallery installations. Meanwhile, ladies will lust over the handpicked looks from Hervé Léger, Proenza Schouler and Rebecca Minkoff at The Villa (1 Taojiang Road).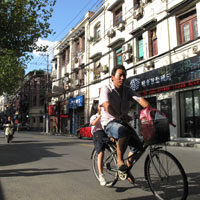 Look for deals in back streets/ photo: Vijay Verghese
Peering through the framed windows at Catie Lo (105 Wukang Road) is like looking into a beautiful vintage storybook where the feminine dresses, shoes, purses, home fragrances, greeting cards and other tchotchkes are displayed in antique cabinets and dressing tables and draped over velvet armchairs. In a standalone boutique on the quiet end of Changle Road, find organic skincare infused with Chinese herbal ingredients like goji, hawthorn and mulberry at Ba Yan Ka La (1221 Changle Road). The beautifully scented lotions, handmade soaps and candles make lush Shanghai souvenirs.
Designer brands around The Bund
The gentrification of Shanghai's iconic Bund has seen a great many luxury brands – MCM at Three on the Bund, Cartier and Ermenegildo Zegna at Bund 18, Breguet, Omega and Blancpain at Swatch Art Peace Hotel, and Chanel, Georg Jensen, Prada and Ralph Lauren at The Peninsula Arcade, to name a few – move into the grand former colonial banking and trading HQs beside the Huangpu River.
These are interspersed with local designer boutiques in the side streets, including Suzhou Cobblers (Room 101, 17 Fuzhou Road), selling handcrafted silk slippers in updated colours and patterns; Blue China White (Room 103, 17 Fuzhou Road) offering hand-painted Jingdezhen porcelain tableware plus one-off furniture pieces combining ceramics and antique woods; Song Fang (19 Fuzhou Road) for fine Chinese and French loose-leaf teas in cool baby-blue canisters emblazoned with propaganda art; and Annabel Lee Shanghai (No. 1, Lane 8 ZhongshanE1Road), whose range of embroidered silk decor and accessories are displayed in a museum-like flagship behind a large doorway.
Down at 22 Bund (22 Zhongshan E2 Road), the luxe boutiques focus on high-end handcrafted products, from Guo Pei's custom made wedding dresses to Chinese shoe label Shemeand elaborate furniture at Cloisonné Shi.
Shanghai tailors: quick cut and snip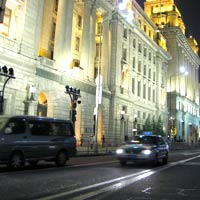 Shanghai shopping, the Bund/ photo: Verghese
Shanghai's legendary tailors can whip up a custom-made wardrobe in a matter of days. Start with a trip to the South Bund Fabric Market (399 Lujiabang Road), where multiple air-conditioned levels offer vast reams of fabric and trimmings at bargain prices. Bring your favourite pieces and have the onsite tailors sew made-to-measure replicas in a day or more. Expect to pay approximately Rmb600 for a suit including material and workmanship.
Pearls, antiques, and duty-free
Shanghai is close to China's freshwater pearling areas of Jiangsu province and is therefore a great place to buy these precious gems. Mark this down in your Shanghai shopping diary. Shanghai Hongqiao International Pearl City (3721 Hongmei Road) is a multi-level pearl emporium. Most of the action is found on the third floor, where vendors sell a wide array of fresh water pearls and semi-precious stones, along with inexpensive crystal and plastic beads. Buy readymade jewellery or create your own custom designs, which can be strung on the spot.
The five-storey wholesale antique market at Cang Bao Lou (457 Fangbang Middle Road) and charming outdoor Dongtai Road Antique Market (Dongtai Road, by Tibet Road) are good places to scavenge for Cultural Revolution memorabilia, Buddhist statuary, art deco furniture and even opium pipes. Although many of the wares are ersatz, this is still great souvenir territory and keen eyes will occasionally spot a genuine antique prize. Bargain hard.
For antique rosewood furniture, head to the warehouse showroom of Hu & Hu Antiques in far-flung Hongqiao (Qing Xi Road 601-38, by Honggu Road). The sisters-in-law Hu have a massive collection of well-restored Chinese antiques and customised reproductions, delivered fuss-free thanks to their fixed-pricing policy and international shipping.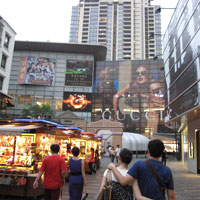 Xintiandi epicentre/ photo: Verghese
Shanghai Airport duty-free shopping at Pudong and Hongqiao offers varied selections, not always at the lowest rates though. Pick up a one-litre bottle of 12-year-old Chivas for Rmb248. The duty free price for one litre of Johnnie Walker Black Label is exactly the same. Meanwhile a 50ml bottle of Dior's J'Adore EDP will set you back Rmb708.
And if all this frantic Shanghai shopping hasn't left you with a bruised wallet and swollen feet, then strap on your (probably new) dancing shoes and head for a night on the famed Shanghai tiles.
Send us your Feedback / Letter to the Editor