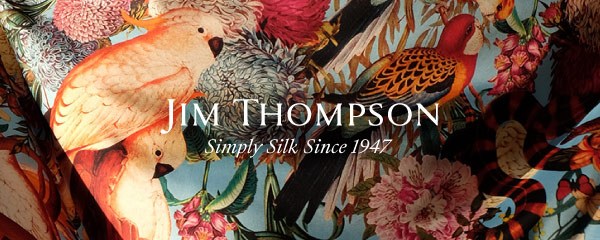 CRAZY SALES
Big Hong Kong shopping guide
Everything you always wanted to know but were afraid to ask about swish shopping malls, shoe stores, the latest cameras and watches and other fun stuff. How not to get ripped off. The best of Sham Shui Po bargains and the new Tai Kwun.
with photography by Vijay Verghese
SEE ALSO Hong Kong fun guide | Hong Kong business hotels | HK Yuen Long coffee, cafes | HK Haven Street fun guide | Shanghai shopping guide | Kuala Lumpur shopping guide | Bangkok shopping guide | Singapore shopping guide | Macau guide| Tokyo | Songdo fun guide | Manila fun guide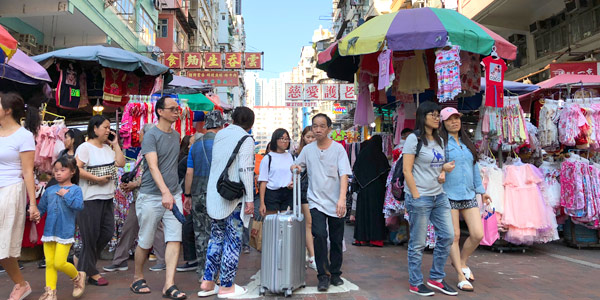 JUMP TO Causeway Bay | Wanchai | Admiralty | Central | Peak, Stanley, Horizon Plaza | Taikoo Shing | TST, Kowloon, Sham Shui Po | Mongkok | Kowloon Tong, Shatin | Kowloon Bay, Telford Plaza | Citygate and Airport duty-free shopping
THE Hong Kong shopping experience is always wild, often glitzy, pushy, but never tame. Tame is for old-fogey discount stores in Penang or Hawai. This is a shopper mad Mecca where everything and anything goes - swindles, bait-and-switch scams, I-don't-speak-English rebuffs and, on occasion, inordinately polite shop owners who let you browse completely unmolested. I recall being turfed out of a Mongkok camera store 30 years ago when I first arrived in Hong Kong because I had the temerity to ask to see the Nikon I was supposed to be buying. "You show me money," was the stock counter response. Time was when swindled tourists would camp outside Hong Kong camera stores waving placards and demanding justice – while bored shop attendants picked their teeth – much to the amusement of passersby and newspaper reporters.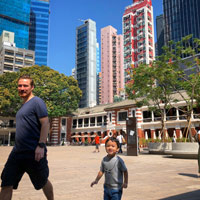 Tai Kwun, the brilliantly redeveloped police station in Central/ photo: Vijay Verghese
Today there's no space for shopper vigilantes - just visit Sham Shui Po's heaving pavements littered with electronics, textile rolls, dresses and accessories - and, fortunately, less need, though the city's jean-clad cognoscenti did arise to protest when Tsimshatsui store Dolce & Gabbana banned locals from snapping their cameras in the vicinity while big-spending overseas visitors were free to shoot.
Odd matter that, as all the latest designer fashion is available in 3D online for personal tryouts and more. What's the big secret? Still, charging at bared cameras remains a holy crusade for mall security guards and shop attendants. D&G was back in the news end November 2018 as Lane Crawford dropped the Italian brand from its stores following a controversial 'racist' ad campaign. Hong Kong mall with a conscience, or the best deals, it's all here.
The TST argle bargle quickly died down, not least of all due to the Consumer Council's (tel: [852] 2929-2222, www.consumer.org.hk) almost heroic attempts to bring order to the shopping madness that is Hong Kong. It takes issue with strong-arm dealers and blacklists the worst offenders and polices a broad range of shopper complaints. It even has an online price watch and code of pratice for a range of industries. And with 45,000 recorded complaints in 2008/2009 but just around 25,098 in 2016 and 24,881 in 2017, it appears to be working. Between January and August 2018 the council had received a total of 16, 363 complaints. Telecoms services and 'travel matters' remain the biggest sore items with shopper complaints in these categories rising a bit in 2017 and 2018. There were also climbs in medical services complaints and electronics. Still, there's no denying that the retail experience here is arguably one of the best and most varied in Asia.
Yes, pottering about TST's fabled "Golden Mile" along Nathan Road, can still be fraught with peril – chiefly bait-and-switch, where the shopper puts money down for one model and is handed another. And your arm can still be twisted, literally, by the handbag sellers of the infamous Ladies Market, Mong Kok.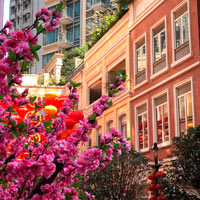 Wanchai shopping got a new look with Lee Tung Avenue/ photo: Vijay Verghese
Reason enough to head straight into the enticing arms of online shopping deals and Tao Bao, E-Bay and the like, but where's the fun in that? Still, it's a growing business and Hong Kong online shopping is offered by most brands linked here with free deliveries for minimum orders.
Grab a good map, print out this fun guide, study the directions to the best shopping malls and street markets, don sturdy walking shoes, put up your dukes, and you're ready to roll.
More on where to stay in our Hong Kong business hotels review that includes family digs and budget options close to shopping intersections.
Causeway Bay, all roads lead to Sogo
Causeway Bay is the go-to place for the young and restless and there is much on offer for the timid wallet. We start our detailed Hong Kong shopping guide here in an area where some of the most dense and busy Hong Kong shopping malls are located. Visit on Saturdays at your own peril. MTR exits D1, D2, D3 and D4 will deposit you around or inside Sogo, the landmark meeting point Japanese department store (tel: 2833-8338, www.sogo.com), arguably the city's best known shopping mall and one of the oldest in Caseway Bay with a big range of men's shoes, watches, sports wear, bra brands and fun stuff for kids. Here big names like Salvatore Ferragamo (GF), Gucci, agnes b, Miu Miu, Anna Klein, Armani, Calvin Klein jeans, Burberry, Chanel and Brooks Brothers Fleece, hobnob comfortably with esoteric niche brands like Helly Hansen (sportswear from Norway, 4F), and Evisu (casual young fashion, 3F). Find shoes and leather goods in B1 and food in B2 while cosmetics are easily accessed on the teeming street level ground floor. A DIOR J'Adore 50ml EDP retailed Feb 2019 at HK$930, the same price as at the airport duty-free stores. The Sogo website features an excellent floor by floor guide and the store is open 10am to 11pm or midnight every day of the week.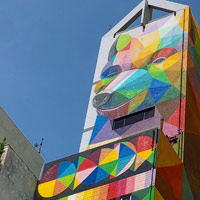 Sham Shui Po wall art / photo: Vijay Verghese
For ladies' lingerie Sogo serves up Triumph, Wacoal and, from Germany, comfortable and fashionable fits from Sloggi. Elsewhere for fun lingerie choices for older women or young ladies, explore AVEC Amour Lingerie (push up bras, camisoles, boyshorts, sexy corsets, thongs, swimwear and bikinis with bra size charts and slick online shopping displays), La Perla, Agent Provocateur, and Sheer. Sensual Italian design? Try intimissimi (hk.intimissimi.com/, G/F, 4 Kai Chiu Road, Causeway Bay) with its 'perfect bra' line and bridal collection. As with such stores there's an online shopping platform with free home delivery for purchases above HK$900. As a comparison, Avec Amour offers free home delivery for online purchases over HK$500.
Back at SOGO do check out Tommy Bahama (www.tommybahama.com) with its vivid island-life tropical prints. Also browse bauhaus (www.bauhaus.com.hk/) for men's and women's clothes, leather jackets, trousers, wallets, handbags and accessories. This popular brand also has stores in Times Square and Taikoo Shing (on HK Island) and Langham Place and Telford Plaza in Kowloon among other spots. A Bottega Veneta crosswoven leather handbag may start around HK$29,000. Prepare your wallet for a pounding. Tory Burch will get you a leather bag in hand for under HK$5,000 while Kate Spade is cheaper (and no less bright) at under HK$2,000.
Next to Sogo on Hennessy Road, the Sony Style HK flagship store on the 16th floor of East Point Centre (tel: 2882-0101, www.sony.com.hk) offers the latest state-of-the-art Sony products. The store is open from 11am to 8pm. There's another 6,000sq ft Sony Style in Mongkok's Wai Fung Commercial Building, between Nathan Road and Sai Yeung Choi Street, easily accessed from the Mongkok MTR station Exit D1 or D3. Also spot SONY at Shop 309 Ocean Centre in Tsim Sha Tsui.
Send us your Feedback / Letter to the Editor
Just north of Sogo, facing Hong Kong's storied harbourside and the Yacht Club is wtc more (www.wtchk.hk/), next to the Excelsior Hotel. This is the rebranded World Trade Centre. On the fourth floor (P4) you'll find a large and well stocked Muji (www.muji.com.hk), stacked high, and neatly, with clothes and kitchen utensils and containers as well as snacks and microwave dinners. Prices are surprisingly reasonable at this Japanese "no-brand" store. Pick up a long-sleeve cotton shirt for HK$190 or a flannel full sleeve shirt for men at HK$299. Next door is Korean shoe store Spur with its seven-layer design including arch support and anti-skid outsole, with prices from HK$699. On P5 is UniQlo (www.uniqlo.com/hk), with more attractively priced clothing, jeans, suits, blouses, and t-shirts aimed at younger shoppers. And on P3, a large Global Work (world fashion) store.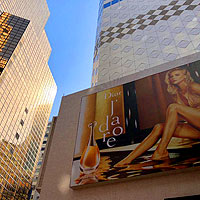 SOGO is a landmark department store/ photo: Vijay Verghese
Also explore Acca Kappa for quality, if expensive, hand-made shaving items for men (wooden hairbrushes too), Lazy Susan for watches and knick-knacks, Jill Scott for handbags and shoes (calf leather bag for HK$2,500, 3F), Sugarman for funky kids' clothes and t-shirts where a micro pair of baby shoes will set you back HK$450 and, on Level One, Maud Frizon for brightly patterned cloth slip-on flats for women from HK$699 up.
Also find twist, Zstamp, Ecco shoes, Pink Box, Miffy x 2% (cute rabbit motifs if that's your style, www.2percenthk.com) and a Chow Tai Fook jeweller. For cosmetics, beauty and skin care products there's FANCL, Jurlique, and Make up Forever. The large sport b Paris at street level on Jaffe Road at the back entrance is for the casually, or energetically elegant and has little to do with sports. Something different? Try Titicaca on P3, a small store selling Peruvian style woollen scarves for HK$199 and knitted tops for HK$599 and up. Look for the tiny llama at the entrance.
Between wtc more and Sogo in the warren of side lanes criss-crossing Jaffe Road and Lockhart Road, you'll find an arsenal of cheaper stores selling shoes, women's accessories, cosmetics and jeans. One such haunt is the ever popular and stylish Maple (491-499 Lockhart Road, www.maplefashion.com), with outlets in Sheung Wan, GF 19 Lee Garden Road Causeway Bay, and at 68 Johnston Road Wanchai. Pick up a none too tatty knitted  jersey for just HK$99, a slim leather belt with brocade buckle for HK$29 or a cotton top for HK$129. Great deals abound, especially during summer and winter sales. Online shopping in Hong Kong is possible at several of the links provided in this article.
Right behind wtc are bossini (www.bossini.com), G2000, Clark shoes, Hannah (handbags), a large Broadway for electronics, cameras and mobile phones, and City Chain for watches. Displayed at 492 Lockhart Road (and at iSquare in TST) are the stylish Italian deerskin handbags by Cobo (www www.cobointl.com).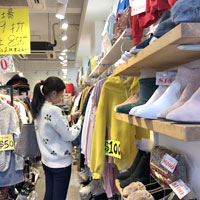 Shoe stores and crazy discounts and sales at Carnavron Road, TST/ photo: Vijay Verghese
The bags are finely crafted and feature reversible designs with bright floral patterns on one side and elegant monochrome on the other, perfect for the office and apres-work play. You'll need to fork out around HK$3,500 for one roomy tote – if you're lucky you may get a second inside bag as a throw-in.
On the same street you'll pass The Body Shop, bauhaus, Apple Shop (jeans from HK$835) and shoe stores Mirabell, Joy & Peace, Staccato, Millie's and Le Saunda. This is a good small stretch of road for quality leather at a less-than-pinching price. Around the corner is Jipi Japa, and at 482 Jaffe Road is Milan Station with an abundance of colourful handbags. Around the block on Hennessey Road walking towards Sogo are a Breitling watch store and Kiehl's skin care.
East of the Sogo department store across Great George Street are homey quick turnover stores Giordano and Crocs, along with two boutique shopping malls for the young and trendy that only open at midday (Island Beverly, 1 Great George Street) and 1pm (Laforet, www.laforet.hk) by which time all those sleepyheads with pumped up hair have finally surfaced to encounter their worst enemy – daylight. In their favour it must be said these youthful stores featuring bright Hong Kong designers remain open until 11pm or midnight.
Laforet, up the escalator after Excelsior Hotel, serves up accessories, cheap cosmetics, shoes, bags and wigs. Drop by Time Silver(tel: 3422-3630, shop 114) for crystal and silver jewellery crafted by local designers and pop over to Sweet Poison (shop 120), which offers a variety of dangerously high platform shoes sufficiently bejewelled to light up a ballroom at midnight. But be warned, more voluptuously proportioned Western women may not  find sizes that fit, as displays here are geared more towards svelte physiques and dainty feet. Still, it has to be fun with shops named Sweet, Ice-Vanilla, Sugar and Gorgeous. Explore.
Just a tad less cramped but also tightly packed into teeny corridors, Island Beverly provides some offbeat design and distraction that is always popular with discerning ladies. Pop by the basement Izzue and head up to the upper ground floor cubicle MAG (UG 803, tel: 2881-5678) with its bold party shoes for women starting at HK$599.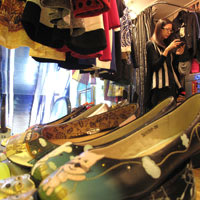 Island Beverly shop MAG/ photo: Vijay Verghese
They also have knitted tops and dresses. This rabbit warren of a mall is home to the likes of the sassy Hiroshima, Eden shoes (soft calf-leather boots for women at HK$835), and the tiny Tippie's Corner for ladies' footwear from HK$535.
Around the corner, still on Great George, Causeway Place (www.causewayplace.hk) is a shopping arcade up another impossibly tiny escalator leading into a maze of cubicles selling trendy clothes and accessories.  On the ground floor spot a large Korean cosmetics Etude House in signature pink. Upstairs in the tiny mall expect cheap prices, bargains and plenty of misspellings. Among the finds here could be cosmetic products from Two Girls, a Hong Kong brand that has been around since 1898 with ancient peeling posters to underline the point. Two Girls is in Shop No. 283. Elsewhere, spot brands like My Piggies 33, Cover Girl, and Daniel & Co.
Across the street from here at the Causeway Bay MTR Exit E is Great George Building and the light spangled Fashion Walk (www.fashionwalk.com.hk) leading into a two-floor arcade housing  (and on outdoors along Paterson Street and Kingston Street).  The whole area is generically called Fashion Walk so don't get confused. At Great George Building find crowd-puller Swarovski, Max Mara, A/X Armani Exchange, agnes b, Calvin Klein underwear, DIESEL, DKNY, I.T, Adidas, Stefanel, Burberry Black and Blue (aimed at younger twenty something shoppers), Vivienne Tam, double dott and a large Samsonite store for all your sturdy travel bag needs. Along Paterson and Kingston Streets spot Vivienne Westwood, an H&M Pop-Up Store, Patrizia Pepe, Francfranc, yet another DIESEL, and wild offbeat window dressing at the eye-catching Irregular Choice (1-3 Cleveland Street, www.irregularchoice.com). Try on a Chuckles shoe with a gnome for a high heel, a "Bo-Peep" Love and Magic, a Marble Moose high heel clog, or a parrot green Whiplash with purple trim and a bow. Think rainbows, ribbons, floral stick-ons and pricetags at around HK$1,000 up.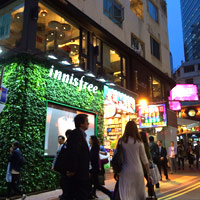 Innis Free Korean cosmetics Causeway Bay/ photo: Vijay Verghese
Also make time for the I.T store (www.ithk.com) at 2 Kingston Street for a shopping buffet. I.T is a Hongkong trendsetter and has a huge number of outlets around the city. Its brands include Comme de Garcons, Chocoolate, French Connection, Helmut Lang, Tsumori Chisato, Zadig & Voltaire, Mysty Woman and more.
You'll find I.T (and i.t) all over the place. Why the upper and lower casing? The lower-case i.t has more brands and edgy designs for the younger set. Then there's double-park for lifestyle streetwear.  Check out the upper and lower casings, as the youthful i.t brands tend to be a tad cheaper. This company is not to be confused with Far IT that handles retail outlets for mid to top-end brands like D&G, and Versace jeans.
The last block towards Victoria Park on Great George Street ends with Style House (Park Lane Hotel Shopping Arcade) to the left and Windsor House to the right. Style House is perhaps best known for its large IKEA store with do-it-yourself home furnishings from Sweden with unpronounceable names. The two-floor mini-arcade also houses some fashionable upscale optical shops in case you're hunting for new frames. Also visit the vibrant and whimsical Homeless & sidekick (www.homeless.hk) store on the first floor for assorted bric-a-brac from quirky furniture to army helmet lamps and bandoleer bracelets. Also spot a large well stocked Broadway store for electricals, gadgets, mobile phones and more.
Windsor House (www.windsorhouse.hk) has long been a favourite of Hongkongers for low-rent shopping and kids' stuff. Best of all it was once the computer mecca for middle class geeks and frazzled fathers with the tenth to twelfth floors devoted to software, PCs and Macs. The electronics have dwindled but still occupy the entire 10F as the Computer & Digital Mall. Children's clothes, baby paraphernalia, and games have sprouted strongly with Toys R Us (7F, www.toysrus.com.hk) that also sports a Babies R Us section 11am to 10pm, and a battery of outlets on the first and second floors – BeBe Dream, Book Buddy, Dr Kong, Hallmark, Kingkow (www.kingkow.com), and Toonsland.
Causeway Bay H&M flagship store/ photo: Vijay Verghese
King Fook Jewellery and Unique Timepieces fill out the watch and gems department with Rolex watches and IWC Schaffhausen taking the prime spotlight, while fun fashion stores include b+ab, GUESS, Giordano, I.T outlet, bauhaus factory outlet, bla bla bra (blablabra.com now moved to Langham Place in Kowloon and The ONE on Nathan Road TST), and mademoiselle. The ubiquitous SaSa cosmetics and beauty care outlet has a big presence here.
Closer to Sogo and conveniently close to a large HSBC Bank for last minute withdrawals is Hang Lung Centre (www.hanglung.com). It was a little thin on shops with a sprinkle of Sasa and Francfranc (www.francfranc.com.hk) but was redevloped in late 2015 as the latest Fashion Walk accessory with a flagship 47,000sq ft H&M store (www.hm.com) that muscled out the other outlets. This is a great corner location close to the MTR, food, and bank ATMS for some handy instant cash. This H&M store also rolls out H&M Home for those hard-to-find bits like curtains, bed covers, or fluffy towels. It may be faster to trawl these four floors than do the IKEA epic one-way walk. Find ladies' fashions on the first floor, kids' stuff on the second and meanswear on the third floor.
Across the pedestrian street from Hang Lung heading back towards Sogo is the small corner store Fusion (a sports outfits and sports shoes brand at Hong Kong Mansion, 1 Yee Wo Street) that took over in 2018 from Fossil (www.fossil-asia.com, now housed at Harbour City Kowloon and The Peak Tower) with its sporty and dressy watches, leather bags, sunglasses, and clothing. Alpha Males will enjoy the rugged gunmetal charcoal Nate watch. You'll need to get a Humvee as an accessory. The landmark rip-off camera shops on the same row with Nikon and Yashica signs emblazoned at their entrances would normally be given a wide berth but they have fortunately closed.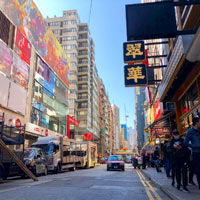 Causeway Bay is a popular shopping mecca/ photo: Vijay Verghese
HMV (www.hmv.com.hk/) at Pearl City occupied four floors of sheer unbridled shopping fun from the restaurant cafe (with flavourful hotdogs) and live band stage on the fourth floor to guitars and record players on the third to bicycles and toys and, of course, the latest in movies and Hollywood TV series DVDs and CDs including on BluRay. By December 2018 the store (and sister outlets) were going through a shutdown following dwindling revenues and non-payment of rent.
Cross broad Hennessy Road at Sogo, past the trundling trams and phalanx of buses to get to the "other" side of Causeway Bay which, impossibly, is even more packed. Walk along Jardine Crescent past the enormous and unmissable Victoria's Secret (www.dfs.com/en/hong-kong) in the DFS T Galleria (that replaced Forever 21 mid 2018) to get to the crowded alley of Jardine's Bazaar to your left where you'll find all manner of bric-a-brac, cheap clothing and women's wear accessories. Any Hong Kong shopping guide will direct bargain hunters straight here for easy-to-find deals (though we believe Granville Circuit in TST is a lot more fun and classy). An embroidered t-shirt will set you back just around HK$118, a ripped and faded denim jean HK$160, a Tintin t-shirt HK$59, and a cheap padded bra HK$35. You get the drift. Hole in your tights? Jardine's Bazaar has your size. This is a street market is a great place to find necklaces and earrings for just HK$20 a pop. In the regular stores lining this street behind the cut-price stalls, there are some bargain shoe stores, belt shops, and fashion outlets as well. Just remember the prices are low for a reason, so don't expect the best quality.
Continue walking around Jardine Crescent with Hysan Place to your right and you'll pass the ever-present Sasa, G2000 Plus, cosmetics store Bonjour, and the South Korean skincare innisfree store with its eye-catching vertical garden. There's bossini, Chow Tai Fook jewellers, Swatch and Longines for two ends of the watch spectrum, a nail bar, and Folli Follie. Cuffs (www.cuffs.hk) the bespoke gentlemen's wear tailoring outfit has moved from Lee Garden Road to 2/F, Yuen Yick Building, 27-29 Wellington Street, Central. This is just opposite the popular Yung Kee restaurant.
Hysan Place / photo: Vijay Verghese
To your right, all around the crescent is the latest big spender distraction and megamall from the Lee Gardens family, Hysan Place (hp.leegardens.com.hk) that touts itself as a fun lifestyle hangout with over 120 brand stores spread over 17 floors of retail, all peppered with Japanese, Korean and local talent. Come up to the atrium lobby to spot Swarovski, Chanel, GAP, Joyce Beauty and the multi-floor Apple Store where you'll get excellent service by a bright-eyed and gung-ho team of youngsters itching to tell you all about the latest sharp-camera iPhone 7s and field questions about the iPhone 8.
Of course, this HK shopping mall comes with many of the must-haves including DKNY, French Connection, 7 for All of Mankind and Vivienne Tam, but with a variety of new, international brands such as NINE, Double Standard Clothing and Language. Hysan Place also has serious bragging rights: think the aforementioned giant multi-level Apple store with the latest in iPads and iPhones, the city's first ever Hollister (second and third floors) and three levels of Eslite (8F-10F, tel: 3419-6788), a Taiwanese bookstore that is open 10am to 11pm, Sunday to Thursday and 10am to 2am the next morning on weekends. Take that bookworms...
On the third floor is Anteprima Wirebags. On the fourth and fifth floors, wander through an array of lively Asian designers. Stop in at popular Japanese brands. There's stuff for kid fashionistas too. On the fifth floor are double-park and the youthfully trendy bauhaus and on the sixth floor is lingerie from Bubbies. For shoes, pick from Dr Martens (Shop 708 7F), Millie's, and Staccato, also on the same level.
The Sky Garden on the fourth level offers an alfresco moment and on the sixth floor is a veritable Garden of Eden, a floor devoted to lingerie (pop by Bubbies), bathing suits, beauty products, and nails. Check out the casual, flirtatious underwear at 6ixty 8ight and must-see too cool for school (Shop 622, 6F, tel: 2167-6585) a hugely popular Korean makeup brand from Seoul that has burst upon the Asian stage with teasing vigour. From the lip pencils shaped like colourful crayons and peach lip balm almost good enough to eat, to startling combo eye colours, you will certainly feel you're first in class. You may not want to throw away the attractive wrapping either. On the same floor is another Korean brand, the saem (Shop 603).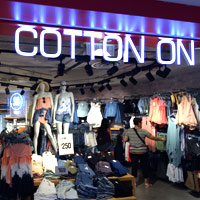 Cotton On at Lee Theatre, Causeway Bay/ photo: Vijay Verghese
Also part of the Lee Gardens family and a short stroll south at 33 Hysan Avenue is Lee Gardens One (www.leegardens.com.hk), with all of the de rigueur designer brands – agnes b, Anteprima, Anya Hindmarch, BVLGARI, Chloe, Dior, Chanel, Hermes, Louis Vuitton, and Shiatzy Chen (Shop 204-205, www.shiatzychen.com), which attempts to create the "new" face of China using classic ingredients.
Next door across Yun Ping Road is Lee Gardens Two, with a mixed range of fashion and fun for the well-heeled and world weary as well as kids. If the brood have saved enough pocket money, cart them across to BAPE Kids (by a bathing ape) at Shop 208, Burberry Children, Gucci Children, Hallmark, Jellybean, Ralph Lauren Children, or Nicholas & Bears. Later, visit Bottega Veneta, and Miu Miu for an adult splash. Keep an eye out for stylish Van Cleef & Arpels (www.vancleefarpels.com/hk/) at Lee Gardens Two for high end jewellery, earrings, watches, pendants, cufflinks, wedding rings and perfumes.
And there's more for your shopping hunt at Lee Theatre, where fun shopping abounds – how can you go wrong with brands like Cotton On, MUJI - with its fabulous discounts and constant stream of new lines - and UniQlo? These stores are well stocked with great displays with fast elevators as well as escalators to whisk you through the neon. Several restaurants in this building make for decent pit stops along the way.
Pootle along to 19 Yung Ping Road and you'll stumble upon Homeless (12 noon to 9.30pm, www.homeless.hk), one of Hong Kong's most famous home decor stores, crammed with whimsical accessories that will make you crack a smile or two. Taking up the first three floors of the building, Homeless combines industrial, rustic, and contemporary influences to surprise and delight. This chain has outlets at Style House next to Park Lane Hotel, and flagship stores at Level 8 of The One in TST and at 28 Gough Street, Central. Look for local Hong Kong designer SPY Henry Lau (GF, 64 Lee Garden Road, www.spyhenrylau.com). He also has locations at 21 Staunton St, Central (SPY Soho), Fashion Walk in Causeway Bay (SPY House), the HKDTC Design Gallery at the HK Convention & Exhibition Centre, Wanchai, and SPY Theatre at the Granville Circuit in Tsim Sha Tsui.
Causeway Bay's teeming melting pot is Times Square (tel: 2118-8900, www.timessquare.com.hk). The place is a rendezvous spot for everyone from teenagers, to suits, to gawping tourists. It's tall, sleek and well stocked. Take MTR Exit A, a short brisk walk from the main concourse. Hang out below the giant video screen to watch the annual New Year countdown. At the Times Square shopping mall you'll find upmarket flavours at Lane Crawford (tel: 2118-3638, www.lanecrawford.com) with its dizzying and wallet-humbling array of brands like Chloe, Lanvin and Stella McCartney, to Giorgio Armani, and Paul Smith. When it comes to 70-percent-off crazy sales here it can still cost around HK$600-900 for a pair of ladies shoes. There are several stores for men's shoes and sports shoes. Other popular stores in Times Square include the Spanish fashion chain Zara (3F, Shop 313), and eternal favourite Marks & Spencer (6F, Shop 617). The City Super supermarket in the basement is a welcome lunchtime distraction.
Times Square, a top hangout/ photo: Vijay Verghese
There's a bauhaus store at Times Square, a convenient Causeway Bay location for shoppers in a rush (and a well-stocked and orderly taxi rank on the street below). Also potter about Aape by a Bathing Ape (B2), DG Lifestyle store for electronics and mobile phones, agnes b, Cerruti 1881, Aquascutum, Broadway (9F) for more knockdown price electronics, Furla (5F) for fine handbags, and Salvatore Ferragamo (GF). And for watch shops there's Panerai (8F, Shop 808), IWC, Longines, Jaeger Lecoultre, Tag Heuer (8F, Shop 830), and the ever cheery Swatch (B2). It is worth exploring the area around Times Square, particularly Sharp Street (where the Holiday Inn Express is located) and Yiu Wah Street. You won't be disappointed if you are looking for local designer fare and imported clothing, accessories and shoes. Designer brands are opening shop here as well. Spot Burberry and its ilk cropping up in old shophouses. Unfortunately the advent of the big labels has meant a sharp increase in rent that has driven out some creative smaller local brands.
Back near wtcmore, Re:ech.o (tel: 2367-1131, 303, 311 Gloucester Road) along with several outlets from Mongkok to Castle Peak Road New Territories sell camping gear and outdoor kits for Mountain Service International Ltd(tel: 2541-8876, http://www.mshk.com.hk, 52-56 King's Road North Point). The company sources new and high-end items from around the world. Products range from fleece and Gore-Tex garments and thermal underwear to headlamps and anti-shock poles for hiking. For mountaineering gear, snow apparel, backpacks, hiking shoes, sleeping bags and climbing stuff, try Mammut (GF, 153A Queens Road East, tel: 2783-0788, www.mammut.com.hk). They have a shop at 74 Hollywood Road Central and at 107B Austin Road (in TST).
For a range of golfing gear from clubs, clothes and shoes to accessories in the Causeway Bay area, continue down Gloucester Road to find local Hong Kong golf stores Power Golf (tel: 2574-6868, or Eddie Lo mobile: 9748-5761, at 279 Gloucester Road), and Atlas Sports (tel: 2572-0122, open noon to 8pm, 278 Gloucester Road).
And Sino Plaza had a major makeover with the introduction of a multi-floor ISA boutique store (isaboutique.com.hk) in early 2014 focusing on women's apparel, accessories, and shoes.
Street smart in Wanchai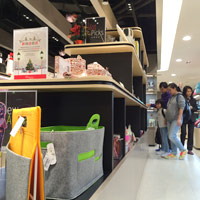 HKTDC is an excellent place for design inspiration/ photo: Vijay Verghese
In Wanchai at the Convention Centre (next to the Renaissance Hong Kong Harbour View Hotel) is the evergreen and ever sparkling Hong Kong Trade Development Council Design Gallery (tel: 2584-4146, (hkdesigngallery.hktdc.com) with an intriguing collection of odds and ends from picture frames and fashion accessories to soft furnishings and laptop speakers. The gallery's mission is to promote creativity and innovation and most products on display are locally designed. Find foam neck rests, mobile phone jackets, wallets, torches, wrist watches and all manner of fun stuff including a lot of eco-friendly gear. This is a perfect spot for Hong Kong memorabilia and quick gift purchases. HKTDC is never dull.
On the second floor of Causeway Centre (accessible by an elevated walkway) at 28 Harbour Road is the relocated Chinese Arts & Crafts (tel: 2827-6667) a longtime Hongkong shopping staple for the expat crowd. The place showcases clothes, furnishings, cushion covers, jewellery, jade carvings and Chinese artefacts. The group has stores at Pacific Place mall (Shop 202, Admiralty) and at 33 Canton Road, Tsim Sha Tsui, Kowloon.
Furniture and home interior buffs can wander along Queen's Road East for a range of fashionable, high and mid-range options. Check out the sleek Asian-inspired Ovo Home (G/F 16 Queen's Road East, tel: 2526-7226, www.ovo.com.hk) that also has branches of Ovo Studio at 20F Horizon Plaza in Ap Lei Chau in the South, and Cyberport (Shop 205) to the far west of Hong Kong Island. The eclectic Flea + Cents (1/F, 36-40 Queen's Rd East, tel: 2528-0808, www.fleancents.com) serves carefully sourced designer curios and vintage toys at somewhat wallet pinching prices. There's everything here from furniture and lamps to offbeat gifts, miniatures, books and stuff for kids, like a purple elephant "Zoo Timer" clock at HK$1,285.
The length of Queens Road East is packed with framers and galleries and curtain shops. In fact, each parallel street in Wanchai is devoted to one particular item. Gloucester Road, closest to the harbour has motor car showrooms - the Harley Davidson (hongkongharleydavidson.com) motorcycle place has relocated to Chai Wan with its roaring picks from Fat Bob and and Street Glide to Iron 1200 - while Lockhart Road does toiletries and tiles. Hennessy Road, the main artery however is a jumble of stores, Chinese herb shops, electronics and watches.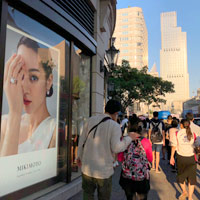 Tsim Sha Tsui teems with shoppers near Star Ferry/ photo: Vijay Verghese
The shopping jugular of Wanchai is at the intersection of Fleming, Wanchai, Wanchai Market and Johnston Roads. This is a bustling spot crammed with old style markets and squealing trams. At this busy junction, Tai Yau Plaza (181 Johnston Road, tel: 2893-7791) is a useful reference point. Spot bold bauhaus flare with two-tone handbags and funky jeans, Hallmark cards, and a great music selection on CD and DVD at Rock Gallery (Shop 202, Tai Yau). Expect everything from Moody Blues, Cream, Taj Mahal and Traffic to Yanni. Also available are some coffee shops for a breathing pause, and a long-queue Crystal Jade dumpling and noodles restaurant.
At the spot where Johnston Road dovetails with Hennessy Road, find the glitzy Emperor Group Centre (228 Hennessy) with its large video wall and road-fronting Emperor Watch & Jewellery store. Far more interesting though is the basement. Here at B1 is a discount store with truly bargain basement prices to cheer any skinflint heart. Say hello to Living Plaza (that replaced the Jusco $10 Plaza) where all items (except a few) are priced at HK$12.  Is it any wonder old grannies go wild in here, rummaging through neatly stacked shelves brimming with everything from reading glasses and balls of wool to scarves, plates, gift boxes and candles. It's all just twelve bucks. Heck, we say buy the lot.  Also spot a brilliant secondhand record shop – that's right, real LPs at Time Traveller, though the name is displayed only in Chinese, 2pm-8pm, Basement 07 (tel: 2574-3773). It's a small shop but offers a terrific selection of oldies and classical vinyl. We mean EVERYTHING – from Sinatra to Mahler.
The pièce de résistance for savvy parents with children to entertain is the neighbouring block between Mallory Street and Burrows. This is where the Comix Homebase (www.comixhomebase.com.hk) is located in a starched white colonial lowrise with an open-air courtyard at its centre, a splendid creative spot for kids. It is a characterful venue for comic illustrators and artists and the salons and spaces are available for events. At 7 Mallory Street is Panda-a-Panda which, as the name suggests, is a panda playpen with all manner of stuffed cuddlies from giant pandas (HK$1,200) to tiny red Michelin Man tube versions at HK$200. Next to it is Animate, with toon characters and transformers.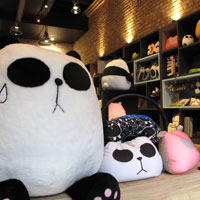 Panda-a-Panda, Mallory St, Wanchai/ photo: Vijay Verghese
In the same area, at 298 Hennessy Road find the cramped and poorly ventilated 298 Computer Zone for your budget electronic and video gaming needs. Great for kids, dreadful for mums, especially when confronted by dodgy DVD stores exploring the design benefits of silicone enhanced fantasy models as window dressing. Far better is the relatively spacious warren of Wanchai Computer Centre (MTR A4 exit, No.2 O'Brien Street) farther along Hennessy Road where along with the latest and cheapest software, laptops, cameras, printers and projectors, there's the aroma of gong cha downstairs and a Paisano's Pizzeria nearby.
From the Johnston Road intersection with Fleming Road, explore the tiny shops along Wanchai Road, or walk due south into the bustle of Wanchai Market Road with its meat and fish shops. The side alleys are brimming with street stalls. If you're a serious shopper in search of sales and deals, it's best to stay with Johnston Road and stroll up from Tai Yau Plaza past old-timer Fung Leung Kee Watch, sassy Wanko, and JP Books (141-147 Johnston) to black-facade ISAI (128 Johnston) where women's shoes start at HK$399 and a purple velvet half-boot with heels is priced at HK$799. A knitted top here will set you back a meagre HK$179.
Turn left into pedestrian Tai Yuen Street for more packed street stalls and roadside vendors selling every imaginable form of bric-a-brac. UNION (8 Tai Yuen) is a shoe store where a smart ladies' office shoe will start at HK$799, and a men's classic shoe at HK$650. Next to it is a Japan Home Centre for the cheapest possible home ware at the best possible quality. Also spot Hing Sheng (1-313 Tai Yuen), a shoes outlet with knee-high flat-sole leather boots for ladies at HK$299 and half-boots with heels at HK$479. They are well stocked with all sizes and shapes and colours. Hing Sheng has a smaller hole-in-the-wall corner outlet on the parallel Spring Garden Lane where Timberland-style steel-toe hiking boots will set you back HK$459. And that's before the haggling. It's a bargain. The shoes are reasonably sturdy. The Spring Garden store focuses more on men's shoes.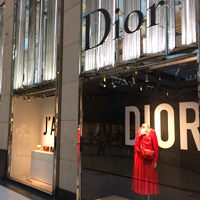 Iconic Dior has an anchor spot at the Landmark, Central/ photo: Vijay Verghese
Opened early 2016 after a fair bit of pummelling and rework is the reconstructed apartment-and-shopping old 'wedding street' now renamed Lee Tung Avenue, a pedestrian-only street with several bronze statues of children having a good time, and some fancy stores like a Leica camera outlet, Pandora for accessories, and Innisfree, the South Korean cosmetics store.
Farther along at 94-102 Johnston Road is the largish Westwood discount store for Hong Kong factory outlets stuff. Pick up bargain jeans for HK$79, a flannel full-sleeve shirt for HK$129, and a cotton sleeve shirt for HK$169. Next up is Nikebasketball followed by a small but popular Maple (68 Johnson Road) corner store where jeans are priced at HK$129 and denim hotpants at HK$34. The store also stocks cotton-weave jeans, shoes and lipstick.
Just up from here at the unmistakable yellow wash colonial lowrise of The Pawn at 66 Johnston Road, the ground floor used to be entirely occupied by the upscale and intriguingly old China Tang Tang Tang Tang (by David tang who started Shanghai Tang, 66 Johnston Road, www.tangtangtangtang.com). This lifestyle vignette of enduring fashions - where baby silk pyjama nightsuits (HK$1,800) and elegant black Mao-collar wool-cashmere weave long coats, rubbed shoulders with beds dressed in impeccable high thread-count linen, shining wine glasses and ceramic tiling - has closed and is moving address. Select Tang Tang Tang Tang products are available at Lane Crawford too.
Neighbouring corner store Tommy Bahama (60 Johnston Road, www.tommybahama.com) with its vast inventory of bright and eye-catching tropical patterns for casual wear for both him and her has moved to Unit 32B, 3/F SOGO in Causeway Bay.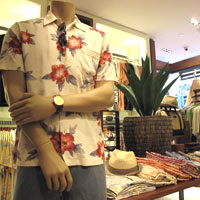 Tommy Bahama has moved from Wanchai to SOGO/ photo: Vijay Verghese
Gresson Street is another pedestrian lane with flower sellers, fruit stalls, locksmiths and general daily life-saving bric-a-brac. On Johnston at the corner is HOUSE, selling shoes and lovely Korean woollen scarves (HK$369) and high lace-up boots (HK$899). Men's shoes are cheaper at HK$399.
Wanchai is home to a wide range of sports shoes, tennis shoes and funky casual wear for all occasions. For those interested in buying shoes in Hong Kong, or trendy sports shoes, from assorted brands from Adidas and Converse to outlandish names and designs, or good sturdy classics like Clarks, scout along Johnston Road and the side streets spiking away towards Queen's Road East.
If you're searching for a good wool shop to finally knit those sweaters for the kids, try the well stocked Cheer Wool Company Limited (Shop 1, GF, 48-62 Hennessy Road, tel: 2893-6296, www.cheerwool.com). Choose from Japanese and European yarn, and pick up a pattern book too along with knitting needles and other accessories.
And medimart (G/F No. 2 Johnston Road, tel: 2866-8608, www.medimart.com.hk) offers a wide array of rehabilitation equipment and medical supplies. You'll find walkers, wheelchairs, bed pans, and aluminium walking sticks that double as foldout stools. There are several medimart stores around Hong Kong, including at 1065 King's Road, Unit D, G/F Eastern Centre and in Causeway Bay at 11-17A Tung Lo Wan Road. The stores are open 10.30am to 8pm. A light home use folding wheelchair is HK$5,900 while an electronic power ride is HK$22,000. Stay with the cheaper neck brace that starts at HK$118.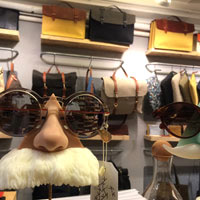 Kapok whimsy/ photo: Vijay Verghese
As Johnston Road angles towards Queen's Road East, the warren of connecting lanes offer interesting diversion. This area and up towards Star Street is worth a leisurely browse. Open 10.30am to 8pm Mondays to Fridays and from 11am to 7pm on weekends at 88 Queen's Road East is the delightfully quirky Mr Blacksmith "designwarestore" (www.mrblacksmith.hk). This ground floor enterprise is musty, dark and curious, packed with toy cars, cardboard cut-out assemblies and mobiles that will have any passersby drooling in no time. You'll simply have to wander in for a good rummage. There's another store in Sheung Wan too.
Just up the hill, taking the stone steps across Queen's Road, is the eye-catching designer collection and online store kapok (tel: 2520-0114, www.ka-pok.com) at 3 Sun Street. This shop occupies a quieter corner of the young and restless Star Street strip peopled by the gorgeous set with maxed out credit cards and tousled hairdos. Kapok serves up a curious blend of design oddities and hidden gems, from smart Danish designed canvas satchel bags stitched in Turkey (around HK$4,000 up), and classic watches from the German Junghaus (HK$6,000-HK$20,000) to sporty striped fabric strap Daniel Wellington watches and the rare London scents and blends of Royal Family favourite, Penhaligon's. Staff is bright and welcoming and there's no problem if you happen to be in a touchy feely mood. Take your time and check out the wares. This store's first showcase Hong Kong is around the corner at 5 Francis Street Yard, and you'll find them at K11 art mall and at Ocean Terminal in TST too.
Next to kapok is the bright bathing trunks store, Vilebrequin, with elaborate patterns that will dent your wallet substantially. At 1-4 St Francis Street is the immaculately casual and carelessly chic Men's Shop (tel: 2527-7030, www.imaginex.com.hk) from Club Monaco, its sole gents-only offering in the city.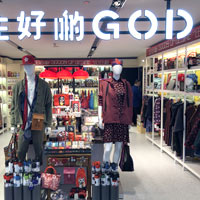 G>O>D store at Queensway, Admiralty / photo: Vijay Verghese
Spot linen blazers from HK$5,000 up and mildly patterned or plain cotton shirts from HK$790 up. Under the ImagineX group, Club Monaco is also at 16-18 Queen's Road Central, Times Square (Causeway Bay), Cityplaza (Taikoo Shing), Citigate (Tung Chung) and New Town Plaza (Shatin).
Next to it is nlostnfound living & co (3 St Francis Street) crammed with vintage memorabilia. And down a few steps in an inconspicuous alley is Just Green (tel: 2528-9969, 7 St Francis Street, www.justgreen.com.hk), a vegan store, with its coconut-based Happy Cow ice-cream, and soya products. Just Green is also at 52 Graham Street, Central, at Discovery Bay and on Lamma Island. Stop by the renovated art deco Old Wanchai Market building at 264 Queen's Road East that now sports fresh livery with a residential unit atop and some trendy cafes below from Ovolo as well as home decor stuff.
Admiralty and Queensway hustle
In the Admiralty area is one of the most popular malls listed in this Hong Kong shopping guide, Pacific Place (www.pacificplace.com.hk). It is accessible by bus, train, and tram,  and is well stocked with more designer labels than you could shake a stick at. This is a safe and sober starting point if you're looking for the latest digital cameras and photo supplies at a wee bit over the cheapest rates. With the latest cameras, SLRs, video cameras, fun gadgets, TVs and mobile phones Universal Audio and Video Centre has sadly exited Pacific Place and The Landmark. Well managed and hustle and hassle free, this was a safe spot for getting the lowdown on the latest without testing storekeeper patience unduly. Universal moved early 2016 to the second floor, yielding its prime L1 space to swish shoe store Kurt Geiger, before winding up July 2018.
For designer brand shopping and seriously upscale purchases if you're in the mood, Pacific Place mall is a hugely convenient spot with food, great spotless toilets, and distractions for kids, not least the terrific window displays at festive times.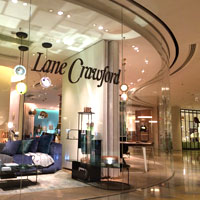 Uber chic Lane Crawford, Pacific Place/ photo: Vijay Verghese
There is a large Lane Crawford (www.lanecrawford.com) store with an expensive and extensive furniture gallery. Lane Crawford, which started off in 1850 (founded by Scotsmen Thomas Lane and Ninian Crawford), has a pedigree to match its prices and also has large stores at IFC, Central, and Canton Road, Kowloon. Find ready-to-go folding Strida bicycles and fun home stuff like mugs, bone china plates, rugs, and even bath and spa products. Lane Crawford is big on online shopping with sales of almost 70% off in winter and summer.
Start off on L1 (105B) at the elegant 2018 renovated Shanghai Tang (www.shanghaitang.com) store with new takes on fashion blending musty old China with contemporary New York. Their men's range has expanded too with smart coats and jackets with that signature Chinese collar. Ladies can go for pink silks and monogrammed tops. Also welcome neighbouring burger restaurant Shake Shack for a delicious pit stop. Or browse cuff links and handbags. On this level are Liu Gong Fang (coloured glass designs and statues for your cabinets), PYE, a local bespoke and off-the-rack tailoring store for men with a full-sleeve cotton shirt from HK$1,180, and the small but bright Vilebrequin (Unit 115, tel: 2918-0263, www.vilebrequin.com) with its splendidly hallucinogenic men's bathers at HK$1,800 a pop (down from $2,000) or more and kids' trunks at HK$1,300.
Take a look at Kate Spade bags, Marc by Marc Jacobs, agnes b, A/X, Nine West, Ashworth before getting snared in the large and catchy Zara for men and women, or rather, young men and giggly young women. Their prices are always competitive. TUMI (www.tumi.com) sports its latest in designer travel bags with some very elegant pieces with new selections arriving frequently and, next to it, are Repetto (for ballet shoes at HK$790 and smarter options, say electric blue with heels at HK$3,100), and Wise Kids, which has great educational toys for children. Universal Audio has moved out along with other camera stores and electronics specialists to be replaced on L2 by names like J Select, Lifestyle LAB, and drivepro (fun design collectables and travel accessories including Italian designer racing cycles, www.facebook.com). Drivepro is featured in Landmark Central as well.
Ted Baker (from London) serves up appealing ultra-slim coats and shirts for sleek lizard men (and women) with jackets from HK$4,400 up. D2R shoes meanwhile stocks up on funky Lacoste flat soles for men and women (try a two-tone leather shoe at HK$1,150, or a fluffy Eskimo ankle boot for a little more).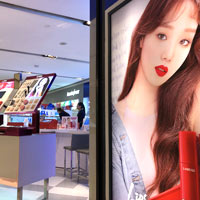 Laneige at Queensway/ photo: Vijay Verghese
Don't miss the huge multi-level Harvey Nichols store with its wonderful large display windows presenting everything from dinosaurs and zebras to blue elephants. This is a multi-brand store with everything from MCM and ARTE Madrid to Shisheido and Guerlain. Top designer brands at Pacific Place include, in the rarefied environs of P2 and P3, Dior, Vivienne Tam, Max & Co, Celine, Chanel, Bally, I.T, La Perla, Loewe, Lanvin, DAKS, TOD's, Alfred Dunhill, a large and glittering Louis Vuitton, Salvatore Ferragamo, Gucci, Hermès, Ermenegildo Zegna, and BVLGARI watches. The L3 Cerruti store has been replaced by Canali where a silk tie will set you back anywhere between HK$1,300 to HK$3,000.
Military buffs and those looking for quality replica miniature hand-painted toy soldiers need only pop into King & Country (www.kingandcountry.com) for a peek back in time. Great renderings, and expensive toys. Looking for a Hong Kong bookstore? Try the excellent Kelly & Walsh on L2. Sadly, music and DVD-store Hong Kong Records, a great meeting point, moved from L1 to L2 in July 2016 and was closed by July 2018, muscled out by designer brands and womenswear.
Right above the Admiralty MTR station and linked to Pacific Place by an elevated walkway is Queensway Plaza, which transformed from low-key to open-plan chic mid-2012. Expect contemporary space with plenty of eye candy from LAB Concept (labconcepthk.com). There is a smart array of women's fashion and cosmetics, while shoespace, immediately to your left as you enter, serves up fancy displays for Pedder Red, Dr Martens, Kate Spade, Alexander Wang, and Ash. At Pedder Red, pick up a basic velvet high heel for HK$1,090. On the wellness and pampering front, there's Kiehl's for hand creams and lotions, manned by the de rigueur grinning skeleton, the Korean Tony Moly (pomegranate or tea tree face mask for HK$120 for a pack of 10), innisfree, Topman (shortly), MAC, L'Occitane, Clarins and Lancome. You will also encounter vending machines selling various products, optical shops, and American Apparel (denim jackets HK$798). Just below at Hutchison House on Chater, a J M Weston store has replaced Alain Figaret and Bugatti is ready to make a splash too.
Where to browse in Central and SOHO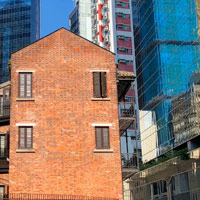 Brick building at Tai Kwun, Hollywood Rd, Central/ photo: Vijay Verghese
The upwardly mobile will rush to Central where, along with tossing their husbands' lifetime pensions into a shopping black hole, they can see and be seen.
The go-to place for 2019 is the reconstituted Tai Kwun (www.taikwun.hk/en/) Centre for Heritage and Arts at 10 Hollywood Road. This is the remodelled and restored Central Police Station incorporating the old barracks, magistracy and Victoria Prison. Old yellow plaster mixes with brick walls and cobbled courtyards to create an endearingly vintage ambience for a leisurely browse of upscale desigtner brands and local innovation. Find a contemporary art centre, lifestyle offerings, heritage tipples (Bar at Armoury), contemporary flair (Dragonfly cocktail lounge), cafes, and LockCha Tea House. There's more. Explore Harrison Wong outfits for 'urban men' on the prowl, TASCHEN the art book store, Vivienne Tam, a tailor, and a gift shop with a Van Gogh theme. All this where the local police constabulary - Indian and Chinese - was once billetted with a central parade ground linking the buildings.
The mother lode of top-drawer designer brands in Hong Kong is the trio of Landmark, Prince's Building and the stylish Chater House (tel: 2500-0555, www.landmark.hk) where you can have your unhurried fill of just about any unpronounceable European name. Several of these outlets have been dramatically reinvented, like the Gucci flagship store next to the Landmark Mandarin Oriental on Queen's Road Central. Louis Vuitton has pride of place at the corner of Landmark fronting Pedder Street. Chater House boasts several Emporio Armani offerings and some fabulously expensive home furnishings. Giant lit-up exteriors will impress upon you the value (and worth) of brands like BVLGARI, Piaget (at Mandarin Oriental hotel), and Cartier (Prince's Building).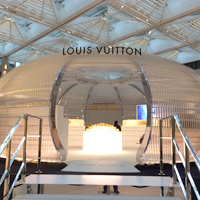 Space Age Louis Vuitton display at The Landmark, Central/ photo: Vijay Verghese
The Landmark (www.landmark.hk) is a hugely popular meeting point with spectacular much-photographed displays, especially festival time. Start off at the central fountain and head on to the likes of Dunhill, Ascot Chang, a flagship Dior store, Fendi, Diane von Furstenberg, miu miu, Vivienne Tam, and TOD's. Check out Berluti for amazing Italian Lord of the Rings elfin shoes, Balenciaga, Burberry, Celine, Chanel, Chloe, Dolce & Gabbana, Kenzo, Jimmy Choo and much more. Thomas Pink and its colourful ties has moved. Instead, explore Hermes, Burberry, Swank, LV, Prada, Paul & Shark, IT, Cerruti and Fendi. Watch stores by designer brands include GUCCI, Dior, Cartier, Balmain, Emporio Armani, Louis Vuitton, Tiffany & Co and others. Landmark is a high end Hk shopping mall for top fashion houses from around the world. Expect your wallet to get a pounding.
Next door, The Central Building boasts several upmarket jewellery and watch stores. And on Queen's Road Central is the Marks and Spencer flagship store (tel: 2921-8059, www.marksandspencer.com) – a huge complex of food, men's, and women's fashion, including a comprehensive lingerie section. Come here for your fix of shortbread or bulk buy English breakfast tea bags. You'll also find staple Indian curries, wines, and chocolates.
Across Pedder Street, facing Landmark, is the gracefully ageing colonial Pedder Building. A few years ago you may have stepped out of the MTR and surrendered to an assault of cologne trailing down the street and into the subterranean, cement corridors of Exit D1. Besotted girls vied to snap photos with bare-chested boxer-clad models at Abercrombie & Fitch, which transformed this iconic building with its dark, chandelier-lit high ceilings and grand staircases, like a prelude to some Roman orgy. Abercrombie has since moved to Harbour City (Shop 3320 Level 3) in Kowloon's TST
COACH, Central/ photo: Vijay Verghese
An elevator will shuttle you up to Pedder Building's unique offerings. On the third floor, you'll spot a gentlemen's play area packed with boys' toys (we mean fancy duds and dapper trappings), the Armoury (www.thearmoury.com, 2804-6991). Also in the building are Lehman Maupin (www.lehmannmaupin.com) for contemporary multi-discipline art, Gagosian Gallery (www.gagosian.com), and Pearl Lam Galleries (605, 6F, www.pearllam.com) featuring striking modernist shows like the L.E.D "Light Stream" display – minimalist art for bank tellers perhaps?
For families with young children and newly-weds, Bumps to Babes (Entertainment Building) with every essential, from cots and baby clothes, to maternity wear and children's books has closed and it's off the listed directory at Horizon Plaza too.
Across the elevated walkway by the Central harbourfront the tall glinting spires of IFC One and Two mark the outlines of one of the biggest and busiest malls on the island, IFC Mall (www.ifc.com.hk).Anchor tenant Lane Crawford runs a stylish and spacious outlet on the third floor of the mall, which also features a giant Apple Store (P1 and P2, Shop 1100-1103, tel: 3972-1500, www.apple.com/hk/en/). Expect all manner of digital mayhem as shoppers throng to get their hands on the latest iPhones and iPads. Elsewhere, a dizzying array of luxury and top-drawer brands await: think Alfred Dunhill, Anteprima Wirebag, Ascott Chang, Bally, BVLGARI, Cartier, COACH, Ermenegildo Zegna, Lanvin, La Prairie, Prada, Georg Jensen, Roberto Cavalli and Furla. The list reads like unending Hollywood movie credits. For tech-buffs, Oregon Scientific (hk.oregonscientific.com) has relocated to SOGO where all manner of drool-worthy items are on offer including weather clocks that also plot the phases of the moon.
There are several jewellery stores on the IFC's second floor and a selection of trendy stores such as Zara, Mango and Patrizia Pepe on the first floor as soon as you wander in. IFC is the address where Agnès b La Loggia (Shop 3089, IFC Mall, tel: 2805-0678, www.agnesb.com) has set up a mammoth 15,000sq ft flagship store.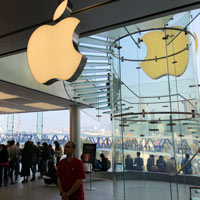 Mega Apple store at IFC, Central/ photo: Vijay Verghese
Specialty jewellery shops include Jan Logan, Qeelin (Shop 2059, tel: 2389-8863), ARTE Madrid (Shop 1018A, tel: 2295-3980, www.arte.com.hk), Carat* (Shop 1062, tel: 2234-7372) and Thomas Sabo (Shop 1018C, tel: 2295-3585). Also prominently featured are a whole host of beauty care shops, including FANCL, Clinique, Clarins, Estee Lauder, Shiseido, Bobbi Brown and more. Once you're done, pop by the PALACE cinema to catch the newest flick, or stimulate your mind (if there's any grey matter left) at the Dymocks bookstore.
Back on Queen's Road Central, follow the tailored suits over to Duddell Street, a small alleyway next to Ice House. Anchored by a charming old stairwell, this small pedestrian street is home to one of the city's most sought-after stores, Shanghai Tang (tel: 2525-7333, www.shanghaitang.com) at Shanghai Tang Mansion, 1 Duddell Street. Magnificently arrayed over three levels, Shanghai Tang offers the same brilliantly hued silks for all occasions it once displayed at Pedder Building. Launched in 1994, Shanghai Tang is a Hong Kong landmark and it's hard to walk in without picking something up.
From gowns and figure-hugging cheongsams to jackets and pyjamas, it's the perfect place to grab an eye-catching gift or stock your own closet. In the back room on the second floor, you'll find yards upon yards of fabrics ready for imperial tailoring. Mind the wallet, though, a relatively simple, silk tailored dress will run around HK$10,000. Shanghai Tang also has outlets at Pacific Place, Elements shopping mall, 1881 Heritage and InterContinental Hotel in Tsim Sha Tsui, and at the airport terminals.
On Queen's Road Central, starting at its eastern extremity at Ice House Street, spot shops like Longchamp (No.8 Queens Rd) followed by, as you stroll west towards Landmark, the fancy Club Monaco with its elegant, if pricey, Euro flair, DIESEL, and a fancy all-bling Joyce.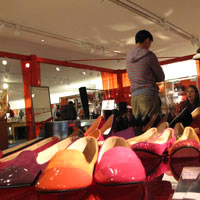 Pedder Red, LAB, Queensway/ photo: Vijay Verghese
Fronting the chic boutique Landmark Mandarin Oriental Hotel on Queen's Road Central, is the 60,000sq ft Harvey Nichols (www.harveynichols.com), spread over five floors. It offers a huge range of luxury brands. Close by in Entertainment Building at street level is the cavernous MCM flagship store, Porsche Design and a Folli Follie. The bustling HMV records once hidden away on the third and fourth floors – accessible by a secret lift- moved to Manning House (38-48 Queen's Road Central) basement. By December 2018 the HMV store (and sister outlets) were going through a shutdown following dwindling revenues and non-payment of rent.
Continue along Queen's Rd past the COACH flagship store that lights up the night to 68 Queen's Road Central, the former address of the popular bolt-hole for cheap, fast-fashion, H&M, now being replaced by Zara. Still, bargain-crazed shoppers will not be disappointed at the planned range of products and prices.
Just around the corner at 2-10 D'Aguilar Street leading up to the thrumming Lan Kwai Fong nightlife zone is the hugely popular Cotton On (tel: 2537-4267, www.cottonon.com/hk) with two floors crammed with slippers, t-shirts, skimpy dresses and beachwear at seemingly unbeatable prices. It is packed, not only with the young set, and understandably. Clothes can start at HK$99 or less. The chain also has several stores in Hong Kong and is known for its zesty displays.
Farther west along Queen's Road at 24 Pottinger Street, ladies will find Kenki (tel: 2523-9993, www.kenki.cc), a colourful and cheery shop offering oriental apparel with a modern twist. Moving uphill to the 23rd floor of  11 Stanley Street, check out Annette (www.annettejewel.com, tel: 2521-0205), an alluring shop kitted out in lustrous pearls and quality jewellery sourced from all over the world.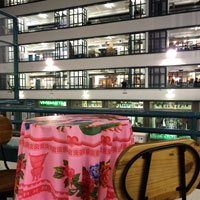 Pink table at PMQ, schoolrooms meet designer chic/ photo: Vijay Verghese
Walk down Stanley Street, and you'll come across Aberdeen Street and a few others like it that climb up in steps from Central to the fashionable Mid-Levels residential area. Party costumes and wigs abound. Check out the old lady selling famous "century-old" eggs at throwaway prices. It must be pointed out this is an acquired taste. Cuffs (www.cuffs.hk) the bespoke gentlemen's wear tailoring outfit (with a recent women's line) is at 2/F, Yuen Yick Building, 27-29 Wellington Street, Central, opposite the Yung Kee restaurant.
In a large corner plot framed by the upward ascending Aberdeen Street and Staunton Street, the lively mid-rise PMQ (www.pmq.org.hk) showcases local designers along with a melange of cooking schools, arts and craft, delicatessens, restaurants and ice-cream parlours, all set around a large convivial courtyard. Find Goods of Desire, bread n butter, and Vivienne Tam rubbing shoulders with outlets like Chocolate Rain, HKTDC Design Gallery, kapok, Tina's Choice, and The Refinery.
The bulk of the creativity on display is from the younger and hugely creative Hong Kong artistic set. The two breezy blocks - with plenty of open space, minimalist decor, and nice long balconies - were formerly a Central School and then served for a while as the Hollywood Road Police Married Quarters. A bit quiet late evenings so pop by lunchtime or in the afternoon. This is a nice pick on our Hong Kong shopping guide especially for younger visitors.
On Hollywood Road you'll find antiques and art galleries galore. For something a little easier on your wallet, try out adjacent Upper Lascar Road, also known (misguidedly) as Cat Road, for cheaper antiques.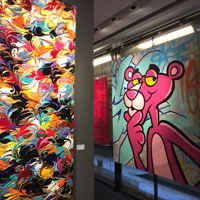 Pink Panther prowls at Opera Gallery/ photo: Vijay Verghese
At the beginning of Wyndham Street you'll spot Wellington Gallery (tel: 2804-6688, www.wellingtongallery.com.hk) for contemporary Chinese art and the smart Opera Gallery (52 Wyndham Street, tel: 2810-1208, www.operagallery.com) with excellent bigger displays spread out over four floors. Some of the larger portraits are from Spanish artist Lita Cabellut who describes herself as an "anthropologist" who "likes to study humans". The paintings have a cracked porcelain finish that adds an interesting touch. Expect to fork out HK$500,000 and up for one of her vivid works.
Also rummage offerings from Korean Young-Deok Seo (wire mesh sculptures), Seen (flat-colour pop art), Feng Xiao-Min (abstract acrylic landscapes), and even Dali, Miro, Warhol and Chagall. No high pressure sales - though well informed staff is on hand to fill in any gaps - and space to reflect. Definitely worth a look.
For more art, egg tart in hand peruse history and heritage through the lens of art in Macau as the neighbouring enclave of Macao is developing into a major art destination in Asia.
Apart from their fine restaurants and bars, Elgin, Staunton and Gough Streets in the SoHo (South of Hollywood Road) area offer a variety of shopping options ranging from designer clothing to household products. Local designers abound. Lianca Central (basement 27 Staunton Street, tel: 2139-2989, www.liancacentral.com) does designer-style leather handbags at affordable prices.
G.O.D (Goods of Desire, 48 Hollywood Road, tel: 2805-1876, www.god.com.hk) is the spot for original Hong Kong-themed fashion and interior products, a heady blend of the trendy, the retro and the kitsch. The store occupies the ground and first floors.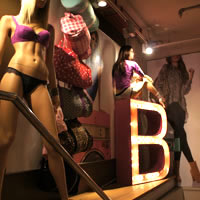 Cotton On, Central/ photo: Vijay Verghese
In the SOHO area at 34 Elgin Street and also at 68 Hollywood Road you'll pass shops selling snakeskin handbags and shoes for ladies. Run by the affable Ana Kwok, Ana (tel: 2770-8326, www.Ana-Bella.com) is a heady mix of camp and chic with stylish clutch bags starting at around HK$4,000. Colours and designs are appealing so get over your snakeskin goose bumps.
Also in the SOHO area look out for Homeless (GF, 29 Gough Street Central, tel: 2581-1880, www.homelessconcept.com) that has a wickedly good assortment of knick-knacks for all tastes. Lots of fun shopping options from solar-powered night lights and iPod accessories to funky home décor items. Homeless has several outlets around town.
Hard to find Beatnik (basement 31 Staunton Street, tel: 2881-7153), specialises in second-hand American '70s t-shirts and informal wear, priced anywhere from HK$90 to HK$1,000 depending on pattern, quality and stock. Check out the vintage leather jackets. Shirts cost around HK$120 and dresses from HK$400.
In the mid-Eighties if you were ploughing through a full-blown mid-life crisis or just in need respite from the relentless wallet bashing in Central, you might wander up to 7 Old Bailey Street for a session or quick browse at The Guidance Light (formerly The New Age Shop). It housed an assortment of music CDs and crystals and hosted visiting and resident psychics. We popped by to get au fait with terms like hypnotherapy, palmistry, runes, i-ching, and cranio-sacral therapy. Alas this hippy refuge is no more.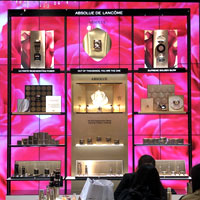 Lancome store at IFC, Central/ photo: Vijay Verghese
The Book Attic (tel: 2259-3103, www.bookattic.info, Cockloft No.2 Elgin Street, Central) serves up a wonderful selection of second hand books. Its passionate, ever cheerful, owner is always willing to chat at length to any wandering soul. For second hand English language books and music (and more New Age stuff) try Flow Organic Bookshop (1A, 38 Hollywood Road, tel: 2964-9483, www.flowagain.com) along Shelley Street and the Mid-levels escalator.
In Sheung Wan, the Protrek shop at 156-157 Connaught Road Central (tel: 2850-7900, www.protrek.com.hk) has a range of outdoor equipment, including hiking poles, apparel and camping gear from tents to sleeping bags. The store has a number of outlets around the city including at 46 Hennessy Road, Wan Chai and in Kowloon Bay at Shop 2A, L7 at Megabox.
Also in Sheung Wan is the megastore Wing-On (tel: 2852-1888, www.wingonet.com) at 211 Des Voeux Road, which sells a wide range of house ware, apparel, shoes, accessories, and everything in between.
Peak, Horizon Plaza, and Stanley
While enjoying some spectacular postcard views of Hong Kong, canter up for some fine views and fresh air – most times. Things are a bit twee and campy up here but, as one of the city's tourist hotspots, it is to be expected. At The Peak Galleria (www.thepeakgalleria.com), under renovation and upgrade (2018 through early 2019) you might later find Baleno Boy, Bossini, New Peak shoes (with an arsenal of well-stitched leather including Clarks, Florsheim, CAT, GEOX, Hush Puppies and more) and the upscale COACH. For beauty and lifestyle there's the ever-present SaSa, and century-old Hong Kong cosmetics brand Two Girls (L1, tel: 2849-2387) with its whimsical take on old-fashioned pampering. Potter about the popular and quirky GOD (Goods of Desire, L2, tel: 2778-3331) shop, and there's Chow Tai Fook for jewellery.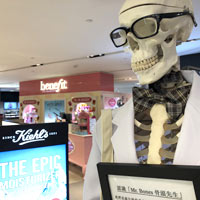 Kiehl's display at Queensway walk, Admiralty/ photo: Vijay Verghese
The Peak Tower (www.thepeak.com.hk/en) hosts a range of restaurants including the beer-batter fried shrimp specialist Bubba Gump, and outlets like Tang Dynasty Costume (selling traditional Chinese apparel and accessories), crocs (the signature waterproof plastic shoes with eccentric holes), and Giordano (including a Junior section). Also stop by Swarovski and Swatch, both on the ground floor. And at P1 is the Peak Market, a recreation of old Hong Kong-style street shopping with everything from tourist souvenirs to silken curios. There is a Madame Tussauds (P101, tel: 2849-6966) waxworks in the basement should the kids need a quick scare to quieten them for your next leg of shopping.
Farther south, a stunning drive by taxi or bus (Numbers 6, 6A, 6X and 260 from Central) will get you to Stanley. A former fishing village and now a full-fledged shopping and tourist area with gewgaw stalls, fancy restaurants and a beach, Stanley is a nice half-day outing. There's a fair amount of factory outlet and reject stock in various stalls that change names and locations frequently. This is a place for shopping bargains, weekend sales, and discount stores aimed at tourists.
Perhaps the biggest surprise for visitors who have not been back in a while, is Stanley Plaza, four floors of sleek resort-chic and timbered patios abuzz with kids, dogs and coffee shops arrayed around a performance amphitheatre facing the bay and the old stone Murray House (where the restaurants have made way for shopping outlets like th top floor H&M). From L4 come down the escalators past Dogaroo, Aveda, wellness stores and optical shops to L2 for Book Buddy (great for kids), Watson's Wines and a large TASTE store by ParknShop. At L1 are Biva (kids' stuff and school bags), Mama Kid, and G.O.D with its funky mix of clothes and home equipment. Here you'll also spy a giant golden bone commemorating a Guinness Book world record for the largest dog obedience lesson (354 canines) and "the most people brushing dogs' teeth simultaneously" (268, on 9 December, 2012). No wonder the mutts are out in force, yowling and yapping happily.
Walk past the bay dotted with colourful bars to step into the main Stanley Market for a serious rummage into t-shirts and handbags and gifts. Electronic oddities store EXCLUSIVE has disappeared only to be replaced by smaller wannabes including Oasis Gallery (Shop A, GF, No.58 Stanley Main Street) that stocks Chinese-made massagers, video cameras, spycams mounted on dark glasses, and more. Just HK$800 will get you a pair of discounted sunglasses with high definition video recording (with audio). The playback is pretty good and immensely disquieting for friends. More the joy. Or pick up a flexible roll-up plastic keyboard (that sort of works) for HK$300. Play Beethoven on the beach. In the stalls find Chinese name stamps and seals, bangles, toys, lacquer goods, children's silk night suits for HK$139, flip-flops, sturdy suitcases (HK$395), Che Guevara t-shirts for HK$130 or cheaper tees at three for hundred dollars, and kids' shoes from HK$299. There's a Travelex here so changing money is not a problem.
Early 2016 H&M arrived in Stanley's Murray House/ photo: Vijay Verghese
Also on Hong Kong's south side, in Ap Lei Chau, is Horizon Plaza (tel: 2554-9089, horizonplazahk.com/) with several floors of antique and furniture warehouses. This is a place for fun shopping with the family and plenty of space for parking and casual wanders over several floors. Nothing flash, just large homey displays and discount stores and factory outlets like SIDEFRAME (www.sidefame.com.hk/) on the 18th floor with 90% discounts on items from Anteprima, Anteprima Wirebags, Atsuro Tayama and Marimekko. Also look for the D-Mop outlet, Diesel, ECCO shoes, the Ermenegildo Zegna outlet, Folli Follie, GEOX 'breathing' shoes from Italy, Kate Spade handbags, Mothercare, Nicholas & Bear, OVOHOME, Ralph Lauren factory outlet, Ferragamo, Shiatzy Chen, and Shanghai Tang.
Alas, the delightful Shambala (2/F), a cool magic Alladin's Cave hangout has been gone since 2016, but other home furnishing and curio stores continue. On the first floor is mega furniture warehouse Tequila Kola (1/F, tel: 2877-3295, www.tequilakola.com). Scour Horizon Plaza for wood furniture, dining tables, bookshelves and beds employing eco-friendly and sustainable techniques.
The large aforementioned fashion factory outlets for include well known brands, such as the Armani Outlet (22/F) where a set of high heels will pinch just HK$2,600 or so from your wallet, Ralph Lauren (22/F) with a Polo t-shirt at HK$525, Moiselle (22/F), Last Call (22/F) for sportswear and kids' stuff, and the Pompei Warehouse (22/F) for a range of sub-retail brands like Bally, Dolce & Gabbana, Marc Jacobs and TOD's. Also find Max Mara (27/F), Juice Couture (27/F), Diesel (27/F), i.t (5/F) with party dresses and sequined outfits from HK$2,000 up and amazing discounts of 70 or 80 percent off, and the Lane Crawford Warehouse (25/F). Horizon Plaza is a great spot for some of the best factory outlet bargains in the territory and rates high for fun value in our Hong Kong shopping guide.
You'll need to take a taxi here. About HK$100 from Central. If you're trying to scrimp, however, you can still get here by public transport. Take buses 90 or 91 from Central or 92 from Causeway Bay to Ap Lei Chau Estate, from where there are complimentary shuttles running every ten minutes to Horizon Plaza. Or take the new MTR line to Wong Chuk Hang or South Horizons and taxi across from there. That's our hopping HK shopping menu with tips for wary first-timers and sly discount hunters prowling the island.
Taikoo Shing mall hopping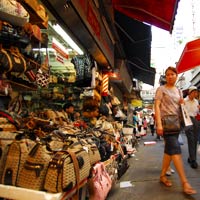 Wanchai Market/ photo: Vijay Verghese
At the east of Hong Kong Island, at Taikooshing (on the MTR train line), are the Cityplaza One and Two shopping malls with a wide range of goods from department store offerings to fashion brands and furniture. At Cityplaza Two look out for the huge multi-floor APiTA department store that also offers some Japanese outlets. Look for Columbia with its range of rugged yet smart outdoor clothes and shoes, Izzue, Broadway (for electronics, cameras and phones), Global Work "fashion mart", the youthful Bauhaus, Gigasports (with more shoes and equipment), and the long-serving Ulferts at ground level with its pricey furniture. On the 1st Floor are Pedder Red shoes along with classy heels from Aldo, Mango, Calvin Klein bags, Crocs for kids, and the ice rink.
On the 2nd Floor are the more upscale Max & Co, Kookai, DKNY, agnes b, Armani Exchange, Ashworth, Body Shop and Oregon Scientific (for electronic accessories like clocks and barometers). Pass Jumping Gym and Toys R Us to the walkway connecting up with Cityplaza One to spot large stores from both COACH and H&M. In Cityplaza One, stores of note include Marks & Spencer with its array of clothes and a small food section, G2000, sport b, Chocoolate, Quicksilver, Guess (tucked away next to McDonald's), Nautica, and bread n butter for women's fashion. Here too are Maud Frizon, Joy & Peace shoes, Tom Lee Music (if you'd like to plink on the ivories), and UniQlo (on the fourth floor). Come up from the MTR exit to spot Muji, Timberland, bossini, Adidas, Staccato and Le Saunda shoes, and Wanko. An old Hong Kong workhorse, the Wing On department store, is at this mall too.
And just across the road at the Kornhill development is a humungous multi-floor AEON supermarket (formerly Jusco) and in Taikooshing at Cityplaza is the large and well stocked Apita (www.cityplaza.com).
TST, Kowloon, Sham Shui Po street shopping
FOR a tremendous Hong Kong street shopping binge and top back-alley bargains there's no better place than Sham Shui Po, a favourite with overseas visitors as well as shopper-mad locals prowling on weekends. Take the MTR to Sham Shui Po station on the Central-Tsuen Wan line. Exit either at D2 which brings you right to the fabled Golden Computer Arcade and its warren of electronic deals and latest gadgets; or A2 that disgorges shoppers at Apliu Street once renowned for its ladies of the night.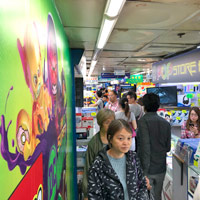 Golden Computer Arcade, Sham Shui Po/ photo: Vijay Verghese
From Golden Computer arcade and sister buildings all crammed with computer junk that will have nerds orgasmic, head down Fuk Wa Street for some bustling street markets packed with clothes, kids' stuff and more. On the other side of the main road divide that splits the district, walk through Apliu Street and cross to Ki Lung (packed with textiles, buttons and bows), and then on to Tai Nan Street with its gaily painted buildings and street art. The entire area is dense with boutique cafes serving everything from pasta and coffee to Indian samosas, tandoori chicken and dimsum.
While enjoying a shopper resurgence of sorts, this is one of Hong Kong's oldest and poorest districts. What this means is Sham Shui Po is is a snapshot straight into the Sixties. Not much has changed in this low-rise low density area. People are friendly and the pace is relaxed - quite unlike Kowloon and Tsim Sha Tsui's racing hordes.
Tsimshatsui or TST in local parlance is well known for brand shopping, especially around the vicinity of five-star hotels like The Peninsula, The Langham, and the Marco Polo Hongkong Hotel (whose lobby opens onto a Lane Crawford). And in recent years it has crossed over to West Kowloon around The Ritz-Carlton and W Hong Kong where both hotels are well positioned for forays into Elements mall. Kowloon and TST are where you'll likely hunt for camera stores, computers, discount watches and electronic gaming stuff.
The 1881 Heritage (tel: 2926-8000, www.1881heritage.com) development at 2 Canton Road, on the site of the former Marine Police Headquarters is a colonial confection that includes a grand central square with fountain and stretches from the road to the top of a hillock. A Shanghai Tang store (G/F House 1, 2A Canton Road, tel: 2368-2932, www.shanghaitang.com) occupies pride of place in a historic brick building near the entrance, facing the Rolex and Tudor watches showrooms. This area is a three-minute walk from the Star Ferry. Also find IWC Schaffhausen watches, Cartier, Vacheron Constantin and other luxury watch brands like Breguet and Jaeger Lecoultre. Jewellery shops include Tiffany & Co, Frey Wille and Van Cleef & Arpels. Elegant curved staircases rise up two levels to the white colonnaded Hullet House hotel atop the rise. With the uplights on at dusk, it is a striking tableau.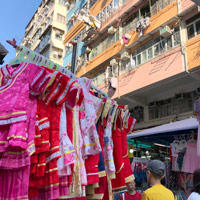 Bright kids' clothes on sale at Fuk Wa St Sham Shui Po/ photo: Vijay Verghese
Flying enthusiasts could try Aero 320 (a320.hk/) on Austin Road, Kowloon with pretty realistic flight simulations for the old laundry-grazing Kai Tak airport landing in Hong Kong (HK$1,300 for a half hour), the testing Paro Valley approach in Bhutan and Airbus skill tests.
Branching off the main Nathan Road strip (once referred to as the "golden mile") you'll spot K11 below Hyatt Regency on Mody Road, and i SQUARE just behind The Peninsula. Occupying the lower floors of the Hyatt tower, K11 (hk.k11.com/) is a lively and popular Hongkong shopping mall that takes a spunky stab at melding art and fashion with an array of sculptures, modern art, video screens, and aerial, suspended works. Encounter a large bronze horse next to the vast Omega showroom, a crazy bookshelf, cubist birds hovering under a high ceiling, and flower-pod chairs in metal. K11 is directly accessible to the MTR via an underground walkway. You may come across a Mona Lisa depicted as a giant toast collage, or a giant white dog's head on the entrance wall. This ia popular mall for Japanese shoppers (especially women) who are incorrectly labelled as pure SOGO tourists.
It describes itself as an "art mall". It is not huge but it is certainly a place for fun shopping and a sniff at rolling art displays. Browse an eclectic mix of brands from Dr Martens shoes, agnes b, and 7 for All Mankind, to Columbia and Miss Sixty for the younger crowd. Also explore Thann and L'Occitane for wellness and spa products or pop into the Salt Spa by Premier Dead Sea for a facial. Dead Sea mud is renowned for its healing properties so get down and dirty, healthily so. Also browse D-mop, mademoiselle, and Longchamp.
i SQUARE (tel: 3665-3333, 63 Nathan Road www.isquare.hk, MTR exits H and R) is a vast and gleaming multi-storey affair with a UA Cinema (including an IMAX Theatre, 7F) and numerous food outlets (including several Japanese restaurants) should your feet tire.
Homeless, Lost & Found at The One, Kowloon/ photo: Vijay Verghese
On the first floor, spot COBO bags from Italy, a large Francfranc, and Babies R Us; on the second floor is Mothercare, Log-On by City Super with an eclectic array of quirky lifestyle oddities, and Himalaya Cashmere; on the fourth floor is a Sugarman with stuff for tots and sassy tykes; and on the seventh floor are the cinema halls. And on the ground floor is a Marks & Spencer (G03, and UG03).
For fast and fancy tailoring, drop by famous Sam's Tailor (tel: 2367-9423, www.samstailor.com) in Burlington Arcade, off Nathan Road. The unassuming Sam's has stitched outfits for Bill Clinton, Michael Jackson, Luciano Pavarotti, Serena Williams and Archbishop Desmond Tutu, among others. Manu Melwani will offer you a beer or a Coke while you fuss over your fitting (24-hour suits start at around HK$2,500).
Farther into the heart of Kowloon are some more big shopping centres. At 100 Nathan Road is The ONE mall (www.the-one.hk/en), adjacent to the Mira Hotel and opposite the Miramar Shopping Centre. The One boasts many beauty and youth boutiques, including the flagship store of Japanese fashion brand Beams. There's also a Harvey Nichols Beauty Bazaar, and a delightful Homeless (L8, tel: 2997-8192, www.homeless.hk) household store on the eighth floor combined with sister brand Lost & Found. Step out of the lift into a whole new world of fantasy and play with a riot of paraphernalia that will take a few hours to rummage through properly.  Take a look at the wild cushions with piano key covers and one with a large grinning grizzly bear. Pick up stuffed dolls, play with mugs and saucers, check out sofas and greeting cards. Everything is different. If you have a wacky sense of humour you'll love Lost & Found and Homeless. Need a break from fashion diva pursuits and Anna Sui, b+ab, blab la bra, and Chocoolate? Pop into the always entertaining 2% store (L321) or catch a movie at the Broadway Cinemas.
Or stroll along Nathan Road skirting Kowloon Park, taking in street-level stores at the long and easy to browse Park Lane Shopper's Boulevard.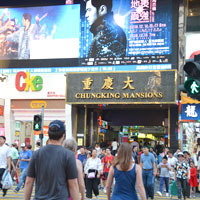 Kowloon's Chungking Mansion is a rabbit warren of curry shops and electronic bargains/ photo: Verghese
The miraplace mall (www.miraplace.com.hk/) was smartly renovated in 2010 and presents a sleeker, modern persona aimed at the young, hip and restless. It offers the traditional mall fare, including fashion stores like A/X Armani Exchange, Anna Sui, b+ab, Calvin Klein underwear, D-mop, DKNY, i.t, Vivienne Westwood, and more. Also find agnes b, sport b, UNIQLO, Muji, and 6ixty 8ight. After burning off some calories and gawping at the hole in your credit account, stop by at one of the restaurants like Yunyan Sichuan on the fourth floor, or The Great Indian Kebab Factory on the second floor.
Across the road and linked to Hotel Mira is the gleaming upscale Mira Mall (opened April 2012, www.mira-mall.com) that boasts a clutch of high end designer fashion brands including Ashworth, Calvin Klein underwear, 6IXTY 8IGHT, Homless, Samsonite, sen-ryo, Tempur (pillows and mattresses), Uni Qlo, and Vivienne Westwood.
Harbour City (tel: 2118-8666, www.harbourcity.com.hk) with easy access to the Star Ferry at the southwest tip of the Kowloon peninsula is another one of the biggies covered in this Hong Kong shopping guide. The whole development actually encompasses Ocean Terminal, and Ocean Centre and Gateway Arcade, with a grand total of over 700 shops selling everything from apparel and beauty items to jewelry, diamonds, and watches to audio visual and electrical appliances and everything in between. It boasts luxury shopping conglomerates like Lane Crawford and, on the third floor of Ocean Terminal, LCX (tel: 3102-3668, www.lcx.com.hk) with 80,000sq ft of floor space and a broad canvas of apparel and accessories. Also explore Club Monaco, EVISO, Fendi, Fly Girl (L2, 2504), Charcoal, I.T, French Connection, Zara, Moschino, Kenzo, Repetto ballet shoes, Pink Martini, or cut-rate Miffyx2%. There's even a Roxy and Quicksilver for surfer enthusiasts. It's all here.
Toys "R" Us (www.toysrus.com.hk) is in the ground floor of Ocean Terminal where you'll also discover assorted other kids' brands. Shopping for kids or with kids is no problem here as there's acres of space and lots of eating outlets for a pit stop when the feet give way. Beware of weekend crowds though. During popular holidays the camera snapping hordes will sweep you away in a current – and direction – not wholly of your own choosing. Toys "R" Us also has stores spread across Hong Kong in locations like Cityplaza Tai Koo Shing, Aberdeen, New Town Plaza (Shatin), and at YOHO Mall Yuen Long.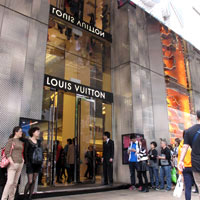 Crowds at Louis Vuitton Canton Rd/ photo: Vijay Verghese
At 5 Canton Road you'll find the flagship Louis Vuitton superstore (tel: 2736-0007, open 10.30am to 9.30pm) with everything from its monogrammed bags to shoes, glasses and fashion accessories. Crazed tourists and mainland day-trippers constantly crowd the entrance and have to be placed in queues to manage an orderly entrance. Dolce & Gabbana (Harbour City Shop G108, 17 Canton Road) had its share of crowd management woes in recent years when Hongkongers took umbrage at the store permitting Chinese tourists to snap pictures but not HK locals.
You can't miss the giant signs for Hermes either. Walk along Peking Road to One Peking Road to spot giant stores from Dior, Miu Miu, Cartier, and Ermenegildo Zegna. The designer brand onslaught is relentless and shoppers wearily trudge from store to store with fewer smiles and less change in the pocket as the day progresses. It never stops anyone though. Across Canton Road at Silvercord (www.silvercord.hk) you'll find I.T. Chocoolate, Rococo, SaSa and Colourmix (for cosmetics and beauty products that are not expensively priced). Across the road, on the ground and first floors of the Sun Arcade, you'll find a big DFS Galleria (www.dfs.com), offering designer brands from around the world.
In fast developing West Kowloon, designed to reflect the five Chinese elements of fire, water, wood, earth and metal, the 825,000sq ft Elements (www.elementshk.com) shopping mall, above Kowloon Station offers an eclectic, designer brand mix. This is a vast space where it is sometimes hard to get your bearings with angled and curving walkways lined with everything from Anteprima and to H&M and Shanghai Tang, Louis Vuitton, Prada, Miu Miu, Zegna and Gucci. Berluti shoes are here as well if your feet are slim enough to fit. You might be the male equivalent of Cinderella trying to squeeze into the elegantly toned leather with an elfin appeal. Other designer brand stores include BVLGARI, Chanel, Dolce&Gabbana, DIOR, Furla, Giorgio Armani and Jimmy Choo. Callaway Golf (cmp.callawaygolf.com/) with its clubs, drivers and more has moved to Harbour City in Kowloon and and SOGO in Causeway Bay. And for kids, there's always Nicholas & Bears. Tired of shopping? Head to the lively "Fire Zone" at Elements to take in movies or The Rink (G001) for a spot of ice-skating. This is a large and sleek Hong Kong mall but with a somewhat confusing layout.
Granville Road and Circuit
Granville Circuit intersection TST/ photo: Vijay Verghese
Is everything expensive in Tsim Sha Tsui? Far from it. Avoid the rip-off electrical and camera outlets of Nathan Road and walk on to Granville Road and the atmospheric Granville Circuit that require their own dedicated section. If you're coming here by underground train (MTR), take the B1 exit at Cameron Road and walk up Nathan to Granville. Here's you'll find a huge assortment of garments that won't hurt your wallet. Blouses and shirts start from HK$30-$40 though you can come across tousled items for less than $20 in must-sell-today cardboard boxes and instant closing-sale DVD shops will practically beg you to take away their CDs. This is the place for Hong Kong bargains and street shopping at its best. Look for the best deals and seasonal winter and summer sales with up to 90 percent off normal prices.
Granville has matured vastly from its t-shirt days and now there's an assortment of quality stores, many by local designers and others selling Korean and Japanese lines. Explore mod Monki at street level in the Southgate Commercial Centre and then cross the road to the Australian casual fashion house, Cotton On. The vivid orange-hued Little Room corner store seems to have a permanent sale and the area is riddled with stores from Maple (an upscale version), bossini and, farther along the road towards Chatham (where the deals improve), to shoes stores Mirabell, Dr Kong, and Bauhaus subsidiary brand Tough Jeansmith where a pummelled and faded jean with some embroidery will set you back a cool HK$1,350. Well, this ain't a street stall is it?
You can't miss G Square (46-48 Granville Road) and its street fronting Como store (www.comofashion.com.hk) with its refreshing styles and decor. A waist-length dark red leather zip-up jacket for women will cost around HK1,390 with summer tops at HK$200. The quality is good. Wander into the corridor maze to spot Hisso that does premium chinos (HK$298) and shoes with a casual flavour and, on the other side of the maze, the impossibly tiny Macrame Bohemia selling iridescent Indian fashions, like a quilted crimson jacket for HK$500 while tabla music plays. Get stuck in for a good gander but leave your bags outside. There's no room at all to manoeuvre. Upstairs is the larger LJ Fashion that is fairly run of the mill, save for some nice shoes (ladies suede half boot from HK$1,300).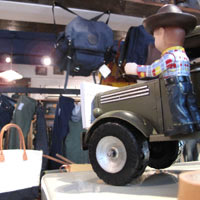 Miner49er at Granville/ photo: Vijay Verghese
Turn into Granville Circuit to head to number 5-11 and into Rise Shopping Arcade. The nondescript grey exterior belies the bedlam within. Arrive after 3pm to catch all the shops finally open and you can potter around until 11pm or so. This place is similar to Island Beverley in Causeway Bay with lots of local designer shops and imported fashions, much from South Korea. Check out tiny shops selling men's shoes, like Mr Fat (3F) that specialises in lumberjack clodhoppers. REACT (Shop 307, 3F) is a nice corner store that has been around for a while selling Korean-made cotton shirts at HK$400 and denim jeans at HK$699. The delightful store, The Minimal (Shop 120), stocks all manner of vintage looking bric-a-brac from model cars to creaking old clocks. It is just a hole in the wall but has managed to cram all manner of memorabilia in including lamps and lampshades cluster across the ceiling. Mr Collection (Shop 117) again specialises in men's shoes.
Right next to Rise is a small Spy Henry Lau store and as your turn the corner, you'll pass the Park Hotel (which alao opens out onto Cameron Road) and the Ramada (with a sex store blinking furiously in front of it). Well, it's the back entrance so… Around the circuit and funky little stores and back on Granville Road, take a look at the walk-up stores inside Building No.59 and its neighbours for an eyeful of graffiti, narrow staircases, and some creative whimsy. Canadian-inspired Miner49er (No.59-1) is up a cramped flight of stairs but it is worth the heave. The friendly staff will show you around their lumberjack pad with the usual props – toy cars and vintage bits and bobs. The store specialises mainly in denim jeans with a North American flavour, and jackets. A denim jacket will set you back around HK$800 and a pair of blue hipsters about the same. The factory is in China but this is custom produced stuff.
Tsimshatsui East offers further low-end browsing possibilities at places like Peninsula Centre (clothes, handbags, Japanese restaurants and watch repair shops). Cheap deals and quick bites continue at Energy Plaza and Inter-Continmental Plaza/Toyo Mall nearby. Tsim Sha Tsui has several camera and photo supplies shops but care should be taken to not fall victim to "bait and switch" tactics. Never put money down as a deposit or advance for any electronic item until you have seen and established that it is the one you want. Shopping in Hong Kong for bargains is great but keep your eyes open and your wits sharp.
Mongkok madness and crazy bargains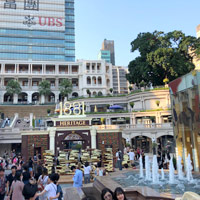 Designer brands and fountains at 1881 Heritage, TST/ photo: Vijay Verghese
There is more than a bit of the Wild West in Mongkok but this is the place for rock-bottom deals on anything from fashion to mobile phones and electrical appliances. This is another hot spot for digital cameras and videos. Take the MTR E2 exit and walk into Yau Shing Commercial Centre on your left. There are several floors selling cameras, digital videos, DVD players and other appliances. Prices vary but do bargain stoutly. Some products here do not have warranties so do check this aspect as well.
If you're in a rush, pop into a Broadway (tel: 3188-0288, www.ibroadway.com.hk) or Fortress (tel: 2781-1730, www.fortress.com.hk) in Sai Yeung Choi Street South and you'll certainly find your gadget. For Sai Yeung Choi Street take the Mongkok B3 MTR Exit. You'll emerge in the midst of large handbag, shoe and leather stores. Walk up the road through a clamour of street stalls (ladies' shopping is best done late evenings), to encounter SaSa cosmetics, Le Saunda shoes, and LEVI's at Argyle Centre. There are a few bright Colourmix stores with cheaper cosmetics and perfume, a large Chow Sang Sang jeweller, and a Skin Food beauty care store.
At the Argyle Street intersection and around it are an Apple Shop by Texwood for jeans and anything denim, Crocodile, two large Broadway stores, more Levi's, Crocs, Longines, and a large Mirabell stocking all manner of clogs and heels. On Argyle Street is the Commercial Podium Sincere House (tel: 2390-4379). In local Cantonese it is referred to as "Sin Tat". Here you'll find all manner of mobile phones and accessories. Some shops do trade-ins and warranties are not always available.
Walk along Nelson Street, and the first street parallel to Sai Yeung Choi is the Ladies Market where you'll find bargain clothes, bags, toys, VCDs, fake Rolex watches and so on. The next parallel street is Fa Yuen Street with a further range of stalls and shops. Sections of this area, which specialise in sports shoes and sportswear, will soon be redeveloped and a great many stalls will disappear, at least while the jackhammers are around.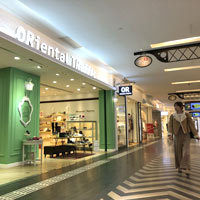 K-11 Art Mall walkway to MTR - easy access/ photo: Vijay Verghese
Cross Argyle Street at Portland to get to Langham Place (MTR Exit C3, tel: 3520-2800, 8 Argyle Street, www.langhamplace.com.hk) where a large metal sculpture of the plasticine man perhaps towers above the beckoning lights of H&M. This is a large hi-tech arty Hong Kong mall hosting over 100 trendy boutiques and accessories stores like Folli Follie, NOP, Cream Soda, Just 925, Hanaya, Pandora and Accessorize. Look out for Aape by Bathing Ape, Chocoolate, b+ab, blab la bra, i.t, Levi's (for women), Rococo, Timberland, Sugarman, and Vivienne Westwood. There is a large selection of shoes from Dr Martens (from HK$999) and ALDO to Vanilla Suite, Jipi Japa and Rockport. The mall also features an 83m "xpresscalator", a speedy way to get from the fourth to the eight floors while snapping away. On the way down to the MTR, make sure you step into the futuristic and eye-catching Monki just-about-everything store. Hunt here for shoe stores and fashion accessories. Best of all, if you really want a late night rampage here, there's the stylish Langham Place Mongkok hotel, an artistic and playful diversion (yes they have beds!) right above the melee.
At 30 Poplar Street Sham Shui Po is the outlet for Hidehiko Yamane (tel: 2741-2004), a trendy Osaka fashion house, formerly displaying in TST. Funky stuff galore. Check out embroidered charcoal and dark-blue denim jeans for men and women (starting at about HK$1,500) and printed t-shirts (from HK$380).
Kowloon Tong, Festival Walk, Shatin
No shopper outing would be complete without a trip to the vast mall that is Festival Walk (tel: 2844-2222, www.festivalwalk.com.hk). Take the C exit at Kowloon Tong Station. This is a great spot for the family with ice-skating and sufficient distractions for a half day or more. Bring along sturdy walking shoes, as this place is HUGE. All the usual high end and mid-end fare is available from Aape by Bathing Ape to Anteprima Wirebag and Bally. At the lux end find agnes b, Ashworth, Burberry Children and Durban and, for a better bargain, French Connection, Bauhaus and bossini. Check out Hollister (Shop UG-03, tel: 2265-5000, open 11am to 9pm), the California cool hangout, the utterly wild and high camp Juicy Couture (LG1-57), Mark by Mark Jacobs, and Patagonia (trendy and sharp outdoor lifestyle apparel) at L2-06.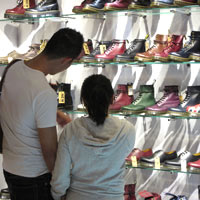 Dr Martens at Langham Place/ photo: Vijay Verghese
Farther out in the 'burbs on steroids, try out Shatin on a sunny day for a big stretch through the gigantic New Town Plaza (www.newtownplaza.com.hk). Welcome to the New Territories. Home to a giant IKEA store for years, the plaza also serves up classy morsels like Victoria's Secret (Shop 373, L3, tel: 2691-7999) for beauty accessories, Kate Spade, Kookai, and Club Monaco with its European chic cuts and slim lines. Pretty much everything is on display here from Titicaca (South American Peruvian flair) to GAP, and a Superdry Store and UniQlo. You can't go wrong. Wherever you step, there's a wallet beckoning window display.
Kowloon Bay and Telford Plaza
Megabox (tel: 2989-3000, 38 Wang Chiu Road, Kowloon Bay, www.megabox.com.hk) really is a bright red box – and huge. It's tedious getting there but when you do arrive (take the regular, free shuttle bus from Kowloon Bay MTR Exit A) the sheer size of stores here will leave you spoilt for choice. Swedish giant IKEA has two floors here. Other names include GigaSports and PROTREK for sports gear, Electronics Square by Home 21 store, Tonino Lamborghini, Quicksilver, Roxy, and more. There is a whole lot of space devoted to kids and babies. Just say, Captain Kiddo, Chickeeduck, Cotton Candy Kids, Eugene Baby, Harvest Toys, Kids Wonderland, Love Actually, or Mothercare. And that's not the end of it. There's a Toys R Us too. If you are beginning to lose track of time and space, distract yourself with the excellent UA cinema and IMAX theatre. And if that isn't enough, there's an international sized ice-skating rink and one of the largest Hong Kong book stores – Popular book store(www.popularworld.com). The Flight Experience simulator at G20 appears to have flown off. But try Aero 320 (a320.hk/) on Austin Road, Kowloon with realistic simulations for the old Kai Tak airport landing in HK (HK$1,300 for a simulator experience for a half hour), the testing Paro Valley approach and Airbus skill tests.
For shopping nuts looking for even cheaper prices and local stuff there is the opportunity to visit two really out-of-the-way malls in one trip by adding on Telford Plaza (www.telford-plaza.com), which is located next door to Kowloon Bay MTR station. This mall features plenty of mid-range brands catering for a broad variety of tastes. Watch out for adidas, ALDO, GEOX, Staccato (all shoes), 6ixty 8ight, Bauhaus, BESS, bread n butter, Swarovski, Lowrys Farm, Zara, and a Jumpin Gym USA.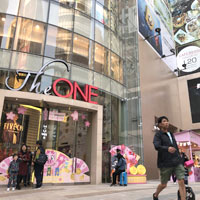 TST designer brand shopping at The One mall/ photo: Vijay Verghese
Telford has lots of eateries should you need a break. Not far from here by train is the apm mall (tel: 2267-0500, www.hkapm.com.hk) in another highrise. Step out at the Kwun Tong MTR station. Expect more of the same at this busy shopping mecca. You'll spot twist, sport b, Milan Station for leather, Aape by BAPE, ZTAMPZ, Columbia, Sugarman for kids clothes, Chocoolate, and UniQlo. There's a good range of skincare and beauty stuff too from Tony Moly, the Korean sensation, to Kiehl's, and The Body Shop for good old-fashioned hand creams. Department stores Muji and LOG-ON can also be found here.
The newer Popcorn mall (www.popcorntko.com.hk) is even farther out at Tseung Kwan O.
Citygate outlets, airport duty-free
Should you find yourself on Lantau Island before your departure, another option is Citygate Outlets (tel: 2109-2933, www.citygateoutlets.com.hk) in Tung Chung. The five-level mall, attached by a walkway to the Novotel Citygate Hong Kong, is only 10 minutes from the airport by taxi or S1, S52P and S64 airport buses. You can also get here by taking the Tung Chung line to Tung Chung station, exit C. Open from 10am to 10pm, the mall includes a host of discount shops and factory outlets selling Cerruti 1881, Club 21 Outlet (for Calvin Klein, DKNY), Club Monaco, DAKS, Esprit, Gieves & Hawkes (for impeccable British tailoring), Burberry, Nautica, Anteprima, Laura Ashley, Giordano, and Guess. Also spot an Armani Exchange outlet.
Assorted Hong Kong factory outlets here offer a stylish mall setting along with discounts of between 30 and 70 percent. The spacious Club 21 store is a good hunting ground and it stocks stocks a range of casual and dressy items at reasonable prices. A t-shirt at Giordano may set you back just HK$99, a Guess shirt HK$419 with denim jeans at HK$395. An Armani Exchange t-shirt is around HK$190 and a party dress about HK$390 up. Watch a movie, get a massage at the spa or go outside to take in Asia's largest outdoor kinetic fountain.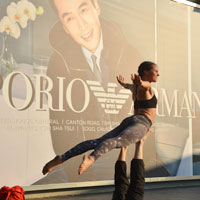 Acrobats enliven the evening near the Star Ferry Kowloon/ photo: Vijay Verghese
And if you're long on conscience and short on time, there's always duty free shopping at Hong Kong International Airport's SkyMart in the departure area and the SkyPlaza located in Terminal 2 (www.hongkongairport.com). Both offer acres of space and browsing before your flight. This is the place for duty-free shopping at Hong Kong airport. The SkyMart has a "Downtown Pricing Guarantee" that the price you pay for a product will be the same as for an identical product downtown. The SkyPlaza includes shops like Adidas, Calvin Klein Jeans, Chanel, Mango, Swatch, Coach, Hermes, Ermenegildo Zegna, BVLGARI, in base, Baleno and Giordano.
The casual wear and younger brands like in base, G2000, Lacoste, Levi's and Giordano Ladies, are in T2. The newer terminal also hosts Enzo, City Chain (watches), L'Occitane, Chanel, Frey Wille, and a Disney shop. Himalaya Cashmere just behind check-in sells Mongolian cashmere shawls and scarves starting at HK$880 (often with huge additional discounts). Duty-free prices are highly competitive with Singapore and Dubai though some electronic items can be a tad high-priced at times.
In February 2019 you could pick up a one litre bottle of duty-free Johhnie Walker Black Label for HK$275 (up a bit from HK$228 two years ago), with a 12-year-old Chivas Regal one litre pegged just a tad higher at HK$285. This is some of the cheapest duty-free price for alcohol in Asia with the only better or competitive prices offered by Singapore Changi Airport and perhaps Beijing Capital International Airport where firm government instructions (not market forces) determine pricing. In Hong Kong a duty-free Chanel No.5 parfum 15ml is priced at HK$930 (US$119) while a Dior J'adore 50ml EDP will also set you back HK$930 (the same price as in town at the SOGO shopping mall as there is no duty free tax on these items in the city). Take your pick – shopping in Hong Kong has it all.
Send us your Feedback / Letter to the Editor