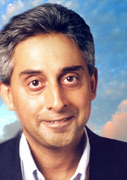 JOURNALISTS PRIDE THEMSELVES on ferreting out the truth and getting facts right. That is why I proudly nod my head when my ex-wife tells me I am a complete moron. This is because the meat and milk I procure, as a diligent hunter-gatherer – from the local Park & Shop grocery store – is always three times more expensive than her purchases. Women can read bar codes.
Men buy stuff off the rack because it's there, it looks good, or a good looking woman happened to smile at them. These are three smart reasons for any male purchase. I cannot read bar codes. And I haven't a clue about prices. Not even when a kind hearted checkout lady raises her eyebrows and remarks coaxingly, "This is really, really good milk. Are you SURE you want this?"
Send us your Feedback / Letter to the Editor

Share This Page
Journalists like to get their facts right. And travel journalists on hard-won foreign boondoggles will take their research to extremes. Driven by a keen sense of discovery, their journey takes them from the far corners of one spa resort, all the way to, well, its other corner. Then, recharged and renewed after a half-day treatment, disregarding the heat, the sun, the traffic, the mosquitoes, and wily sneezing chickens, they will boldly set out – to check if the buffet dinner is included as part of their freebie junket.
Travel journalists must grapple with Vichy Showers, seaweed lashings, exfoliations... move over Bogart
This is the sort of painstaking work that goes into a Bali travel guide. Travel writers use all their senses, experience and skill, to absorb a sense of the destination, all the while ensconced in the deepest recesses of their hotel's spa, where they must grapple with hi-tech Vichy Showers, seaweed lashings, exfoliations, and figure out how to pronounce words like "kinesiology" and "thalassotherapy". This is adventure at its most raw. Move over Humphrey Bogart. Journos don't waste time visiting temples, or beaches. They've seen enough pictures. And who needs to peer into smouldering volcanoes anyway?
Travel scribes bring you sea view rooms (at least a partial view, on a clear day, after you hit that 10x zoom on the video), boutique hotels (who cares if the furniture is uncomfortable), colonial hotels (where the plumbing doesn't work and the paint is peeling), and spa menus (which offer nothing to eat). Then there's state-of-the-art gyms and glorious sunsets and turquoise seas and…
While I was editing a business travel magazine several years ago we decided to upgrade our bland AIR FARES table and introduce a snappier design. The charts were duly cut and pasted into the new template and the magazine headed to print. Readers loved the new style – and our provocative sense of humour. "I particularly like your AIR FARTS guide," wrote one. Sure enough we had it all covered. First Class Farts, Economy Farts and so on. When the management raised a stink, we decided to invest in a proof reader.
After all, journalism is all about ferreting out the truth and accuracy. The proof readers, all well versed in the arcane arts, were briefed and set to work. There were no more air farts. The copy was fashioned into a politically correct mould. The newspaper I was working with, declared: "Singapore Airlines would win any contest by a mile (1.6km)." Another story argued: "Whether travellers will care to spend these prices on a hedonistic escape is a million dollar question (HK$7.8 million question)."
We thought about a close-up of Michael Jackson but that would have been an affront to all intelligent alien life forms...
Later, when a perceptive lady reader protested that featuring women in bikinis for our beach holiday covers was "sexist" and "male chauvinist", we pondered the issue long and hard. After all, you don't normally find men in tuxedos on the beach, or an Alpha Romeo. So we cropped out the woman. The sky was unbelievably blue so we cropped that out too. To be politically correct, we toyed with adding pandas, a rainforest, a dolphin, Mahatma Gandhi, U2 and Bono, and an appeal from Medicins Sans Frontieres. But then we couldn't see the beach.
We thought about a close-up of Michael Jackson, but that would have been an affront to ALL intelligent alien life forms. So we stayed with the woman, in a bikini, with the sexy pout, and the wet hair, and our lady art director thoughtfully airbrushed out the nipple show-through. The magazines winged off to diverse, and sensitive, Asian destinations. It was then I saw it. Our printer – who also printed a 40DD girlie Aussie magazine, had wrapped our consignment in outtakes from that venerable publication. Every pack of 100 copies was now wrapped in glistening, oiled and tanned bodies, au naturel – WITH NIPPLES. I slumped in my chair and waited for the end.
No one called. Not the Malaysians, not the Maldivians, not even the Indonesians. My mother called to say the cover picture appeared a bit unnatural but she couldn't quite put her finger on it. Yes, we scribes search constantly for the truth. Thus at this online magazine, a travel Bible for many, we sent out e-postcards inviting people to read our story on "Luang Prabang, Cambodia". It was a deliberate error, of course. Everyone knows Luang What-You-May-Call-It is SOMEWHERE IN ASIA. I can even spell Ouagadougou. Readers wrote in. One said, "Your editor is a moron." I thought of calling my ex-wife to ask if that was her.