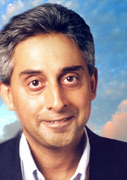 THERE'S SOMETHING ABOUT FRIDAY NIGHTS. In a strange city. At a new hotel. The electric frisson that sweeps over the body, the pounding heart, the ringing in the ears, as you dip your feet, sensuously, into the floral butler-drawn bath, forgetting for a moment, your humdrum life – and the fact that the hair drier is in the water, plugged in, and switched on.
Yes, Friday night raises the stakes. Especially if you're now looking like Michael Jackson, hair frizzed up to the ceiling, soprano psychobabble gushing through your singed tonsils. This is the moment that separates the men from the boys. Do you have the moxie to invite that cuddly rubber duck by the bath out on a date? Go on, offer it champagne, but only if it's under twelve. You're bad, so bad, you know it… Friday nights are like that.
Send us your Feedback / Letter to the Editor

Share This Page
So here I was, on a Friday night. If the duck had any alcoholic proclivities it was masking them pretty well. It was not just any Friday night, but a Friday night in Seoul, where tall, dazzling beauties attired in posh designer knock-offs, step out into the night in search of kimchi, and recently electrocuted foreigners.
Now, fair damsels in purple lipstick ensure the country maintains a healthy dollar balance...
"Excuse me miss, I really need a hospital." "I take you hotel." "I SAID HOSPITAL." "Yes, I know, hotel." These are latter-day Florence Nightingales who know that a good rest in bed is worth a lot more than some quack's over-the-counter prescription. They are right. Their restful alternative will cost a whole lot more. This is perhaps one of the reasons the economy is surging along merrily. Gone are the days when company presidents threw themselves off tall buildings to prove to their shareholders that there is a direct link between dud investments and gravity. Now, fair damsels in purple lipstick ensure the country maintains a healthy dollar balance.
I headed to the lobby and enquired what a single man might do. The concierge was adamant. Gangnam was too rough for foreigners. Its seedy nightclubs, where swaying Korean businessmen drank too much and then took swings at each other, were not for the faint-hearted. He suggested a place by the river where there was dancing, good music and captivating company.
Thus it was I found myself ensconced in a large luxury black cab, headed for the Mool Night Club at the Riverside Hotel. The main difference between a Seoul deluxe black cab and a regular taxi is that the driver doesn't appear to be trying to kill you with high-speed derring-do. A black cab offers the added attraction of a printed receipt and the certain knowledge that you just paid the equivalent of the entire Somalian GDP to travel three blocks.
My black sedan whispered off into the neon-lit night at a dignified, speed. I saw myself in the hotel's reflective glass, motionless, elegant – a Mafia don. It was an exquisite moment. Time stood still, for an eternity. Perhaps it was because we hadn't moved in fifteen minutes. The driver had turned the engine off but the meter continued to run at Olympian speeds. Traffic tailbacks stretched over the horizon, in every direction. I thought of the Mool Night Club and women with legs soaring up to heaven, and smiled.
The driver gunned the motor and we surged forward, another ten feet. A half hour later we had crossed the intersection...
An hour later the cab coasted smoothly to a stop. At an intersection two blocks away. A half hour later, we had crossed the intersection. The driver gunned the motor and we surged forward, another ten feet. Cars honked. Men eyed one another, murderously. Taxi drivers cursed, loudly.
Two hours later, I reached the Mool Night Club. Deafening music shook the building and a neon arch beckoned. I stepped into the Twilight Zone. The music grew louder, the women lovelier, the men tougher, and BIGGER. Then a hand thumped into my chest stopping me dead in my tracks. It was the doorman. "No foreigner. You go ITAEWON." Sure thing. Wonderful night for a drive. Gee look at those tail lights stretching all the way to Mongolia. Can't wait to get back in a cab and while away the rest of my Friday night.
My expensive black cab was still there, lurking with intent, meter revved up. In a matter of minutes (about 90 to be precise) I was back at my hotel. It was already midnight. A shapely Ms Kim strode purposefully in my direction. She was tall. Disturbingly tall. "What's your height?" I asked. "About 1.5 kilometres," she responded, flashing a brilliant smile. It seemed a bit too much to handle. And my rubber duck was waiting for me upstairs. I'd just have to deal heroically with the trade imbalance another day. My US$50 transport investment was holding rock steady, unmoving, in a black cab about ten feet from the hotel entrance. Yes, there's something about Friday nights...