GADGETS
2013-2016 digital cameras review
From small to big, from tough to cool. We look at entry-level DSLRs and compact cameras. Now the SONY A7s offers ISO400,000 and super low-light shooting.
SEE ALSO Shanghai shopping | Bangkok Shopping guide | Hong Kong Shopping | Kuala Lumpur Shopping | Singapore Shopping
JUMP TO Current Column | 2013 compacts and one svelte SLR | Micro four-thirds | Tough compacts | DSLR cameras | Pocket size non-compacts | Compact cameras | Even smaller compacts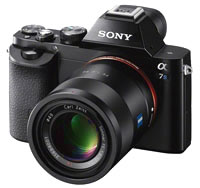 SONY Alpha 7s: great in low light
WITH the slew of compact micro four-thirds mirror-less cameras invading the market with their snazzy interchangeable lenses – the charge led by Olympus, which was first on the scene with its stylish Pen EP series – would SONY be far behind? Not for long. It made a stunning comeback with the eye-catching NEX series, svelte enough to grace a slender hand and macho enough to wow the boys. Now Olympus presents its heart-racing OM-D E-M1, a showstopper in every sense of the word, pitted against SONY's A7R. Who will be the last man standing? Our digital cameras review looks at these models and some earlier versions from compact to DSLR.
As a kid I grew up snapping pictures of mangy stray dogs on a Kodak Brownie and my father's Russian Zorki – more a tank than a camera – in between conducting unproductive pin-hole experiments at home. The dogs were the only subjects that did not run away and, while they earned few plaudits for prettiness, they held their ground while eyeing my ubiquitous lens sheepishly long enough for me to work out the f-stop and shutter speed.
The Olympus OM1 camera then, that landed in my grubby hands as I commenced my first job as a crime reporter on a daily newspaper in New Delhi, was a delicate Fay Wray in the beastly palm of Kong, a miniature, mysterious marvel, simultaneously loved and tormented. It was a superb performer.
The OM1 belonged to my girlfriend and when she graduated to the OM2, I moved up the ladder as well. The Olympus took excellent photographs but its main claim to fame was its exceedingly small welterweight format compared to the heavy, brooding gunmetal casings of the far bigger SLRs from Nikon, Canon and Pentax. (For the uninitiated, SLR stands for single-lens reflex. This employs a mirror to toss a true lens image up into your viewfinder so you can see, and frame, what you're shooting.)
Cool 2013 compacts and one svelte SLR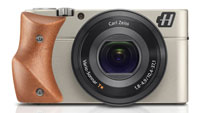 Hasselblad Stellar: stratospheric price
We all know about mutton dressed as lamb. But what about lamb dressed as lamb but priced somewhere between Porsche and Lamborghini? Puzzled? Don't be. The Hasselblad Stellar from Sweden is a looker in the compact class with a wide angle F1.8 aperture low-light Carl Zeiss lens and a stylish faux-wood handgrip. But look under the hood and you're in for a surprise as this is pretty much the SONY RX100 with some added trim and a staggering price tag of just under US$2,000.
This is not just about losing an arm and a leg over a fancy toy, it's about losing your mind entirely. As we said, this is the SONY RX100 with specs to match. It is certainly a quality performer that will deliver quality images. Expect 3.6x optical zoom, 1080p HD video at 60 frames per second, with the ability to shoot in RAW mode for those with professional intent, and a champagne aluminium body for a luxury feel.
Definitely one for bankers and lawyers but not for struggling dads trying to capture Baby Ben's first drool. Get the original SONY for something that fits both the pocket and the budget. No difference in image or performance or battery life. www.hasselbladusa.com
For better pictures you need larger sensors. That's the long and short of it. Fortunately, the tiny but far from tame Nikon Coolpix A rang in 2013 with a large APS-C sensor (hence the clunky name) that delivers fabulous images. The camera lacks a viewfinder (which we would have expected at its high price range – over US$1,000) and the design is plain-Jane gunmetal with a boxy but adequate feel with a rubberised grip strip to help with clumsy fingers.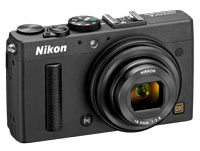 Nikon Coolpix A: large sensor
Expect a wide-angle 28mm equivalent Nikkor lens opening up to a good light-grabbing F2.8 with a 16.2 megapixel resolution, video capture at 1080p at up to 30fps (frames per second), a hot shoe, and a sharp three-inch LCD screen. This hardy contender can knock off four frames per second (not the fastest in its range) but with great picture quality right up to ISO800 after which there is a small drop off in quality at ranges beyond ISO1600. Colours are accurate and natural. The Nikon Coolpix A shoots in JPEG or NEF Raw. It is just about small enough to fit into a loose pocket without too much bulge but of course this is no super compact camera. www.nikon.com

The SONY Cyber-shot DSC-RX100 II is more than a mouthful and it serves up the usual jaw-dropping sleek design in a simple chassis with the signature Carl Zeiss lens. Expect a robust one-inch sensor that packs in enough light for sharp detail on its 20.2 megapixel image captures. Again as with other SONY cameras, video is recorded in a proprietary AVCHD format with optional MPEG4.
Think stereo microphones, a tilting three-inch LCD screen and WiFi file transfers. Shoot in JPEG or Raw with a 3.6x optical zoom, not a whole lot, but clear in the running. There are a range of exposure modes including shutter or aperture priority as well as scene modes to kill motion blur, manage tricky light in sunsets or rustle up night time portraits.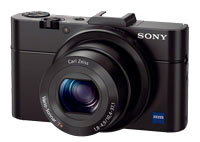 SONY RX100 II: 20 megapixels
And a hot shoe offers additional options for flash and lighting tricks. The camera has evolved modestly up from its predecessors, this time with better autofocus, faster hunting speeds in low light conditions, and pretty decent low light exposures (with a maximum aperture of F1.8). Its key strength is the ability to focus in minimal light without annoying whirring and back-and-forthing. You may have to play around with the settings to secure the right light balance but this SONY DSC RX100 II review comes up spades. www.sony.com

The Canon EOS Rebel SL1 100D has come a long way from the original series with a charcoal contoured body that has shrunk a great deal yet with a comfortable handgrip (listen up ladies) with all the attendant benefits of a lens-swapping SLR. The body is lightweight, easy in the hand and with just the right amount of buttons. This is seemingly a downsized EOS 700D (not entirely of course) with an 18 megapixel resolution and very good image quality with super saturated deep blues for twilight sky shots. This camera, one of the smallest DSLRs on the market, also packs in hi-def 1080 video with continuous autofocus. Use the mode dial to quickly switch shooting values. All in, despite the stripped down chassis, this is a sharp and smart entry-level DSLR camera that offers a professional feel with great image results. As with all Canon Rebel series, operation is easy and quick with deftly placed controls for novices up to prosumers who want a reliable and lightweight backup. Definitely one to watch during 2013 when comparing the latest SLR camera reviews. www.canon.com
Interchangeable lenses and micro four-thirds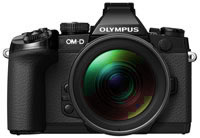 Olympus OM-D E-M1

Presenting a radical leap in the micro four-thirds mirrorless camera range that puts all competitors in the shade – including those from its own versatile stable – the Olympus OM-D E-M1 is in a class of its own. While a pretty reasonable performer for video if not outstanding like some of its peers, this Micro 4/3 camera offers still image performance that may almost equal some full-frame sensor cameras and serves up a versatile shooting range when matched with a good lens. This model does away with the earlier niggles of autofocus speed on the E-P1 and E-P2 series. While the E-P3 set the Pen standard the E-M5 (the precursor of the EM-1) became the camera of choice for many, including professionals. A palm-size ensemble that is pleasing to look at – with changeable lenses a huge bonus – the E-M1 produces excellent images while also having the added advantage of a rugged frame that can withstand some amount of shock, rain and cold.
The OM-D E-M1 offers a good amount of dial control to mix and manage shots on the fly with a 16MP sensor, an effective ISO range from 100 to 25,600 (though we would not recommend going over 3200, which is the equivalent of ISO 400 on film cameras), a bright electronic viewfinder, 10 frames per second in continuous shooting mode, a tilting three-inch LCD screen, and WiFi for image transfers to other mobile devices, and a single SD card slot that may prove limiting for some. There's both RAW and JPEG storage. Married with a compact 17mm F1.8 lens the camera's small form factor comes into its own while a larger lens will of course change all that instantly. The camera is a joy for photo enthusiasts with a huge amount of customisation possible on the fly. The downside? Good but not standout video (hi-def at 30fps with MPEG or H.264 formats), no built-in flash (though there is a wireless enabled hot-shoe and a flash may come with the kit) and, given the range of setting options, battery life limitations, a steep learning curve for those moving up from amateur ranks to semi-professional. www.olympus-global.com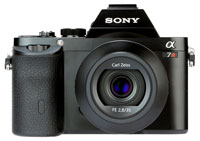 SONY Alpha 7R

The SONY Alpha 7R (more simply the A7R) is a must-have almost compact mirrorless full-frame camera with a fabulous feature set and outstanding abilities on both still images and high definition video. With a far smaller footprint than its SLR rivals, the camera with its interchangeable lenses is still a tad big for the pocket and exercises some reassuring heft in the palms for a steady shot. This is the SONY flagship that will carry the Alpha brand (into which the NEX four-thirds series is being bundled). Expect good images, sharp and clear especially in the RAV format and excellent video features and end results. The usual competent panorama mode works well and users can enjoy a tilting LCD screen, a hi-res electronic viewfinder, and WiFi capability. The downside is minimal but the slow start-up times and slow autofocus can be a hindrance at times. Prefer RAW capture to Jpegs for the best results.
The camera handles a fairly wide range of E-Mount lenses via the adapter ring as well as some excellent Alpha lenses. Good glass as always is the key to good images so give some thought to this area and stretch the wallet to the fullest possible. The camera is relatively small but with a sturdy magnesium alloy build that has a good feel. With 36 megapixels of resolution, most punters will be pleased at the details captured. There's 4x digital zoom, five exposure modes, nine scene modes – including a useful twilight setting – a four frames per second burst speed and a minim exposure of 30 seconds. The entire weight with batteries is a shade over 450 grams, which is more than manageable. www.sony.com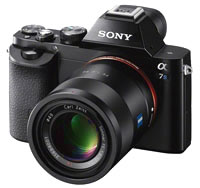 SONY Alpha 7s

In July 2014, a yet another iteration arrived, in full frame - no less - in the form of the gun-metal black SONY A7s, with a 12 megapixel capture and a sensor with the incredible ability to shoot at up to ISO402,000. This is may seem absurd to an average photographer but SONY has pulled this one out of a hat. At 12MP you won't really be printing out in large glossy formats but anything up to A4 should present in spectacular fashion. It is this low light capture ability that separates this camera from most of the rest. Dispense with your flash because now you can shoot in near darkness and still achieve wonderful tonal variety and minimal noise. In practical terms it may not be useful to go beyond ISO102,000 but, when you look at the conventional ISO800 - at which point people are already getting cold feet - you'll see the power under the hood, and at your fingertips. The camera body, much like the 7r is somewhat compact, just over jacket pocket size, and heft all comes down to your lens of choice. The electronic view finder and LCD screen is much the same. It must be said that the EVF is sensitive, quick, and sharp. Those familiar with the earlier models will find most controls in much the same place as before. They will also notice a quicker auto focus and a huge bump up on video - we're talking 4K, or a horizontal resolution of approximately 4,000 pixels. In layman's terms, this is ultra high definition video or UHD. Footage can be shot and played out at 120 frames per second slow-mo. Marry this full frame mirrorless camera with a nice wide angle and a standard 24mm-70mm all-purpose lens and you're set to roll. Pretty much everything will be within reach with this combo. Images are true to life with accurate colours. Best of all is the silent shutter (unless you want to reset it for a reassuring whump). www.sony.com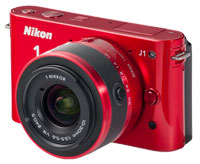 Nikon J1 is great for families
Just when you thought a swap-lens camera couldn't get any smaller, along comes the entry-level Nikon J1 (from the Nikon 1 series) with an elder brother, the Nikon V1, with a fuller more versatile configuration. The J1 and V1 allow for interchangeable lenses and are slim and appealing to the eye with the V1 the bulkier of the two. These are not pocket cameras.
The CMOS sensors are smaller than the micro four-thirds cameras, permitting of less light and thus the manufacturer has sensibly limited the megapixels to just 10.1 (more than enough for most purposes except high quality print magazine double-page prints).
The J1 is missing an electronic viewfinder but it has an inbuilt flash and comes off the shelf with a 1 Nikkor 10mm-30mm lens that is pretty wide angle and opens up to F/3.5 - not the highest ever for low light but good enough. High definition video recording at 1920 x 1080 is available at 30fps (frames per second) and a burst of slow motion is doable at 400fps at a smaller 640 x 250 resolution. The finish is good and both cameras are available in a slew of colours.
One catch could be the multi-control dial, which could have been sturdier. All in, the cheaper J1 will satisfy most though in a head-to-head contest it would probably fall behind the micro four-thirds camera models on image quality due to the smaller light-sensor card. www.Nikon.com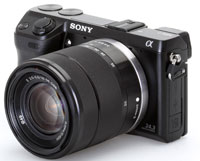 Sony NEX-7 review shows a winner
Long known as an electronics whiz rather than a camera specialist – though it has churned out its fair share of marvels – SONY pulled out all the stops a while back with its small-form SONY Alpha NEX-5. While carrying the Alpha name, this camera actually uses electronic e-mount lenses, packaging with purchase a pancake 16mm wide angle with a 2.8 f-stop or a F3.5 18-55mm zoom. The 16mm lens offers the equivalent sweep of a 24mm lens in a 35mm film camera context. That's a whole lot of room to manoeuvre in. And, brandishing its electronics credentials, the NEX5 also offers a superb Sweep Panorama setting that clicks away as you swivel through your shot, shutter pressed all the way through, to instantly stitch together a seamless spread. Weighing in at just 287g with the battery and a Memory Stick in place the camera is a surprisingly slim 110.8mm x 58.8mm x 38.2mm. With the pancake lens, it can fit into a jacket pocket quite comfortably. Alas there is no built-in flash though a nice compact swivel flash is provided. This slots into a USB-style mount, which means you'll need to carry it around.
Send us your Feedback / Letter to the Editor
On the plus side, look at an ISO range from 200 to 12,800, good image quality up to 14.2 megapixels (in RAW or JPEG format), crisp high-definition video in the new AVCHD format with 1920 x 1080i resolution or MPEG 4, a wide range of shooting options including handheld twilight and macro, a three-inch TruBlack LCD tilting screen and, thankfully, storage options with SD or SDHC memory cards. The downside is the AVCHD format is not universally accepted by video software programmes, the external flash has to be carried, there are focus lag issues, and the f-stop range on the lenses is not at a pro level though it will more than satisfy enthusiasts and prosumers.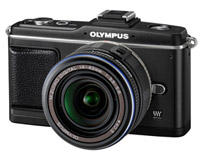 Olympus Pen E-P2
At the end of the day, our SONY NEX-5 review ranks this camera high in most areas and it is fun to play with, offering good results. Also compare the cheaper and modestly bigger NEX-3. And one step up is the NEX-7 with 24 megapixels, a tilting rear screen and the customary AVCHD high definition video. These cameras are being bundled in now with the Alpha line like the A7R and its ilk. www.sony.com
Now that you've seen the wonder of the NEX-7 and its various high performance siblings, would you buy the same camera at roughly five times the price? Okay, let's say we gussy up the trim and put everything in a magnificent display box that will have your friends eating their hearts out. Hmm. At roughly US$7,000, the Hasselblad Lunar is a looker with a high maintenance sticker, be warned.
Expect everything you saw in the SONY NEX-7 - with a larger body to accommodate a handgrip and an all-in size of 142 mm × 82 mm × 70 mm. Not pocket-friendly at 570 grams but certainly a professional and competent performer, the Hasselblad Lunar offers 24 megapixel resolution using an 18-55mm lens, mini USB and mini HDMI ports, plenty of manual control functionality (not for novices), a three-inch LCD screen that pivots modestly (no tough screen control), and a battery capable of squeezing off around 400 shots. Shoot in JPEG or RAW using ISO ranges from 100 to 16,000 with impressive results.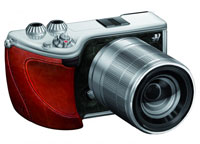 Hasselblad Lunar: pricey NEX-7
The hi-def AVCHD video is good in a 1920x1080 resolution. MPEG4 is an option too. You may be a Hassleblad nut but the camera from a company that whose equipment took the first shots of the Apollo 11 moon landing is astronomically priced and you would have to be a genuine nut to invest in one. For a straight copy of the NEX-7 albeit with some divine accessories and styling, US$7,000 is an absurd price tag and it would be criminal to stamp a recommendation on this product.
Olympus has remained a master of the art of the miniature and its Olympus Pen E-P1 was a class apart when it launched. The later all-black E-P2 has similar specs with better continuous autofocus tracking and a few other issues debugged. (The Pen series have been overtaken by the OM-D E-M1 that moves up from the E5). A micro four-thirds camera allowing for interchangeable lenses, this is a sort of SLR with a difference. For one, there is no viewfinder on the E-P1, which can get you into all sorts of bother on a sparkling sunny day and the hot-shoe optical viewfinder is not much use in a zoom situation. The small form factor is achieved by doing away with the internal mirror allowing the body to slim down to amazingly anorexic proportions. The camera is very easy on the eye, a throwback to classic 1959 Pen styling with a silver body, a small leather finger grip, and simple, clearly marked controls.
On design alone the Olympus E-P1 review would shoot it to the top bracket of the table. It even shoots high definition video at 1,280x720p resolution or standard non-HiDef 640x480. Also find motion stabilisation, a three-inch LCD monitor that could have had a higher resolution, and a set of art filters for the creatively inclined that will add anything from soft focus or grain to pop art to your snaps. Yes, there is a pin-hole filter. If only I'd waited. Pick up this svelte ensemble with a Zuiko 17mm f/2.8 lens and you're in business right away with 12.3 megapixels of canvas to fill.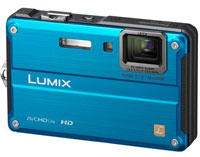 Panasonic Lumix DMC TS2: tough
You should be able to squeeze 250-300 shots on a single battery charge, the design is heart-stopping, image quality is reasonably good, but there is no inbuilt flash so carry one if you plan to shoot indoors. The autofocus can be confounding though and it endlessly hunts for the right sweet spot. It gets worse in low light. www.olympus.com
Old tough guys for the road
The 14.1 megapixel Panasonic Lumix DMC TS2 is a great performer and as tough as they come. Toss it in the drink and it remains waterproof down to 33ft, drop it 6.6 feet and the shockproof stainless steel casing saves the day.
The camera can withstand sub-zero temperatures too. All in it is a handy companion for the rugged road. It is small but not difficult to handle and has just enough heft to feel nice in the hand. The controls are all easily accessible. Expect a 28mm wide-angle lens with 4.6x optical zoom, a 2.7-inch LCD screen, and HD movie capture in 1280 x 720 resolution with a16:9 ratio.
This is shot as AVCHD Lite and lower resolution formats are available too at 30fps for smooth action. Find settings for sports, snow, and two scene modes for babies. Catch that drool. Pick up this camera in blazing orange or metallic blue. You'll never lose it. Video shoots well and you'll be pleased with the quality for this size of camera. Images are fine but noise creeps in at ISO 400. www.panasonic.com
From the super-svelte specialist, the Casio EX-G1 with 12.1 megapixels, 3x optical zoom plus 1x digital zoom, and a 28mm to 112mm equivalent lens in 35mm terms. All this packed in a diminutive angled body smaller than a cigarette case and flatter than a lighter. No kidding, the gunmetal body (in black or flaming red) has a nice weight to it and the styling is superb. This is a true-blue James Bond accessory and definitely one for the boys.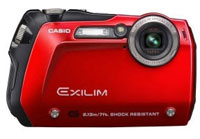 Casio EX-G1: sleek but a poor shooter
The 2.5-inch LCD is reasonably bright and, alas, will reveal the camera's shortcomings – fringing and noise, especially in wide-angle mode, and a rapid degradation of image quality and colour over ISO400, (this camera does from ISO64 to 3400). The images often look a tad like camcorder grabs but in well sunlit conditions there's a huge improvement. The power-on time of over two seconds is slow by current standards. Still, this is a futuristic gem, well sealed for any eventuality and the zoom is particularly smooth.
This rugged super compact is just 19.9mm thick, among the slimmest anywhere. Drop it seven feet, no problem. Carry it underwater down to 10ft and cart it in snow (to minus 10C). The movies are limited to 10 minutes per clip and are shot in 848x480, standard, and YouTube-ready 640x480 resolutions. A great feature on this diminutive camera is the time lapse shooting with intervals of 10 seconds, 30 seconds, one minute or three minutes. But… the images are not up to snuff and the fiddly microSD card is another issue though it comes with an SD card adaptor. www.casio.com
Tough guys can also look at the 14 megapixel Olympus Tough 8010 that weighs in with good specs and a handy size for rugged palms. The camera is waterproof to depths of 10m, shockproof for drops of up to 2m, and cold-resistant to minus 10C. The wide-angle lens has a 5x zoom (28mm to 140mm) and there is HD recording (at 720p) for those super-fine captures. A nice feature is this camera's ability to tag images by face or GPS coordinates. It saves a lot of bother scrolling around later. While large enough to get your fingers around the camera is still light (182 grams) and a relatively small 95mm x 62mm x 22mm. All in a good, tough performer though we believe the Lumix TS2 has the edge on image quality and all round performance. Other tough rugged camera options include the Pentax Optio WP90 and the ugly duckling Canon PowerShot D10. www.olympus.com
DSLR digital cameras review – is bigger better?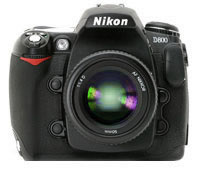 Nikon D800: 36 megapixels

And just when you thought it was safe to pick up a lightweight DSLR, along comes the Nikon D800 (late 2012) with enough heft to poleaxe a bear. The rugged body is not far off from the D700 with a few modifications. The camera feels good in the palms and is not as heavy as it may appear. The huge difference, no pun intended, is the HUGE 36 megapixel capture on a full-frame light sensor. This means ALL the light comes in through the lens offering a great deal of versatility on shooting modes. Best of all the camera also has excellent high definition video that is stored in .MOV files that easier to edit than AVCHD.
A fisheye lens on this camera is a genuine fisheye with dramatic distortion. Autofocus is sharp and quick. Swap lenses, play with unlimited manual control and go whole hog pro if you so choose. Images are crisp and artifact-free even at high ISO speeds. The camera uses two storage cards - a Compact Flash and an SDHC. Shoot images on one, video on the other or save back-up images on both. Pick from JPEG and RAW. Best of all you'll never run out of space as when one card is full the storage will spill over into the second card.
The operating menu, once you get used to it, is reasonably intuitive and fairly similar to earlier models. The user manual is a whopping 446 pages long and this says it all. However, if you don't really need to go into technicalities, the camera is ready to point and shoot from the word go. The Hi-Def video is superb and you have several choices on size and output. Audio on video is good and there are options for external microphones. The built-in pop-up flash does a pretty decent job too so you may not need to carry around excessive equipment. www.nikon.com
Nikon D7000: rugged and fast
Our Nikon D7000 review shows there is much to like about this rugged, kick-it-around, model with its clean black lines and reassuring heft, though not quite as much stagger as the previous hernia-popping models that needed four hands to lift them. Weighing in at 16.2 megapixels, this is a fast performer, outdoing sibling the D5000 by a fair margin.
The most persuasive feature, in this age of all-in-one appliances, is the addition of some pretty sharp 1080p hi-def video, albeit at a 24fps frame rate (the norm for top end models is 30 frames per second). You can, however, shoot at a resolution of 1280x720p at 30fs. This does not noticeably detract from performance though and for amateurs moving up to prosumer level it is no deal breaker.
Image quality is terrific and the Nikon D7000 is able to focus fast in minimal light – a huge plus for many. There's nothing quite as frustrating waiting for autofocus to hunt and select the ideal depth. The ISO range runs from 100 to a staggering 12,800 though after 800 or so (and certainly after 3200) the noise will become distracting.
The camera saves to SD and SDHC cards in Jpeg and RAW or a combination of both. The battery runs for a very decent length of time (and is rated to take 1,050 pictures). Output is through high-speed USB 2.0 or a mini-HDMI video jack. www.nikon.com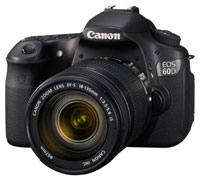 Canon EOS 60D: top performer

In the DSLR field, our favourite top-runner is the Canon EOS 60D with sensually moulded features, a feel-good textured grip and a professional looking black body. This is a fast-focus 18 megapixel wonder that also shoots 1080p high-def video at 30 frames per second though the mode dial to switch from image to video is a tad fiddly. The colour and image quality is superb especially when it comes to the magic evening light after sundown when the deep blues really kick in wondrously. This is a Canon trademark and an area where Nikon struggles.
The ISO range runs from 100 to 6200 though it can be boosted to 12,800. We've no idea why digital camera manufacturers offer this extreme setting as the noise kicks in massively as you cross 3200 – 800 is the usual upper limit for tidy shooting, even in low light, unless you are consciously seeking grain for creative purposes. In any event, if you need grain and noise, there's always Photoshop.
The Canon 60D offers a pop-up flash with a wireless external flash triggering mechanism and the three-inch LCD is sharp and bright in most light conditions. A new and very useful tweak is the pull-out and swivel LCD that enables video shooters to get all those crazy angles. While not breaking any remarkable new ground, this is a solid performer with the better elements of the 7D and the earlier T2i. For something similar and more affordable – still at 18 megapixels – but above entry level, also look at the Canon Rebel T3i. www.canoneos.com

Another quality micro four-thirds contender is the Panasonic Lumix DMC-G3 that has remarkably shrunk the weight and frame of earlier models to weigh in (with a 14-42 lens) at 544 grams, or 50 grams lighter than the G2.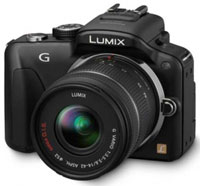 Panasonic Lumix DMC-G3
This is not a compact by any means, straying into Canon G12 territory, but with interchangeable lenses and a moulded aluminium body that has just enough heft and grip to satisfy prosumers and just enough curve to interest fashion-conscious newbies, it is a mid-2011 entrant worth considering. The white version will appeal to women. There's red too. There is a viewfinder and the three-inch LCD screen can be turned on and off to save power. The LCD screen is bright and the controls reasonably intuitive once you have the hang of it. Expect 16 megapixels, a splendid autofocus that tracks a moving target and even offers a "pinpoint" mode for those precise nose-hair shots, and crisp 1080 hi-def video capture. Save images and video (all well above average quality) onto SD cards or SDHC or even SDXC.
The Panasonic Lumix G1 and its younger twin, the Panasonic Lumix DMC-GH1 is a light yet sturdy camera. What distinguished the GH1 from its excellent predecessor was the addition of HD (Hi-Def) video capability that came into its own when twinned with a 14mm-140mm, f/4.0 lens enabling video or still capture all at once.
Apart from satisfying movie buffs, the older Lumix GH1 offers a slew of features: a 12.1 megapixel sensor, interchangeable lenses, dust reduction, image stabilisation, a range of shooting modes from aperture to shutter priority and full manual, RAW or JPEG files, a shutter speed from 1/4,000 to 60 seconds, a four-minute "bulb" time exposure, a three-inch rotating LCD, and built-in stereo microphones. Use a USB 2.0 port to output your work to the PC.
Focus is fast and for idiot-proof results, the iAuto intelligent metering system takes excellent quality images in varying, even challenging, conditions. The pictures are good with natural colours, and noise is a gremlin less likely to be spotted on these frames even in low-light conditions. www.panasonic.net/avc/lumix/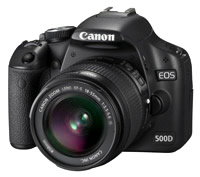 Canon EOS 500D
Ever since the groundbreaking EOS Rebel series from Canon, models like the 300D and 450D have wowed amateurs and semi-professionals alike. The 300D was light, responsive and took quality snaps.
The Canon EOS 450D raised the game several notches while still staying within the wallet power of entry-level digital camera enthusiasts. Now there are two more to choose from – the Canon EOS 1000D is a stripped down but pretty functional 450D. It is a competent and none-too-heavy shooter in plain but reasonably attractive black casing. It won't shoot bursts and spot metering is absent but it won't pinch the wallet unduly either and is a worthy entry-level option if you are not planning to go pro and are simply zeroing in on Baby Ben's drool.
You'll get RAW and JPEG images, low noise, and 10.5 megapixels to play with. There's no image stabilisation but there is a useful, if not great, ISO range of 100-1600 and the camera weighs in at a modest 450g. The Canon EOS 500D on the other hand is a new generation entry-level that rates high on this DSLR digital cameras review and with good reason. The camera offers 15.1 megapixel resolution images in JPEG, RAW, or JPEG + RAW, dust reduction, white balance bracketing, a range of autofocus and natural focus options, nine-point AF, and built-in flash, all weighing just 480g.
The default JPEG settings are on the softer side but paint in a high level of detail with very good images in natural colour. The body is about the same size as the 450D but despite the trim-down, the grip and feel in the hand is still reassuringly solid and professional. Best of all, for those in search of a camera-video hybrid, the 500D shoots HD video in a 1080 resolution. You can shoot stills while filming video too. www.canon.com/eos-d/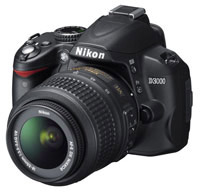 Nikon D3000
As an entry level DSLR the Nikon D3000 is one to watch. This is a solid camera with a professional feel, good image stabilisation and a nifty Guide mode that walks would-be Annie Leibovitzes through simple on-screen prompts to get the shot they need. Blur the background, or freeze the action. You'll see it all happening on your LCD and then all you need to do is click. Watch out too for the next iteration, the Nikon D3100 with 14.2 megapixel resolution and crisp 1080p HD video. Now that's a blast.
The Nikon D3000 is a step up from the D60 with a host of new bells and whistles. A single battery charge will get you about 500 shots, not surprising as battery life is one area where Nikon performs well as a rule. The D3000 shoots sharp pictures and works well in a range of lighting situations.
The colour overall remains faithful to the subject without going for over-saturation. With this device snugly in your hands you're looking at a handy, but not massive, 10.2 megapixels (enough for a photo quality print in A3 size), fast shutter speeds of up to 1/4000th of a second, an ISO range of 100 to 3200, a bright and clear three-inch LCD and full control over exposure from automatic to manual.
For professionals looking to catch some fast-paced action there's a burst speed of three frames per second with JPEGs or even seven (if you opt for RAW). Our Nikon D3000 review places it firmly at the head of the competition in the entry-level DSLR category. Nikon lens optics help give it a definite edge. The camera comes bundled with the Nikkor 18-55mm f/3.5-5.6 lens. Go pro without mauling the wallet. www.nikon.com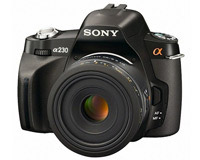 SONY Alpha 230
The SONY Alpha 230 sports a classic DSLR moulded body design with a somewhat diminished right hand finger grip and a cutaway to the left of the lens, compacting width.
This is a 10.2 mega pixel offering from a company known for style as well as substance. Expect JPEG or RAW modes, shutter speeds of 30 seconds down to an eye-blink 1/4000th of a second, an anti-shake system, an ISO range of 100 to 3200, a 2.7-inch LCD, and multiple exposure modes from auto, shutter, aperture and program to manual.
The camera is only a small halting step ahead of its predecessor, the A200, and sports a strikingly similar feature set. Images are detailed, sharp, and tend towards underexposure so it is rare to get a blowout with this device. The honeycomb metering provides a balanced colour and exposure gradient, managing to keep the picture detailed even in contrasting light situations.
As a budget entry level digital camera the SONY A230 is good value with much to occupy snap-happy amateurs and semi-pros alike under the bonnet. The feel may be a tad plastic but there are compensations – like the dual card slots for a MemoryStick Duo as well as an SD card. www.sony.net/Products/dslr/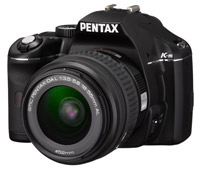 Pentax K-m
The 575g Pentax K-m offers smaller form factor as a compact DSLR but still packs a huge punch when one scrolls through the specifications: 10.75 mega pixels, JPEG and RAW modes, shutter speeds as with other models from 30 seconds to 1/4,000th of a second, several exposure modes and 15 scenes to pick from, white balance, colour temperature control, five-point auto-focusing, and a 2.7-inch LCD screen.
Similar in specs to its predecessor, the K200D, the Pentax K-m somehow manages to combine the best of that camera in a smaller frame without dropping quality. Images appear in accurate colour, if a smidgen under-exposed at times, image noise is firmly dealt with and grain is none to evident even at ISO speeds of 400 and 800.
The detail is good, shake reduction is a plus, and the trim size is a bonus for small hands. Photographers will be pleased to learn that the autofocus works fast and well with pretty good results most of the time, this despite the AF points being reduced from 11 to five.
All in this is a great value digital camera for those interested in moving up from instamatic lenses to big league glass. Affordable but not amateurish by any means. www.pentaximaging.com
Pocket size - not compact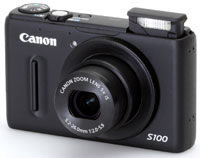 Canon PowerShot S100
The 2012 version of the Canon PowerShot S100 is a fabulous blend of form and funtionality. Pick it up in charcoal gunmetal grey and pop it into your pocket for a quick start anywhere, anytime. The camera serves up a whopping 5x xoom (28mm-105mm) with an F2 aperture all using the fast DIGIC 5 Image Processing system.
Expect 12 megapixels of resolution with bright and clear images, and HD video recording at up to 1920x1080 resolution. This is a super, friendly and quick camera, great for pockets, and ladies, and ever offers super slow video recording for those special moments. www.canon.com
The SONY Cyber-shot DSC-HX9V is a wannabe-compact dream camera that can actually fit into your trouser pocket (despite modest heft) yet rustle up all manner of interesting surprises. Image quality is superb for a lens this size, the feature set is immense - perhaps too many tricks for amateurs, though prosumers will love this as a second portable back-up choice for the SLR - and the zoom is an astounding 16x with a 24mm x 384mm range and a decent f/3.3 maximum aperture. At 16 megapixels, this SONY packs a decent punch with little noise up to ISO 400.
Pick from multi-shot modes and 12 standard settings. Good news for light challenged zombies is that the twilight mode, even hand-held, does have a noticeable impact on reducing hand shake and smoothed out colours remain sharp and vivid.
As with newer SONYs there is a good sweep panorama mode and, for some reason, as many as three 3D modes that could have easily been left out without diluting the package. The 3D works for panoramas too. Gimmicky, but fun for some.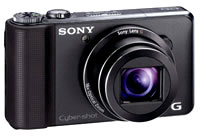 SONY Cyber-shot DSC-HX9V
A big plus for this welterweight heavyweight is the high definition video which, at 1080p, is crisp and detailed. The drawback, as with other SONYs, is the fiddly AVCHD format that is not the easiest to edit though SONY tends to provide software for this. AVCHD poses problems for iMovie and other mainstream video editing software. Still, you can switch to good old MPEG4. Hurrah.
There is in-built GPS for tagging pics but this can prove to be a drain on the battery. And the pop-up flash will surprise those with less than deft fingers. It is not the fastest camera around but the image quality (even with some overcooked colours) will please all but the most hardboiled clickers and there is enough under the hood to make this a must-see on the toys-for-boys holiday list. www.sony.com
But it's not all DSLRs stealing the spotlight. For something steady, small (though not compact) and unfussy, try the Canon Powershot G12, a step up from the excellent G10 and the G11. There is a good viewfinder and a handy exposure compensation dial if you have semi-pro instincts.
Anyone without exceptionally large or chunky fingers should have no problem negotiating the various dials. Shooting at a handy 10MP, more than enough for most purposes except professional print magazine photography, this shooter captures excellent images, especially at lower ISO settings. For those family close-ups there is a handy 5x optical zoom with image stabiliser.
Also look forward to 720p video at 24fps, a step up from VGA, stereo audio, and an articulated swivel LCD screen that makes odd-angle shots a breeze. The G12 is a solid plodder that is not too bad on looks but it is no Porsche. If you want something smart, uncomplicated and dependable (in easy-on-the-eye gun-metal black), this may be the camera for you. www.canon.com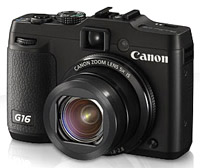 Canon PowerShot G16

The Canon G16 (late 2013) is the latest iteration of this fab family of almost pocket-friendly cameras with some great specifications for enthusiasts, semi-professionals who need a quick back-up, and general consumers. It moves up a notch from the excellent G15.
Expect magnificent 12 megapixel images with decent low light shooting with a max F-stop of 1.8 and a x5 optical zoom. The LCD screen at the rear of this PowerShot camera does not tilt or retract anymore but this is a small quibble or a sound camera that produces great images with sharp colours and clarity.
The DIGIC 6 processor speeds up both the image processing time as well as autofocus speed. The hi-def HD video supports 60fps capture and there's a wind noise reduction filter too. The feel of the camera is sturdy yet without any clumsy heft and it feels good in the hands with the added bonus of a modest handgrip. The gunmetal grey finish looks professional and there's none of that plastic throwaway feel about this sturdy performer. It is a metal construct for people who love cameras. As before there are two dials that control exposure and program modes, but both set to the right this time. Light metering is consistently good and you can let the camera manage this task without breaking a sweat. The addition of WiFi functions is a bit twee but there it is. Everything must have WiFi capability these days. www.canon.com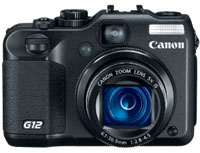 Canon PowerShot G12
The older easy-in-the-hand Canon PowerShot G11 is a small trade down in resolution (just 10 megapixels) from the older workhorse Canon PowerShot G10 – that still runs away with the money on any digital cameras review – but offers the advantage of good low light photography with a 2.8-inch swivel LCD screen. With a 5x optical zoom, the equivalent of a 28mm-140mm range in 35mm terminology, this little maestro turns out superb images especially as the light fades.
The ISO in fact can be boosted up to 12,800 to shoot in almost total darkness. It is a pity that Canon stayed with the G10's standard definition 640x480 pixels video resolution in this updated version but the end result is still sharp and clear. It is a niggling detail that will need to be addressed by future versions as any garden variety point-and-shoot is nowadays capable of HD video footage.
Weighing in at a diminutive 355g this is a camera that can slip into a large overcoat pocket if need be, which makes it hugely portable. The old G10 is one of my favourite carry-along cameras for all occasions, a professional backstop for times when I simply cannot lug my arm-ripping-heavy Nikon D200 anymore. www.canon.com
Even smaller but punchy – compact cameras
An elder cousin of the terrific compact digital camera, the Canon IXUS 80 IS, is the Canon IXUS 200 IS, this time with an array of specifications to make a semi-pro weep. Think 12.1 megapixel sensor, 5x optical zoom (forget digital zoom, that's for schmucks), a 24mm wide-angle lens, a three-inch LCD, and HD video, a nice touch in a camera of this class, price, and size.
This 130-gram camera's greatest strength, apart from being able to slip into a pocket quite easily with a 99.9x53.4x22.9mm size, is its ability to take wonderful shots – as long as it's landscape and in broad daylight. During our Canon IXUS 200 IS review and road test, this is where the device performed at its peak. Images are detailed and produce rich tones.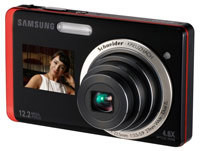 Samsung ST500
As the light levels drop, however, so does the camera's performance. While the ISO range is a big-swing 80-1600, anything over 400, or even at ISO400 is bound to pick up considerable noise (in simple parlance, this means grainy shots that look like they've come from a Bagdhad cafe iReport on CNN). Dramatic but not much use if you want a picture for your new living room photo frame. There are a few scene modes but very limited control and no manual option. Sports shots are quite decent and portraits too produce natural skin tones. A reasonable pick for families and those who like sharp movie footage of kids biking into pools and hapless dogs skidding across waxed floors. www.canon.com
The Samsung ST500 is a tad cheaper, more compact, and comes in inscrutable black – a colour that everyone seems to love these days.
Expect 12 megapixels of punch with an optical zoom that stretches to 4.4x (not quite 5x) and 1024x720 video all housed in a 149g body.
The camera is sleek, stylish and has an inbuilt flash that is adequate only over very short distances, say five to seven feet. The menu system is less-than-intuitive too but at the end of the day, this little fellow churns out very clear portraits, good landscapes and is a bit better for low light shots than the Canon IXUS 200IS.
The ISO settings run all the way up to 3200, a big ask for a compact camera, but the noise reduction program actually works, albeit by dropping detail and painting over blemishes. The LCD screen is just over three inches and is clear in most lighting conditions.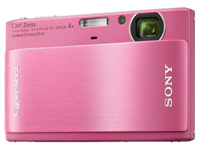 SONY CyberShot DSC-TX1
This is a nice point-and-shoot that produces reasonable results in most conditions in great part due to an excellent Schneider-Kreuznach lens. It's all in the glass as they say. www.samsung.com
Small is beautiful according to SONY. The company has churned out a series of ultra compact digital cameras that produce astounding results. The SONY CyberShot DSC-TX1 is another iteration in this constant assembly line and is a smart performer across most spectrums of photography, whether shooting in low light (where it excels), to sports, big sky landscapes, or intimate portraits. The Carl Zeiss lens cranks out a handy 4x optical zoom and is protected by a slide-up cover when the camera is off. As expected, the three-inch LCD touch screen is sharp and bright.
Just 16.5mm in width, this is a slim business-card-holder-size phone that slips into any shirt pocket – and also out of it. Take care it does not slip out of your hands. Small form factor has its appeal but also its downside for the butter-fingered. The new EXMOR R sensor claims to boost light sensitivity vastly and helps lower noise levels too.
An interesting feature is the Panorama Sweep option. Hit the shutter and swivel gracefully while the camera takes in the 360-degree detail, stitching it all up in one neat panoramic shot. The entire operation is fast and the results are not bad at all. This is a simple camera with some interesting features – like HD video and a Smile mode – that will appeal to the young set and to ladies who will like its styling. Once you get used to the touch screen, you're ready to roll. Hit the button and swivel. www.sonystyle.com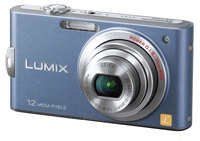 Panasonic Lumix FX60
The Panasonic Lumix FX60 is a smooth and slim operator in a very stylish casing and a raft of features. It comes with fine pedigree. Despite all the razzmatazz and 27 scene modes, however, the images fall a tad short when you look closely at the detail. Landscapes are okay, low light operation is not great and portraits could be better. Still the images are okay for family shots and the Great Outdoors. The camera shoots 12.1 megapixels with a handy 5x (25mm-125mm lens) optical zoom.
The ISO range is 80-1600 and under the bonnet you'll find the obligatory 1280x720 video shooting mode. The build quality is solid but in a camera of this size – and Panasonic is making them smaller still – getting your fingers to hold on to this slippery customer is no simple matter. Don't try it if the winter chill has numbed your fingers. This ultracompact digital camera weighs just 147g. www.panasonic.net/avc/lumix/
Go forth and shoot.
Send us your Feedback / Letter to the Editor