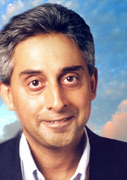 THE DRIVE FOR GREATER INFLIGHT SECURITY has thrown up new and alarming threats – like toothpaste, haemorrhoidal cream, hair gel, fizzy drinks, fluids, hamburgers... And WATER. This is what it means to have watertight security. If you want water once onboard, just ask the stewardess. She'll immediately pirouette, show off her Nina Ricci costume – which is the professional response – and forget about you.
When tears of sleeplessness and frustration well up, hold a cup to your cheeks and drain the liquid. With a bit of heating this can then be distilled into potable water. This is how modern travellers survive. Forget Survivor, the TV series. This is the Real Thing, using your wits, and reacting instantly and coolly, when confronted with unspeakable danger. Like when you see a fellow passenger stealthily draw out a tube of fresh toothpaste.
Send us your Feedback / Letter to the Editor

Share This Page
This is considered an Orange Level alert meriting a fighter jet escort and immediate landing, which is great if you're over a topless beach in South of France but a bummer around Chad. Confronted by such situations, most travellers are prone to panic. Don't press the stewardess-call button. Hold your nerve, keep your voice down, and say in a polite but firm tone: "Dagnabbit, I have GOT to have some of that. GIVE IT TO ME…NOW… Sweet Jesus, have you smelt my breath?"
The prospect of pilots having their teeth brutally brushed with whitening formula... is not the stuff of civilised society
At least you can now fly safe in the knowledge that your flight will never suffer a haemorrhoidal cream attack or a hazardous toothpaste hijacking. The prospect of the pilots having their teeth relentlessly and brutally brushed with the latest teeth-whitening formula while their weeping families watch it all live on CNN, is enough to make hardened travellers quail. This is not the stuff of civilised society.
Then there are other Weapons of Mass Destruction. We're talking about WMD like soiled babies' nappies that can immobilise a grown man, especially if he happens to be the father. This is when tough Alpha Males suddenly rush off to handle something less complicated, like completely stripping their Porsche down to the last nut and rebuilding it with their bare hands in one afternoon. Soiled nappies can be produced onboard, in-flight, at any time, 30,000ft above the Pacific. What if these got into, or onto, the wrong hands?
On US-bound flights and American carriers there's not much you can take into the cabin with you. The Department of Homeland Security leaflets say, "Passengers may not have liquids, gels, or aerosols of any size at the screening checkpoint." Banned items include beverages, shampoos, suntan lotion, creams, toothpaste, hair gel, hair spray and liquid cosmetics. Incredibly, mothers-in-law are not on this list. But passengers make take onboard baby formula, milk and baby food, prescription medicine, eye drops and contact lens solution, lipstick in a tube and lip balm.
It is time for responsible citizens to step forward and do the sensible thing. Volunteer to strip down and travel naked. It's also a smart move if you happen to be seated next to Paris Hilton. And it's a great icebreaker. "Hi Jenny, Omigod, er, I mmppf, er, duh…." Some have suggested that airlines should sedate passengers and have them sleep for the duration of the flight. Hurrah. I have never managed to get forty winks on a plane. "Latte with Valium or Xanax, sir?" "I'll take the Viagra cookie, thanks."
I hoped a pretty stewardess would take off her clothes to demonstrate the new security regimen. Nothing happened
Thus it was with some trepidation that I boarded my New York flight in Hong Kong. We were patted down. We surrendered our liquids. We tried not to look suspicious. I hoped a pretty stewardess might take off her clothes and demonstrate the new security regimen. Nothing happened. The flight was uneventful. And we all kept our clothes on. About 14 hours later we had landed in JFK.
On my previous trip to the USA uniformed men had asked me to step aside. "The computer has profiled you sir," they said. I beamed. After all I am a Gold Card frequent flier. Frazzled passengers gritted their teeth in envy while I was led away. I was pleased to have a PROFILE. That was when they took my luggage apart, stripped down my hand baggage and asked if I had ever been to Damascus. I warmed to the chat as any Indian would. I told them about my mother, my childhood, all my schools, and about my attempts to build up my biceps. By the time I got to the part where I said goodbye to my dog as I left for boarding school, the men were glassy eyed and almost tearing. They waved me off quickly. That's what I call VIP service.
Things were quiet this time. The VIP service appeared to have been abandoned. No one profiled me and I hid my disappointment. After all I am a Gold Card frequent flier. Do you have a profile?