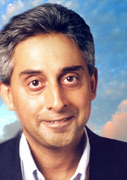 THE MOST WONDERFUL THING about travel is not the sunsets, the women with bodies like ripening corn (sadly always attached to men with necks like tree trunks), or the dinky welcome fruit cocktails with small paper umbrellas hotel like to serve their valued guests. Nor is it the FREE use of the swimming pool, gym, and lobby.
It's something almost on par with that FREE welcome drink. SLEEP. For me, the best thing about time on the road is sleep: the deep, ocean-bottom, giant squid territory plumbing sort of sleep that only comes with hotel-room laboratory conditions, deep pile carpets, large soft beds and heavy light-banishing drapes.
Send us your Feedback / Letter to the Editor

Share This Page
Here, unfettered by kids, spouse, or boss, the executive traveller is finally master of his own destiny, an all-powerful Freedom Rider. He can simply reach for the phone and have staff attend to urgent business. "What do you mean the massage centre is closed? Is Ting working tonight? Not M-E-S-S-A-G-E you moron, M-A-S-S-A-G-E. Sorry, what number have I dialled? Ah, right, I'll dial 8 first and then call reception." With great freedom comes great responsibility. Always dial "8".
While passengers smack their teeth and pull out their hair trying get some quality Zzzs, pilots routinely fall asleep
And so it is on the road that the search for that perfect rest continues, on the ground and 30,000ft aloft. Sleeping on an aeroplane is next to impossible, not even if you're a satisfied member of the Mile High Club. There's simply no space for a stretch. Or even a cuddle.
While passengers smack their teeth, pummel their pillows, pull out their hair, assault stewardesses and organise French-style riots trying to get some decent Zs, pilots routinely fall asleep in the cockpit. After all they have to fly the plane, and a rested captain is your best bet for getting back to terra firma. In any event, with all the gadgetry on board, the plane could probably land perfectly well with an inflatable doll at the joystick with perhaps a tiny assist from Dolly the cloned sheep. Inflatable dolls earn no wages, are never drunk, and will never say "No" to a hot date after a long transpacific flight. Think about it.
Not all is lost however. British Airways for one is so confident that Club World passengers using their specially contoured yin-yang seats will never wake up, that they actually offer business passengers on certain routes a Sleep Well guarantee. If you didn't sleep, they'll upgrade you to First next time around. This confidence is routed in deep scientific study, the utter flatness of the "bed" and the certain knowledge that passengers sleeping in these yin-yang seats (with each person's head smack next to their neighbour's toes) will be knocked out by a potent inflight sleep remedy – smelly socks. To avail of this offer by BA, passengers need to enrol and fill out a small questionnaire after the flight, if they're awake.
Presumably, if you're flying first and still cannot sleep, you could be upgraded to the cockpit where the best rest is always assured, with the pilots. Book your huggable inflatable doll in advance.
Don't forget to dial 8 and ask for Ting the masseusse before throwing the telephone at the TV...
One of the best cures for jetlag is sunshine, and plenty of it, the other end. Things seem to work better in the light. To begin with, you can see. Then you can pick up that hotel phone and languorously dial "8". Then press "2" for English. Then press "7" for the menu followed by the hash key. After this simply press "3" for the submenu, and then again option "3" to talk to a human being. Listen to the Barry Manilow concert for five minutes and again press "3" to talk to a human being before throwing the phone into the flat-screen TV and smashing anything you can lay your hands on. Jetlag? What jetlag?
For sleep, your best friend is Melatonin, a natural substance produced by the pineal gland. If you can't get your fingers far enough up your nose to find the pineal gland and coax it into operation, try a Melatonin tablet. Tablets can be natural (bovine) or synthetic. Synthetics are favoured as natural Melatonin may come with potential viruses – mad cow springs to mind – and could provoke antibody responses.
The trick is to try and stay awake until the next natural "night" and then pass out, with or without Melatonin, inflatable dolls, smelly socks and a large hardback on quadratic equations. The large hardback always works. Toss it up and ensure it lands on your head. The best thing about Melatonin is that, taken in high doses, it also doubles as a contraceptive. What more could you ask for in a tablet? Now get on the phone and find Ting the masseuse. But don't forget to dial "8" first.