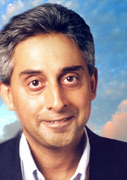 THE BEST THING ABOUT MODERN TRAVEL is modern airports. These are sleek, gleaming architectural masterpieces that, quite unlike the aerodromes of yore where passengers simply skipped through a tiny, friendly terminal and walked onto the plane in five boring minutes, they can now enjoy a bracing 2km hike to distant satellite terminals marvelling at the scope and spread of that US$20 billion infrastructure (the cost for Hong Kong International Airport at Chek Lap Kok and its ancillary developments).
In much of Asia the journey takes travellers through several cordons of security gates where they can show off their collection of haemorrhoid creams and saucy magazines, down posh escalators, into intra-terminal airport trains, past thermal imaging cameras, and through long queues leading to the boarding gate for that triumphant embarkation.
Send us your Feedback / Letter to the Editor

Share This Page
But wait, the boarding gate is just the beginning of a new adventure. At the best new facilities, like Bangkok's Suvarnabhumi Airport, you'll then embark on a magical escalator journey down again, to board a large big-window bus that will transport you to your plane. This ingenious arrangement ensures that you have now toured not just the inside of the vast facility and its perplexing signs and levels designed to keep transit passengers alert, but the outside too.
Everyone can now be part of an Amazing Race reality TV adventure as they tackle each new airport challenge...
Wave to smiling baggage handlers, watch crates being hauled on snaking trolleys, pass rows of aircraft, compare colour schemes for airlines from around the world, all under the Big Sky. This is travel at its exhilarating best.
Airline designers have finally cottoned on to the fact that the essence of travel lies in the journey, NOT the naff arrival. Design is focused on preventing you from arriving at all. Building longer, wider, taller, more challenging airports has finally made it possible for harried travellers to slow down to a crawl as they tackle each new adventure, poring over detailed maps to figure out where in the world Gate BVX-311a is. Everyone can be part of reality TV and Amazing Race. This is great for blood pressure and ensures a regular heart rhythm. Hurrah. I have been bussed around Singapore's Changi Airport, and Mumbai, but never in Hongkong (spoilsports).
At Delhi's Indira Gandhi International Airport I have stepped off the aircraft at 2am and stood on the mobile stepladder for 30 minutes in freezing winter winds, waiting for a van to transport us all of 60 feet to the dark terminal. These are thoughtful touches. Some passengers, especially the older ones and those with infants, had tears in their eyes. There is something about arriving in India that puts even the most hardboiled travellers in touch with their sensitive side. Some shout, some swear, most weep and some even collapse with joy. When my fellow passengers saw how small the van was and realised only about 20 people would be able to board, they wept some more. Heck, who wants to wake up bleary eyed in the middle of the night and actually WALK 60 FEET when they could wait an hour for a bus?
It's the journey. In preparation for the 2010 Commonwealth Games, Delhi airport is gearing up for a multimillion dollar upgrade and a new Terminal 3 capable of handling almost 40 million domestic and international passengers and boasting one of the longest runways in Asia at 4.43km. Ancillary development includes a six-lane highway and a car park.
Currently people park pretty much anywhere - by the kerb, on the kerb, halfway inside the building, next to cows, in fields...
This may not please everyone. Currently, people can park pretty much anywhere – on the airport road, at the kerb, on the kerb, halfway inside the terminal, in a hidden potholed lot some distance away, next to wandering cows, or in the fields. One of the nicest things about Delhi Airport at 2am is trying to find your car and driver in the winter fog and sussing out those silent, mysterious people wrapped in shawls.
In 2008, Singapore's Changi Airport debuts its Terminal 3 with 28 new aerobridges, some capable of handling the monstrous and famously delayed Airbus A380 with its 500km of hopelessly tangled wiring. It will then handle up to 64 million passengers annually. Hong Kong and Singapore currently have a passenger throughput of around 40 million.
The smaller, well… very much smaller, Koh Samui airport in Thailand is also a state-of-the-art contender. It features driftwood art and other assorted creative diversions in its breezy two-thatch-hut terminals. Getting from Terminal 1 to Terminal 2 is easy. It's just about ten steps. Disappointingly there are no escalators, no queues, no trains, no aerobridges and no buses. Just Hawaii-style trams with bright floral art work.
Suvarnabhumi meanwhile continues to go from strength to strength. A fresh 40 million baht injection will see the installation of some amazing new features that were somehow overlooked in the original plan – toilets, 205 of them (in 20 bathrooms) with 118 urinals. Splendid. Now there's just the runway cracks that need looking at. The Modern Airport has truly arrived.