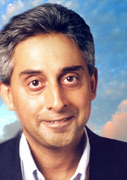 HOTEL DESIGN HAS BECOME A FINE ART. Gone are the days when you would walk into a large marble hotel lobby and sink into a comfy leather sofa to sip on tall cool drinks with dinky paper umbrellas stuck into generous slices of watermelon. New Age designers have transformed hotel arrival into a wondrous moment. Walk into any boutique hotel – if you can find where the concealed door is – and peruse all that minimalist Zen. It's a stunning Where-The-Heck-Is-The-Furniture kind of moment.
Then sink into a tiny, hard chair artistically carved from driftwood to coax your spine into unspeakable contours that will have you squealing in no time. Later, walk up to receptionists immaculately accoutred in Nina Ricci for an erudite exchange. "I say old chap this is an absolutely spiffing hotel." "Jussamoment…" "Omigod. I think I just sat on a large rusty nail." "Jussamoment…" "I'm bleeding to death." "Yes, jussamoment…" "Right, I'll have my friend George organise an air strike on this hotel."
Send us your Feedback / Letter to the Editor

Share This Page
This sort of edifying exchange would be impossible at a slick five-star. Over there you'd be in your room in five minutes lying on some Heavenly Bed or the other wishing someone would pay more attention to you. You'd drift into deep slumber only to wake up thoroughly refreshed eight hours later to enjoy satellite TV, ten kinds of tea, 20 kinds of pillows, and a state-of-the-art hair drier that could knock a grown man down at ten paces. Boring.
Who wants to be in some fluffy bed, throroughly refreshed, perusing a pillow menu and Bulgari toiletries? Boring.
At a boutique place, etiquette demands a leisurely conversation. "Mepchu?" "I beg your pardon?" "Iwudlikka mepchu sir?" "Never mepch me in public again…" Kids at McDonald's in Hong Kong have been trying to mepch me for years. This is in fact the fast rote version of May-I-Help-You? These are the moments that sparkle. Especially as you warm your hands after burning down the place.
Today everything is "boutique", from small five-room family-run villas to 500-room establishments with casinos in the back and sweaty men prowling for economically challenged young women. Wait a minute? Doesn't boutique mean small, cosy, personalised, specialised? Well, not necessarily. In the new Asian lexicon, boutique is a few daubs of bright paint, creaking floors, dangling glass beads, frangipani flowers, and doll's house furniture artfully arranged for contortionists. There might be air-conditioning. More likely, there will be a lazily whirring wooden-blade fan overhead and swarms of curious mosquitoes. Things are natural.
Everything your grandma threw out of the house after she found granddad's porn collection, will be found here in a dazzling melange – mournfully clanging grandfather clocks, old books, Reader's Digest, scrapbooks, peeling frames, carvings, statues, giant spiders, and musty cupboards. Forget about lounging on chairs. Just be satisfied if you can balance on that low teakwood bench without falling off.
Boutique hotels also give you HUGE FACE. This comes in the form of a HUGE BILL. If you can smell lemongrass or there's a candle in the corridor, this may actually be a BOUTIQUE SPA RESORT. In this case you'll get even more face when you check out so probe your wallet carefully before entering. Or blow out all the candles. Or blow up the place.
If you can smell lemongrass or there's a candle in the hallway, this could be a boutique spa resort with an even bigger bill.
"But sir, these candles are hand-crafted by children of the mysterious Lost Tribe that shall become speedily extinct if you don't fork out vast sums right away…" I love kids and candles and Lost Tribes, but heck, after 25 years of travelling around Asia I think I love Philips light bulbs even more, especially if they're the energy-saving variety that actually work because they've been manufactured in a factory and not thrown together by some exotic tribe on the verge of extinction. If you arrive unannounced in the wee hours you might also spot noble members of the Lost Tribe – who all bear an astonishing resemblance to the general manager – furiously melting scented wax in Room 304.
Like myself, you will have sat on nails, ripped your shins on jagged "antique" corners, fallen down stairs built for Hobbits, and banged your knees on dining tables that are a midget's delight. It is fashionable to be boutique. So much so you will want to send your mother-in-law there. Remember, there's no gain without pain. So, poor schlubs, we endure it all and pay up.
I was delighted then to find myself at Hong Kong's Adventist Hospital several years ago, ensconced in a deep, comfortable sofa that actually bore a reassuring tag declaring it to be "Y2K compliant". How many people have sat on a genuinely Y2K compliant sofa? And how many disappeared at the stroke of midnight on 31 December 2000 as sofas rose up en masse with burning torches to hunt for large, flabby, flatulent bottoms and other terrible oppressors? Sofas are scary things. Give me a hard teak chair with rusty nails any day.