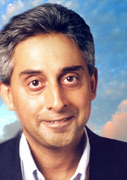 IT'S AN AMAZING WORLD. There I sat in my Bangkok hotel room, on the phone with my Hong Kong bank, talking with a man reeling out instructions in a Scottish accent. I couldn't tell if the dialect was Renfrewshire or Connery, and strained to catch the gist. "That's Bonds. Government Bonds. Right?" Eventually, Roger sorted it out, his lilting accent redolent of epic ballads and the gritty, raw heroism of men in skirts sans underwear battling fierce updrafts of the windswept moors. And somewhere in that pentimento, lay a hint of the wheat fields of Punjab. "Is that India?" I ventured. "Aye sir," Roger chuckled. "This is Rajinder Singh at the Mumbai call centre."
It's the future. A billion Indians with 18 languages and hundreds of dialects, all talking to each other across millions of miles of optical spaghetti, in Scottish. Globalization they call it. Amazing.
Send us your Feedback / Letter to the Editor

Share This Page
More amazing was my phone bill presented upon check-out, with a 40 percent surcharge on the international call. The receptionist flashed a perfect set of pearly whites when I proudly pointed this out. I was grateful to learn I was giving back to society, and generously. I wondered whether I should teach her Scottish. As I perused my bill it was apparent my altruism was not confined to phone calls. These are the sorts of things a professional hotel does to add that feel-good factor for returning customers.
It takes a strong man to peruse his hotel bill and stay on his feet after totting up all those character-building charges...
Properties that offer their guests "free use" of the swimming pool, free welcome cocktails with mini umbrellas, free newspapers, and free use of a sofa at one corner of the lobby, are for namby-pambies. Who wants all those free magazines with vacuous models on their covers anyway? Freebies are for weeds. It takes a strong man to scan his hotel bill and stay on his feet after totting up those character-building surcharges.
Fortunately, hotels with a conscience – and there are many – are applying hidden charges creatively from Hong Kong to London to New York, all doing their bit to correct social imbalances, to take from the rich and give to the even richer. Parking your car at the Hilton New York may cost as much as a room in Las Vegas. Brilliant. This means fewer cars, less smog, and cleaner air for everybody. Thank Al Gore. It seems no one wants a scarier sequel. In London, the Victoria Park Plaza reportedly charged conference delegates a stratospheric 10 pounds sterling per half hour for WiFi access through Swisscom.
Charges that may result in a sanguinary outcome include telephone surcharges of 20-30 percent, incoming fax charges, concierge delivery charges, mini-bar restocking fees, mini-bar deposit, bed turndown charges, room service surcharges, housekeeping fees, mineral water that costs US$5, and hefty mark-ups on foreign exchange conversion rates. Much of this applies to the US and perhaps Europe, but Asia is stepping into the ring too. For starters, there's government tax and service charge that can amount to an extra 12-20 percent over and above the room bill. Internet usage is free in Hongkong (customers simply pay a monthly charge for the service) yet several hotels charge upwards of HK$120, albeit for a day. In Bangkok the going rate is Bt642 for a day's Internet usage.
Singapore has made it impossible for hotels to mark up phone charges with the result all calls are at the standard rate...
Hong Kong also offers the luxury of free local calls, a habit emulated by, say, The Peninsula and the Island Shangri-La. Yet, some braver Hong Kong five-star hotels do apply a telephone surcharge. These include the Grand Hyatt and Mandarin Oriental which levy a flat HK$7 per call (though the Grand Hyatt's lobby phone is free for local calls). The Mandarin charges HK$7 per local outgoing fax page too. It's not much of a levy considering in their heyday in the early '90s hotels like the Mandarin Oriental and the Ritz-Carlton Hong Kong charged up to HK$60 per outgoing fax sheet. The JW Marriott Hong Kong appears to have reversed its policy and says it offers free local calls now.
Singapore has made it impossible for hotels to mark up phone charges with the result that all calls, local as well as international, are at the standard pay-phone rate – this by government diktat.
The Sari Pacific Jakarta used to offer a "baby sister" for a small fee on its guest services menu. It was a quaint custom and I must fess up I encountered several pouting sirens in the elevators, at 6.30am, usually accompanied by avuncular white-haired gentlemen forking out vast sums of pocket money. Elevators were peppered with heart warming family chat. "You cheap Charlie. I said two hundled dollah." Sadly, the hotel has since upgraded its service to "babysitters" who lack the charm and insouciant conviviality of the made-to-order siblings.
If you do need a babysitter, they don't come cheap. The Four seasons Resort Langkawi charges US$24 per hour, per baby. Did you say quintuplets? The babysitters speak English, Malay, Chinese and Tamil but, alas, not Scottish.