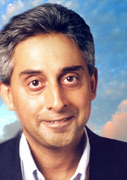 BUSINESS TRAVEL IS FOR THE ELITE. No question. It is a world of rare privilege and cosseting. The boss is on the phone at 3am letting you know he cares. "Your ass is on the line Bob." This is where the term "bottom line" comes from. The mini-bar beggars Tutankhamen's miserable collection. The mineral water alone is dear enough to prompt any sensible person to throw himself under a truck in sheer ecstasy, or push for a NASDAQ listing. Why are there no hotel mini-bars at the Louvre?
Above all, business travel is cool. I mean, really cool. Deep in the tropics, frigid hotel rooms are committed to end global warming and save polar bears. Permafrost is alive and well under the quilts. Now if only those coy bears could stop surfing breakaway ice floes and get a plane ticket to Singapore, which even has snow on Orchard Road come Christmas…
Send us your Feedback / Letter to the Editor

Share This Page
Of an evening, business travellers who have not been immortalised in solid blocks of ice, sip martinis at chic hotels where women with legs going up to heaven glide about, mobile phones in hand, doing hugely important things, like pouting, looking vacant, and generally causing massive collective cardiac infarction. One reason polar bears never travel south is that an encounter with one of these ladies would likely result in the rapid evolution of bear to bearskin blouse.
Polar bears never travel south as an encounter with these ladies would result in speedy evolution from bear to blouse...
So what do the humble proletariat do on the road? Simple. They take care of their teeth. It's called "toothing". They brush that enamel, floss vigorously, or even soak the entire collection in saline solution by the bedside. More serious practitioners activate the Bluetooth on their cellphones and get connected. Those sleek women have mobile phones. Groovy guys always have mobiles – if only to break off wedding engagements by SMS. So get started "Bluetoothing".
This is modern dating via the airwaves for hi-tech travellers. In its rawest form, toothing (close encounters with strangers) might culminate in a railway station toilet or any other suitably grimy close-at-hand location. Of late it has evolved into higher forms. Think department store changing rooms and libraries. Possibly even the White House if Bill gets back as First Man.
The original toother – his tale later derided as pure charlatanry – was a British commuter called Jon who claimed to have "Bluejacked" a lady's cellphone. He said he flirted and messaged her with increasing hormonal urgency, eventually ending up in the aforementioned toilet. Not an awfully romantic Gone with the Wind saga but the story sparked off a social phenomenon. Now "Bluedating" is part of our lexicon. So is Bluesnarfing (naughty people accessing private information on your phone via Bluetooth).
The best thing about Bluedating and Blueflirting say enthusiasts is the sheer randomness of it all. Send off a message, sit back and watch the reactions around the restaurant. Did your innocent probe, or testosterone-charged missive, reach a potential Miss Universe? Her grandmother? Or the humungous bruiser boyfriend with sawed-off shotgun? That's half the thrill. Looked at another way, you might have snagged Warren Buffet fine-tuning his Berkshire Hathaway play. He might not samba but his stocks certainly do.
You may even meet the mysterious pvX77003 which is modestly better than dating your SONY DVD player...
Unless you prefer the joys of freelancing, you might wish to sign up to a Bluedating service that has registered members, not all mini-skirted in anticipation of a railway rendezvous. This is a more immediate version of online dating where you might meet ladies called Spanky ("innocent, gentleness handicraft"), Manly ("kindness and heartfelt procreate with you for two times…") or the mysterious pvX77003 (modestly better than dating your SONY DVD-player). The men's names and profiles are more to the point and less imaginative. Mr Big awaits.
With Bluedating you catch the attention of people in your immediate vicinity (10m or less) which improves the odds considerably, of acquiring a black eye, or more. Bedd.Com promises to help you meet new friends, protect anonymity, lower SMS costs, and connect you with persons matching your keywords and preferences.
Other providers include MobiFlirt.Net which describes its services thus: "Users [define a] wish list and [we] then do the leg work in tracking down a potential date." There's MobileFlirting.Com and, even in incense-filled India, finger-tapping romancers seek each other out at Rediff.Com. Enrolment may be free but other services and access to profiles will cost. Software will need to be downloaded to enable the platforms to work. It does not work with all phones. So, while winkling out issues with your companion for life, do also check phone compatibility. There's nothing worse than a Nokia-Motorola mash-up.
Other headaches include battery life and viruses. Practise safe phoning. Keep a good antivirus on. Try F Secure Mobile Anti-Virus and put some teeth back into your travel. Have smart travellers got nothing better to do? The answer is no. Unless they're planning a midnight mini-bar heist.