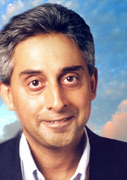 AIRLINE FOOD poses a major dilemma. You have two choices. You can eat it and die. Or you can pass it on to the Hill-Billy Hulk From Hell occupying TWO FULL SEATS next to you, kill him, and then stretch out in the empty row. Dead passengers, at least on British Airways, are whisked away to first class where they are cleverly used to impress travellers unfamiliar with the BA "sleep well guarantee".
An elderly lady travelling British Airways Delhi-Heathrow in economy died and went straight up, not to heaven, but to first class, which is perhaps a tad better with mood lighting, movies on demand, and flat beds. Paul Trinder, the delighted passenger who awoke to find himself sharing his row with a corpse, described the moment as "deeply disturbing".
Send us your Feedback / Letter to the Editor

Share This Page
It was not reported whether Mr Trinder went back to sleep after this impressive demonstration. According to BA, of its annual traffic of about 36 million passengers (most flying cattle class), there are about 10 deaths in the air. Now, armed with airline food – no matter whether it's slippery beef or a congealed omelette – everyone can fly first class. Hurrah.
Polar bears never travel south as an encounter with these ladies would result in speedy evolution from bear to blouse...
So exactly how much are people eating 30,000ft aloft and how might this impact on a cardiac infarction and a possible upgrade to first? According to Cathay Pacific, in 2005 its average onboard consumption totalled "45,626kg of eggs, 288,516kg of chicken, 426,665kg of fish, 378,442kg of beef, 152,722kg of pork…"
Yes, there's food for all tastes and preferences. Cathay offers a staggering array of options from Western, Oriental, and Indian vegetarian to vegan, kosher, Muslim halal, Hindu, low-calorie, low-cholesterol, lactose-free, diabetic, and liquid. Singapore Airlines, its archrival, offers low-sodium, fruit, bland, high-fibre, low-purine, no-carbohydrate, ulcer-diet, and semi-fluid concoctions all served by, well… we're not entirely sure really as there's always this soft focus mist everywhere. Yet to make an entrance are special meals for denominations like Catholic, Greek Orthodox, Copt, Benedictine, Sunni, Shia, and Crocodile Dundee.
British Airways boasts a largish spread while JAL tosses in seafood too. On THAI's Royal First Class, passengers get to pre-order from a 22-entrée selection. Air India rustles up kebabs and hot curries for pampered passengers and even Aeroflot offers "40 kinds of special meals" with varying amounts of spud to give even the most hardboiled grouch a Chernobyl glow. Mildly tougher is Malaysia Airlines that insists "all [its] special meals are based on medical and religious grounds only." This might make it tough for Christians to order a tasty Hindu meal or for lions to drop Christians in favour of some kosher nosh.
Cathay says the best wines aloft are usually the "more robust". This is true of passengers too. The more robust they are, the better they travel. On my last six sectors flown on assorted airlines (including CX) my video screen did not work. On my Cathay Pacific flight to Bali, the seat appeared to have been ravaged by a mastodon. Or a bored Kiwi farmer. Bits of woollen fluff littered the floor hinting at the connubial delights of the evening before. I gingerly picked up the seat cushion, replaced it carefully and sat down with atomic balance to ensure the capricious seat bottom (as well as my own) stayed in place. Entertaining stuff. It kept my mind off airline food. IT SAVED MY LIFE.
You may even meet the mysterious pvX77003 which is modestly better than dating your SONY DVD player...
Unfortunately, Cathay is bringing in new seats with a slew of zany features including the ability to recline without knocking down the drinks and mashing the dinner of the person seated behind you. This will doubtless ruin hours of enjoyment for most passengers.
Still, if you're feeling bored, simply ask for any first class wine menu. Here's a sampler for a particularly rare vintage. It is described as a "full-bodied wine with complex notes of red fruits, spices, coffee, chocolate, and a touch of vanilla." It sounds like a drink that could stop the Palestine intidfada dead in its tracks, and not just for its purgative qualities. As a confirmed back-of-the-bus prol, I prefer airline coffee – "full-bodied sludge, brutally brewed with a noisom cacophony of burnt aromas, stale barfs, and the inevitable arpeggio of lingering shirt stains."
Coffee yes. Peanuts no. Linda Lovelace apart, no one wants some oesophagus-constricting allergy just as they punch their way to channel 53 to catch that riveting white plane inching across the map. Sensibly then, Qantas claims to have eliminated peanuts as bar snacks and minimised their use in in-flight foods. It's a smoke and peanut-free environment up there. Toss midgets, beat women, tie that kangaroo down sport – and eat it – but DON'T TOUCH NUTS. Especially your own.
A word of caution: not all flights have a three-class configuration. Check prior to ticketing whether your aircraft has a genuine first class. Then eat your way to the front.