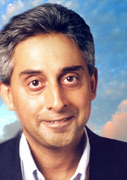 CAN ANYONE REMEMBER the days when hotels handed out real brass keys? The kind that jingled exasperatingly as you crept down the corridor in the wee hours – with a highly intelligent, if tousled, companion in tow – trying not to alert your born-again friends in the next room. The kind that created an insouciant bulge in trouser pockets, giving any nerd with nous the same respect as an alpha male on anabolic steroids.
Ask any man over 50. That LARGE hotel brass key was a friend. Today, our metal benefactor is gone, a victim of miniaturisation, plastic and technology. There's nothing smart about hotel smart cards. Slip them in your pocket and they'll quite easily slip out again. Worse still, they fail to impress the ladies. Use them to access your "secure" floor and the lift has likely shot up to the penthouse, flattening the hair on your scalp, and down to the lobby – quite a few times – before you've even got it in the right slot. That's why it's called a secure floor.
Send us your Feedback / Letter to the Editor

Share This Page
Brass keys were multi-functional. Women could use them to beat off unwanted admirers, executives could use them as showy paperweights, and kids could use them to show mum that dad had spent a thoughtful weekend with his secretary at a beachside motel (and, contrary to office scuttlebutt, NOT thrown away the family savings at some expensive golf getaway with the boss). Hurrah. A large room key was tangible, bulky, cumbersome, and an unlikely candidate for carry-home thieves. The larger the key, the more likely it was that guests would return it.
A large room key was bulky, cumbersome, and an unlikely candidate for carry-home thieves...
Now we hear that hotel smart cards carry all your personal details on them – for months – just waiting to be picked up by crooks in crocodile shoes eager to spend the rest of their lives bouncing up and down in a high-speed hotel elevator. These cards might hold your credit card information, dental details, and shocking revelations about your genetic make-up – you share, along with the entire human population, a genome map pretty much the same as any farmyard pig. Unlike my Amex card, which was turned down by major retail stores and restaurants – not for charging excessive vendor commission, but because there was no readout on the magnetic strip – hotel smart cards retain your information forever. Or do they?
What exactly is a smart card? VingCard is one of the best known names in hotel-card security. It produces an entire range of products from magnetic swipe cards to punched-hole "mechanical" cards. The company is also behind the Elsafe in your hotel room, the small, compact, contraption into which you can squeeze a small camera and your wallet, but not your mother-in-law, no matter how you fold, bend, roll or truss her. Most hotel Elsafes are not capacious enough to host a normal laptop. This, of course, is not the security company's shortcoming. Tightwad hotels are even tighter when it comes to parting with space. Small is beautiful when it comes to in-room accessories.
Your smart card is programmed at check-in to permit access to your room and enable hours of tactile pleasure trying to locate it in your shirt pocket, trouser cuffs, underwear, friend's handbag or any available plunging decolletage, when you return legless at 1am. It is cheap, light, disposable, and mass produced.
Police exhort you to avoid dropping that card in the airport bin where crooks in crocodile shoes are just waiting to rip you off
According to an adventuresome IT boffin, using this card he was able to access his personal details including name, address, and credit card information, with the aid of nothing more complicated than an off-the-shelf "ISO-standard swipe-card reader that plugs into any USB port." He posted a blog with his findings on the Computerworld website unleashing a huge online brouhaha. Big Brother was watching. Police departments cautioned travellers to destroy their hotel cards after use by cutting through the magnetic strip and to never make the mistake of dropping it off at an airport waste bin where crooks in crocodile shoes were waiting with their bog-standard card-readers.
Computerworld and MagTek (an outfit that manufactures card readers and scanners) decided to investigate this claim and collected over 100 electronic cards from American lodgings as diverse as Hyatt Regency, Motel 6 and Disney World. They ran the cards through standard card readers as well as a gamut of sophisticated equipment. Most of the cards were completely unreadable and 15 percent offered up just random "alphanumeric strings… and binary data" that could not be decoded with simple machines purchased from eBay.
Your secrets are safe – for now. Groups like Amanresorts utilise reassuringly old-fashioned metal keys. They don't talk, switch on the lights, or produce any other nuisance. They simply provide an alluring bulge in the right place. The Peninsula Bangkok uses Marlok metal keys – just like the real McCoy – electronically "hard-wired" to the hotel computer. The Ritz-Carlton Hong Kong had class – and brass – but has ended its magnificent tenure. If you must, they still use brass keys in Europe.