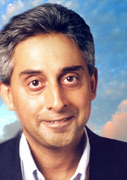 IF THE NAME PHEIDIPPIDES IS ALL GREEK to you, you are right. Pheidippides was Greek. He's famous. Not because no one can pronounce his name, but because he ran from the field of Marathon in 490BC sans GPS, map or iPhone, to bring word to Athens, some 25 miles away, of a stunning, and unexpected, Persian defeat. Then he died. Not too long before that historic jog, Pheidippides (also Phidippides) had run 140 miles to summon the Spartans but they were too busy partying.
Pheidippides died of exhaustion. Or maybe he faked it, fed up with all this pointless running about and firm insider knowledge that Greece would never manufacture a decent luxury car. The first Olympics were held in 1896 in Athens, an honour not to be repeated until 2004, which is a long time to wait, even for a city steeped in history.
Send us your Feedback / Letter to the Editor

Share This Page
Had Pheidippides run a marathon today, say at the 2008 Beijing Olympics, he would not have died of exhaustion. Such is the marvel of modern sports and medicine. He would have died of asphyxiation, asthma, bronchitis, or a heart attack, after ploughing through the sulphurous pea-soup smog of the Chinese capital.
Can marathoners, sprinters and rowers break world records breathing stertorously behind Darth Vader masks...?
Tourists visiting the Games could choose to don masks. Asthma sufferers already do. This screens out some suspended particulate matter but cannot shield them from something infinitely more dangerous – bad breath, especially after a kimchi breakfast. Visitors be warned. Think cornflakes, bran and oatmeal. But what of the athletes? Can marathoners, sprinters and rowers break records breathing stertorously behind doomsday masks?
Several national sports committees are seriously considering masks. Not necessarily for the actual event – that would rile advertising sponsors and fans who wouldn't be able to tell the difference between sultry Sharapova and Darth Vader – but, more likely, prior to the event, during training.
Yet Beijing has transformed itself into a state-of-the-art sports arena, bristling with amazing architecture, which you can sometimes see on a clear day. The sports world is agog no doubt keen to try out the facilities. The US boxing team visited China recently to compete and acclimatise. To get a head start over the competition, it trained vigorously by jogging, in the hotel hallways, far from roadside fumes, but unnervingly close to startled guests who dodged uppercuts en route to the elevators.
Pollution is a problem. Why? Because you need to be able to see the finish line. Asthmatic tennis whiz Justine Henin expressed concerns over the quality of the air in Beijing. But there is at least one athlete desperately keen to run in China. South African Oscar Pistorius has no legs. He runs wearing prosthetics – the sleek carbon-fibre Cheetah Flex-Foot. He's fast. Very fast. Too fast, say officials, who turned him down.
Later the spotlight will shift to New Delhi and the 2010 Commonwealth games. Excitement is mounting and visitors can sense something in the air – vehicle pollution and dust. Like Beijing, Delhi has initiated bold steps for a clean-up. Some major landmarks in that process include the introduction of CNG (compressed natural gas) buses in 1998, the removal of lead from petrol the same year, and the switch to CNG for public transport vehicles in 2002.
Citizens have been forced to act too. Momentum gathered in 2007 when Mr Vijay Verghese's exasperated mother demanded he surrender his underwear for a good washing. Ongoing efforts include an energetic dusting of her New Delhi apartment where sofas are protected by fashionable sofa covers which in turn are protected by other covers further protected by draped sheets. It is a sedimentary portrayal of a hopeless task – the endless war on dust.
Call me a romantic but I am captivated by industrial haze that can transform dreary landscape into an impressionist canvas...
New Delhi appears to be turning the corner. My brother runs marathons and completed his 23rd in Hong Kong, just after running Mumbai. India's heat and dust have failed to deter him. I often ask him what he's running from. I stopped beating him up years ago. But nothing has broken his resolve and he now offers invigorating advice to would-be runners on his RunningAndLiving.com website.
Call me a romantic but I am captivated by industrial haze that turns a drearily predictable urban landscape into a seductive Turner canvas or a misty Chinese watercolour. The World Health Organisation has graciously pointed me in the right direction, listing 20 of the world's most polluted cities. Sixteen of these are in China, headed by the coalmining town of Linfen where every day is, well, night.
Honeymooners might check out Tianying, which gets high scores for lead. Sukinda, India, offers drinking water laced with hexavalent chromium, a by product of stainless steel manufacture. Or pick from La Oroya, Peru (lead), Dzerzhinsk, Russia (noxious gases left over from Cold War chemical weapons manufacture), and the big daddy of adventure travel, Chernobyl, Russia (nuclear radiation after a reactor meltdown in 1986).
Hurrah. All I need is a mask.